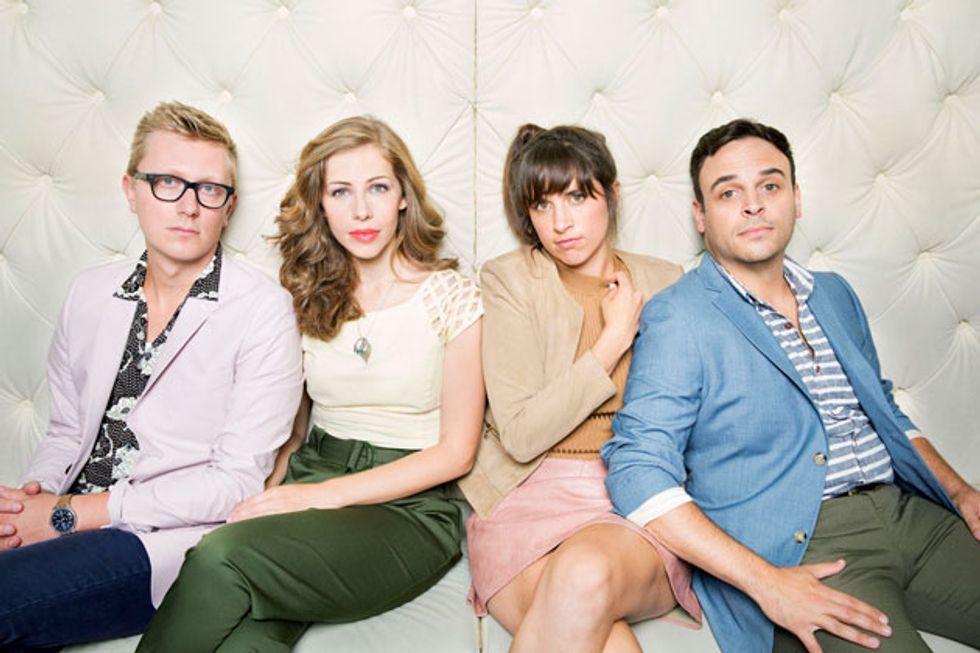 One of the mottos of Lake Street Dive—guitarist/trumpeter Michael "McDuck" Olson, singer Rachael Price, upright bassist Bridget Kearney, and drummer Michael Calabrese—is "composition is improvisation slowed down."
The hallowed halls of the New England Conservatory of Music, one of the oldest and most prestigious music schools in the country, might seem like an unlikely breeding ground for a rock band. But this Boston institution is where Lake Street Dive, a quartet now based in Brooklyn, came together when its members were undergraduates there a decade ago.
Lake Street Dive—guitarist and trumpeter Michael "McDuck" Olson, upright bassist Bridget Kearney, singer Rachael Price, and drummer Michael Calabrese—was originally intended as a project to explore a sound the group tagged "free country," a hybrid of country-and-western and free jazz.
But instead, Lake Street Dive chose to make music people would want to listen—and dance—to. The group's calling came to be a blend of equal parts Motown, 1960s pop, swing-era jazz, and 1970s horn rock, rendered with the technical mastery the members developed as conservatory students and delivered with a reckless abandon not usually taught at school.
Lake Street Dive, which takes its name from a seedy thoroughfare in Olson's hometown, Minneapolis, was a side project for everyone until 2012. That's when a YouTube video of the group playing an unplugged, way slow interpretation of the Jackson Five's "I Want You Back" on a street corner in the Boston area went viral. Lake Street Dive's reputation was further solidified when, the following year, producer T Bone Burnett invited the group to play at a concert in New York celebrating the Coen brothers' film Inside Llewyn Davis, set in folk-era Greenwich Village.
"What I can get away with by playing three- or four-note voicings, moving a couple notes to get from one chord to the next, really opens up the musical space."

In the winter of 2015, Lake Street Dive took a break from its relentless touring schedule and headed to Nashville with 28 songs. With the help of producer Dave Cobb, the group whittled things down to the dozen tracks that appear on its fifth album and Nonesuch debut, Side Pony. The set captures Lake Street at its most playful and energetic, and is packed with Olson's tastiest guitar parts.
Premier Guitar recently chatted with Olsen about his group, switching between the trumpet and the guitar, and the maximal mileage he gets from playing minimal parts on a spare setup.
Talk about your musical background, which doesn't resemble that of a typical rock musician.
I grew up in the Twin Cities area, on the Minneapolis side. My dad has taught band in school for a very long time, so I grew up around music and played trumpet in his band from sixth grade through 12th. In fact, I didn't have a different band instructor till my first day of college, which is pretty weird.
In college, at the University of Wisconsin from 2001 to 2003, I studied trumpet exclusively and took a fair amount of composition classes. I didn't start guitar until the first day after graduating from NEC, where I was a transfer student beginning in 2003. I went on Craigslist in Boston, looking for a cheap guitar to use as a songwriting tool, because in college, all the writing I'd done was on a piano in a practice room, and after I graduated, I no longer had access to the practice rooms.
I bought an old Harmony for 30 dollars from someone in Cambridge and played it for several years. I never took a guitar lesson, though I probably should have [laughs]. My learning curve wouldn't have been as steep.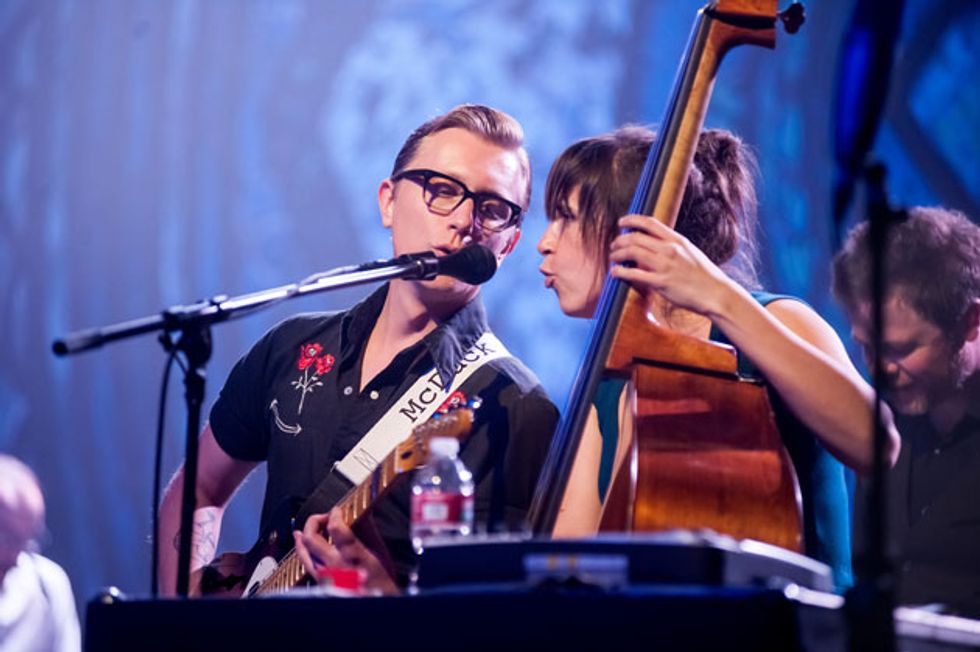 Lake Street Dive's string team, Olson and bassist Kearney, also contribute to the group's rich signature harmonies.
Photo by Lindsey Best
How did you learn to play guitar?
I learned almost exclusively through YouTube videos and watching live concerts—like the Beatles' famous rooftop concert. Over and over again, I watched what George Harrison and John Lennon were doing. More than any other instrument, you can learn guitar as part of an online community. I'm sure there are a lot of instructors who would disagree with me, but it's a good place to start, for sure.
What kind of program were you in at NEC?
It was a jazz program, but there wasn't a big emphasis on traditional jazz, although you can certainly learn it there. The program was very progressive, with a lot of emphasis on modern jazz, free jazz, free improvisation, jazz hands. Just kidding about that last one. It was really about developing your own voice as an improviser, which is great. It was so freeing as a young person who had spent so much time practicing and really working on chops-oriented, regimented stuff.
How did studying there inform your development as a rock musician?
The culture of the school was one in which you could walk up to any student—upperclassman, underclassman, transfer or graduate students, fat kids, skinny kids, kids that climb on rocks, and say, "Hey, do you want to play music with me tonight in a practice room?" And the answer was always, "yes." Even if you didn't get anything out of your classes—and shame on you if you didn't—you could get a full education simply by playing with as many students as you could find and cram into your schedule.
So it was a very fertile environment for learning how to play and how to play with other people. And it really paved the way for Lake Street Dive. Yes, we are heavily influenced by our musical education and we apply ourselves to songwriting, arranging, and performing in the same way we applied ourselves in school—in a studious manner—but also with that kind of creative searching that was bred into us at NEC.