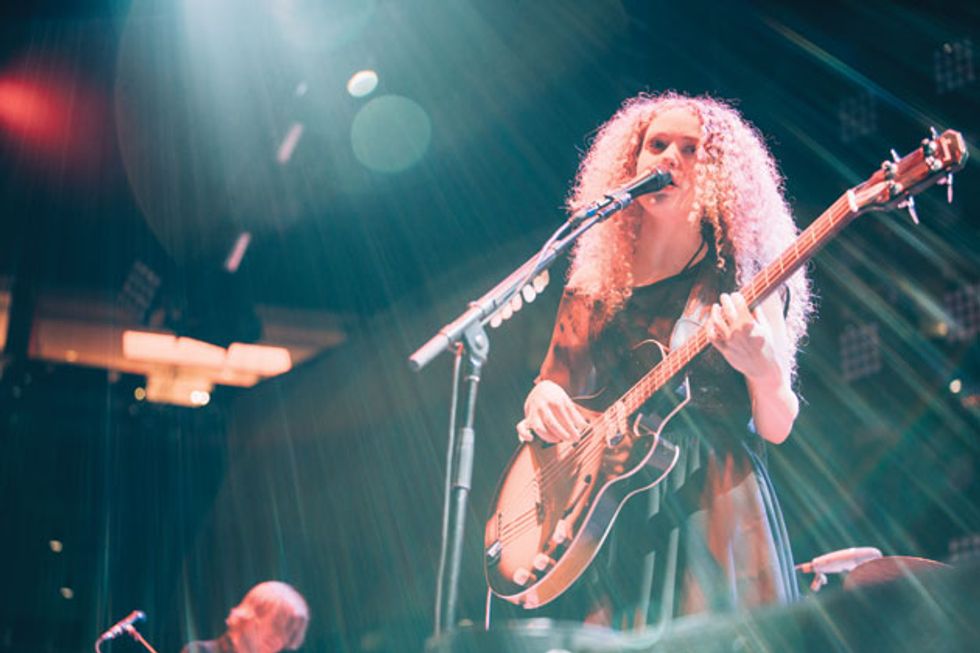 Wilkenfeld works her Harmony H22 4-string while opening for the Who in Louisville, Kentucky, on March 12, 2016.
Photo by Taylor Smith
How did you select your band for the sessions?
I've known Blake [Mills] for about seven years. I've known Jeremy Stacey, the drummer, for about 10 years. I've known Benmont [Tench] for seven years, maybe. It was trial and error going into the studio with different people and it seemed like that band fit that particular expression of composition the most.
How did you meet your touring guitarist, Owen Berry?
I met Owen through Jeff Beck about eight or nine years ago. Jeff was saying, "This guy is really great, you gotta check him out." Tim Lefebvre, who plays with Derek and Susan, also told me about Owen. I had two people telling me to check him out, so I did.
Do you like to take musical risks?
Of course, yeah, that's the only way. I like to fall on my ass frequently. [Laughs]
Is expression the same for you on all instruments that you play?
I would hope so. The more time you spend with the instrument, the less anything technical will get in your way of communicating what's in your head. So I try to put time into the instruments I choose to play.
Would you say that you practice?
Currently no. When I first started, I tried to play an hour a day. Sometimes I would play a lot more than that. I used to play more back in the day.
"The more time you spend with the instrument, the less anything technical will get in your way of communicating what's in your head."

What would you do for practice?
I would either compose music or I would practice playing what's in my head and then I'd stumble on something I couldn't quite articulate. Then I'd go back and try to play the thing that I stumbled on. Once I could play it, I'd move on to the next thing in my head that I would stumble on.
It's sort of the same way as talking. You talk until you struggle to find a word and then you might have to stop that sentence in order to find the word or maybe you have to look it up, and then you say it, and the next time you come across that word you can probably just say it. It's the same with music.
What tunings did you use on the album?
I used either standard, baritone standard, open major tunings, and standard with the lowest string dropped a whole step.
If your music had an odor, what would your new album smell like?
[Laughs] What's the next question?
What advice would you give to young artists trying to find their voice?
To not try to find their voice, and to just express their voice.
Who else in your years since your breakout with Beck has influenced your playing or approach to music?
Lightnin' Hopkins. Bob Dylan. Those are the main two. Lightnin' Hopkins is one of my favorite guitarists. He's got such a soulful and amazing groove and sense of musical expression.
YouTube It
Tal Wilkenfeld and her band perform a stripped-down version of "Corner Painter," the first single off her upcoming album. Her acoustic rhythm played on a Yamaha baritone takes the spotlight and fills the room in this recent intimate rendition.
---
There's no holding back for Tal Wilkenfeld on "Hard to Be Alone," a new song revealing her strong vocal range live as she holds down the low end on her Fender P-bass. Skip to the outro around the 4-minute mark to hear some jaw-dropping, Linda Perry-like howls over guitarist Owen Barry's formidable Tele licks.
Have the things you want to say as an artist changed over the years?
The one consistency in being an artist is knowing and being excited by the fact that I'm always changing, and hopefully for the better! [Laughs]
Fusion: What does that word mean to you in relation to your own music?
I use the word fusion to describe any combination of styles—food, music, etc. However, I'm very aware that the term "fusion" is more often used to describe jazz, rock, and funk combinations, and more often than not, instrumental. Not sure why such a broad term was prescribed for such a specific style, but there you have it. I don't consider my new music to be the latter description of fusion, but definitely the former.
What do you think makes for exciting guitar or bass playing?
Someone being true to themselves and true to a song.
You look really happy when you're playing. What does it feel like when you're performing live?
It feels like I'm being true to myself.