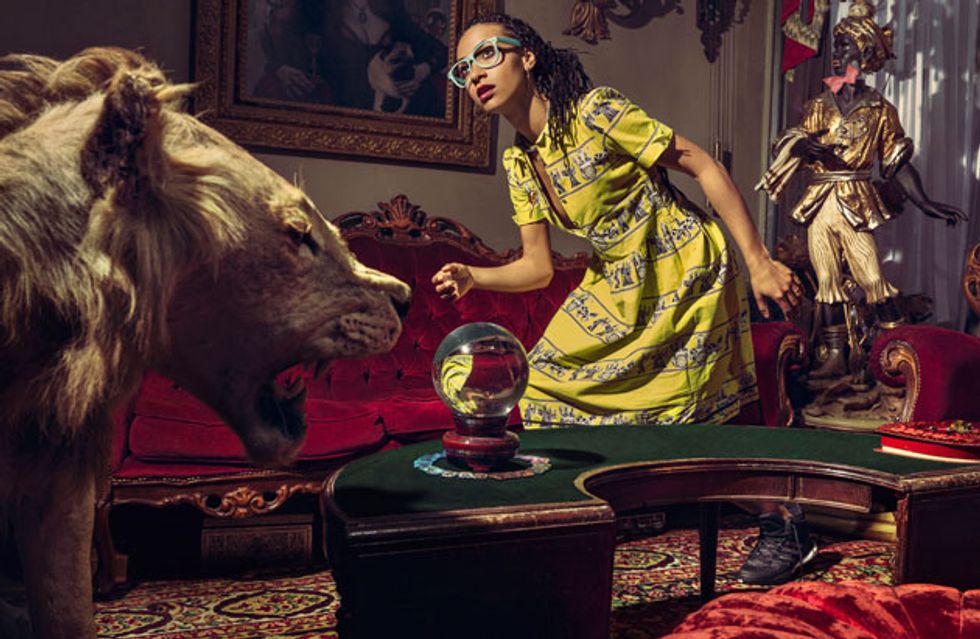 Like Alice in Wonderland, bass virtuoso Esperanza Spalding has placed herself in a bold and unpredictable realm for the Emily's D+Evolution album, videos, and tour. Photo by Holly Andres
Esperanza Spalding is a rare artist whose cosmic blend of intuitive creativity and hyper self-awareness has enabled her to make some audacious choices throughout her life. After 10 years of playing violin in her childhood, she got to high school and intuitively switched to upright bass. Once enrolled in college, she left the comforts of her hometown Portland State University in favor of the arguably more competitive Berklee College of Music. Upon graduating, she immediately put her education to work by becoming the youngest teacher at her alma mater.
With four albums under her belt since her 2006 debut, Junjo, Spalding has become known for singing elegant vocal melodies over often-unpredictable bass lines—and performing both with uncommon virtuosity. Her open-minded approach to selecting and arranging material has earned her accolades from jazz icons Wayne Shorter and Pat Metheny, among many others. Spalding's sophomore release, Esperanza, came out in 2008 and quickly put the jazz world on notice. Since then, her career highlights include performing at the Nobel Peace Prize ceremony with President Barack Obama in 2009, playing with Herbie Hancock at the Kennedy Center Honors in 2014, and winning four Grammys, including Best New Artist in 2011. She is the first jazz musician ever to win that category.
But now, rather than simply relying on the contemporary jazz template responsible for such milestones, the 31-year-old Spalding is making yet another bold choice. On her latest album, Emily's D+Evolution (pronounced "D plus evolution"), Spalding shakes things up by mining her early childhood interests in theater, poetry, and movement and channeling them into a much broader concept of performance. It's been four years since her last release, Radio Music Society, and the muse she's cultivated, or shepherded, in that time is both aurally adventurous and aesthetically compelling. Check out her videos for "One" and "Good Lava" and you'll get a clear sense of where her head is at these days.
"There's this theme of inviting your brain out to play with your body and your heart," Spalding explains. "It's also a willingness to throw away, tear apart, strip down, and evolve all that you know, all that you've planned, all that you've progressed towards—a willingness to devolve so that you can evolve. It's the willingness to break down all that you've built up for the sake of moving forward."
Her persona transformation into the spirited, visually eccentric, electric-bass-wielding Emily is the kind of metamorphosis one might expect from a pop star like Prince, rather than jazz's reigning low-end phenom, but, similarly, it's a definitive statement from an artist/musician who refuses to be boxed in. And while she hasn't completely eschewed her jazz heritage in favor of a multifarious vibe, it's clear that her frame of reference is expanding. Elements of Joni Mitchell's Jaco-era Hejira pervade songs like "Earth to Heaven" and "Noble Nobles," while "Funk the Fear" invokes the politically charged mayhem of early '70s Funkadelic.
The final track, a cover of "I Want It Now" from 1971's Willy Wonka & the Chocolate Factory soundtrack, perfectly epitomizes the youthful energy at play on Emily's D+Evolution. It's extremely evocative, with Emily at her most overt as catalyst and muse. The spoiled brat character Veruca Salt, who originally sang the song, may contradict Spalding's openhearted personality, but the sentiment clearly illustrates there's another force at work on this record. And though the entire album brings this new spirit to life, it's Spalding's seemingly innate ability to tune in and listen that allows her to chart a new course right before our very eyes and ears.
Premier Guitar spoke to Spalding during her tour stop in Portland, Oregon, and she provided the lowdown on Emily, her new album, and the trajectory that resulted in such a singular-sounding effort.
Listening to Emily's D+Evolution for the first time, my immediate reaction was just, "Wow!" How did you learn to sing and play such complex lines simultaneously?
I guess the same way anybody does anything. You just work on it. I play and sing a lot, so by this point it's not something I have to work out. Once I know the bass line and I know the kind of thing I want to sing, I can do it. And with this album, we played a lot of the material live first, so by the time we went into the studio, we just did the show—in front of people and in front of microphones.
Do you write on bass or on other instruments?
I write songs on the piano, but a couple of the songs on this record came from bass—at least from bass lines on the piano. I wrote "Rest in Pleasure" on bass. And "Judas" started as a bass line and the song grew around it.
"I don't think you can plan ahead too much. You have to trust your instincts and then you can plan your brains out."

I understand that childhood interests, like theater, poetry and dance, influenced this new record. How so?
I don't know yet. I'm trying to figure that shit out. But I know it's important. I actually didn't remember that I was so interested in those things when I was a kid, until I started this project and started remembering how I used to present my ideas to family and friends. They were always staged and they were very physical. And I realized that, for whatever reason, I never pursued that mode of expression in my life, and yet, I think it's important to me. Learning about it is important to me, so part of what Emily does is she opens the channel for that to happen in my life.
So, besides being your middle name, is Emily your alter ego?
I don't see her as an alter ego. It's my own archetype of something. She's the archetype of an energy—a way of engaging with the world. So, at times, when I was gaining clarity about the direction I wanted the show to take, I'd ask her, "What do you want to do? Why did you come here? What do you need to say that I haven't said—that I can't say?" And one of the things she said was, "I'm here to move." That was really clear when I was communing with the embodiment of energy she represents.
There's definitely real vibrant imagery to the songs.
I understood that intuitively from when I first got the inspiration to do this project, because I was seeing the music happen in vignettes. They were almost like music videos, but it was performance. So I thought, "Okay, this is deeper than what I've done before, but I don't know how to do this, so I guess it's going to be a difficult project." I've been reaching out in different directions to try to find the kind of collaborators and codirectors that can help get us there. But because I haven't exactly seen it yet, I'm not sure where to point as an example of what I want this thing to do. So, we speak a lot in functional terms, which are not very specific in terms of aesthetic or actual movement or actual direction. It's a slow, slogging process [laughs].
The physicality of the music is palpable. How did you capture that on the album?
I thought the best way to capture that would be if we actually performed it for the recording, so I invited a bunch of people—friends, coworkers, etc.—into the studio and we did the show for them. That's the record. And I think you can hear that on those songs. It's not like we were in this isolated space doing our best to get the song on tape. We're performing the songs in this world we created for a live audience sitting in the control room. It's Emily's cerebral world, with her jungle. And I do think that energy comes through. It's a different energy.
Is that "different energy" why there's no acoustic bass on this record?
No. I just heard electric bass on it from the beginning. It wasn't deep. And it's not really me. I'm using my talent and my gift to give body and story and sound and presence to Emily's energy. I still play acoustic all the time, so, in that regard, it didn't feel like I was leaving something to go somewhere.
What gear did you use to craft your bass tone?
All of it is through an Ampeg SVT-4 PRO, which sounded awesome. The studio had lots of different stuff. I told them I wanted a "tacky" sound. I wanted it to be real buoyant and have a thickness, but I also wanted to have the clarity. I call that "tackiness," like caramel stuck on your shoe or something. And so the engineer recommended the Ampeg. I heard it and I said, "Yep, that's exactly what I need."
What about Simon Propert's South Paw bass? Did he make that for you?
He didn't make it for me, but he let me take it once he made it. He's one of the luthiers at David Gage in NYC, which is where I've taken my upright bass a few times to get it worked on. He started making his own instruments and he was like, "If you ever want to try it out, let me know." And I was like, "Yeah, I want to try it out." So, he let me take it to try and I really liked it. He said I didn't have to give it back. I just had to pay for the Bartolini electronics, which I did, and we've been happy ever since.
Do you have a preference between the 4- and 5-string?
No, I just wasn't comfortable enough with the 5-string to play it full time, but now I am, so on this tour I'm playing the 5-string.