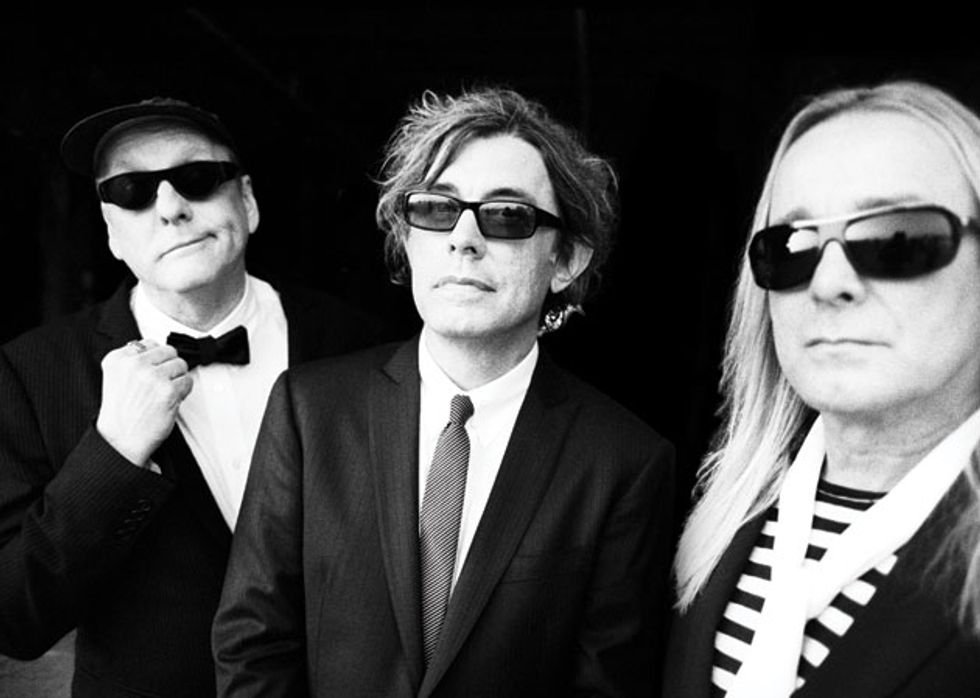 It's only three weeks until both the release of Cheap Trick's 17th LP, Bang, Zoom, Crazy… Hello, and their April 8th induction into the Rock and Roll Hall of Fame. And yet when PG talks to the band's guitarists—Rick Nielsen, bassist Tom Petersson, and singer Robin Zander—their most candid and intriguing thoughts come not in response to inquiries about the prestigious gala, nor to those about their first studio album in seven years. What really gets them going is our silly time-travel question.
It's not so much that they don't care about the Hall of Fame honors—how could they not? It's just that Nielsen, Zander, and Petersson seem to view it all with a mixture of vicarious gratitude and bemusement: The ceremony is mere days away, and yet the Hall still hasn't relayed any particulars—including which songs they will play—and for their part, the band seems mostly stoked about the fact that the honor acknowledges legions of stalwart fans who vied for their induction over the last 14 years.
The fact that one of the interview's most revealing exchanges came after a quantum-physics hypothetical—of late, the most aggravating method of imbuing sci-fi movies with some sort of "twist"—has nothing to do with Nielsen and company being Star Trek dweebs and everything to do with what the melodic geniuses behind "Surrender," "I Want You to Want Me," and "Dream Police"(incidentally, the tracks they ended up playing in Brooklyn) have been going through behind the scenes.
For starters, although Nielsen's son Daxx has been handling drum duties on the quartet's relentless tours since 2010, Zander, Petersson, and the elder Nielsen have been embroiled in lawsuits with original drummer Bun E. Carlos for years. In early 2015 the case was finally settled on unusual terms that designate Carlos an official member of the band, though apart from the recent HoF performance, his actual musical involvement ended with 2009's The Latest.
As with everything, the band's wacky wit played into the revealing exchange, too. Say what you will, but as catchy as their tunes are, and as electrifying as their live shows continue to be, Cheap Trick would be nowhere without its glib, offbeat humor—the lion's share of which is doled out in (checkerboard-patterned) spades by Rick Nielsen. From his logo-inscribed bowties and cardigans to his signature flipped-bill ball caps, goofy onstage persona, and head-turning collection of guitars—including 5-necked monstrosities and double-necked caricatures of himself in his trademark thumbs-up pose—Nielsen's quirkiness has always been key to making the Midwest legends infinitely more than an energetic rock outfit that can pull off ballads.
"I'm a real hoarder."—Rick Nielsen

Of course, the shtick would be tiresome and empty if Nielsen's raw and melodic but not quite straightforward style didn't combine with Zander's instantly identifiable voice and the bristling thunder of Petersson's 12-string basses to form a singular sound. Informed by early American rock 'n' roll, British Invasion bands, glam, and even prog-rock outfits like Electric Light Orchestra, Cheap Trick has always been one of the few bands that can effortlessly traipse across the tightrope between sensitive fare that gets the girls swooning and blistering numbers that rage as hard as anything this side of metal.
And the same holds true for Bang, Zoom, Crazy… Hello. Comprising 11 tunes born from bits of band members' riff repositories and Zander's writing sessions with producer and "fifth band member" Julian Raymond, it is classic Cheap Trick in several senses. Album opener "Do You Believe Me?"—an old live-show favorite—begins with a swaggering octave motif, Zander's impeccable howls, what may well be Petersson's most rambunctious bass work ever, and a slippery, unhinged solo that consumes a third of the song's total play time. Next up, "No Direction" features Beatles-inspired jangle and anthemic vocals of the sort that put the band on the map, and by track three, "When I Wake up Tomorrow"—which somehow manages to be melancholy, hopeful, and rocking—the quartet has laid to rest any question of whether they've still got it. An obvious act of catharsis, Bang pulses with energy and enthusiasm reminiscent of the band's breakthrough album, 1978's Live at Budokan.
First off, huge congratulations on the Rock and Roll Hall of Fame induction.
Rick Nielsen: Oh well, thank you! I would have voted for us earlier, but y'know.
Robin Zander: I appreciate that, and our fans probably appreciate it more than I do. They deserve it, sticking up for Cheap Trick all these years—standing by us through our ups and downs. Something like this really solidifies why they stuck around.
Tom Petersson: They sort of hounded us with, "We've got to get you in the Hall of Fame!" They were voting and writing, and it really was nice.
Do you know which songs you'll be playing at the ceremony?
Zander: No, that's the weirdest thing. We can't get a straight answer out of anybody over there—they dictate what songs they want you to play. It's kinda weird, but there you go.
Nielsen: We're just lucky our fans kept us relevant, and we're lucky that we like what we do. The fact that we can record, the fact that we are still going—it's all good news.
That's as good a segue as any, so let's jump into talking about the genesis of Bang, Zoom, Crazy… Hello.
Zander: About a year ago, we signed with Big Machine and had a meeting about how we should do it. Then we went home and started collecting our thoughts individually. I decided to go out and write with Julian Raymond, who I've been writing with since the '80s. He's not only like family, but he sort of became a fifth member of our group. I wrote the first seven songs with him, then we came back to Nashville and sat around the studio and wrote about seven more with Rick and Tom, bringing some old ideas and fresh ideas to the table. Then we thought maybe we'd do a cover tune and reach back in history and pick one we played in the '70s before we made records, which was "The In Crowd." Before you knew it, we had about 25 songs.
Nielsen: We have another album basically kind of ready. Well, not ready—because there's no order and we haven't made any final choices—but we have enough good songs that next time we go to put out a record, we're not starting from scratch.
Got anything to add about the writing process this time around, Rick?
Nielsen: Some of the songs started out as just a guitar riff, some started out as complete songs. Some started out as an old idea that just needed to get fleshed out. It's basically the way we've always done it. We don't sit in a room and write together—we never did that. Sometimes we sit together and Robin will say, "Hey Rick, what do you think about a lyric for this?" I'll say, "Well, I'd change this to this." Some of the songs might not be my favorite ideas, but I'll work hard on them to make them good.
YouTube It
Robin Zander, Rick Nielsen, Tom Petersson, and Bun E. Carlos perform "Surrender" at their 2016 Rock and Roll Hall of Fame induction. YouTube search term: 2016 Rock & Roll Hall of Fame Cheap Trick After Speech Part 3