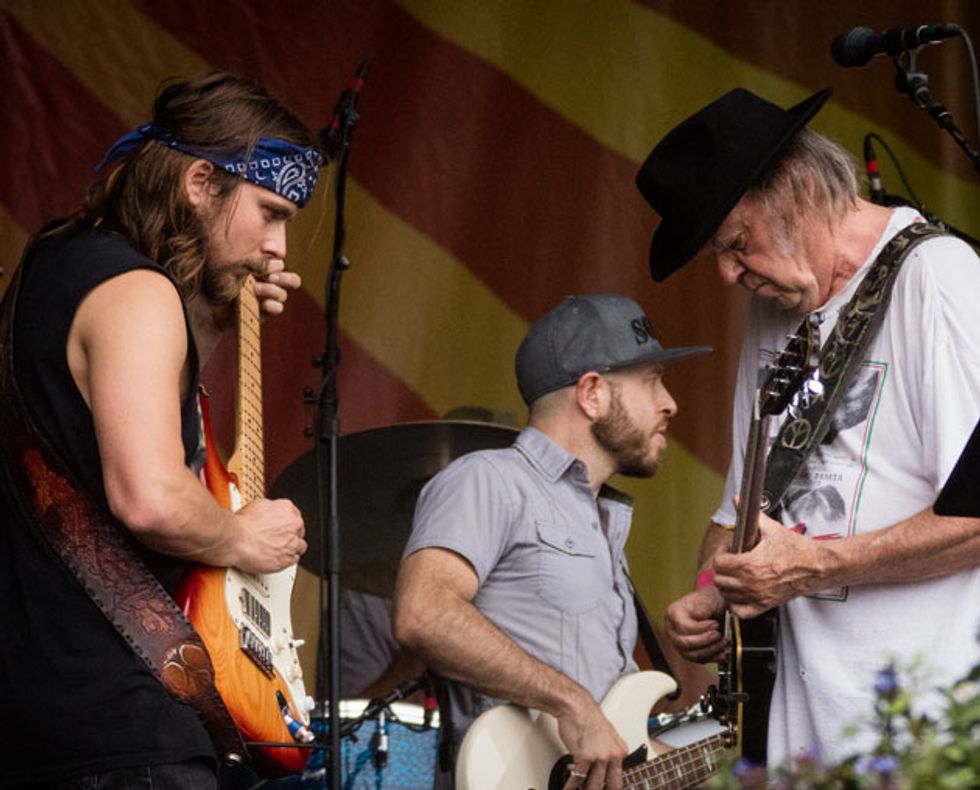 "I think he's one of the best that ever lived," says Lukas Nelson of Neil Young's guitar-playing abilities. Promise of the Real is backing Young on his current tour, including this recent performance at the New Orleans Jazz Fest on May 1, 2016.
Photo by Douglas Mason
Lukas Nelson is having a busy year. He and his band, Promise of the Real, recently released their third full-length album, Something Real, and hit the road in support of it. They're also touring and recording with Neil Young as his backing band—a project they began last year with a lineup augmented to include Lukas' brother, Micah. In addition, Lukas somehow finds time to accompany his dad, country legend Willie Nelson.
But despite his pedigree and the auspicious company he keeps, Nelson is no next-generation-of-greatness clone. While he counts his father as an obvious and huge influence, that didn't stop him from absorbing the classic riffs and tones of artists like Black Sabbath, Led Zeppelin, and Jimi Hendrix, the blues feel of Stevie Ray Vaughan, Hubert Sumlin, and the three Kings, and the improvisatory exploration of the jam-band world. His work ethic is serious, and he's developed significant chops, killer tone, and stylistic flexibility. It didn't hurt that he shared a stage with Buddy Guy, Young, and other titans along the way.
Something Real was recorded at the William Westerfeld House—a San Francisco landmark that was once home to Janis Joplin, jazz saxophonist John Handy, and a group of Czarist Russians following the Bolshevik Revolution. Its many rooms, nooks, and crannies provided an amazing and varied sonic environment, while its history and location provided the vibe.
We spoke with Nelson as he was traveling through the Rockies en route to Texas. Here he discusses his influences, techniques, recording approach, side projects, songwriting, and why he isn't much of a gearhead.
It's probably safe to assume you heard a lot of music around the house growing up. When did you start playing the guitar?
When I was 10 or 11 years old. Dad and mom never really forced it on me. They just had 'em lying around the house. It was something I could do to get closer to my dad actually, because he was gone all the time. I thought, "If I start playing guitar, maybe that's something we can talk about."
Listening to your music, it's obvious you had other influences—like Led Zeppelin and Black Sabbath.
Oh yeah, I love Sabbath. I love Zeppelin. I went to San Francisco one time and my mom got me Stevie Ray Vaughan and Jimi Hendrix [albums]. I started listening to them and had a kind of religious experience and fell in love with them. And then I had my dad as an influence, too. So it was like a marriage of those two musical styles that I really love—rock 'n' roll and real country music.
"I think there is a lot to gear, but personally I believe most of
it is just you."

How did you develop your technique—did you take lessons or learn solos off records?
I listened to lots of records and I'd spend 8 to 10 hours a day playing. I took a few lessons here and there. My dad taught me the country chords. I even learned some Gypsy jazz playing from my friend Tom Conway in Maui. My friend Donnie Smith taught me about the jam-band world—the Grateful Dead and just going off and being able to improvise. I was pretty well rounded and I had some great teachers, but I just did a lot of [wood]shedding on my own.
Can you read music and do you know some theory, too?
I know a bit of theory. I can read a little bit, but if you stuck a sheet of music in front of me it would take me a long time to figure it out. That's not how I learned, I learned by ear.
What's that joke—how do you get a guitar player to turn down? Put a piece of music in front of him.
[Laughs.] That's it!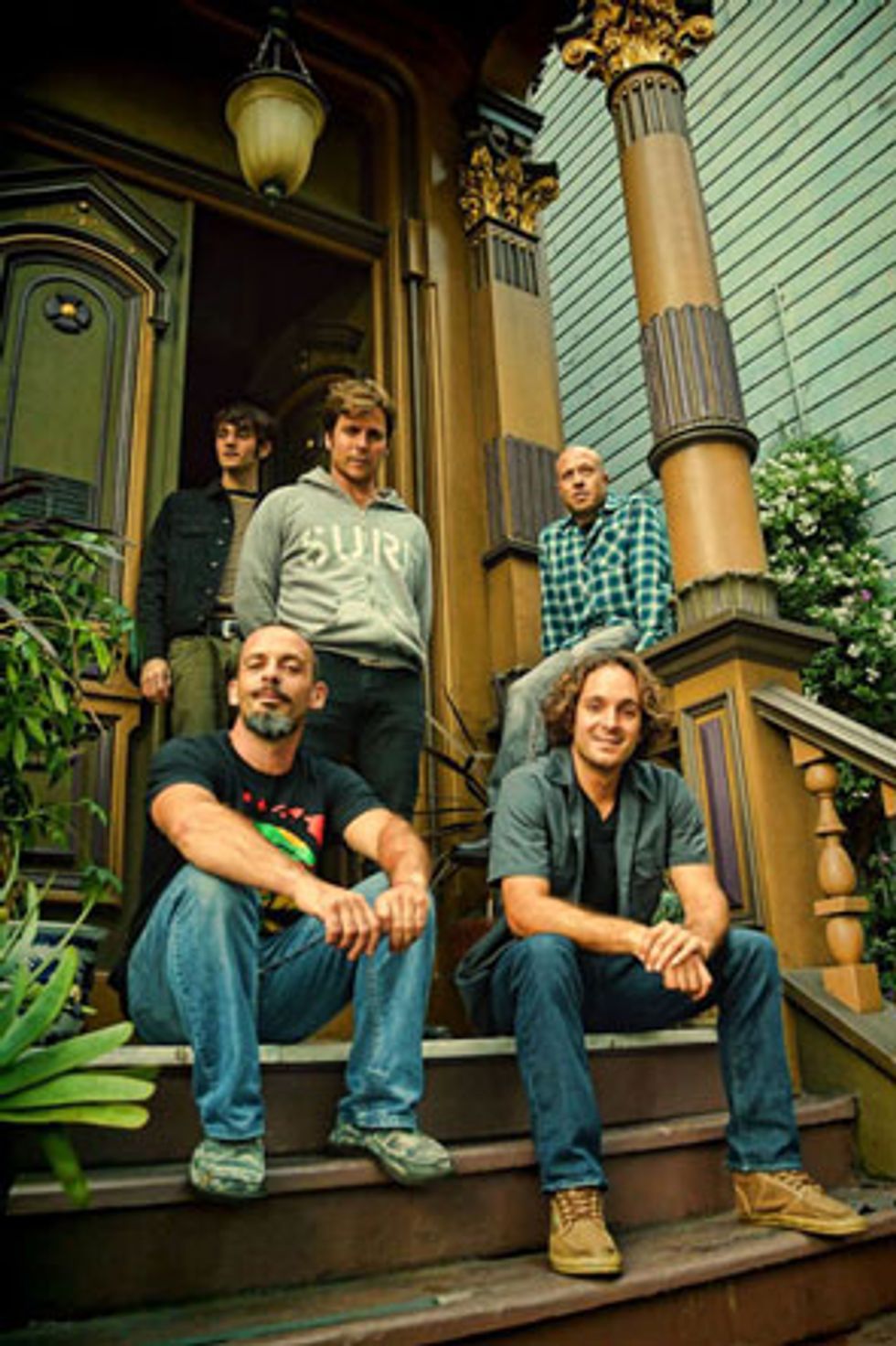 Promise of the Real poses outside the William Westerfeld House, the San Francisco mansion where they recorded Something Real. Band members are, from lower left (clockwise): Tato Melgar (percussion), Micah Nelson (guitar), Corey McCormick (bass), Lukas Nelson (center—vocals/guitar), and Anthony LoGerfo (front right—drums). Photo by Jim Eckenrode
Do you use a pick, fingers, or both?
I use both: I fingerpick and I play with a pick. These days I'm using my fingers a lot more, actually. On my dad's show, when I play with him, I only use my fingers now. Our tech, Tunin' Tom [Hawkins], will tune the guitar and then I'll just go straight into a Baldwin amp. I don't have any pedals, nothing. It's the same amp my dad uses. It breaks up great—those Baldwin amps are incredible.
It's an older vintage amp?
Yeah. My dad uses one, and Neil has one, too—he has a big one. It's the amp that my dad's been using forever.
What amp do you prefer for your gigs?
For my gigs I have a Magnatone [Twilighter] amp, the reissue that Ted Kornblum has been doing, and they're just incredible—they've got the greatest tone. Sometimes, if I can't get those, I'll use a [Fender] Super Reverb or a Deluxe Reverb together—I run two amps in stereo. But Magnatone is what I'm using right now.
How did you get your tones on the new album?
We put the amps in the library [at the William Westerfeld House] and walled them off. We had close mics and room mics. We created a little studio and it was the greatest thing ever. It was the coolest vibe out there, recording right in the middle of San Francisco.
Did you use your live rig or did you experiment with other gear?
I pretty much used my live rig, although it was during the recording of that record when I first started using Magnatones. We recorded it a year and a half ago.
What do you like about the Magnatones?
Just how they sound. It's good tone, and it sounded real. It didn't sound like a lot of reissues, where it's maybe more high end. It's real warm. They're good-sounding amps and the vibrato is really cool.
Neil Young is obviously a fantastic and very unique guitarist. What's it like playing with him?
Oh, I think he's one of the best that ever lived. It's an honor to play with him.