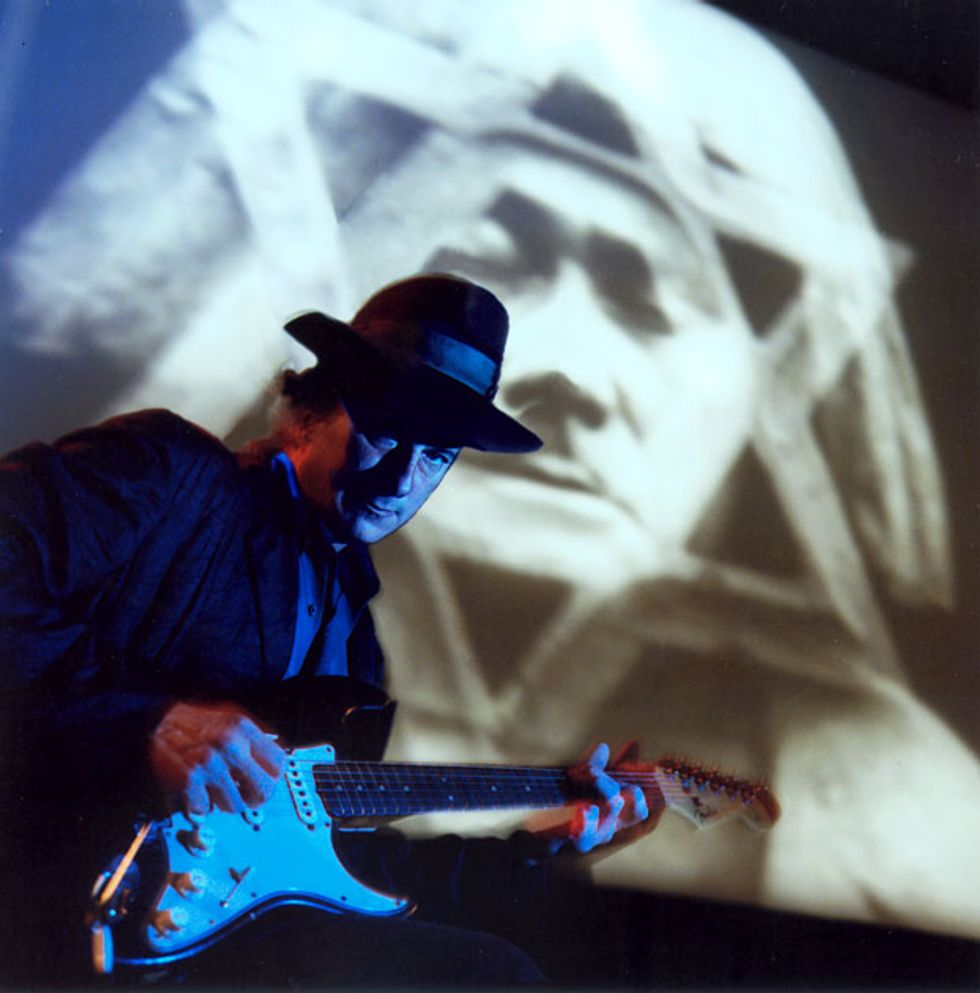 The 1915 silent horror film The Golem was Lucas' first excursion into creating new, live soundtracks for old movies. His first performance with the German classic was in 1989. Photo by Arjen Veldt
"A lot of my work is trying to throw light on the dark corners of culture that have been unfairly neglected," says Gary Lucas. "I'm on a mission. I'm a champion for the underdog."
Lucas, despite his mastery of the guitar, is an underdog himself. The Manhattan denizen is a 6-string composer, improviser, and conceptualist of the highest order who, despite his excellence and impressive resume, has never quite ignited the creative powder keg to blast him into the mainstream.
He's come close. In the early-through-mid-'80s, Lucas played lead guitar for Captain Beefheart (née Don Van Vliet) during the avant rocker's brief MTV period. Lucas' fire-setting on Beefheart's 1982 Ice Cream for Crow—especially his performance of the ferociously complex, fingerpicked solo recitation "Flavor Bud Living"—made him a darling of the guitar press. At the time, Lucas held down a day gig as a copywriter at CBS Records. (Blame him for the ad line, "Can you take 12 inches of Judas Priest?") In 1988, he staged his first solo performance at the original Knitting Factory—a sold-out affair which resulted in an invitation to play his first European solo gigs and encouraged him to strike out on his own.
Lucas' closest scrapes with stardom were in the early '90s. At the decade's start, he signed a deal with Columbia Records. Like many other major label contracts, it evaporated before an album was made, when the A&R department reconfigured. But at the same time he began a collaboration with Jeff Buckley. "I had a vision for a Led Zeppelin type of band, with me and Jeff playing the roles of swaggering guitar player and shamanistic singer," says Lucas.
After co-writing, recording, and a handful of now-legendary shows, Buckley ultimately decided to pursue a solo career, but not before he and Lucas penned "Grace" and "Mojo Pin," the songs that became the foundation of the legacy of the ill-fated Buckley, who drowned along the Mississippi River's Memphis shore in 1997. Lucas' book about their team-up, Touched by Grace: My Time with Jeff Buckley, was published in 2013.
Since that first Knitting Factory gig, Lucas' output has been prolific. He's made nearly 30 albums, mostly as a solo artist and as leader of his band Gods & Monsters. He's toured in roughly 45 countries—primarily as a solo performer whose deft playing and knowledge of effects, especially delay, gives him an orchestral palette.
Lucas has often put that skill and his pedalboard to service performing live soundtracks to films that include the Jewish monster fable The Golem, the 1931 Spanish language version of Dracula, the 1967 Brazilian cult-horror classic This Night I Will Possess Your Corpse, the historic Lon Chaney film The Unholy Three (1930), and other works that reflect his interest in "the dark corners of culture." These performances flow easily between composed and improvised sections, and laid the groundwork for his 2013 album Cinefantastique, which tackles themes from The Man Who Shot Liberty Valance; Dracula; Aguirre, the Wrath of God; Monsieur Hulot's Holiday; and other classic films. It's essentially the kind of revisionist material that's been earning Grammy nominations for his fellow guitar genius, Bill Frisell.
Another cineaste's treat, the cartoons of Max Fleischer, has triggered one of Lucas' new albums and collaborations. Fleischer was the Kraków-born New Yorker whose featurettes starred a range of characters from Betty Boop, Koko the Clown, Superman, and Popeye to musicians Cab Calloway, Louis Armstrong, and Don Redman. The latter were captured via the visionary's patented Rotoscope process, which animated movement by tracing frames of live action film. Lucas teamed with actress and vocalist Sarah Stiles to perform his interpretations of the music from Fleischer's works, captured on this year's "Fleischerei."
But wait, there's more! So far in 2016 he's also released Pearly Clouds, with his new band by the same name that features vocalist Eniko Szabo and saxist Toni Dezso. Lucas met the Hungarian musicians while touring Europe. Their collective sound is an uncanny mix of traditional folksong, American roots and textural music, and jazz. And his latest album, Stereopticon, pairs him with singer Jann Klose. Although their debut is a series of guitar and vocal duets, their partnership could easily evolve into the scenario Lucas once envisioned for himself and Buckley. In fact, the angelically voiced Klose sang for actor Ben Rosenthal, who played Tim Buckley, in the 2012 film Greetings from Tim Buckley, and he and Lucas met at a Buckley tribute concert.
The guitarist lays into his battered 1946 Gibson J-45 on all three of his new releases.
"I pay hardly any attention at all to what's currently considered mainstream music. My ear closes down. I hear enough just getting coffee in the morning in the deli."

"These albums really let me fly in different directions," Lucas says. "I love the music in the Fleischer cartoons, which I used to project when I was in the film society at Yale. How Max and his brother, Dave, drew on Yiddish theater is icing on the cake for me. With Pearly Clouds, we achieved some honestly beautiful music with me free-forming my guitar arrangements in the studio, which really filled out the sound. And working with Jann—I had all the songs composed in advance except for one that was spontaneously conceived on a blues change, and in some ways it reflects back to the early days working with Jeff, which were so full of excitement and promise."
Although Lucas was a Strat player when he helped Beefheart briefly break out of the cage of the avant-garde, in recent years he's favored his J-45 for all kinds of performances, including his effects-laden sojourns through the cinematic past. Nonetheless, his '64 Strat is far from mothballed, and neither is the 1928 National Duolian he bought under instruction from Beefheart when he was in the Magic Band. "I acquired it to play on 'Skeleton Makes Good' on Ice Cream for Crow," Lucas recalls. "Don loved it and said, 'It's not a guitar. It's an instrument of destruction.'"
We caught Lucas on the phone in his New York apartment shortly after a tour of Australia with Gods & Monsters, where they performed a series of Buckley tribute concerts. He gave us a glimpse at the motives and modus operandi of one of the world's foremost avant guitarists and unsung monsters of modern music.
What drew you to unconventional music?
I had an inquisitive mind as a boy and I've tried to preserve that sense of wonder all my life. My interests as a boy were not musical. I was an avid reader. I loved Greek mythology and, to a certain degree, Marvel and DC comic books. And that channeled into the horror genre through Famous Monsters of Filmland. That and Famous Monsters of Filmland. probably warped my sensibility. It's not a tremendous leap from monster magazines to strange music.
My tastes were circumscribed by what I could get on the radio growing up. The first thing that attracted me was the Thurston Harris song, "Little Bitty Pretty One." It was so bluesy and soulful. I remember hearing that in my mother's car. I was attracted to checking out the bins in records stores for budget classical records that had electronic and avant-garde music. I found some amazing stuff in there, like early Stockhausen. I found world music. Nonesuch had the Explorer Series. I found Delta blues. That all gave me a good grounding for the avant-garde. I loved that it crossed genres.
Beefheart, of course, was the turning point. When I heard him, I thought, "This is the greatest music I've ever heard." And seeing the band execute it confirmed that. To me it was like, "I gotta join this band if I do anything in music." It's like running away to join the circus. 7 Faces of Dr. Lao is one of my favorite films. I'm like the little boy in that film—trying to stumble on the circus of wonders. This is what's driving me.
There are numerous tales of Don Van Vliet torturing his bands. Had he mellowed by the time you played with him?
To a degree. We had the advantage of not living with him in a house. I daresay no one in the group of musicians I played with, with him, has any bitter memories. Did he mellow? Well, he would show flashes of temper. He could be really irascible.
I loved Don. He was my mentor, for sure, and a father figure to me. I learned a hell of a lot about the world. Here you have a guy whose message was a message of love in his talk, poetry, art, and music. I find what other people might consider rabid noise to be quite beautiful at times. Like Schoenberg. I was really attracted to Don's psychic state as portrayed in his music. Don would say, "I'm just trying to turn myself inside out." It's a question of how open a mind you have. I have to throw psychedelic drugs in there, too. It certainly opened me up to a lot of experiences.
There's not a genre of music that I can't find something beautiful about. That includes scorned genres like polka. To categorically condemn a genre is ridiculous, even if it's not your cup of meat. You have to admit that there are some really excellent practitioners in every genre. But I pay hardly any attention at all to what's currently considered mainstream music. My ear closes down. I hear enough just getting coffee in the morning in the deli.