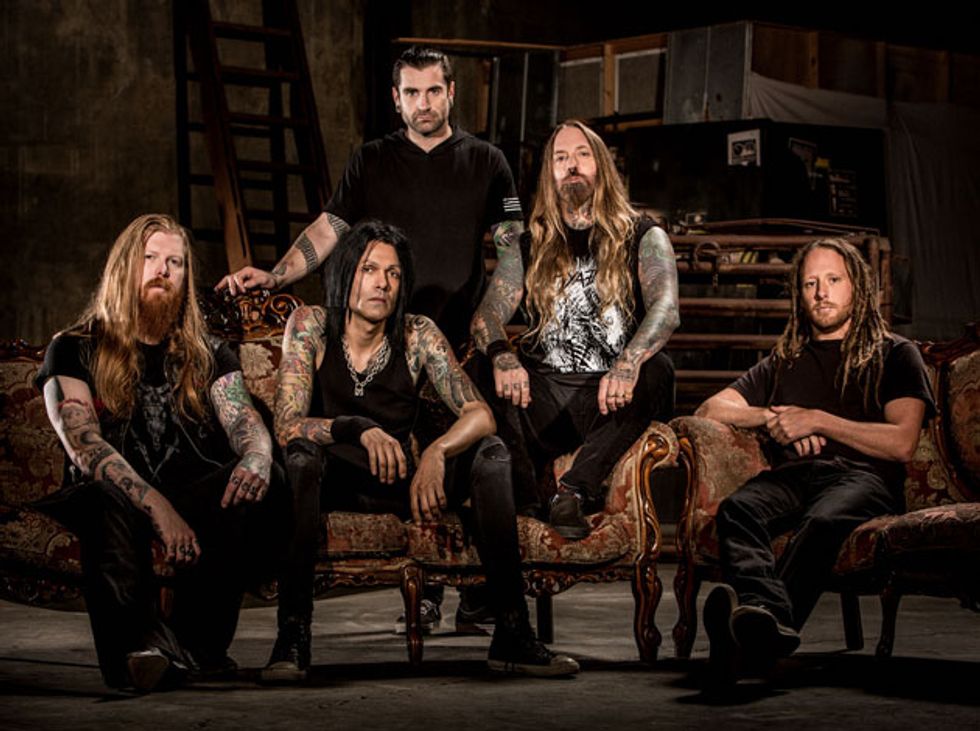 DevilDriver's current lineup includes, from left to right, new guitarist Neal Tiemann, bassist Diego Ibarra, drummer Austin D'Amond, founder and vocalist Dez Fafara, and longtime guitarist Mike Spreitzer. Photo by Ben Hoffmann
Aside from surfing in Australia a couple of times, guitarist Mike Spreitzer hasn't had much occasion to relax since recording DevilDriver's latest polyrhythmic, groove-metal masterstroke, Trust No One. With the exodus of several key band members, Spreitzer's workload increased exponentially, causing him to focus on the needs of the group during what would have otherwise been a break.
Aside from Spreitzer and founding member Dez Fafara (vocals), DevilDriver has an entirely new lineup. Neal Tiemann has taken over for Jeff Kendrick on guitar, Austin D'Amond has replaced John Boecklin on drums, and Diego "Ashes" Ibarra is in for Chris Towning on bass. Tiemann and D'Amond play on Trust No One. Ibarra joined after it was completed. With 12 years onboard, Spreitzer now ranks as the band's longest tenured member after Fafara. Spreitzer is currently putting the new recruits through their paces at his home studio in Santa Barbara, California, where the band was born in 2002.
"We're adding some songs from [2011's] Beast that we've never played live before," Spreitzer says. "So, I've been busy going over the new set list and teaching everyone the older material."
But it's not just the rehearsals where Spreitzer is taking on more responsibility. Besides the lineup purge, which includes partnering with a new guitarist, Spreitzer is also switching to in-ear monitors and a modeling amp for his touring rig, and was tasked with writing the music for Trust No One almost entirely alone.
"My particular style is feedback at 15 percent to 20 percent, and the mix of the delay is 10 percent to 30 percent at most."

So Spreitzer's creative process, at least within DevilDriver, has changed entirely. And yet he seems to have embraced this new dynamic effortlessly, all while simultaneously enforcing DevilDriver's singular sound. "I've always wanted to write a record all by myself," he admits. "Jeff didn't really write that much, but John was one of the main songwriters in the band. Winter Kills [their previous record, from 2013] was an even split between us. With Trust No One, all the writing fell on me."
Spreitzer stayed true to DevilDriver's vicious sonic assault, which is characterized by multi-layered guitar riffs and polyrhythmic grooves on Trust No One. Together, he and Tiemann weave a complex tapestry of controlled chaos that is, at times, as melodious as it is bludgeoning. Spreitzer's solos on "Testimony of Truth," "Above It All," and "For What It's Worth" are prime examples of his robust style—balancing hum-worthy melodies and finger-busting shredding. Spreitzer showers high praise on Tiemann, whose solos on "This Deception" and the title track demonstrate an intuitive gift for wah-infused, post-grunge psychedelia as well as a knack for tearing up leads when the gears shift into overdrive.
Spreitzer started playing guitar when he was 10. He credits hearing (and seeing) Def Leppard's "Pour Some Sugar On Me" at age 6 as the catalyst. "I had older brothers and sisters who were always watching MTV, and that's what got me into music. But I slowly got into Metallica and the heavier stuff and left the whole '80s hair-metal thing behind." He took lessons with three or four different guitar teachers through high school, but got more serious when he turned 18 and enrolled at Santa Barbara City College.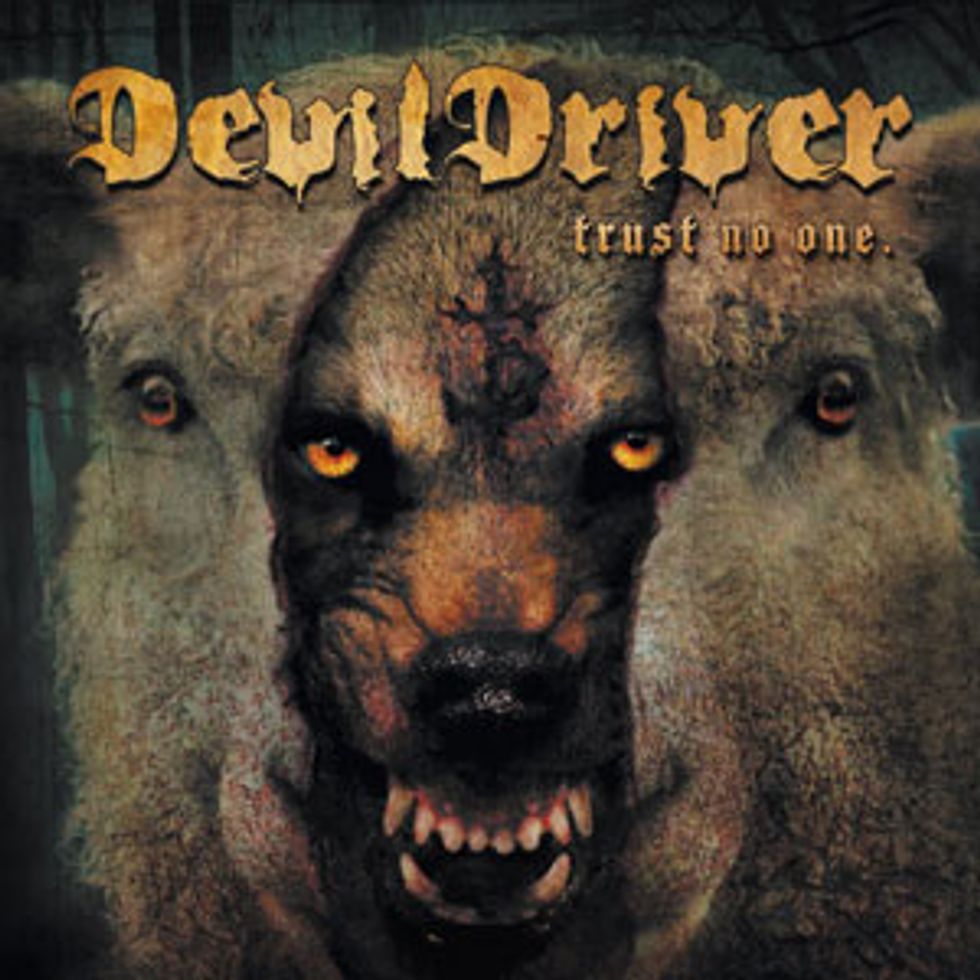 There's nothing sheepish about the driving, hard-focused sound that guitarist Spreitzer and crew forged, with the help of amp profiling and Cubase, for DevilDriver's latest album.
"I didn't focus on guitar," he explains. "Just general music." Though he didn't complete his studies, he did find some "awesome" musicians to jam with, who he relates were "leaps and bounds better" than he was. "I joined a progressive black metal band called Cystrot, and they had these ridiculously long 15-minute songs that never repeated a riff," he recalls, laughing. "It was full-blown tremolo-picking nonstop. It was something I couldn't do very well at all, but they gave me a good kick in the ass."
Spreitzer joined DevilDriver in 2004, replacing original guitarist Evan Pitts. He'd known Boecklin and Kendrick from another Santa Barbara-based band they'd all played in called Grolby, so he was an obvious choice when Pitts backed out of a tour for personal reasons. Spreitzer has since played on six DevilDriver's releases, dating back to 2005's The Fury of Our Maker's Hand, the band's second album. But Trust No One is his first without Kendrick sharing guitar duties. He says the biggest difference between Kendrick and Tiemann is that he and his new counterpart get together to play guitar socially.
"More than Jeff and I did," he confesses, "we really vibe off of each other. It's been a really cool experience." Despite this newfound camaraderie, Spreitzer does admit to being a bit resistant to Tiemann's hiring at first. "He was a friend of Dez's and he had never been in a metal band before. He was playing with David Cook from American Idol and in Hell or Highwater with the drummer from Atreyu, and I didn't know if he was going to be right. But he totally won me over. And as we've gotten to know each other, we've become really good friends."
Spreitzer relied on an ESP Eclipse-II with a set of Bare Knuckle Aftermath humbuckers for Trust No One. "It sounded awesome," he declares. "We recorded in my studio using a Kemper Profiling Amplifier, which was then reamped through a Driftwood Purple Nightmare and a Mesa/Boogie cab with Celestion Vintage 30s." For solos he incorporates some delay and/or reverb that he gets from a Pro Tools plug-in.
"I've got no problems using digital delays in DAWs," he says. "They sound great, but I always have to tell [producer] Mark Lewis to add more delay or reverb. I don't think my solos are overly wet, but he has a tendency to keep things fairly dry. My particular style is feedback at 15 percent to 20 percent and the mix of the delay is 10 percent to 30 percent at most."