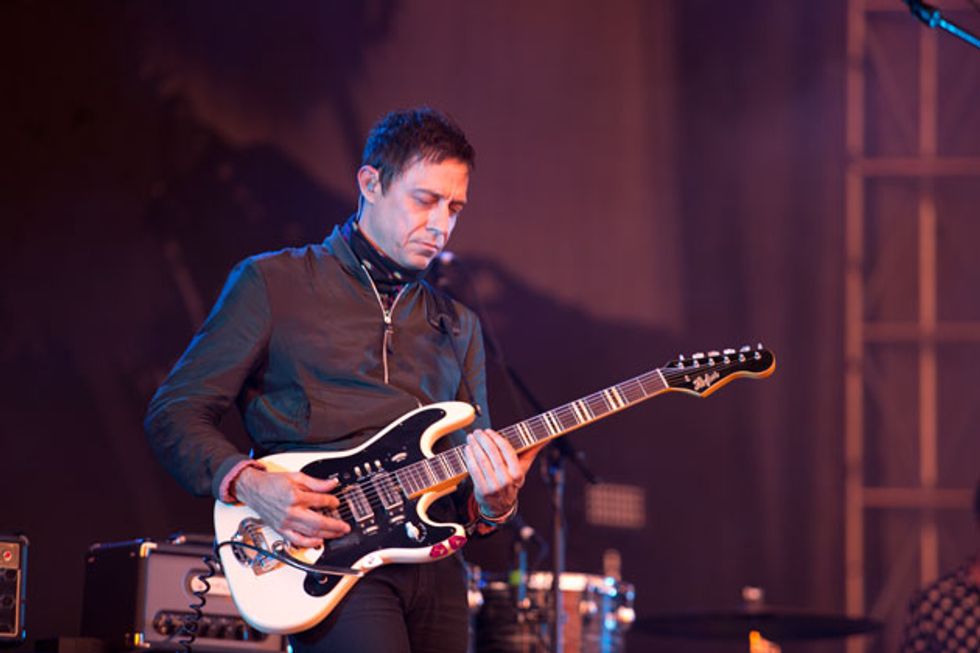 Hince has a large collection of Hofner 176 guitars, but his newest white 176 model shown here is fast becoming his No. 1 live guitar. The secret weapon of his tone is the three single-coil "sharkfin" or "blade" pickups he puts into
every Hofner he can find. Photo by Chris Kies
Alison you've said you write on an acoustic guitar. What's your main one?
Mosshart: There are a couple—they're both Martin 00s. Then I have this Gibson that I love, which is a little baby B-25. I use that a lot. It feels like a normal-size guitar to me, even though it's three-quarter scale. You walk up to it and it seems like it shrinks as you get closer to it [laughs]. It's an awesome guitar, but I wrote on the Martins for this album. They're old and they have a sound to them. I always write on acoustic because I feel like I'm really in touch with it.
I never really got into writing on electric guitar. Sometimes I have, but you know—it's loud, and it's not secret. I mean, it's like the greatest thing ever onstage, but if I used it to write, I'd end up using the crazy noise instead of actually finding the real notes and a melody and nailing it down. I'm not the greatest guitar player of all time, so it's better for me to work on an acoustic because I can control it and hear it. And I can write so fast on it. The melodies come so quickly, just because it's all very focused as it's happening.
"I always write on acoustic because I feel like I'm really
in touch with it." —Alison Mosshart

You whipped out a Gretsch to play "Heart Is a Beating Drum" [from Blood Pressures] last night.
Mosshart: That's a [1967] Gretsch Corvette. I've had it for a while. I have a couple of those. I love them because they have a super-skinny neck and they don't weigh anything. Having a guitar really ties me down if I can't carry it and jump around, too, so I always seek them out. I used to play a Hagstrom [Kent PB-24-G], which was pretty much the same. It was super-light and so nice. I've played the Bo Diddley Gretsch, but that was too heavy. That's an odd guitar to play too, because it sits on your body really strangely. But I love those Corvettes—they're great. He has a white Gretsch—the Silver Duke.
Jamie you also played a small-body Supro toward the end of the show.
Hince: Yeah, that's the Ozark. I saw it in a shop online, and I just kept going back to it. It's almost embarrassing because it's kind of a stupid-looking guitar [laughs], but it's the first time that I really had this feeling that I could see that the guitar sounded good. I could see it! I said to Bill Skibbe, "I'm really into this guitar, and I know you're gonna laugh."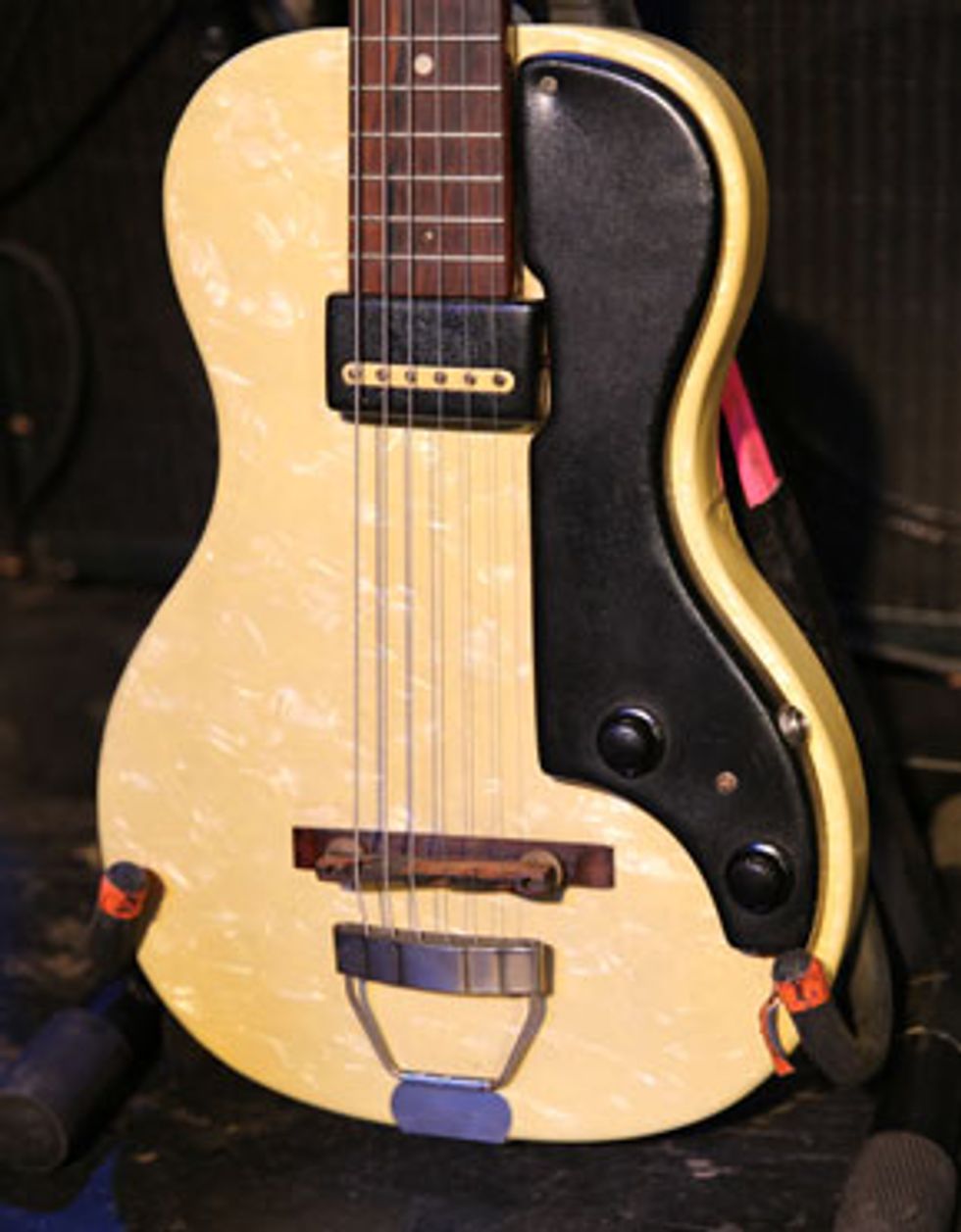 Hince's Supro Ozark inspired the Kills' new song "Siberian Nights."
I showed it to him, and he wouldn't have it. So I dragged him to the shop, and I plugged it in, and dead in the street we looked at each other and he went, "Buy it." It just sounded phenomenal. And then afterwards I found out that Jimi Hendrix's first guitar was a little Supro as well. It makes total sense. We recorded "Siberian Nights" with that one, at Electric Lady, so there you go.
Tell me about how "Siberian Nights" came together. I know there's a story behind it.
Hince: Well, I rode on the Trans-Siberian Express, and I think it was Celine or Flaubert who said, "You have to drink an ocean to piss a cupful," meaning you have to write a lot of stuff before you get to something useful. So I wrote loads of stuff. It wasn't like songs or lyrics, because I never really want to restrict myself like that. I just wrote a fantasy story about Vladimir Putin. I wanted to cast him in this homoerotic environment, almost like a surreal thing where his masculinity is his downfall. It's almost like the narcissism is so extreme that he's just had enough of being that barking manly. He just wants to take his shirt off with another man and just have a little cuddle, and then they can go back to being—okay, I know. This is what being on the Trans-Siberian Express and not speaking English for two weeks does to you [laughs]. But I started putting this story together, and then I chipped away at it and made it into a song. It was originally called "Me Tarzan, KGB."
Mosshart: [Cracking up.]
When a song like that comes together for you, are there different ways it can happen—like on a guitar, or with a beat?
Hince: Yeah, it happens every way, but I've honed it down a little. On this album, I'd have a song where I'd do all the music on my '68 Neve board. I'd program things and there'd be this really full, realized music in my head. But then when it came to vocal melodies, I'd write those on my acoustic guitar for the same song. It was a weird, convoluted way of doing it, but I didn't want to get obsessed with the song, and I didn't want to get obsessed with the sound. I wanted to separate them until the last minute. Does that make sense?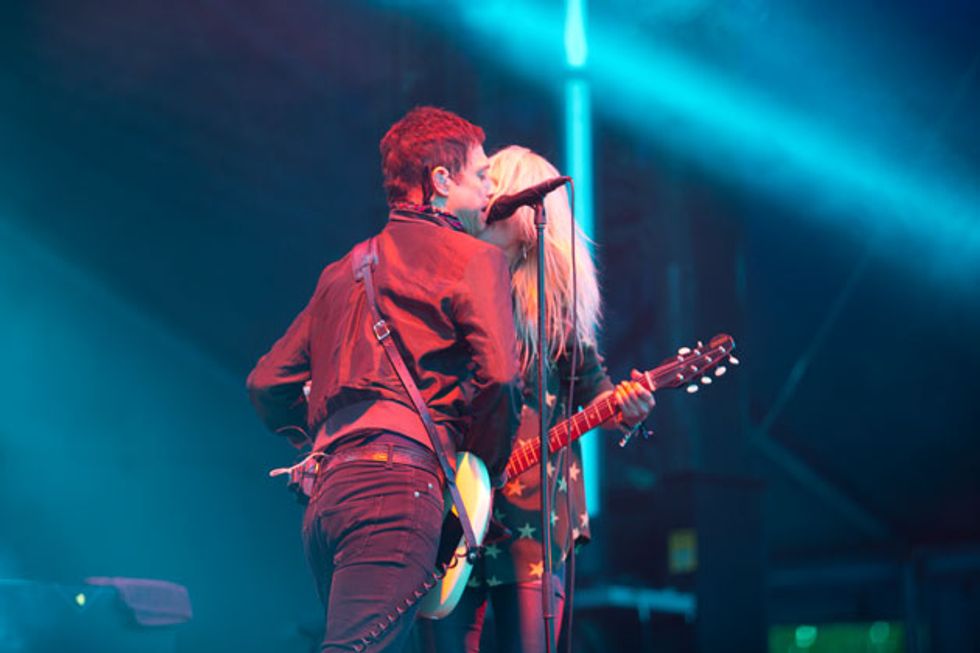 Both halves of the Kills keep busy. Mosshart is a painter and fronts the Dead Weather with Jack White, while Hince dabbles in photography, DJ'ing, and remixing other artists. "I wanted [Ash & Ice] to be a Kills soul record, with a dub production sound to it," he says. Photo by Chris Kies
Absolutely. And that's really interesting about the vocal melodies. What do you play to go digging for those?
Hince: Well, it's a guitar I call the Black Devil. It's a 1921 Gibson L-1 parlor guitar. I'm in love with it. Someone once said—we were talking about religion, and I'm a devout atheist, and someone asked me, "Do you believe in ghosts?" I said, "Yeah." And they were like, "That doesn't make sense." I couldn't make sense of it, either, but I picked up my Black Devil, and that thing has just given up so many songs to me. It's not the best-sounding guitar, and it's really painful to play—it's got a really thick neck with high action—but every time I pick it up, it gives up a crazy song. And I just thought, "That's why I believe in ghosts." There's something in that vibration that remains in the world, even though it's dead and gone, and that's how I feel about that guitar. I can pick up another guitar and not get anywhere with it, but I pick up that thing—it's making the hairs on my arms stand up even now.