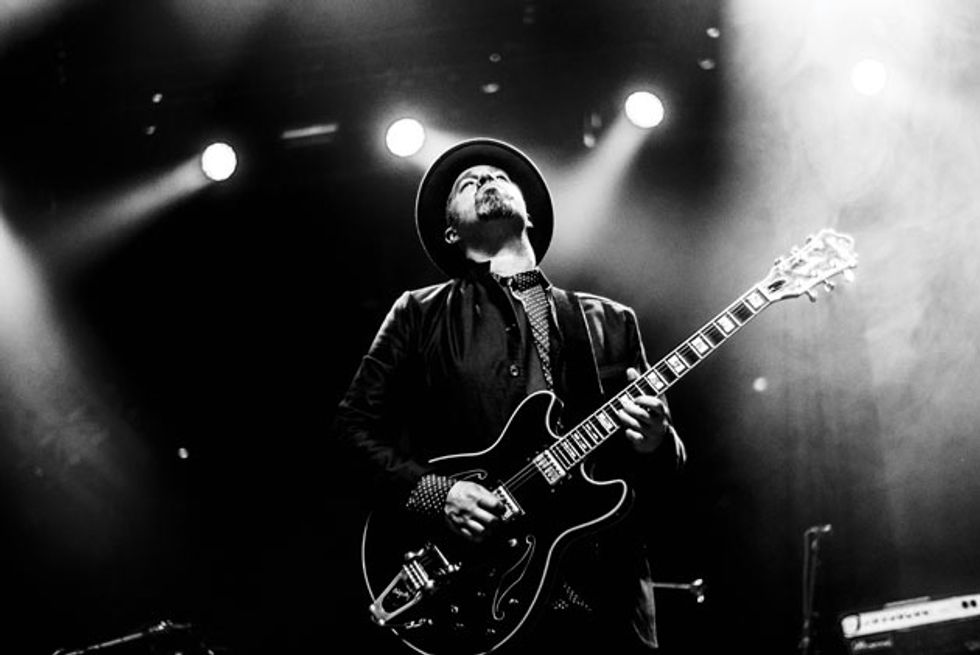 Playing guitar is natural for Krasno. The challenge for his new album, which focuses on vocal tunes rather than instrumentals, was to come up the curve as a singer and, then, frontman. Photo by Jay Sansone
Since his emergence with jam-oriented bands like Lettuce and Soulive in the 1990s, Eric Krasno has built one of the music industry's most diverse careers. He's earned popular and peer respect as a producer, songwriter, bandleader, label owner, and—thanks to a fluid style that knows no genre boundaries—guitarist. One title that hasn't appeared on his CV is lead singer.
Until now. Technically, Blood from a Stone is the Connecticut native's second solo album. But it's the first to feature his talents as a singer-songwriter. His solo debut, 2010's Reminisce, is mainly instrumental.
And fittingly for a guy who's worked with Norah Jones, Tedeschi Trucks Band, Matisyahu, Aaron Neville, Talib Kweli, 50 Cent, John Scofield, Phil Lesh and Friends, Snoop Dogg, Christian McBride, Joshua Redman, and many others, the music brings together influences from rock, R&B, hip-hop, and blues—all unified by soulful performances.
If Krasno—a producer for great singers—was hesitant to put his own voice in the spotlight, he needn't have worried. The strong songwriting, tasteful playing, and deft production that have defined his career so far serve him well as a singer-songwriter. From the opening track, "Waiting on Your Love," the music pulsates with strong hooks, shimmering sounds, and the kind of organic performances that hearken back to the classic rock and soul of decades past, without sounding retro.
The wah-driven start of "Torture" recalls Hendrix's Cry of Love-era grooving, while the focused soul of "Jezebel" provides a platform for tastefully melodic blues guitar, leading into the Motown-esque pop of "Unconditional Love," and beyond. The album's one instrumental, "Curse Lifter," is a simmering duet with Krasno's longtime friend Derek Trucks.
As Krasno explained when we spoke on the phone this summer, the making of Blood from a Stone had its fits and starts, thanks largely to his incredibly busy producing and touring schedule. But the process did more than yield one strong album—it opened yet another creative direction he expects to explore in years to come.
Was it challenging to make the transition from band member and producer to solo artist? Having been a producer on a lot of projects that were different styles, it was hard for me at first to kind of zone in on what style I wanted to represent on my own album. I feel like we have elements of all of it in there. But that was an interesting thing with this record. The record covers a lot of different stuff, because I have really eclectic taste.
It was really cool to work with David Gutter, who wrote the entire album with me. He was the lead singer for Rustic Overtones, a popular band in the '90s. We've been friends for a long time, and I've always loved his songwriting style, but he'd never really written for other people. When I started making this record, I had some lyrics written, but I mostly had grooves and ideas. I sent him a couple of my tracks, and he called me and was like, "Aw man, I have [a lyric] for that." He hit the ground running.
How did the songs come together? I went up to where he lives in Portland, Maine, with the intention of getting some demos together. When we got in the room, it just totally caught fire. We didn't really sleep for 10 days. We just went hard. And, last minute, we kinda pulled a band together. The London Souls' drummer, Chris St. Hilaire, was off the road. I knew he would add the right touch to it, so he came up. And Stu Mahan, the bass player—he also played in the Souls at the time—lives in Maine, so he came. We got into the Rustic Overtones' old rehearsal space and cobbled together gear to take into a studio. We took an old 8-track tape machine and hooked it up to a laptop with ProTools. Most of what you hear on the record was initially recorded that way. What we thought would be demos ended up being tracks on the record.
The musical styles are varied, but the album as a whole has a unified quality. How did you create that? That was the hardest part. We created a bunch of the tracks up in Maine and then I brought Dave down to New York. While this album was being made, I had a million projects that I had to do. I kind of put it on the back burner while I did Lettuce [2015's Crush] and Soulive. And since the beginning of making this record and now, I've produced, like, five other albums for other people. But I picked up a lot of things from other people's projects, which kind of bled into my project. Even though I was frustrated that I couldn't finish it, it was good because: a) I added these other elements production-wise, and b) I worked on my vocals.
"The guys I've been around, and I can't escape their influence, are Derek Trucks and John Scofield."

What inspired you to step out as a lead vocalist on this record? I didn't go in thinking, "Oh, I'm going to be a singer." It just kind of happened. Originally, I wasn't sure I was going to sing lead on the album. I wanted to sing some, but I felt like, "Oh, maybe some other singers will come in. I'll feature some guests." I've always sung on my demos, and as it evolved, it was like, "These songs are done!The demos are good." I just needed to nail it a little better in certain cases—but also really develop a [singing] style I can perform live.
Did most of the material grow from that initial Maine session? We recorded about 15 tracks, but I kept recording other ideas, so I had about 30 songs. The songs that didn't seem right for me were used on other people's albums. A couple for Tedeschi Trucks, a couple for Aaron Neville, and a couple I'm holding onto for other people. So we have a stack of songs that didn't make this record for one reason or another.
Now, fast-forward to six months ago or so, and I was hanging out with Jeremy Most, who's one of my favorite young producers. He produces an artist named Emily King. I listen to her albums religiously and I really wanted some of those elements on the record. Jeremy and I did "On the Rise," which was one of the last songs I did for the record. And you can hear how that one is very different, approach wise. We did that all pretty much in my apartment, starting with a percussion loop. He added a lot of cool samples and different textures. And when that track was done, I was like, "Oh man, I want to make an album that sounds like this!" But then I also loved all the other songs we had. I played him those and he was like, "Why don't you just add some of this vibe to the other songs?"
Some of it was just mix stuff and some of it adding new sonic elements. So even though he wasn't there for 80 percent of the recording, Jeremy helped me finish—take the last lap with it. He sat in on the mix sessions and added background vocals on a bunch of tracks. And, to be honest, I needed someone else to push me to finish. I had everyone pushing me to finish other projects, but no one really pushing me to finish my project. I was doing a billion things and at the time playing gigs a lot with people—so it was good to kind of have someone to push me to bring it home.
Did you find you had to turn off your critical ear while you were recording your own vocals? Well, that was impossible, which is why I had other people around me. I thought my vocals sucked all the time, even to the very, very end, and I was lucky to have friends around just being like, "Dude, it sounds cool." Now that more people are hearing it, I'm feeling a little better about it. And the other thing is, I'm around these acrobatic singers. Nigel Hall—I also produced his record—can sing anything he thinks of. And I have to be aware of range and where it's going to feel good. And that's something I didn't think about going into writing songs. A lot of songs, I would record them in whatever key, 'cause I was kinda murmuring while playing guitar. And then when I went in to actually sing, I was like, "Aw man, I wish I had done that in Bb instead of D." But that was actually a good thing for me because it made me stretch out and try different things. And now I'm a little more aware of that when writing for myself. Challenge is good.