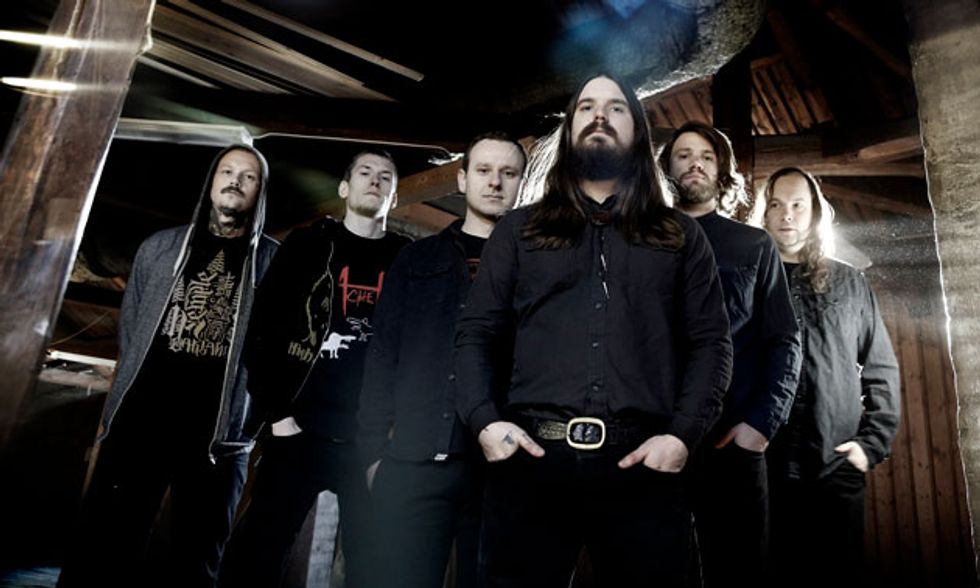 The Norwegian band's line-up includes, from left to right, bassist Marvin Nygaard, guitarist Maciek Ofstad, drummer Kjetil Gjermundrød, vocalist Erlend Hjelvik, guitarist Vidar Landa, and guitarist Bjarte Lund Rolland. Photo by Paal Audestad
Critics are saying that the song "1985" has a real '80s vibe, probably stemming from the eighth-note groove and the blues licks in the chorus. Who came up with that song?
Rolland: I wrote most of the riffs for it and we put it together in rehearsal. It was one of those riffs where you go, "Can we really get away with that?" We wanted to throw people off a little.
Ofstad: I hated that song the first five times we played it. I was like, "This is stupid." But it's one of my favorite songs now—especially when the video came along from Fredrik Hana. It really made the song. It gave it a face and also maybe gave it the edge that it needed—being scary and fucked up.
"It comes down to trying to retain the rock or punk-rock grooves. Since I don't play with a pick, everything naturally defaults to downstrokes. It's a self-imposed limitation that keeps it simple and intricate at the same time."–Bjarte Lund Rolland

Despite your reservations, the reaction to "1985" seems to be overwhelmingly positive.
Rolland: If that's the common perception, I'm fine with that, but it's not necessarily on our Facebook comments [laughs]. Some of our more hardcore fans were a little worried, actually. But we kept telling them not to worry. They have the rest of the record. It's certainly one of my favorites from the record.
Are you surprised by the overall success of the band so far?
Ofstad: I've been surprised ever since we released the first album. When I joined the band, I was pretty comfortable with the band just playing a couple of shows a year. So everything that's come since is crazy. We've toured with all my favorite bands, met a lot of great people, and made a lot of great friends. We're just dudes that want to play rock 'n' roll, and we really love playing live shows, and that's what we've been doing. There hasn't been any plan except for writing songs that we like and want to play. I'm very, very thankful that people enjoy what we do.
Maciek Ofstad's Gear
Guitars
Gibson Flying V90 with Lace Nitro-Hemi humbuckers
Gibson SG Standard with Lace Nitro-Hemi humbuckers
Fender American Standard Stratocaster HH with Lace Nitro-Hemi humbuckers
Fender Limited Edition American Standard Telecaster HH with Lace Nitro-Hemi humbuckers
Ampeg Dan Armstrong ADAG Lucite

Amps
Orange Thunderverb 200
Orange PPC412 cabs

Effects
Dunlop Volume (X) DVP3
Dunlop CBM 95 Cry Baby Mini Wah
MXR Custom Badass Modified O.D.
MXR M109 Six Band Graphic EQ
MXR EVH90 Phase 90
MXR M169 Carbon Copy Analog Delay
MXR EP101 Echoplex Preamp
Electro-Harmonix Little Big Muff Pi
Electro-Harmonix Micro POG
TC Electronic Hall of Fame Reverb
Boss TU-3 Chromatic Tuner
Boss NS-2 Noise Suppressor
Thermionic Culture Vulture plug-in
Carl Martin Octa-Switch MKII Effects Switching System

Strings and Picks
Ernie Ball 2215 Skinny Top/Heavy Bottom (.010–.052)
Dunlop Tortex .88 mm
So, your emphasis was on the music rather than becoming famous?
Ofstad: Yeah, I always just wanted to play music—except for when I went to high school and had to play jazz. I hated that. I had a really good guitar teacher, but he didn't understand that I just wanted to play Iron Maiden songs. I had to play Joe Pass, which is cool—you end up being a really good guitar player. But when you have ADHD it's boring. Jazz is boring. Now that I'm older I like it. I can enjoy it. Back then I just wanted to get it done quickly and play really fast, which is a stupid approach to playing guitar [laughs].
"Svartmesse" also has a bit of an '80s reference. The guitar intro is almost a nod to Stevie Nicks' "Edge of Seventeen." Rolland: Stevie Nicks? That's purely intentional [laughs]. That song is the best example of collaboration in the band. The intro [sings the "Stevie Nicks" part] was Maciek. I came up with the verse riff. We didn't know where to go with it, so I went out for about an hour and when I came back they had put it together with the chorus, which I believe was Maciek's idea. The bridge and the key change came together after that.
"Bronsegud" has a punk-rock vibe, rhythmically speaking, but the guitar licks have more finesse.
Rolland: I thought we needed something that was a little faster and more punky. It's cool to play simple three-chord punk rock, but it gets old pretty quickly. One of the fundamentals of the band in the beginning was that we set out to make fancy punk rock in a way. And then we started involving more elements of metal and other stuff. That song is definitely a throwback to the earliest ideas of what we wanted to do with the band. It ties it all together.
Do you have any advice for someone just learning to play?
Ofstad: Yeah. Just play. It's the only way to do it, man. Just pick up the guitar. You're probably going to suck, but just keep on doing it. A couple of years back I saw Dave Grohl talking about American Idol and he was wondering how anyone could judge a kid playing guitar when he's 14 and he sucks—and just say, "You have nothing to do with music." Of course, you're going to suck for the first two or three years. Your band is going to be horrible, but then you start a new band and you're going to be awesome, so just keep on playing. Go for it. Do what you like and don't care what people say or do. The old cliché answer, but it's the only answer.
YouTube It
Don't think a three-guitar band playing in standard tuning can bring the metal? Check out Kvelertak live in London in 2013, where guitarists Bjarte Lund Rolland, Maciek Ofstad, and Vidar Landa steam ahead full bore on "Bruane Brenn" from their breakthrough album, Meir.