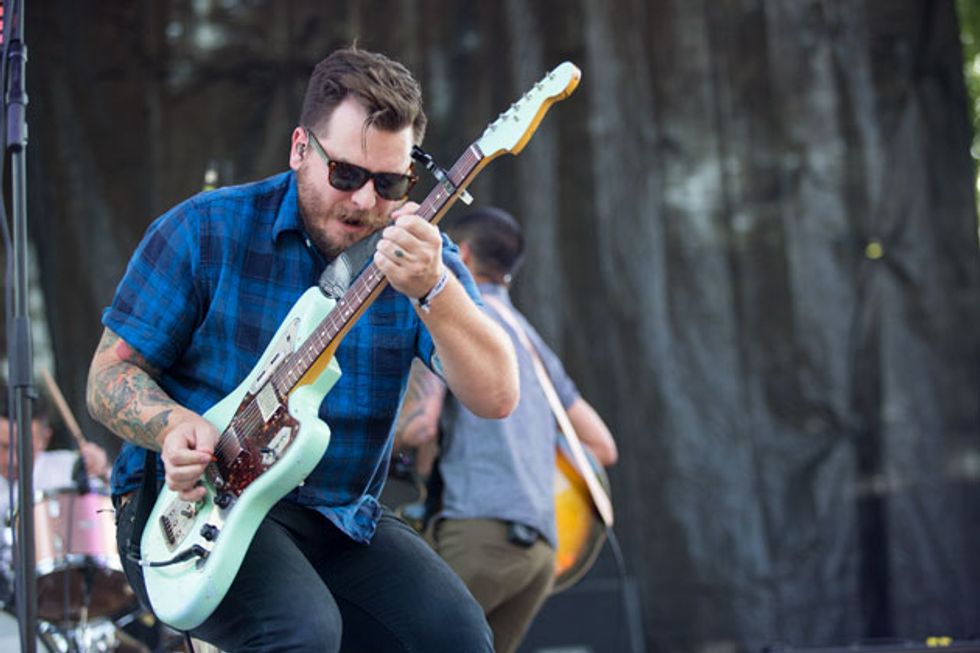 Thrice's songwriting process is mostly a democracy, according to Dustin Kensrue. "We all write music and then I start singing nonsense over it until I find something I like." Photo by Perry Bean
Never content to stand still, Thrice is a band that defies easy categorization. Formed in 1998 in Irvine, California, by Dustin Kensrue and Teppei Teranishi, the band began playing an amalgam of punk, metal, and hardcore. "I remember trying to get shows around here in Orange County in 1999 or 2000," recalls Teranishi. "People were like, 'Well, you're not really a punk band, but you're not really a hardcore band. We don't know what kind of shows to place you on."
Thrice's musical evolution continued in 2005 with the release of Vheissu, which featured a broader variety of instrumentation—including piano, strings, some electronic programming, and even a song inspired by a music box—than the band had previously explored. This set the stage for the critically acclaimed 2007 concept album, The Alchemy Index, which debuted at No. 24 on the Billboard 200 chart and reached No. 5 on iTunes' list of top-selling albums. The Alchemy Index was born as a series of four EPs, each of which was sonically inspired by a different element in nature: fire, water, air, and earth.
"I think The Alchemy Index was a really interesting and cool experience, in the sense of being able to do something totally outside our box," Teranishi offers. "And that, I think, was the result of having boundaries. That was the first and only time really that we've written with a specific target in mind. We kind of made these boundaries like, "All right, the water EP—it's going to be electronic. It's going to have these kinds of sounds. The tones are going to sound like this or that. We were actually writing with some specific goals, whereas everything else we were just kind of writing whatever."
"Lots of guys can shred my face off, but to me it seems like you need something more, like passion and creativity." —Dustin Kensrue

After releasing Vheissu and The Alchemy Index, both of which the band has described as having a "sleepy feeling," Thrice set out to make a more upbeat, lively record. In 2009 Beggars was released, followed by Major/Minor in 2011, both of which further bolstered Thrice as a titanic name in indie rock. But after touring in support of Major/Minor in 2012, Thrice announced an indefinite hiatus so its members could focus on personal projects.
Fans rejoiced in December 2014 when a somewhat cryptic image of the band in the studio surfaced on their website with large text that simply read "Thrice 2015." Within two months they announced some festival dates, followed a year later by the announcement of their new album, To Be Everywhere Is to Be Nowhere.
To achieve new levels of drone tone on their ninth studio album, Teranishi and Kensrue experimented with custom string gauges, dropped and offbeat tunings on their baritone guitars, and added choice chorus and overdrives to their sonic palette. The result is a tastefully written and produced album that should leave the Thrice faithful feeling nothing less than satisfied. To Be Everywhere Is to Be Nowhere has the group's unmistakable signature elements: catchy melodies, nuanced songwriting, and parts designed to illicit an emotional reaction from the listener.
We recently caught up with Kensrue and Teranishi to discuss the sonic evolution of Thrice, the new album (which Kensrue considers their most melodic release to date), and how members of the band Brand New inspired Thrice's return from a nearly four-year hiatus.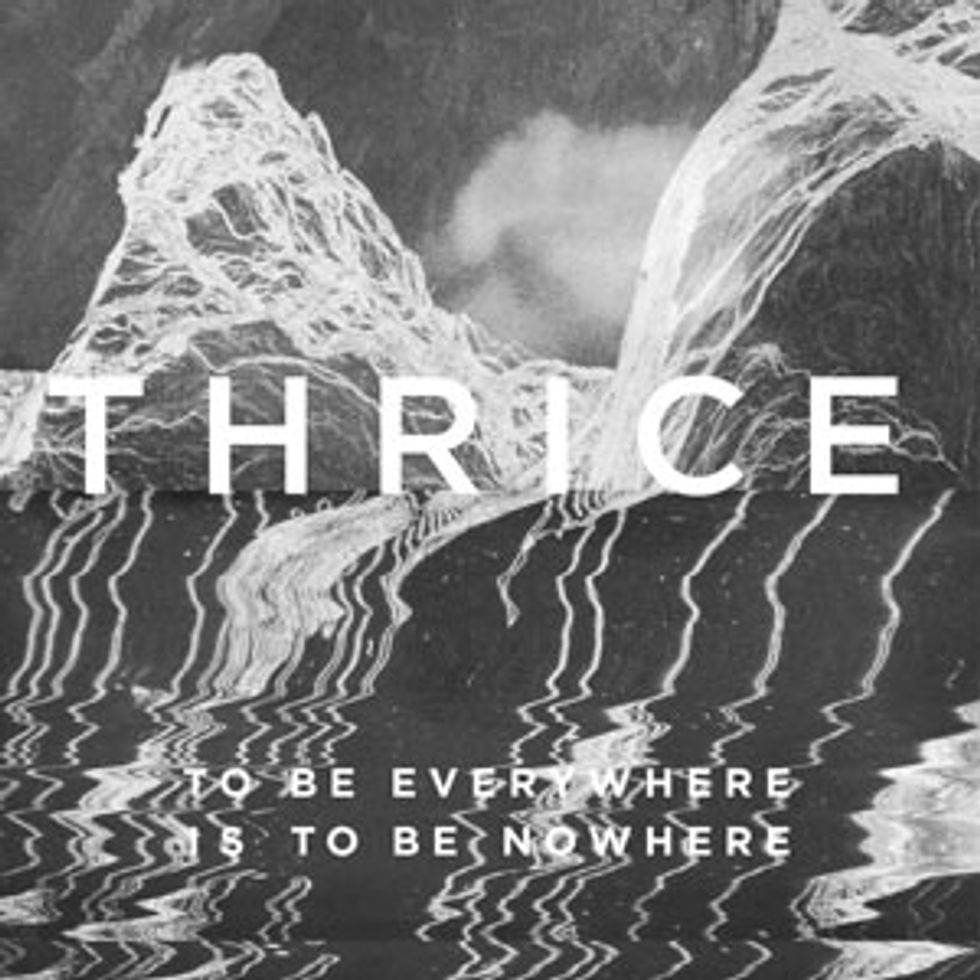 To Be Everywhere Is to Be Nowhere is Thrice's ninth studio album and released May 27, 2016, on Vagrant Records. Click here to stream the whole album.
What were you doing during the break?
Teranishi: We were all doing different things. Dustin was up in Seattle working with a church, I was in nearby Vashon Island where I started a leather/canvas goods design and craft studio. I was really keeping myself busy with work, but I was still making art by working with my hands and leather, so the creativity itch was being scratched. I did have thoughts of maybe dabbling in production or engineering, but I'd been doing music for my entire adult life, and it gets to a point where you just need a break. I took it as an opportunity to explore new things, so it wasn't like me sitting around thinking,"Man, I gotta get back on the road."
So what was the catalyst for the return of Thrice?
Teranishi: I guess it was when Dustin and I went out to a Brand New show—they were doing something like a short, two-week West Coast run—and it gave us a fresh perspective on touring and being in a band without being gone all the time. That experience allowed us to consider that we could go back on the road and be Thrice without sacrificing all of our time or home lives.
Why did you start playing guitar, and what still turns you on about it over the years?
Teranishi: My dad played guitar, so there was always one around the house, plus both my parents were really into music. And I think it was just kind of natural for me to want to pick it up. Probably around 5th or 6th grade I started really getting into Metallica and that's what made me start playing guitar.
What was your first guitar?
Teranishi: It was one my dad got me—I don't even know what brand it was—it was a half-size electric guitar. My first real guitar was a Fender Prodigy. It's a super low-end model that I probably got at Guitar Center, but it had a Strat-style body, a humbucker in the bridge, and single-coils in the middle and neck positions.
What do you think makes for exciting guitar playing? Is it passion, technical skill, creativity, or a mixture?
Kensrue: For me, exciting guitar playing is stuff that feels good—not stuff that's super technical. I've never been into really technical guitar playing because I personally think real technical players can come off as generic. Lots of guys can shred my face off, but to me it seems like you need something more, like passion and creativity. I never thought of myself as much of a guitar player until maybe halfway through our career. I was a singer that was just trying to keep up with Teppei on guitar. On Beggars I started becoming more interested in playing guitar and began to feel like I understood my own style of playing more. I think now I can play with feeling and come up with some interesting stuff. For instance, on this record I'm playing more leads—like on "Hurricane," or the super messy solo in "The Window." I've always really loved playing. None of it is really technical or difficult, but I've had a lot of fun dialing in my tone this time.