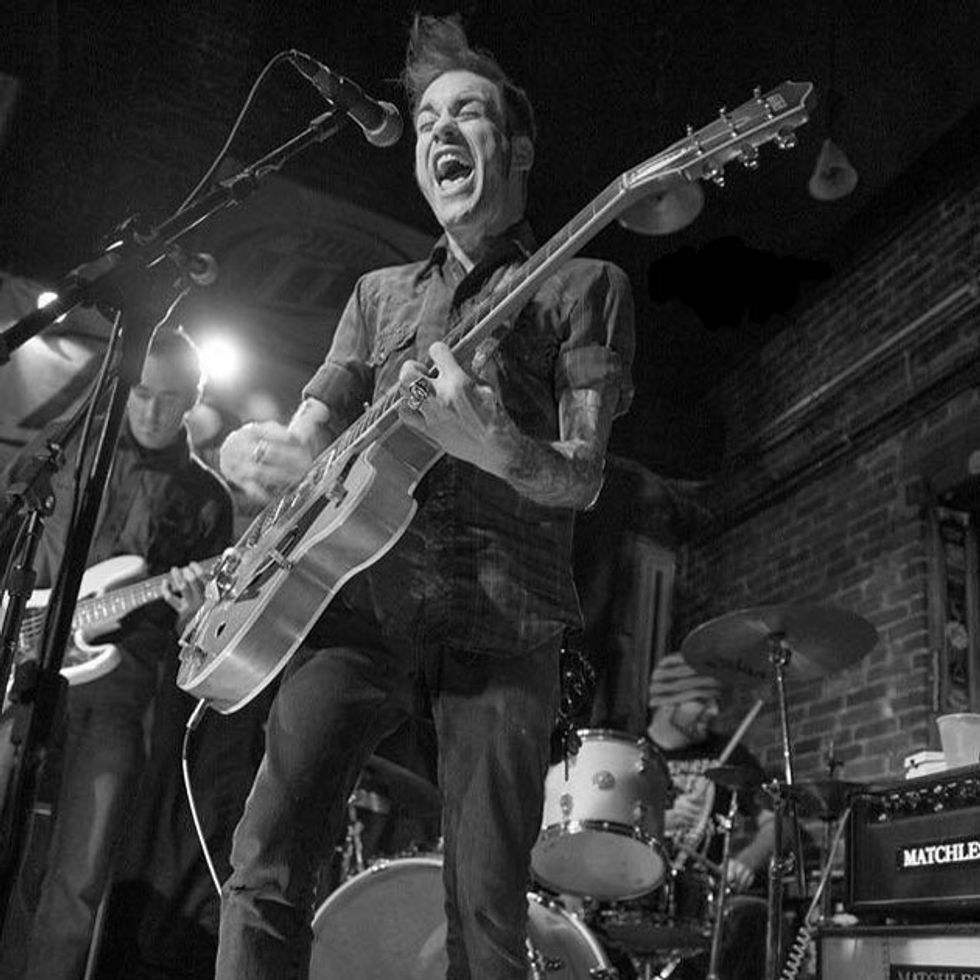 Lloyd Nicely's first guitar was a 1963 Fender Jazzmaster that he bought at Gruhn Guitars, where he now works. His main axe is an orange 1959 Gretsch 6120. Photo by Dusty Draper
Kentucky-based rockers Opossum Holler play in the style of doomabilly: an eclectic mash-up of rockabilly and '70s metal. It's a high-energy cocktail, but also dynamic, dark, and introspective. The band is edgy, yet quirky and offbeat—and they're not subtle. "I was influenced by anything B-horror movie related," guitarist Lloyd Nicely says. "So that's where most of it comes from." The band is officially based in Bowling Green and released their first album, What's Done Is Done, in 2011. Their lineup includes Nicely on guitar and vocals, plus drummer Matt DeVore and bassist Shelby Smith, who replaced founding bassist Brad Ausbrooks in 2014.
The power trio format suits Nicely just fine. He boasts virtuosic technique, superior tones, and an unorthodox perspective. "I was very influenced by Elvis and the rockabilly stuff," he says. "I got really heavy into a lot of psychobilly music like Batmobile, Guana Batz, and, of course, Reverend Horton Heat. I always liked the Cramps—things like that—and I was very into Dick Dale." Nicely also has an encyclopedic knowledge of vintage gear, which he puts to use working at Gruhn Guitars in Nashville. "I do the majority of the purchasing and consigning for the shop," he explains.
The group's alternative energy and first-class musicianship are getting them attention. Willie Adler from Lamb of God is a notable champion. "We never opened for them," Nicely says about Lamb of God. "But [Adler] came and played a few dates with us. We have a song called "Sawdust," and he will get onstage and play that tune with us from time to time." Adler also makes an appearance in Opossum Holler's camp horror video, "Hex," as a bartender and undead motorist. Their most recent release, Pine and Stone, continues to wade knee-deep in the sonic marshlands and showcases Nicely's fearless use of colorful chordal tensions (like 9s, 11s, and 13s) awash in fuzz. His ability to do that is a testament to his skill and finesse—not something you'd expect in a band as gritty as Opossum Holler.
"I actually taped an overdrive pedal onto the top of my guitar so I could hit the overdrive with my hand instead of using my foot."
We spoke with Nicely about crafting great tones, nuancing complex chord voicings from an oversaturated amp, finessing music from a belligerent vintage guitar, and the merits of recording everything live. Check out our sidebar with bassist Smith for added 'Possum perspective.
Who are some of your early influences?
The earliest stuff I listened to was probably the stuff my dad got me into. My dad was a professional bluegrass musician—a mandolin player. A lot of my earliest influences would probably be Johnny Cash, Bill Monroe. My dad was really into Bill Monroe, which really doesn't reflect in my music at all [laughs]—but a lot of the early bluegrass stuff was very influential. And Elvis Presley was probably my largest influence ever.
What got you started playing guitar?
Oddly enough, it was my grandfather. He was a banjo player and he wanted somebody to play music with. He'd play banjo and I'd play flattop guitar. But mainly, for the rock 'n' roll stuff, Tony Iommi may have been my biggest influence to pick up the electric guitar.
So in high school you discovered Black Sabbath and there was no looking back?
Exactly. Black Sabbath, Mountain, Deep Purple—it was not really metal, but it was like the very earliest forms of it. I figured that stuff out and I got into Nirvana—like that record Bleached—some of the '90s stuff, Billy Corgan. All the stuff the kids got into at that point in time.
Harmonically, the chord voicings and progressions you use sound influenced by jazz. Did you listen to or study any of that music?
I wouldn't say I've ever studied any music. I just hear stuff I think is cool or certain things I like the sound of and then I do my best to do my own interpretation of that. If I try to play a jazz riff or a jazz lick, I usually play it wrong [laughs]. I do like a lot of the old Gypsy jazz—like Django Reinhardt—that was always one of the things that was very fascinating to me. I've tried to put a little bit of that in there with my own twist on it.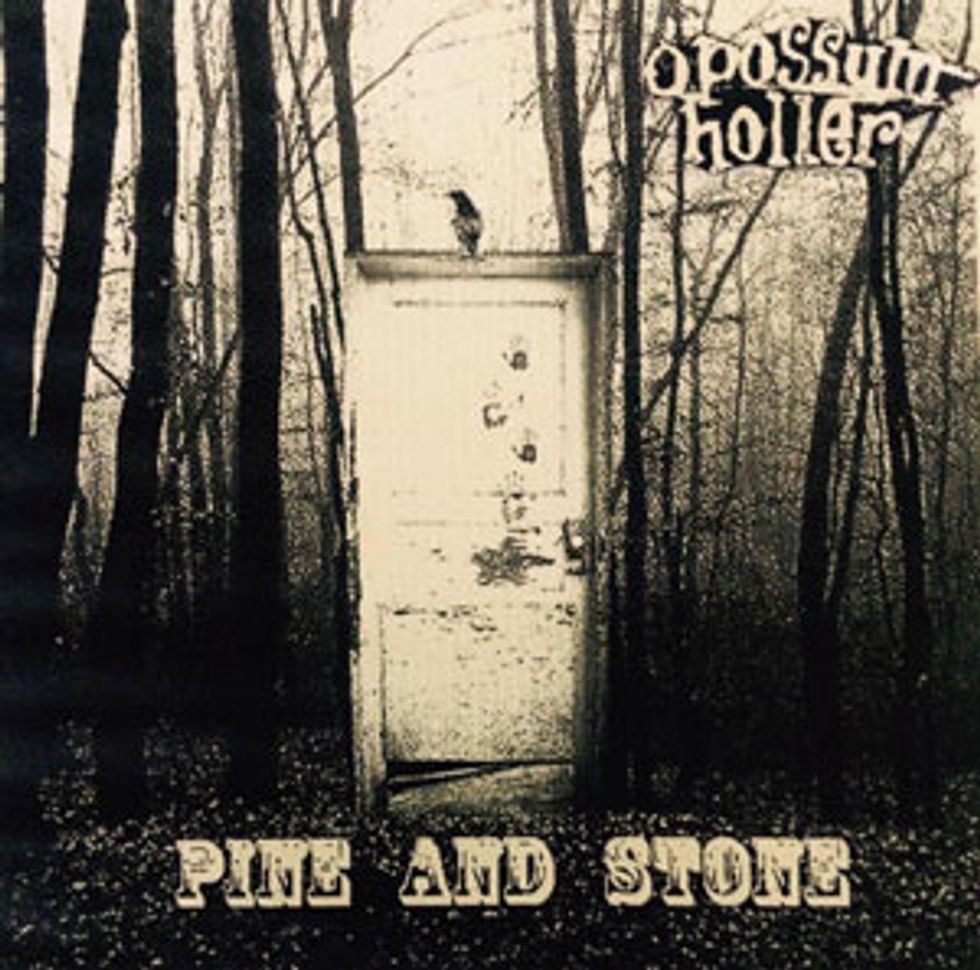 Opossum Holler's fifth and latest recording, Pine and Stone, is a seven-song EP that follows two previous albums, another EP, and a single. It was recorded in 2015, and features current bassist Shelby Smith, who joined the group in 2014.
When playing with lots of fuzz, how do you get the different notes in the more complex voicings to ring out?
Well, oddly enough, I don't use anything but an amp and a guitar. I don't have any pedals. I don't even run a tuner into my line. I keep my tuner on top of my amp and then I use it between songs. I run my guitar straight into my amp and the way I make it dynamic is I use the volume control on my guitar.
You don't even switch channels on the amp? Do you do everything with the volume control?
Yes. Even when we record. Our recordings are live. They are 100 percent the vocals, the guitar, the drums, and the bass. It's done in one room.
No overdubs?
No. We don't overdub anything unless it's absolutely necessary. I like to make a record that sounds the way we actually sound. I don't want to give somebody a record and say, "This is my band," and then show up, play, and not sound anything like the record. It gives it more of a live, direct feel. I use my volume control a whole lot and I do switch pickups quite often. But that's all I'm using: my guitar and my amp.
Was that a philosophical decision or just how it worked out?
I played in a lot of different bands when I was younger and I always had a problem when I wanted to go from a clean sound to a really overdriven sound. I was terrible. I would always hit the overdrive pedal at the wrong time and it didn't work out [laughs]. At that point, I was using a '65 Fender Mustang through a Twin with an overdrive pedal. What I did was I actually taped an overdrive pedal onto the top of my guitar so I could hit the overdrive with my hand instead of using my foot. I was just better doing that in time. Over the years I figured that I would turn my amp up as loud as it would go and I'd get the tone from wherever I rolled the volume. If it sounds good there, that's where I'm going to have it.
So when you're playing complex chord voicings, you roll the volume down a little bit more?
I do. That's how I do it.