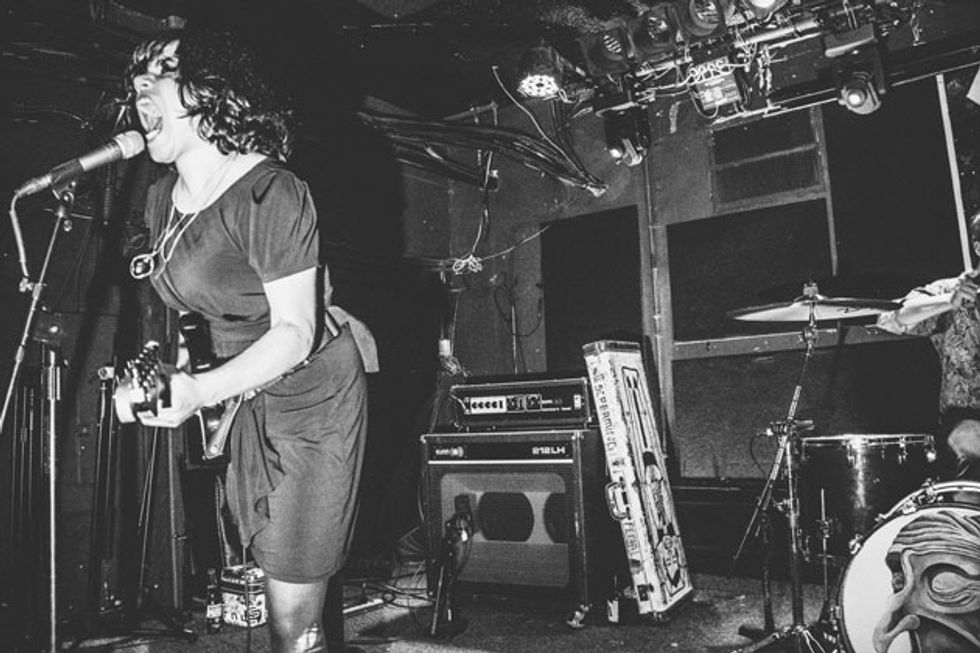 Screaming Females leader Marissa Paternoster, whose go-to axe is a G&L S-500, started playing guitar at age 14. Her raw, energy-fueled solos and emotionally infused songwriting was informed by her love for riot grrrl bands like Bikini Kill, but also rock bands like Smashing Pumpkins. Photo by Farrah Skeiky
"People always want to talk about the red knobs," says Screaming Females' frontwoman Marissa Paternoster of her favorite 1970s Sunn Concert Lead head. "It has a really cool cabinet with recessed speakers, and it makes every sound person who looks at it freak out because they don't know what to do—but all you really have to do is put a microphone in front of it. It's rad. It's super loud, and it sounds great."
Despite preferring to broadcast her cranium-rattling riffs, frazzle-fuzzed licks, and incisively clean chord work via the notoriously loud Sunn and a couple of go-to G&L S-500 solidbodies, Paternoster is no picky gear junkie. Likewise, though she boasts formidable chops born of countless hours of gigging (and jamming to Nirvana, Pixies, and Bikini Kill records as a teen), Paternoster's also no fan of shredding—at least not in the context most guitarists view the term in. "I kind of hate that stuff," she says of run-of-the-mill guitar gymnastics. "It sounds like a robot is playing the guitar."
What does do it for Paternoster and Screaming Females bassist "King" Mike Abbate is anything that dovetails with the New Jersey natives' punk roots, DIY work ethic, and Paternoster's distinctive vocals—which can be sweetly demure but are usually delivered with a frenetic, full-throated sneer.
The Females came together in 2005 in New Brunswick, New Jersey, when Paternoster, Abbate, and drummer Jarrett Dougherty were students at Rutgers University—although Abbate admits, "I only went to Rutgers because Marissa and Jarrett were already going there and I wanted to keep playing in the band." After honing their sound playing together in basements and punk houses, the trio self-produced their first album, Baby Teeth, in 2006.
"I kind of hate [shredders]—it sounds like a robot is playing
the guitar." —Marissa Paternoster

Since then they've released five more LPs and an EP, and toured extensively, opening for iconic bands like Dinosaur Jr. and Garbage. Along the way they've collaborated with such studio legends as Steve Albini (Shellac, the Pixies, PJ Harvey), Butch Vig (Nirvana, Sonic Youth), and Matt Bayles (Mastodon). Their 2015 release, Rose Mountain, was included on many year-end best-of lists.
We recently spoke with Paternoster about her musical heroes, her one experience with formal music training—a university course she describes as being more like math—and the transformative powers of punk.
When did you start playing guitar?
I started playing when I was 14-ish. I'm 29 now, so I've been playing for a while. My dad had a guitar. I started listening to rock 'n' roll and he suggested that he might be able to teach me some of the Nirvana songs that I'd been listening to—"They're really easy." He did, and I just took it from there.
Who else were you listening to?
When I first started listening to rock music, it was Nirvana and Pearl Jam. I really liked the Pixies all throughout high school. Once I got into the Pixies, I started listening to pretty much everything Kill Rock Stars [indie label that first signed Bikini Kill] had ever put out. That led me to K Records [Beck, Modest Mouse], 5RC [5 Rue Christine, a dormant subsidiary of Kill Rock Stars], a lot of riot grrrl music, early contemporary feminist music like queercore, and all kinds of twee stuff. I got into weirder music as I grew older, but at first I was listening to mainstream radio rock, like Smashing Pumpkins and stuff.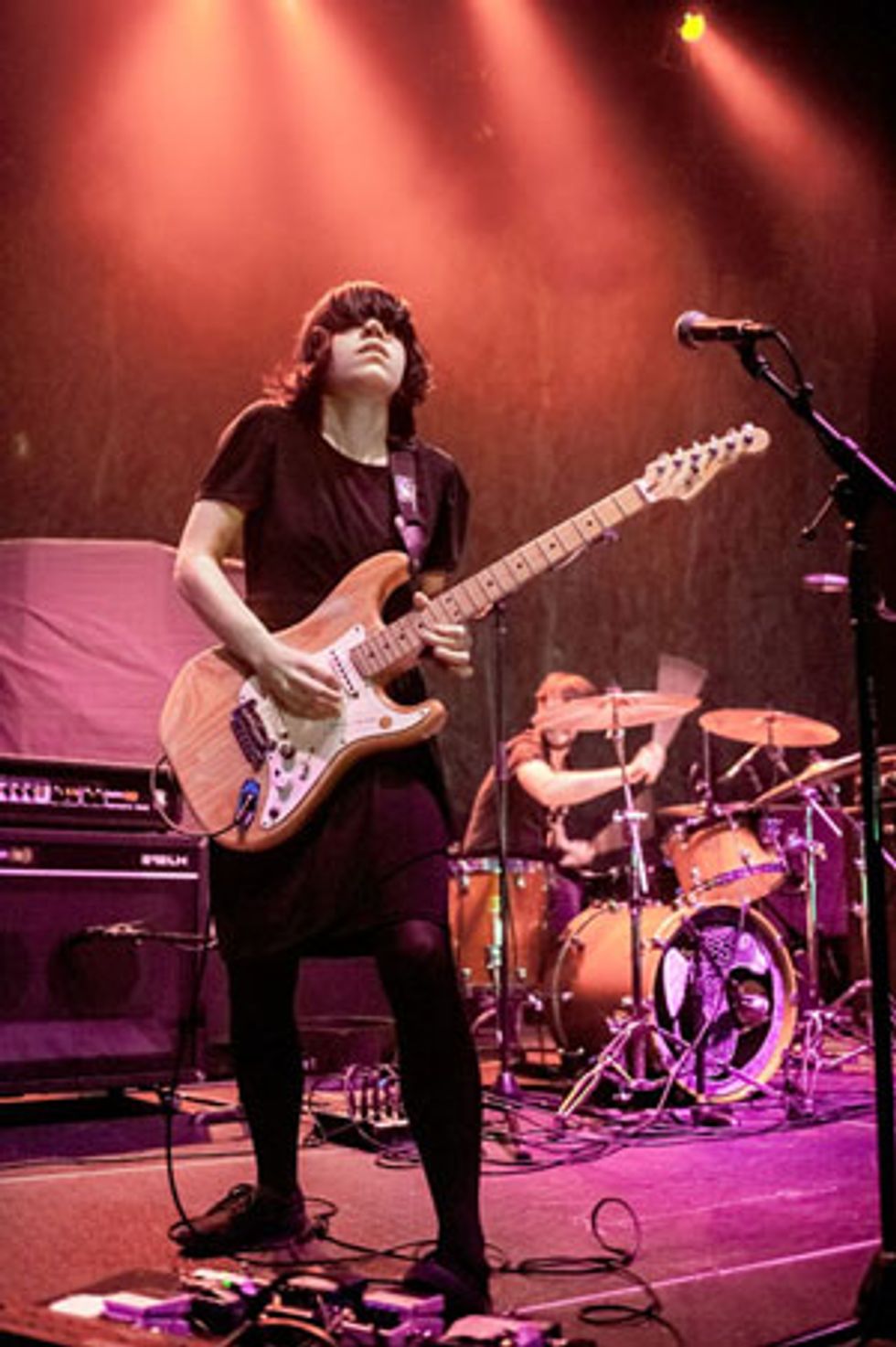 "Mike and I are loud as fuck," says Screaming Females frontwoman Marissa Paternoster. "We are a very loud band." She credits part of the noise to her favored 1970s Sunn Concert Lead head shown behind her to the left. Photo by Lindsey Best
You have formidable chops. Did you take lessons?
No, I've never taken a lesson. I took Intro to Music Theory at Rutgers. They had two different classes: One was Intro to Music Theory for people who are practicing musicians, and one was more like a math class for people who aren't practicing musicians. I took the one that was like a math class. I was also a totally lazy, piece-of-crap student, because all I cared about was playing rock music. So I don't remember any of it. That's the only [theory] class I've ever taken.
Did you spend time learning solos or songs off records?
Before I had people to play with, I would usually just put on CDs that I liked and play around with them while I listened to the song. I went to a Catholic school that didn't have any kind of arts or music program, but there was a math teacher who had an extracurricular music club. We would meet in the afternoons once a week and jam. He was really into music that I absolutely hated, like Phish and Medeski Martin & Wood, but he was a really good person and cared a lot about the kids who came to music club. That's how I learned to play my instrument with other people, especially people who had disparate influences, weren't judgmental, and just wanted to play music with other people because it's fun. He taught me a lot in that regard.
Did you listen to shredders at all?
No. I kind of hate that stuff—it sounds like a robot is playing the guitar. What really got me into solos was probably the Smashing Pumpkins' early stuff. Most of the music I grew up on was really just punk music and didn't have very many solos at all. My favorite band was Bikini Kill, and I can't even think of a song of theirs that has a guitar solo in it. I really love Neil Young and Crazy Horse. I suppose the first Pearl Jam record has a lot of lengthy solos in it. I wanted to play like that, but it seemed unattainable. Once I started listening to punk, I began to understand that I could be in a band. Up until I started listening to riot grrrl I was like, "This music is for grown men. I can't do this stuff. Not for me."
So punk made it accessible?
Yeah. It made it seem like it was something that belonged to me … or could belong to me—or I could be a part of that community. That's the music that made me really want to play guitar, which is weird, I guess, from a shredding standpoint.