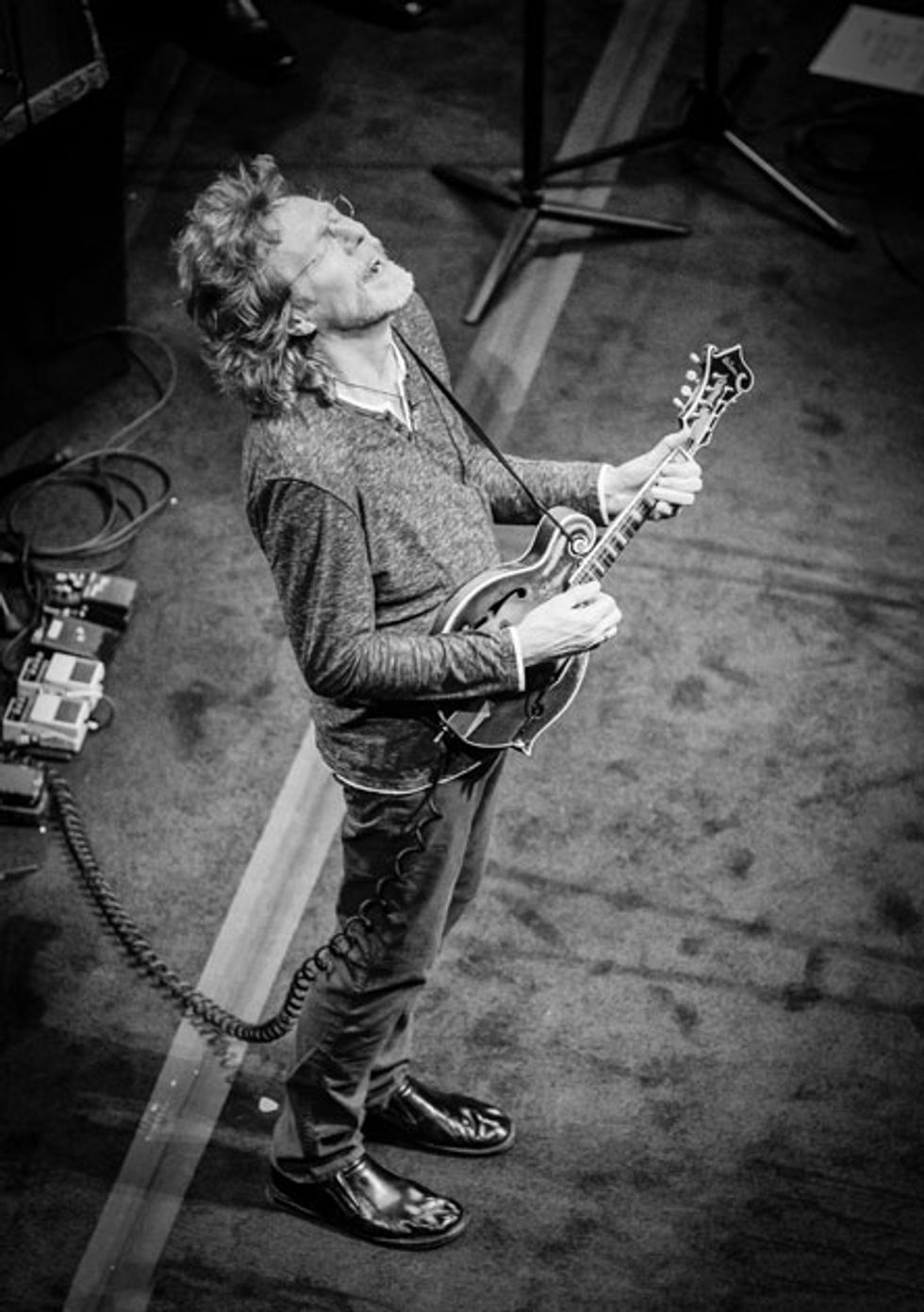 Bush's three favorite guitar players are Eric Clapton, John McLaughlin, and Jeff Beck. "There's definitely some McLaughlin-isms that I've brought to the mandolin—certain ways of phrasing," Bush says. Photo by Shelly Swanger
In the opening verse of "Play by Your Own Rules," the first track on mandolinist Sam Bush's latest record, Storyman, he sings, "Take ahold of the wheel and turn it for yourself." Bush may be offering this sage advice to his listeners, or may simply be reminding himself to keep on doing what he's been doing for the past 40 years or so. Though the native Kentuckian is respectful of musical traditions—particularly those of bluegrass and old-school country—he's built his career on crossing musical borderlines and blazing new trails.

Bush's best-known alliance was New Grass Revival, the band he cofounded in the early 1970s. New Grass Revival used classic bluegrass instrumentation—with banjo, Dobro, and mandolin—to propel fresh grooves and tell stories that resonated with their own generation. Though the band never sought to snub the music's past, they always seemed determined to look forward more than backward.

In 1989, Bush decided to disband New Grass Revival and launch his solo career with the Sam Bush Band. Bush's eponymous ensemble has been going strong ever since, with a few personnel refinements over the years. The band now features guitarist Stephen Mougin, Scott Vestal on banjo, Todd Parks on bass, and drummer Chris Brown—with Bush himself on vocals, mandolin, and other stringed instruments. The quintet plays to their individual and collective strengths on Storyman.
From his home in Nashville, Bush spoke with PG about the comfort zone that comes with keeping a band together for many years, the guitarists who influenced his mandolin style, and what it means to be a storyteller.
"I have the mandolin player's disease—we all think
we can play guitar."

"I Just Wanna Feel Something" sounds so dynamic and spontaneous. Do you and the band record together in the studio—like a live performance?
We set up with separation, but, yes, the five of us cut live. That's the way to do it. There are three soloists on that one: Stephen, Scott, and me. We were really trying to maintain some space within the soloing to keep the feel of that song. It's about the joy of jamming.
How long have you had the band together in this configuration?
Todd Parks, on bass, is the most recent member, since 2010. Stephen and Scott joined around 2006. It's a very comfortable feeling when we walk onstage. I've been asked, "Do you get nervous before a show?" I'm, like, "No! I just wanna get on." When I get to play with those four guys, I'm never nervous.
Speaking of playing live, how do you reproduce your rich mandolin tone onstage—presumably in some less-than-ideal acoustic environments?
It starts with the mandolin and the player. In this case, the mandolin is one I've owned since 1973—a 1937 Gibson F5, named Hoss. With Hoss, I use a Barcus-Berry pickup from the '70s that was originally made to be put in the bridge of guitars. I don't glue them in. I just wedge them between the adjustable pieces of the mandolin bridge. I also have a Countryman Isomax 2 microphone on my instrument. Both of these go to a stereo jack, then out to a preamp called the Chard Stuff Acoustic Helper preamp, which was made by Richard Battaglia, the longtime soundman for New Grass Revival. He developed these preamps to accommodate a microphone and your pickup, so that's part of the sound.

In your song "Handmics Killed Country Music," you talk about listening to the Grand Ole Opry show when you were growing up. Is that true?
I grew up in Bowling Green, Kentucky. When the reception was good, we could listen to the Grand Ole Opry and watch Nashville television stations. I got to see and hear all these great country-music shows, assuming everybody else did that on Saturday afternoons, too. Later on, when I started traveling for a living, I learned that most of those shows were syndicated for Nashville and not everybody in America got to see them.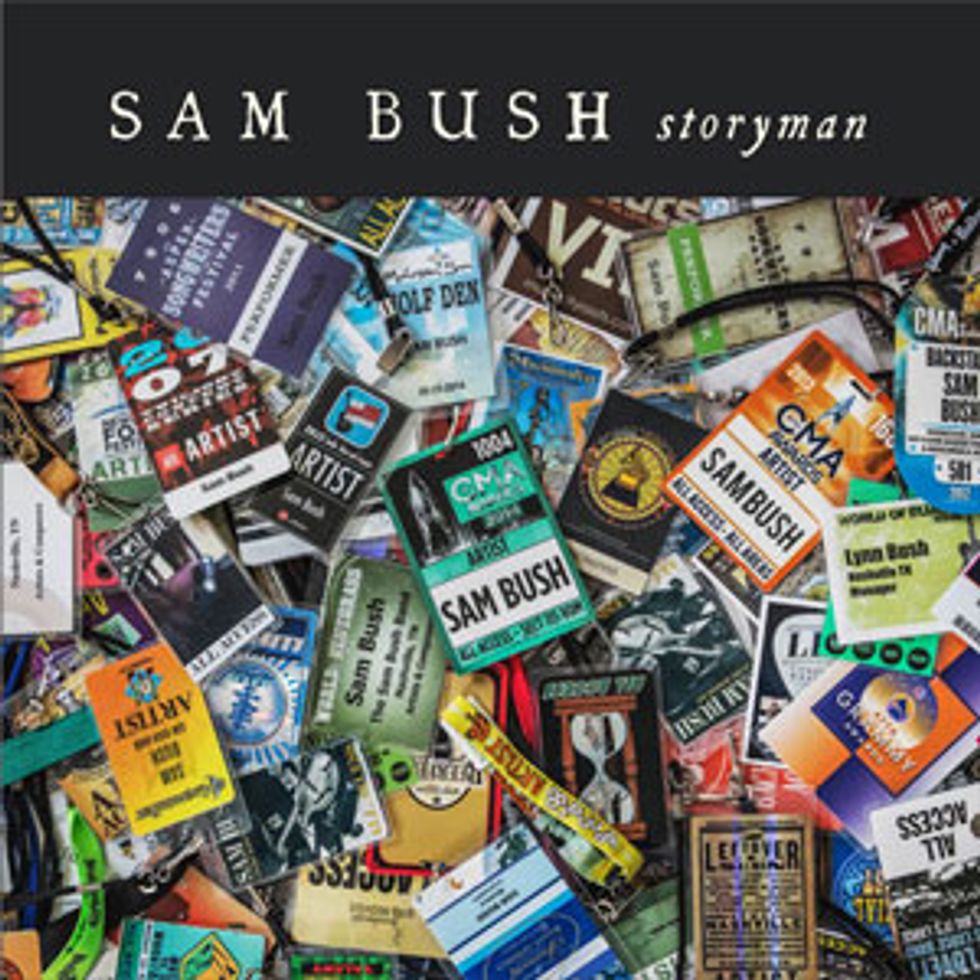 FACTOID: In addition to his maestro mandolin playing, Sam Bush also plays guitar—notably on the track he wrote with Emmylou Harris, "Handmics Killed Country Music."
Growing up in the '60s, I also got to watch The Ed Sullivan Show. I saw all the Beatles performances, and the Rolling Stones when they did "Let's Spend the Night Together" and had to change the words. It was a great time to grow up.
I thought "handmics killed country music" would be a fun line to sing. I cowrote that song with Emmylou Harris. As we were writing, we realized that we used to identify people back then with what kind of guitars they played. Ernest Tubb and Loretta Lynn had these beautiful Epiphones. Don Gibson played a Gibson Super 400. When we first saw Porter Wagoner, he played Martin D-28, then later became known for his Gibson J-200. We talk about that in the song.
What turned the tide? It must have been television, in the '60s, making stars out of good ol' country boys. When they took away their guitars, there was nothing left to hold onto but microphones. The song is meant to be lighthearted—we're not preaching. And, of course, nothing is killing country music.
I like the acoustic guitar fills on that one. Is that Stephen Mougin?
That's actually me playing the guitar fills on there, while I cut my vocal. I have the mandolin player's disease—we all think we can play guitar.
You really do play guitar! While doing research for this interview, I stumbled upon a clip of you playing "Mustang Sally" on a Gibson Firebird.
Rock 'n' roll has always been a love for me. Blues too—especially on guitar. Back in Bowling Green, my friend Kenny and I used to sit my bedroom and work on B.B. King licks and Freddie King licks.