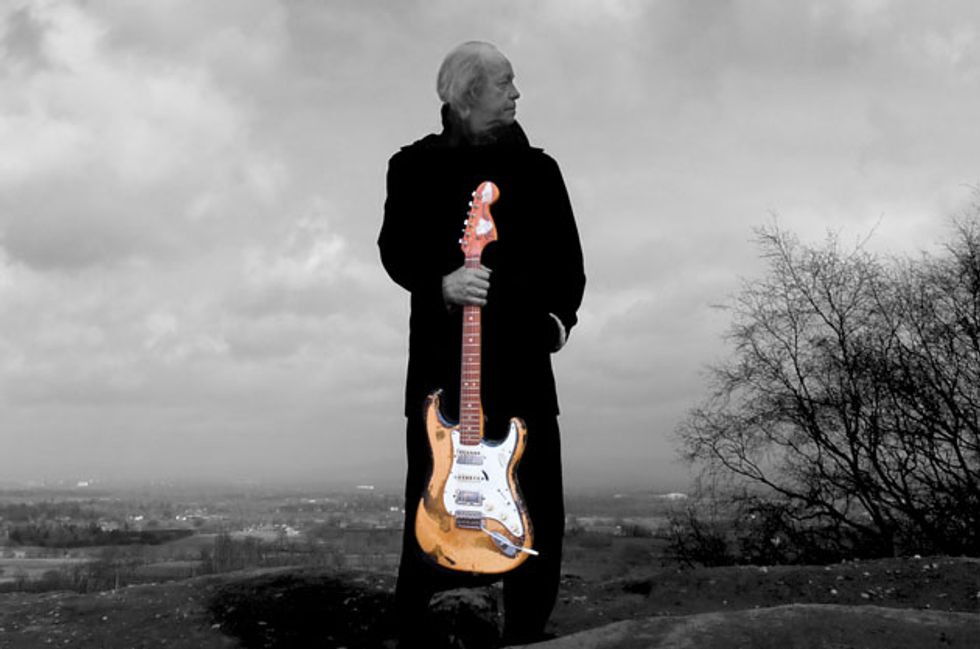 On the phone from Carrowdore, Ireland, a small town just east of his native Belfast, Eric Bell is laughing down the line about one of his earliest memories of sharing a house in Dublin with Phil Lynott. "We had two single beds in one of the bedrooms," he recalls, "and every morning, I'd get up or Philip would get up and make a cup of tea for the both of us, and then he'd roll a big spliff and we'd smoke it and put on Astral Weeks. And it was always on, you know? We're both lying there stoned, drinking cups of tea, and listening to Astral Weeks."
Plenty of friendships have gelled over the music of Van Morrison, but for these two lads, their connection was more literal. Just several years earlier, Bell had spent a few months on tour as the guitarist in Morrison's group, Them. Van himself had recruited Bell at the ultra-hip Crymbles Music Shop in Belfast. Lynott, for his part, was a budding poet, lyricist, and frontman, and Morrison was one of his idols. With songs that always seemed to find a universality in tales of romance, breakups, street fighting, and hard living, sung with a voice that could peel paint or melt hearts—well, there was a quintessentially Irish lean to Morrison's art that moved Lynott to distraction.
But the story really begins one night in late 1969, when Bell and his friend Eric Wrixon, the former keyboardist with Them, stumbled into a club called the Countdown and caught the band Orphanage, which featured Lynott out front on vocals. Bell saw a spark in the singer, but it was really the drummer—a high school chum of Lynott's named Brian Downey, a gifted firebrand on the kit—who held his interest. During a break in the set, he went backstage to talk to them. What they didn't know yet was that Wrixon had given Bell a tab of acid before the start of the set.
"I walk in and Philip and Brian are sitting on the sofa, and they're looking at me," Bell remembers. "'Yeah, can we help you?' I says, 'My name's Eric Bell, and I used to play with the Dreams show band—,' and I've got a fucking suit on, and my hair is quite short. I look like the drug squad, basically. And then all of a sudden the acid kicks in again, and I start walking around the room laughing at everything. And they're going, 'Hey man, are you alright?' I could hardly talk, but I'm like, 'Yeah—it's my first trip on acid.' And they're going, 'What? What's it like?' And I'm like, 'Fucking amazing.'"
It was an icebreaker. Great moments in rock history usually happen on a lark—Eric Clapton hitching a fateful ride back to London with Ginger Baker at the wheel, or Linda Keith seeing Jimi Hendrix in New York's Cafe Wha?—and the founding of Thin Lizzy was no different. Downey had been reluctant to start a new band with Bell, but Lynott was insistent, provided he could play bass (which he'd been learning from local hero Brush Shiels, founder of the original Skid Row) and play some of his original songs.

Bell agreed, and within a year the band had a contract with Decca and moved to London to record their first album. As a power trio in the vein of other Irish rock bands like Skid Row and Rory Gallagher's Taste (and with a deeply reverent nod to Cream and the Jimi Hendrix Experience), Lizzy cultivated an exotic and unusual look: Lynott, the tall, handsome, bi-racial son of a white Irish mother and a Caribbean-born father; Bell, the wild-haired Northern Irishman with a penchant for Hendrixian leads; and Downey, the diminutive but musically precise powerhouse behind the drum kit. The secret to it all was their sound—a guitar-driven mixture of heavy blues, Irish folk, and groovy, psychedelic hard rock, all boosted by Lynott's well-wrought lyrics, passionately spot-on vocals, and bludgeoning low end—that set the tone for all the albums to come.
"You can get a guy that plays these incredibly fast, fancy distorted licks, and it sounds like a wasp—it sounds sort of ugly. Then you get another guy who plays six notes, but the tone is beautiful."

In 1971, just before Lizzy recorded their debut, Bell acquired the brand new Fender Stratocaster that he still plays today. "When I was with an Irish show band called the Dreams, I'd swapped my Gibson ES-330 with the guitar player in the support band," he says. "He had a white Stratocaster, and after eight months with Thin Lizzy, it started falling apart. The tones weren't working, there was only one pickup working—all this stuff started happening. And it seems impossible to think about now, but you couldn't get a new Stratocaster in Ireland back then. So our management sent to London for it."
Thin Lizzy came out to little fanfare, but the band was gaining experience on the road. By the time they recorded the follow-up album, Shades of a Blue Orphanage released in 1972, they'd landed one of the opening slots on Slade's U.K. tour. Glam rock was just starting to jump off, and Slade's fans weren't all that enamored of the gruff boys from Ireland, but when the single "Whiskey in the Jar"—a cover of a traditional Irish folk song, with a lively opening guitar melody written by Bell—came out in November of that year, Thin Lizzy suddenly had a hit in England.
They'd arranged the song almost as a joke, in a moment of boredom during an unproductive rehearsal. "Philip picked up this second guitar that we had in case I broke a string," Bell says, "and he started messing about. Myself and Brian, we were just reading Melody Maker or something, but Phil kept on, singing through the mic and strumming this Telecaster. At one point, he got to 'Whiskey in the Jar.' Then for some reason, I started playing my guitar along with him, and Brian started playing the drums, and about two minutes later, the door opened and our manager Ted Carroll come in. He had an HH Electronic transistor amp for me—one of the first in London. And as I set it up and started playing through it, he asked us, 'What was that song you were playing?'"
It ended up cementing Lizzy's legacy—over three decades later, Metallica would cover the song in tribute—but in Bell's mind, it was a mixed blessing. The band was playing to larger crowds, and they were rock heroes back home in Ireland, but Decca execs were already ratcheting up the urgent demands for another hit single.
In the summer of '73, when the trio went into Decca's brand new Tollington Park Studios to record Vagabonds of the Western World, they were determined to make a statement. Overall, the album begins to define the full, wide-angled sound that would become Thin Lizzy's trademark, from Bell's double-tracked guitars on the title song to the proto-metal riffage of "The Rocker," the album's first single and a paint-peeling staple of their live set [see "The Rocker" video below]. And the sci-fi-meets-comic-book-superhero cover art by Jim Fitzpatrick is an integral part of the package; in a near-emulation of the Jimi Hendrix Experience's Axis: Bold as Love, the three members of Lizzy are portrayed almost as a trinity of star-born deities.
"A lot of hard work went into that album," Bell asserts, "and the songs are really strong as well. I'm pretty sure we all thought, 'Right, this is gonna wake them up.' Our second album, Shades of a Blue Orphanage, was very spontaneous. We felt like we hadn't really nailed the material for that, so we all made a vow that the next album, we'd have to get it together, you know? And I think that's the sound you hear on Vagabonds."
Even so, rock critics at the time didn't get it. For Bell, it was the beginning of the end. "All of a sudden the music business was starting to change us," he says. "We had to conform, to become another band that did their hits and said the right thing, wore the right clothes, and did the right poses. I wasn't really into that way of thinking. I was more of a rebel, and I wanted Thin Lizzy to stay the same. But Philip realized it's not just about being a musician; it's about being an entertainer and a frontman. So the boat started rocking, you know?"
Bell finally succumbed to the pressure at a New Year's Eve gig in Belfast. After a day of hard partying with family and old friends, he melted down in the middle of Lizzy's set, tossing his guitar and kicking his Hiwatt cabinets off the stage. The following day, he parted ways with Lynott and Downey. Skid Row guitarist Gary Moore was hired to take his place for the remainder of the tour. For the moment, it seemed, Thin Lizzy was on the ropes.