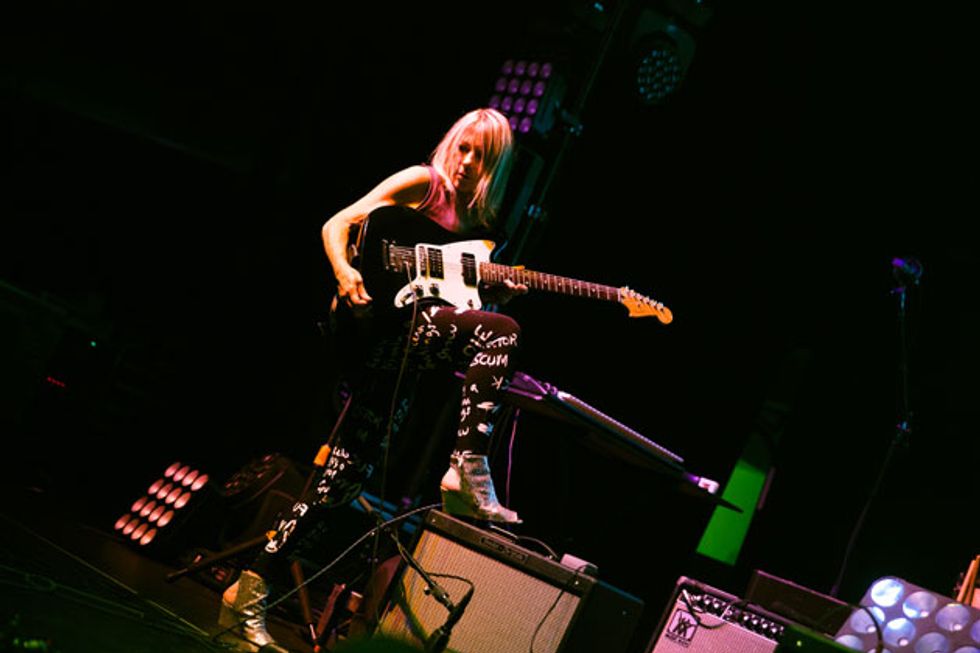 Legendary bassist Kim Gordon has turned to 6-strings, and currently plays a Fender Blacktop Jazzmaster in her band Body/Head. "It's just a great guitar that has a great tone," she says. "I also like that it's not special; that it's not some vintage, rare Fender or something precious." Photo by Debi Del Grande
Kim, as someone who began her career as a bass player, do you have a preference between instruments at this point? Was the switch to guitar for any specific reason?
Gordon: I mostly just play guitar now because it's so much better for the kind of music I make. I also have really bad tendinitis from my years playing bass, which really was a much harder instrument for me.

I've always loved that white B.C. Rich Mockingbird bass you used back in the early days of Sonic Youth.
Gordon: That was a joke bass, actually, but it was also a very light instrument and I loved it. By the end, I was playing lighter and lighter basses, like the SG bass I wound up using. That Gibson Thunderbird I used was a really hard bass to play. But the Mockingbird was totally something I looked at like a fashion accessory, and it was J Mascis' fault I wound up with that one. He said once "you should get a white bass" and we were at a music store together and he pointed at it and said "you should get that one" and I grabbed it and that was that!
"I don't have any burning desire to be a solo artist really, because I've always felt like my art practice was always more along those lines." —Kim Gordon

Bill, are you an educated player?
Nace: I'm self-taught and I started with bass like Kim, actually. I had some lessons on bass from Chris DiPinto of DiPinto guitars in Philly early on, but I didn't learn that much technically because we'd always just end up talking about music during the lessons. It was a big deal for me because he was this older guy that was into all of this cool stuff and he really spoke to me like a peer, and I was 14 years old. So that was a good experience to have at that point, but I'm a self-taught guitarist.

Kim, what's your take on noise and darker elements being accepted in the mainstream these days?
Gordon: It's interesting that it's there now, though when it's used sometimes, it still sounds really clinical to me. When Sonic Youth first started, noise was a derogatory term. It wasn't something you'd necessarily want to include in your band description, so it's interesting to see how things have changed and it's become accepted.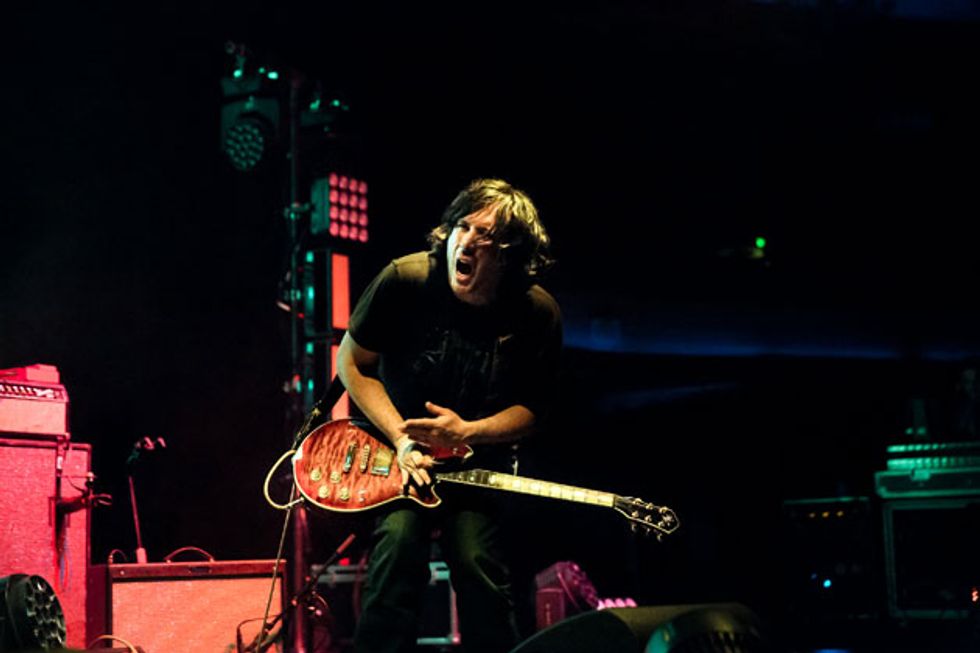 Nace's Michael Kelly Patriot was given to him by a friend who found the guitar floating in a pond. "I never really liked Les Pauls before getting this guitar, and now I love them," says Nace. Photo by Debi Del Grande
Is there a key to staying inspired and passionate about what you do, this far into your career?
Gordon: I think it helps if you don't try to make money and treat it as if there's no money to be had doing something creative. It's tough to pinpoint where it comes from though, but I guess the whole living by the "you're only as good as your last show" thing, as many times as it's been said, really does keep you going.

Bill, I've read that you pull a lot of influence from film and cinematic music. Are there any composers in particular that inform your playing in Body/Head?
Nace: Toru Takemitsu is one of my favorites and I absolutely love him. He [scored] a film called Women in the Dunes that was really great. He always does this thing with contrast where if something sweet is happening on screen, he does something a little sour. Just a brilliant use of counterpoint.

Do you take influence from any guitarists in particular?
Nace: Japanese guitarist Masayuki Takayanagi was absolutely huge for me. Totally opened that world up to me. I also really like Lindsey Buckingham. His playing is just gorgeous and I just love what he does. He always does exactly what the song needs and it manages to always be both simple and complex. The guitarist of Jesus Lizard, Duane Denison, was really influential too; he really understands economy and he'll play two notes if that's what the song needs, but he gets the dub idea that it's all about placement and where you put things. Ron Asheton from the Stooges played in the same way, focusing more on where things go rather than how flashy the part itself is, and it takes the whole thing to another level for me. I love that.