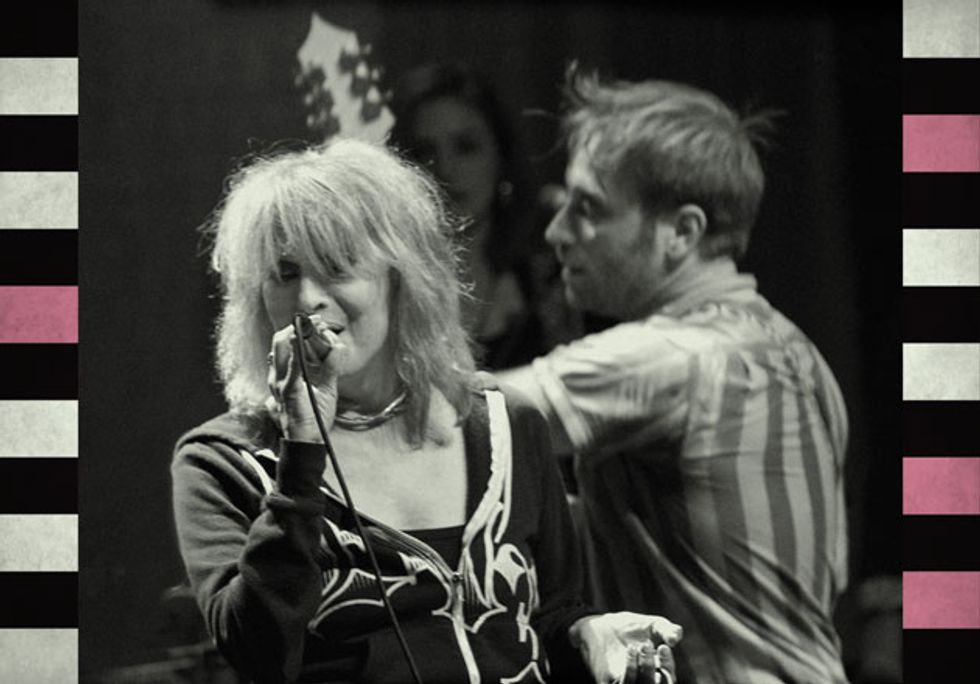 Chrissie Hynde and producer Dan Auerbach perform on the floor of his Easy Eye Studio in Nashville. "She'd sing live with the band and we'd all get shivers when that voice came through the speakers," says session guitarist Kenny Vaughan. Photo by Jill Furmanovsky
"There's not a day that goes by when I don't think, 'This is fucking great,'" Chrissie Hynde replies when asked about her 36-year run with the Pretenders. She's right, of course. Growing up in Akron, Ohio—the Rubber City, where she attended Firestone High School—Hynde wanted nothing more than to be in a rock band. And for more than half her life she's led one of the best through a dozen incarnations—all of them dependent on her poetic writing, her smoky and commanding voice, and her partnerships with a variety of fellow guitarists that have created a perfect union of artful rhythm playing and terse, conflagrant solos, leads, and licks.
Those fretboard collaborations have bristled and purred through truly extraordinary songs. They range from the punk-inflamed and bellicose early classics "The Wait" and "Tattooed Love Boys" to meat-and-potatoes rockers like the title track of the band's new album Alone to elegant and reflective ballads like "Hymn to Her" from 1986's Get Close and "Almost Perfect" from 2008's Break Up the Concrete.
"I'm not really very guitar savvy," Hynde says. "I just do the job. But I won't talk to fashion magazines or Esquire or Rolling Stone—all the ones I think have gone the wrong way. So I'm delighted to talk to a guitar magazine."
She's also clearly delighted to play guitar, and while Hynde isn't likely to engage in a deep conversation about orange drop capacitors or tuning machine gear ratios, she is an impassioned and skilled musician who sometimes talks about the guitars she's owned over the years as if they were pets.
"Dan Auerbach sees an album as a two-sided vinyl LP. That sets a kind of boundary so it doesn't get lost up its own ass."

"I didn't learn to play rhythm guitar by default because I couldn't play lead," Hynde explains. "I never tried to play lead. I was a rhythm guitar fan right from being inspired to play by listening to James Brown, where the rhythm was the anchor of the whole song and everything was based around it—sometimes on only one chord. That really turned me on. I like things that never change. I've discovered that with the least amount of chord changes you can come up with the most melodies and stuff, and I've stayed on that."
Premier Guitar caught up to the great Pretender in Nashville the morning after Hynde and her band opened for Stevie Nicks in an early November concert at the Bridgestone Arena. Hynde talked about some of her favorite instruments, recording Alone in Music City with Dan Auerbach at his Easy Eye Studio, her band's current lead guitarist James Walbourne, and what she looks for in a 6-string sparring partner.
I first saw you in 1980 at Toad's Place in New Haven, Connecticut, on your debut U.S. tour, and you were playing a Telecaster. You're still playing Telecasters. What interested you in that model and what's sustained your interest over the decades?
I like the feel and look of it, the necks and everything. But the first electric guitar I had was a Kay—a semi-hollowbody. I was a teenager trying to play [the Butterfield Blues Band's] "Born in Chicago" and stuff on my own. I didn't want to jam with anyone, because they were all guys. I missed out on that. I just like to get straight into it—although I really regret that, because that's where all the fun is and where you can go on a journey with the rest of the band. My excuse is that I was a girl and I never really felt like, you know, wanting to. I would maybe go for it now, but it never comes up. Jams aren't me.
So I had that Kay electric, and then I had a fantastic little Gibson Melody Maker. I loved that guitar. It was in the boot of a car and got stolen, so a guy I was working with leant me his Melody Maker, and I went into a guitar shop to have the machine heads fixed or changed, and I saw my Melody Maker that had been stolen the past week. They said, "How can you prove it?" I got it for my 21st birthday.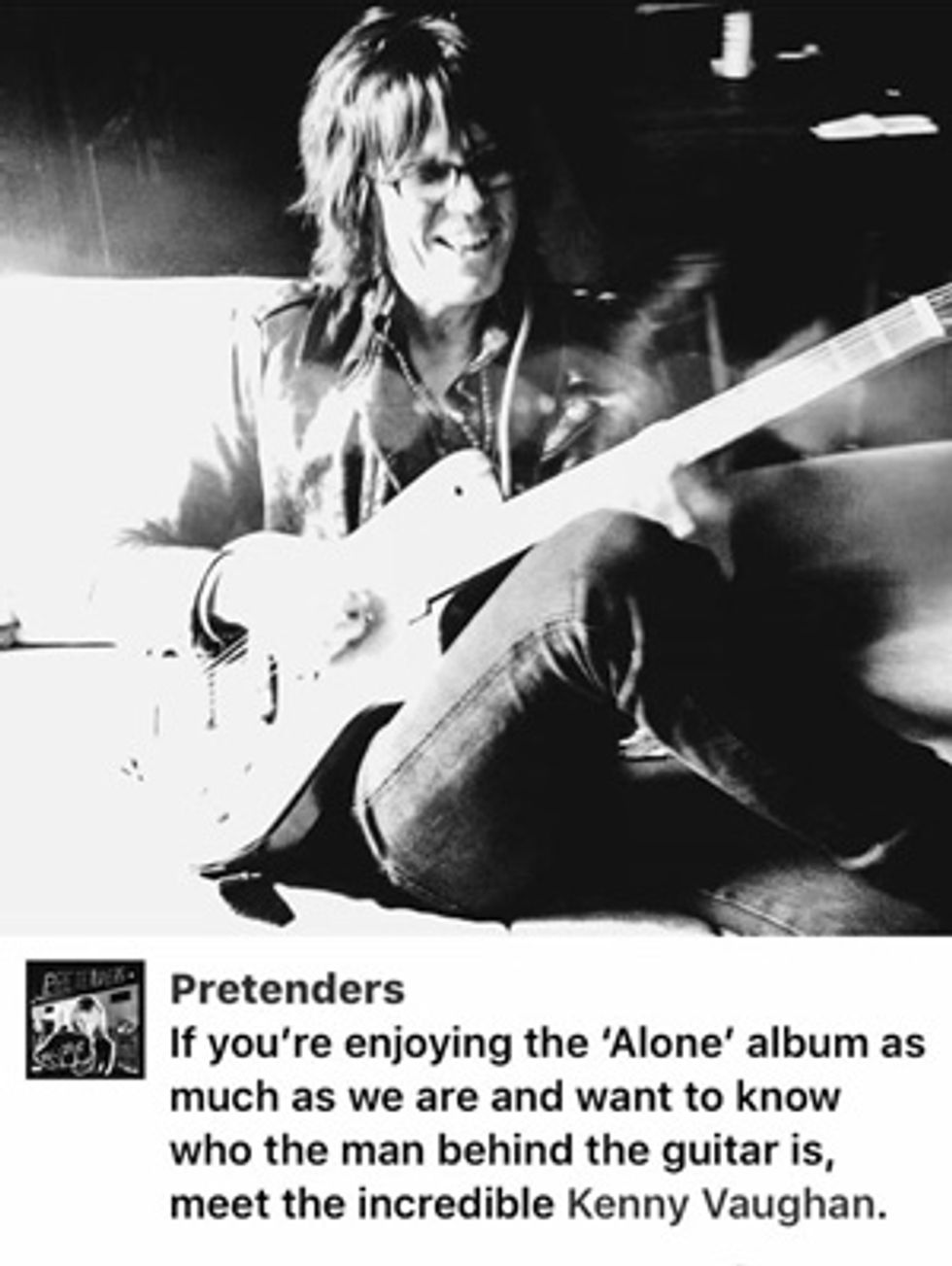 Chrissie Hynde gave Nashville guitar ace Kenny Vaughan a ringing endorsement on Twitter during the recording process.
I saw it in the paper and my parents got it for me for $100. I checked the serial number on the receipt and wrote it on my arm and showed it to them, and they said, "Yeah, it's yours. Some kid brought it in last week and we'll have him arrested." I said, "don't bother," because I was real punked-out and anti-police.
Then I had an SG—that was a nice, light nifty little thing. James Walbourne is the other guitar player in my outfit and he's doing amazing things on an SG. And then I don't know how I got the Tele. Maybe I thought it looked cool or something. But when I first picked one up I thought, "I'll never be able to carry this for an hour."
I have a few. I've had a couple made … a Zemaitis … but the one I'm using now, I don't know what year it is. I got it a long time ago and it was already old. They had two in this shop in New York. Maybe in Manny's. There was one with the original finish and one with spray paint. They said the one with the original finish was worth more. I said, "Give me the other one." Only because I hate collectors' things. I'm anti-collector. I thought, "Give me the shitty one."
I just do the job with my guitar and I'm not as diligent with it as I wish I was. I also found a $200 Stratocaster not long ago. My office had them to sign to give to some charity, and I picked it up and said, "I love this guitar." So they gave me one and I played it a while at home, but I'm aware of the fact that no one wants to see me playing a Stratocaster. Not that I'm that image conscious, but when I said I was going to bring in a Strat, I could see a look in my guys' faces, so I thought, 'Oh, oh. Maybe that's not such a good idea.' "
What did you play on Alone?
I don't really play on the album. I play on one song. We recorded the album in two weeks. Dan Auerbach plays on all of it, and Kenny Vaughan. I just kind of brought in some demos. I wasn't very well for those two weeks and wasn't sure I'd get through the sessions. I was on cortisone. It was changing seasons and I had a bronchitis kind of thing. From being an ex-smoker, smoking all my life, I couldn't even talk. And Dan said, "Don't worry about it. We'll do all the vocals in the last few days."I was literally crying when I got back to the hotel after the first day, because I was so sick.
[Bassist] Dave Roe would pick me up and take me back to my hotel every day. We'd play the demos, which I sent to Dan before the sessions, and Dave would write out a chart, pass it out to everyone, we'd do three takes, and move on to the next song. And I might croak out a guide vocal.
I played on "Gotta Wait." That really is a rhythm-driven song. I might have played on "Chord Lord," too. But I'm playing all the songs now, because we're doing them live.