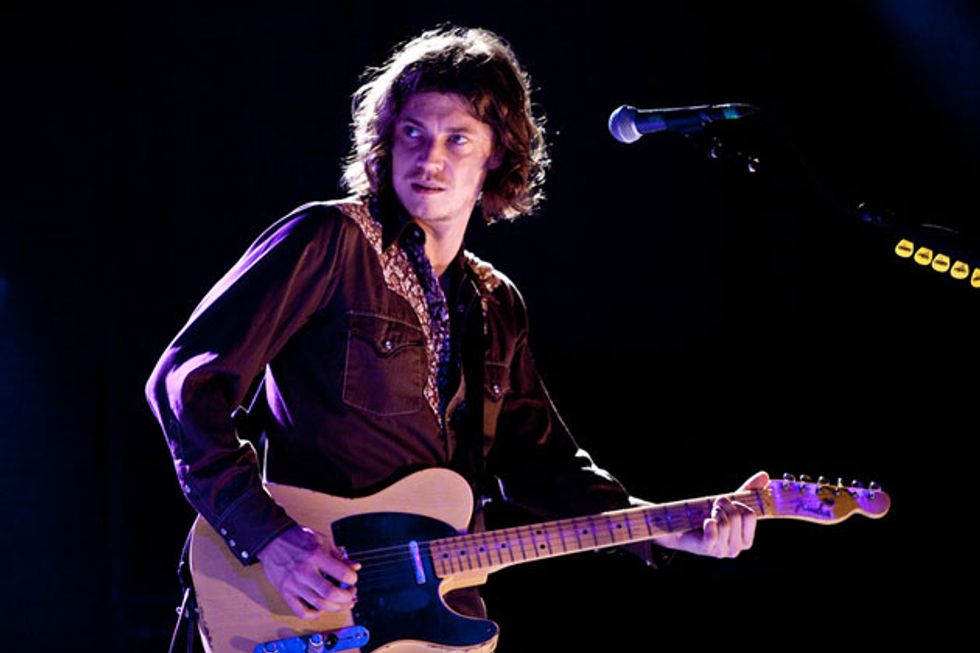 Laying into a Telecaster that's now departed his touring arsenal, James Walbourne slams it down with Chrissie Hynde at Chicago's Riviera Theatre during the Break Up the Concrete tour. Photo by Tim Bugbee / Tinnitus Photography
James Walbourne: "Run Everything Loud and Rock Out"
The Pretenders have a lineage of distinguished lead guitarists, beginning with the incendiary but self-destructive James Honeyman-Scott and continuing with Billy Bremner (Rockpile, Nick Lowe, Dave Edmunds), Robbie McIntosh (Paul McCartney, Roger Daltrey), Johnny Marr (the Smiths), and Adam Seymour (Katydids). That gives the band's current string-slasher, James Walbourne, 10 pairs of shoes to fill—but the biggest belong to Honeyman-Scott, who helped define the Pretenders' savage-to-soothing sound on 1980's
Pretenders
and '81's
Pretenders II
.
"When I first joined the band, it was great to discover all of Jimmy's parts," Walbourne says. "He was a great stylist, really, and to try to make those parts my own a bit, without changing up the character of the songs, was a challenge. But Chrissie made it clear that she wanted me to bring my own thing to the table."
Walbourne's own thing is, well, nearly a bit of everything. Before joining the Pretenders he played with Americana roots outfit Son Volt and was a member of the Kinks' frontman Ray Davies' solo band, navigating the singer-songwriter's new works and classic-rock catalog. He met his wife, Kami Thompson, while playing on the sessions for her mother Linda's 2007 album, Versatile Heart.
James Walbourne's Gear
Guitars
1963 Gibson SG Junior with Maestro Vibrola
1968 Gibson Firebird with Maestro Vibrola
1958 Fender parts Strat
1950 Fender Tele Relic
Gibson Les Paul Classic
Amps
two Fender '68 silverface Deluxe Reverb reissues
Effects
TC Electronic Flashback X4 Delay
ZVEX Box of Rock overdrive
Crowther Audio Hotcake distortion
MXR Custom Audio Electronics Boost/Overdrive
Dunlop Cry Baby wah
Tone Bender fuzz
Boss CE-2 Chorus
Boss TR-2 Tremolo
Strings and Picks
D'Addario EXL15s (.011–.049)
Dunlop Tortex .73 mm

And Walbourne was recruited from Irish gutter-punk group the Pogues by Pretenders drummer Martin Chambers just in time to cut 2008's retro-leaning
Break Up the Concrete
, where Walbourne showcased his slapback-dappled rockabilly licksmanship. Since 2011 he and Kami have also performed and recorded as the Rails, whose sound nods toward Fairport Convention, the groundbreaking English folk-rock band cofounded by his father-in-law, Richard Thompson.
"I've played with him quite a bit, so it's definitely rubbed off," Walbourne relates. "Now, being in the Pretenders lets me play rock guitar, and the Rails gives me the opportunity to do everything else I enjoy, so I get to have a lot of scope.
"Chrissie is a great rhythm player," Walbourne continues, "but it's kind of funny, because sometimes she gets so lost in performing that she forgets which fret she's on. But she's always inspiring. She writes aggressive lyrics that really bring out an aggressive edge in my guitar playing, and I love that she can go from extreme rock to doing a ballad seamlessly. She's a natural, and she can also write some really complicated rhythms, like in 'The Phone Call.' To get your head around a song like that takes some time. The bottom line is, her guitar drives the band—even Martin. Besides that, she's just amazing to be around. When we're not onstage we always talk about music and have quite a good time, really."
It also took Walbourne some time to wrap his head around chorus pedals, which Honeyman-Scott made a staple of the Pretenders' foundational sound with his ringing chord stabs and arpeggios in numbers like "Mystery Achievement" and the band's first single, "Brass in Pocket."
"To me, they were the Devil's pedal," Walbourne says. "I couldn't stand them, really, but Jimmy made it work. He was fantastic with the chorus and used it to really create his own sound, instead of that horrible singer-songwriter chorus approach. So now I can't be without one."
Another essential element for Walbourne's tone is volume. "I run everything loud and just rock out on it," he says. "I turn everything up on my amps and guitar, and I don't touch my volume and tone pots except for some swells on 'Hymn to Her.' I don't like to fiddle around. I just like to concentrate on playing."