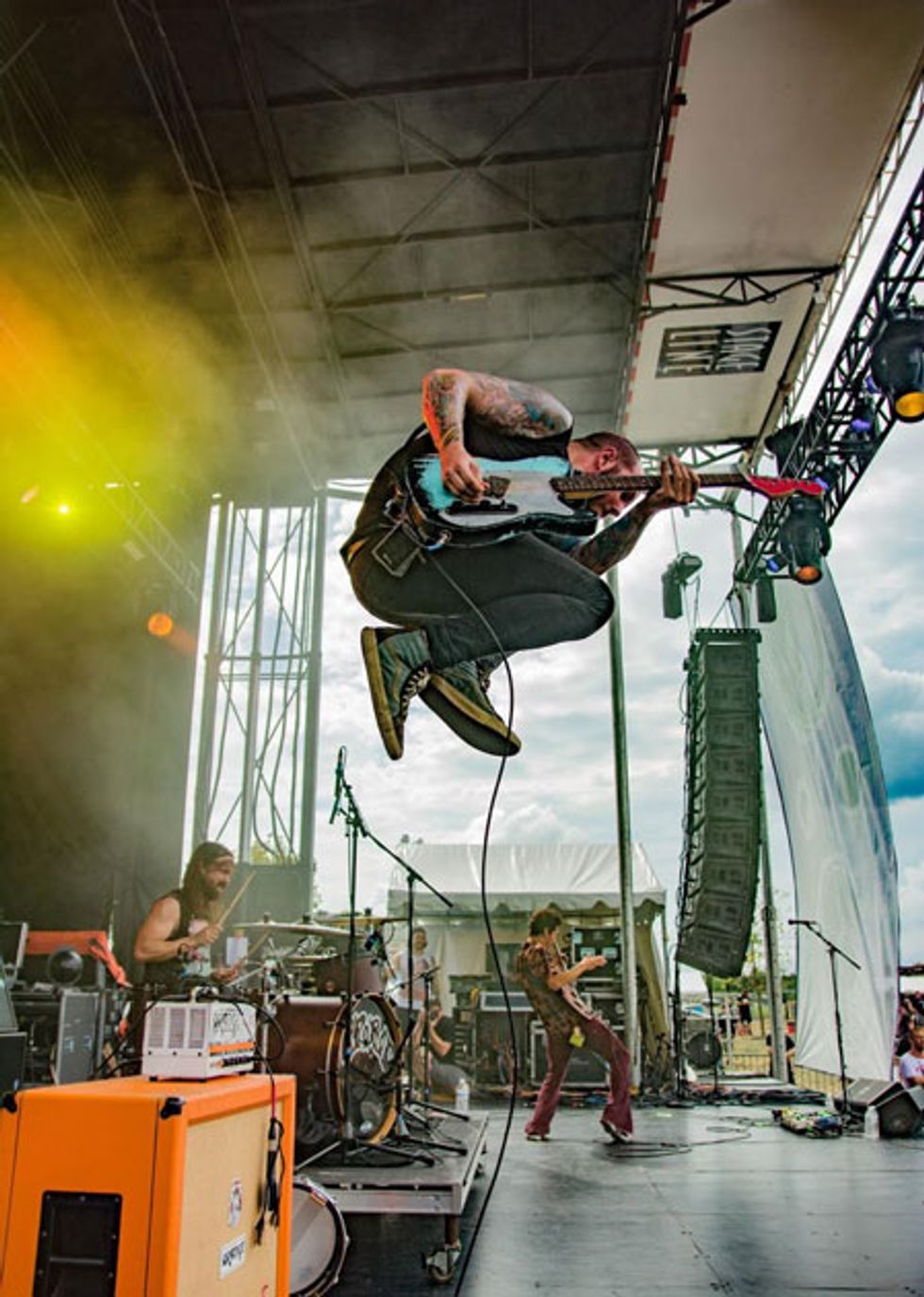 Chris Bishop is a wildman in a riff-rock band, but he appreciates good chicken pickin'. The song that turned him on to playing guitar was Alan Jackson's "Chattahoochee." Photo by Michael Frey
When we caught up with Crobot's Chris Bishop, it was just a few days until the band joined Volbeat and Airbourne on a European tour in Germany, the Netherlands, and the U.K., playing in front of 20,000 people each night. It's the lifestyle many aspiring musicians dream of: visiting foreign cities, playing original music for thousands of adoring fans, opening for your friends and heroes. But at the time of this interview, Bishop was in Pottsville, Pennsylvania, waiting for his next client.
"We tour a lot, but I also tattoo in all the free time that I have," says Bishop, referring to the parallel careers he's nurtured over the years. Bishop seems happy to have a flexible side gig as a tattoo artist, but his situation reflects the current state of the music industry. The offstage life of today's rock star is quite different than it was back in the halcyon days of Led Zeppelin, Deep Purple, and the like. "Crobot's gotten a lot bigger, but it's not like we're making shitloads of money—not enough to live comfortably," Bishop admits. "Tattooing and touring sort of go hand in hand: The bigger the band gets, the more fans there are who want tattoos."

Bishop is obviously a realist and his character, both as a player and person, is etched from acknowledging, and dealing with, these kinds of compromises. When he was 8 years old, living in Kingsport, Tennessee, he saw Alan Jackson play "Chattahoochee" on TV and was immediately hooked on guitar. His family was dirt poor, so he had to convince his mom to buy him one. "It was the honkiest riff," he says, recalling the Jackson tune. "But I thought it was cool. I begged my mom for the longest time to buy me a guitar after hearing that." His family was poor, but his mom managed to save up enough money for a cheap Alvarez acoustic. But the guitar was not provided unconditionally. "She put me in guitar lessons once a week for a half hour and made me practice at least 15 minutes a day for that first year," he recalls. "For a 9 or 10-year-old kid, it was tough. I was like, 'I want to play baseball.' But my mom insisted I do that until I actually started enjoying it."
"Audley Freed from Cry of Love is my favorite guitar player."
The rigor his mother instilled in him paid off and he soon advanced to absorbing classic songs by the Beatles, Led Zeppelin, AC/DC, and others. He also participated in impromptu jams with his dad's cousin Grover, which expedited the learning process. "He and his friends used to sit around playing Lynyrd Skynyrd songs and I would join in—that's how I learned to play."

Bishop formed Crobot in the summer of 2011 with singer Brandon Yeagley. They played locally for about a year before solidifying their current lineup, with Jake and Paul Figueroa on bass and drums. Something Supernatural was released in 2014 and Crobot began building their fanbase the good old-fashioned way: via incessant touring with the likes of fellow road dogs Clutch, the Sword and, more recently, Anthrax and Volbeat. They refer to their music as "dirty groove rock," an apt description for a band that relies heavily on some of rock's guiltiest pleasures: simple but serpentine guitar riffs, solid drum grooves, sinewy bass lines, and big choruses delivered by an old-school leading man.

Crobot's latest, Welcome to Fat City, is a raucous album built on these simple building blocks. On guitar, Bishop weaves together indelible patterns and pictures that aren't unlike his artistry as a tattooist. On "Blood on the Snow," he's a rock guitarist with a funk player's knack for rhythm. On "Right Between the Eyes" he peppers the solo with effects tastefully, never once sacrificing the pace or the performance. On "Plague of the Mammoths," he demonstrates the singular power of simplicity with a repetitive riff that morphs and evolves. And on the uber-heavy Black Sabbath-like swing of "Hold on for Dear Life," he lays down a tasty, subdued solo that channels his biggest influence. Bishop is clearly adept at crafting a unified vision from contrasting styles, ideas and techniques that, in many ways, defines Crobot's sound. When PG caught up with him at the tattoo parlor, he was more than happy to talk about his guitar approach, his all-time favorite solos, and why simple riffs rule.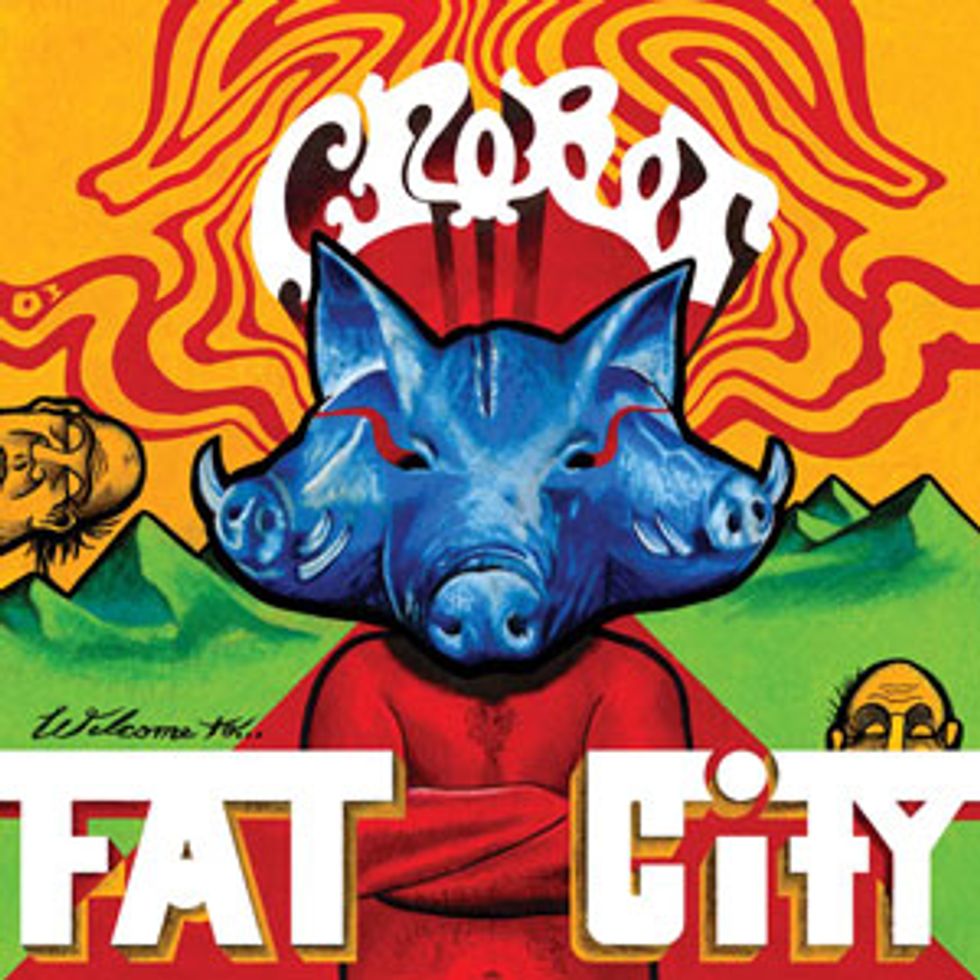 Crobot's sophomore album, Welcome to Fat City, can be streamed here.
Who are some of your influences?
Audley Freed from Cry of Love is my favorite guitar player. [Editor's note: Freed's since gone on to play with the Black Crowes, Sheryl Crow, Peter Frampton, and others.] I remember hearing "Too Cold in the Winter" (Brother, 1993) on the radio, and my mom and I loved that song, so we ended up getting that first album and listened to it front to back. I forgot about Cry of Love and then rediscovered them about 10 years ago and I was like, "I can't believe how similar my playing is to Audley Freed." Don't get me wrong, he is leaps and bounds better than me, but I hear some of the inflections that influenced me in those formative years of playing guitar. He's my number one. I just love his chicken pickin', his dynamics, how Hendrix-y he can be with that Strat/Marshall sound. The way he plays his chord inversions is phenomenal.

I definitely hear Freed's influence in your playing—especially on the slow blues improv stuff that you do live.
I play a lot with my fingers and I just blatantly try to rip off some of his solos because I love them so much.
Do you play mostly with your fingers?
I do. Especially in the past five years. When I'm home or just playing before shows I never play with a pick, and that's opened a lot of doors for me dynamically. It's made me a better player all around. And I've always enjoyed country bands and chicken pickin' for the feel. Incorporating that into Crobot is definitely tough to do, but it also has its place.

"Moment of Truth" sounds like a good example of that technique.
I'm freed up to do a lot of that in "Moment of Truth," because it's a more traditional blues. At the end [of the song] it's like this outro, barebones, quick-solo kind of thing. I'm playing that all with my fingers. It's all legato, chicken-pickin'.