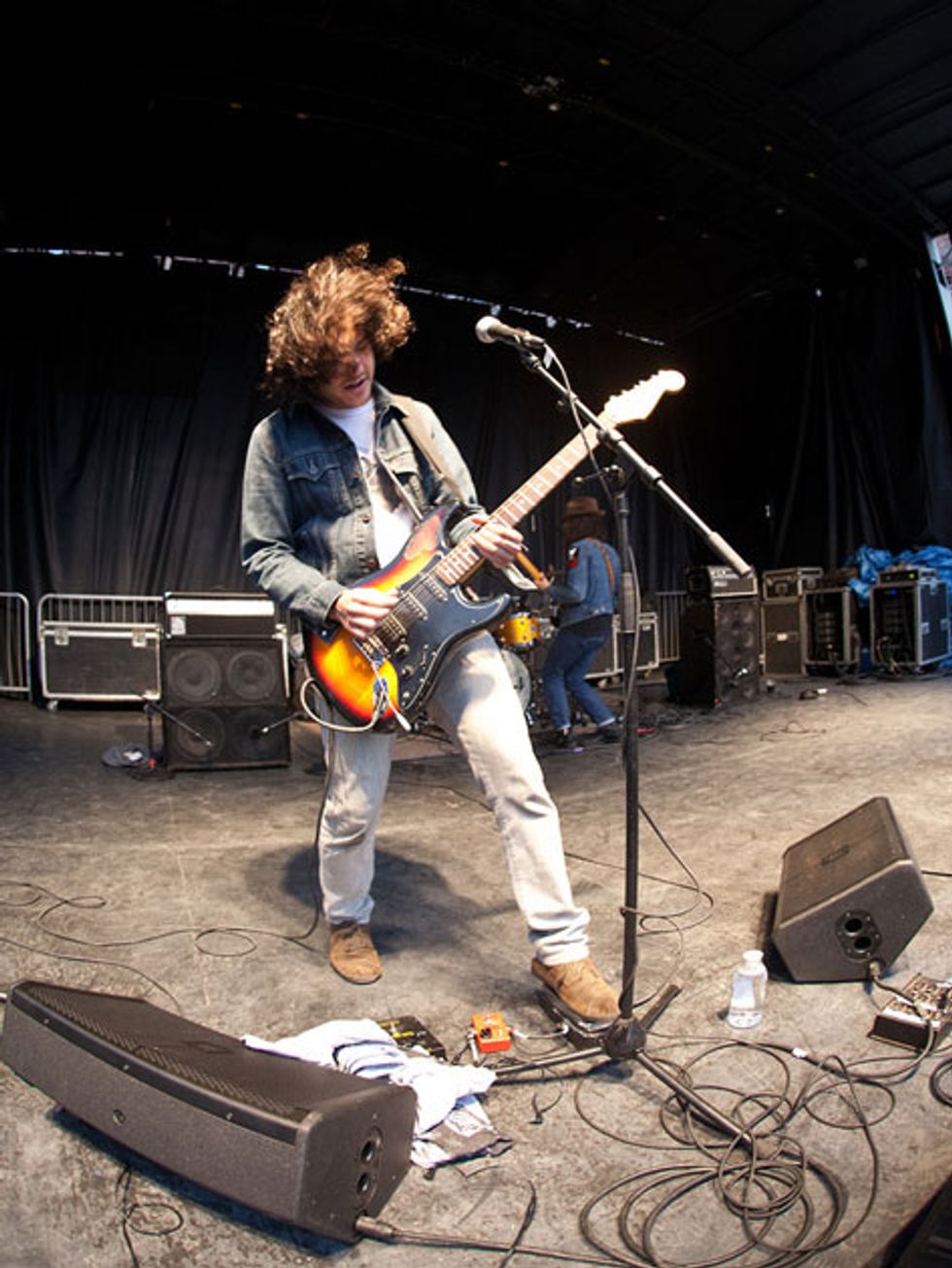 Onstage with Purling Hiss, Mike Polizze plays a '90s Fender Stratocaster strung with a set of .008s, which he explains allows him to pummel his guitar's whammy bar and still stay in tune. Photo by Tim Bugbee/Tinnitus Photography
If you're into gear—and you probably are if you're reading this—the first thing you'll notice about Mike Polizze, the guitarist in Purling Hiss, is his amp: a modded Ampeg VT-22.
You don't see many Ampeg guitar amps these days, but they were a big deal in the early '70s—especially for the Rolling Stones. The Stones were the first band to use Ampeg's muscular V series and they brought the prototypes on their 1969 American tour. It was on that tour that Bill Wyman introduced the world to the SVT (his was a-300-watt, 95-pound beast), and those are the amps you hear on Get Yer Ya-Ya's Out!, the Stones' 1970 live album. Mick Taylor used a V series amp for his iconic solo on "Midnight Rambler" and they were still using those amps on Exile on Main Street in 1972. The Stones pushed their amps hard, and for that 1969 tour had a tech on loan from Ampeg to manage their backline if it melted down.
Polizze doesn't push his amp that hard, but it is the bedrock of his tone—he is a pedal minimalist—and he keeps it loud. Onstage, he often faces his VT-22 to coax feedback from his Hughes & Kettner 4x12 cab. In the studio, he does the same thing. "We tried to baffle it as best as possible," he says about the live tracking for Purling Hiss' latest release, High Bias. "We had a big foam thing that we put over the amp. We used headphones, but it still felt live."
That live, improvisatory feel is the next thing you'll notice about Polizze. His band isn't a jam band per se, but he leans toward the loose and spontaneous. It is a debt he probably owes to Hendrix. "The album that really got me into Hendrix was Gypsy Sun and Rainbows from Woodstock," Polizze says. "That recording is just great. It's sloppy and it is really unhinged and beautiful. That was a big one for me in the beginning.
It's about being on the spot—that's the type of creativity it is. It's like occupying the space of a certain tempo or time and feeling your way through it as it happens.

Unhinged is a good way to describe Polizze's early Purling Hiss records as well. The project started as noise experiments recorded to a 4-track cassette machine while Polizze was busy with his other band, Birds of Maya. He played all the instruments and sometimes even recorded the drum parts first. Those tracks were released as Purling Hiss in 2009 and followed by two more albums the next year.
And Purling Hiss may have remained a quirky, if interesting, side project had not fellow Philadelphian Kurt Vile invited Polizze to assemble a band and open for him on a North American tour. Since then, Purling Hiss has taken on a life of its own. Polizze has upgraded to recording in a bona fide studio, brought in others to produce—including Adam Granduciel (the War on Drugs), yet another fellow Philadelphian—and no longer plays bass and drums for the band in the studio.
Polizze is evolving, but he keeps it open-ended and is willing to let the cards fall where they may. "It's about being on the spot," he says. "That's the type of creativity it is. It's like occupying the space of a certain tempo or time and feeling your way through it as it happens.
We spoke with Polizze about his songwriting, improvisation, recording at home, and mastering on GarageBand. We also spoke about keeping his Strat in tune—despite overworking its stock whammy—and learned what's different about his Ampeg VT-22.
When did you start playing?
I started playing guitar when I was 13. I am 35 now.
Did you take lessons?
I did. I started taking piano lessons when I was in second grade, when I was about 8. I took piano lessons up until about ninth grade and then I started taking guitar lessons. I think at one point I was taking both. It helped a lot, although I was always slow at reading music.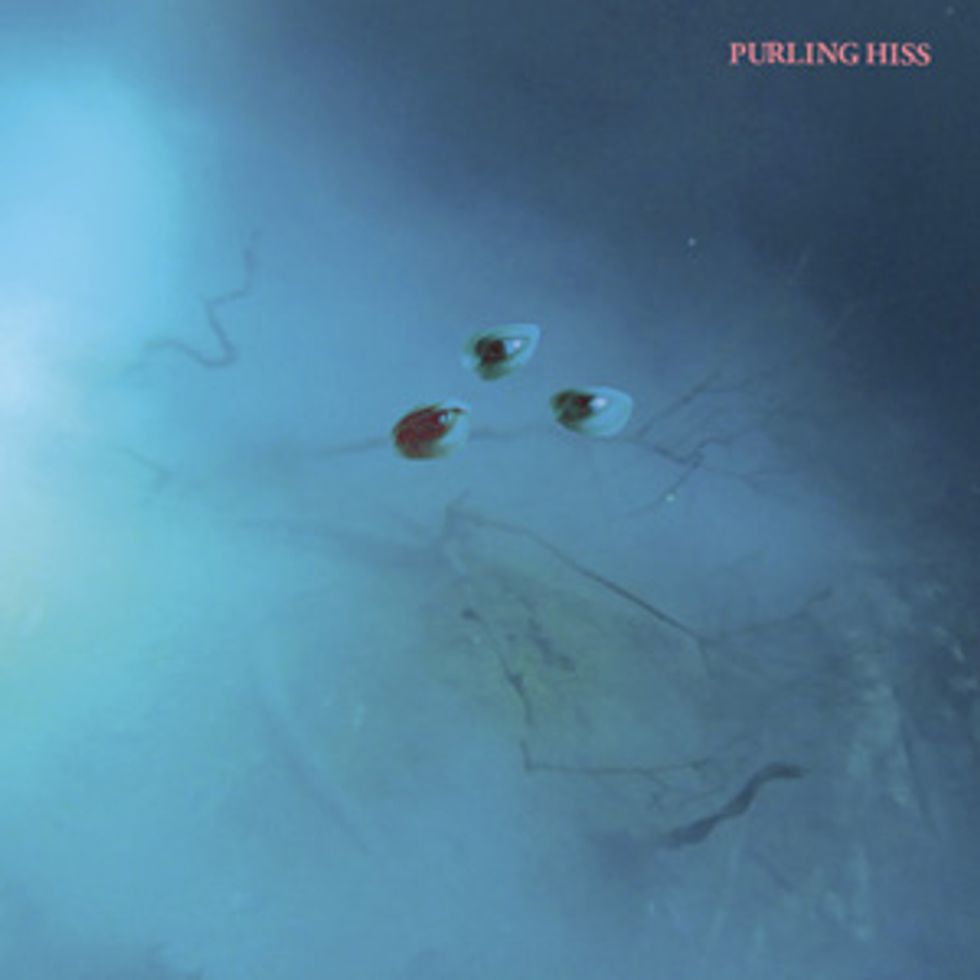 Gone are the 4-track tape recorder days. The new Purling Hiss album, High Bias, was cut live in the studio with Polizze's Ampeg VT-22 set on "stun" and baffled with a foam cover.
But I liked the rudimentary building blocks of theory and the chords and scales. That helped me later on. I only took guitar lessons for a year or two and then I went off on my own. I realized that I like playing by ear and making up my own songs.
Did you spend a lot of time in high school shedding and learning the instrument?
Yeah. I look back now and I'm happy—I was certainly having fun then—but it was just nerding out, just shredding. I went through a phase when I first started where I wanted to play and I wanted to be a good player. When I got into my early 20s, I think I was at a crossroads where I thought, "So what if I can play this stuff? It doesn't mean it's cool. It doesn't mean I am creative." I had a period where I wasn't sure what to do with it. That was a period where I had to find my identity as an artist. I think I have a good vantage point now. I'm glad that I woodshedded back then and worked out and found my identity through it.
When did you start writing songs?
That's the thing—I don't think I realized that I did. I used to draw a lot when I was a kid. I was creative and I came up with ideas. I wasn't the best illustrator, but I feel like I got reactions from people. I made funny cartoons and the idea would be there. Recently, I realized that was the creative part. To me, drawing well is the same as playing guitar really fast. It doesn't mean there is an idea there. I had a band in high school, too, so technically I was writing songs on guitar as soon as I started playing. But I feel like it all came to fruition when it became Purling Hiss, because that is a name I stuck with. I look back at some old recordings and it is funny how many different styles I went through. I was searching for what was for me and what wasn't for me.
Did Purling Hiss start as demos on a 4-track cassette machine?
Yeah. I still have the same 4-track. It's a Yamaha MTX4 4-track cassette recorder. I bought it when I was 18, the year I graduated high school. I've always been recording on it. The songs I ended up using for the first Purling Hiss recordings are from around 2007 or 2008. I was doing a noise experiment, a guitar experiment, and I came up with a name—purling means the rippling effect on a stream—and I thought that sounded cool. I kept the name and it was just another 4-track recording I was doing. I didn't even have a band yet. I didn't get a band together until I started putting out records on small labels and then people started asking me to play live shows.