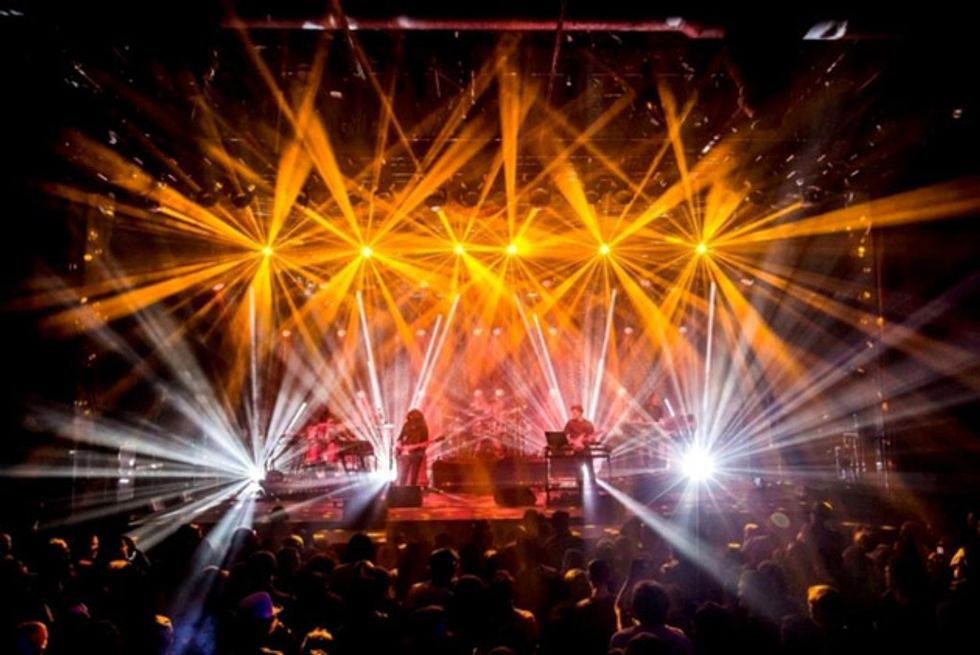 According to Sound Tribe Sector 9 guitarist Hunter Brown, "The guiding light in everything we do is, 'What's that gonna feel like when we play live?'"Photo by Taylor Wallace
If there's virtuosity in sound design and groove, then Sound Tribe Sector 9 surely ranks among the masters. Thanks to two decades at the forefront of electronic rock, the group stands out for its ability to push technology to the limit without losing its musical soul. The band's bilingual musical fluency is on full display on their latest album, The Universe Inside.

Cofounder Hunter Brown's guitar work slips from booty-shaking funk to ethereal textures that sometimes blur into synth territory—to the point where you're not sure if you're hearing him or keyboardist David Phipps. Meanwhile, the rhythm section—Jeffree Lerner (percussion),Zach Velmer (drums), and the band's newest member, Alana Rocklin (bass)—provide the pulse with a deft, and often light, touch.
"That feel is what STS9 created," says Rocklin, a versatile veteran of the Chicago music scene and longtime friend of the band who replaced original bassist David Murphy in 2014. "No one was really doing that before them."
Adds Brown, "The guiding light in everything we do is, 'What's that gonna feel like when we play live?' Does it feel too mechanized? Or is it allowing us space to feel it —and to go somewhere new if we get inspired to onstage?"
The idea that electronic music is meant to be performed—and not just produced—permeates The Universe Inside's 13 songs. Starting with the ambient guitar figure kicking off the opener "Supercluster," the songs flow through multi-dimensional arrangements that reveal something new on each listen. On one pass, you might focus on the ear-candy vocal melodies of songs like "Out of This World," "Get Loud," and "World Go Round."
"We have a message. We think music is an important part of life and we're trying to get certain ideas about it out within the music itself." —Hunter Brown

On the next, you may be drawn to the danceable, dynamic grooves and subtle sonic brushstrokes. The same can be said for the instrumentals or more sample-driven songs like "Light Years," "Totem," "Elsewhere," and others. The Universe Inside is a world in which both experimentation and entertainment co-exist quite happily.
But finding the sweet spot between the head and the heart is a craft unto itself. We caught up with Brown and Rocklin as they prepared to take The Universe Inside out of the studio and onto the stage. They discussed the challenges of mastering musical machines without becoming ruled by them.

You guys are unusual in the way you blend traditional guitar, bass, and drums with electronic music. Was that always your intention?
Hunter Brown: Our approach evolved naturally, like any other band. We all have a lot of interests, and we're just trying to express those interests. When we first started [in 1997], it was really open-ended—lots of improvisation, lots of experimentation. I think the electronic records and music we were listening to, those ideas just started seeping through into our regular jam sessions. Then when the production gear started getting more affordable and widespread, we started messing with them in our practices as idea tools.
Improvisation isn't a word you hear with electronic music that often because you're playing with a click or to loops. How do you make that work?
Brown: Anything goes. If you're trying to improvise with electronics—they don't naturally go together. So, we've set things up so that when we're improvising, we can use the electronic elements or abandon them at any moment. We might be playing to a sequence or a modular loop, and it's just like we're listening to another player in the band. We're truly not locked into anything. We have control over it in a way that allows us to keep things interesting and musical, and lets us do what we really feel like doing in that moment. If the click isn't working, we can just abandon it and play with the instruments. But if it's really working, we can let it keep going—maybe play a bit less ourselves and build on the electronic elements.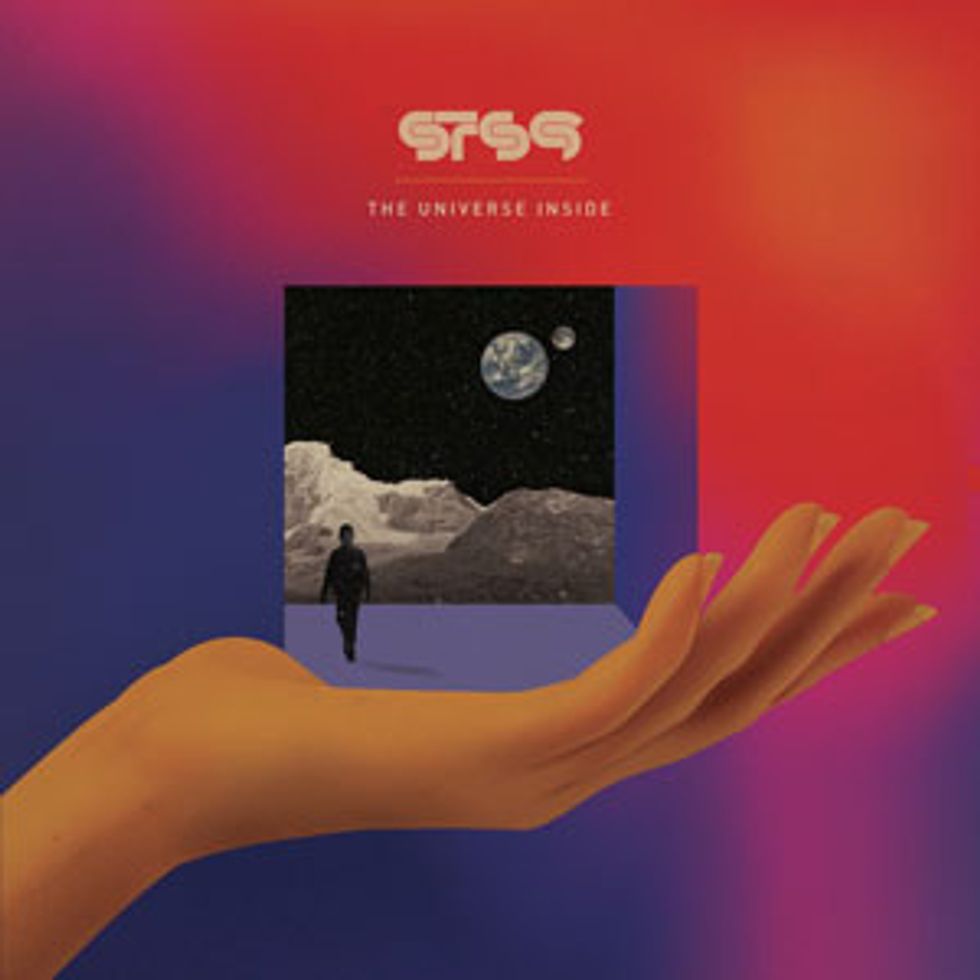 Chemistry is everything to Sound Tribe Sector 9, a band who favors group rhythm over individual soloing. The Universe Inside is the band's 11th studio album, but the first written with bassist Alana Rocklin, who joined in 2014, replacing original bassist David Murphy.
Does that apply in the studio, too?
Alana Rocklin: There's a song on the album, "Elsewhere," that's actually an improv—us making it up on the spot and having no idea what was about to come out. It may be a 15- to 20-minute jam, and [the recording] is the first part of it.
Alana, this is your first album with STS9. How did you come to join the band?
Rocklin: I met STS9 in 2001 when Sub-ID—the band I have with my husband Brad Bowden—opened for them in Chicago. We instantly loved each other's music and formed a friendship. We opened shows over the years and were always in contact. When we had music, we would send it along. At some point, Hunter said, "You should let us put your record out," and we were the first artists on the band's 1320 Records label. It was a natural progression that, when they needed a new bass player, I was the person they thought of.
While there's plenty of variety on the record, the overall vibe is upbeat and happy, which isn't always the case with electronica...
Brown: That's kind of our intention, if there's such a thing. We have a message. We think music is an important part of life and we're trying to get certain ideas about it out within the music itself. The challenge is, "How do I create what I'm feeling without sounding campy or trite?" Playing guitar—a traditional instrument that people have been listening to for so long—I want to find something that truthfully reflects what I'm feeling. It's always a challenge to get what's in your head and what you're feeling out into the world. But it's really fun. I would say it's more fun than difficult.
Speaking of fun, the album sounds like a band having a good time. Even with the electronics, it sounds "played," not programmed.
Rocklin: From the beginning, our intent was for listeners to be able to "see" us playing—because it's easy in electronic music to get away from that. We actually started the record over because we really wanted to capture that.

Brown: That's definitely true! It's something we thought about a lot. It's been a challenge in the past to capture that, but that's what we went for. As primarily a rhythm guitarist, I'm always trying to find that pocket where I'm really adding and stretching the time.
Rocklin: That's one of the things that drew me to the band from the get-go—like, "How is this even happening?" There's this electronica thing going on and there's the band and you don't feel that repetitive nature with them—it's a very unique thing. It's something I've tried to honor and even accentuate.