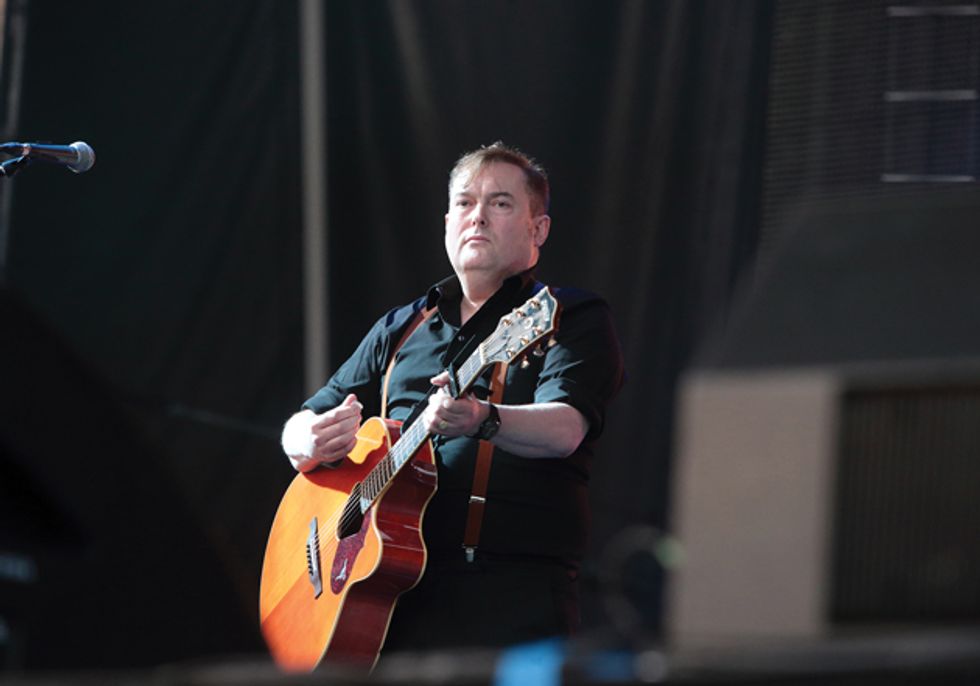 Boorer plays his Gretsch Rancher during a Morrissey show in 2015. Boz and "Mozz" have been musical partners for 25 years, starting with the classic Mick Ronson produced album, Your Arsenal. Photo by Owen Sweeney / Frank White Photo Agency
Best known as the songwriting partner, guitar foil, and musical director for one Steven Patrick Morrissey, Boz Boorer wears many hats—all exceedingly well. He originally gained notoriety as a founding member and major creative force in the Polecats, one of the first and most important groups in England's early-'80s rockabilly revival. Boorer joined Morrissey for the singer's third solo effort, the 1992 epic Your Arsenal, which was produced by another world-class sideman, Mick Ronson. Since then, he's played a major role in shaping the music the former Smiths' frontman has made over the last 25 years.
Alongside his work with Morrissey, Boorer has maintained a prolific solo career while writing, producing, and recording with a multitude of other artists—often within the confines of his secluded Serra Vista Studio, in the mountains of Portugal. And when Boorer isn't occupied creating music, he can frequently be found manning Vinyl Boutique, the record shop the apparent workaholic owns with his wife, Lyn, in the Camden Town area of London. Clearly, the man is a conduit for musical energy and undoubtedly a musical obsessive.
Boorer recently found the time to release his fifth solo album, Age of Boom, which has been more than four years in the making. A dynamic, sweeping work, Age of Boom juts in and out of the various sonic realms Boorer and his guitar have occupied over the years, and seamlessly ties the disparate sounds of its 14 tracks with whimsy and a wonderful cinematic sensibility. The album features an extensive cast of notable guest singers from the U.K. rock world, including Eddie Argos, James Maker, Tom Walkden, and Georgina Baillie, and is an excellent primer on Boorer's versatile yet distinctive guitar work. His playing remains equally informed by the pomp and fire of '70s British glam-rock, early punk, and an encyclopedic knowledge of rockabilly, which makes him something of a chameleon. He's also an ace with effects. However, Boorer's intent to serve the song first, whatever that may require, is obvious on Age of Boom, which flexes his writing as much as his genre-trotting licks.
Premier Guitar gained an audience with the perpetually busy and disarmingly affable guitarist as he prepared dinner at his London home prior to absconding to Portugal for a recording session. Boorer opened up about his excellent solo work, his background as a player, working with the legendary Morrissey, and how he stays so hungry after many years in the game.
Were the songs for Age of Boom written with their specific collaborators in mind?
The whole album got pieced together bit by bit, and I knew I wanted this record to be different than things I've done in the past. I thought that working with vastly different people would get that done and make for a very interesting album. Some of the people I knew beforehand and some I'd already worked with over the years—and some the record label suggested. So, it all just fell into place, really. Things were planned, but it wasn't difficult. I didn't come across any obstructions putting it together, even though it took a long time to do—almost five years because of how busy I've been! But eventually I had to stop tracking because I had enough tracks to call it an album.
"Sometimes I think, when I'm playing a solo, 'I don't know where this comes from?' and it's usually a Marc Bolan riff that I've made rockabilly or the other way around."

The narrative of the album, especially the title track, deals with getting caught up in nostalgia, which, I think, is something guitarists are prone to do. You've done a remarkable job in your career mining the charming things from the guitar's rich history, namely from rockabilly, without necessarily clinging to them or sacrificing your own voice as a player. Do you have a philosophy for pulling that trick off?
I might nod to the past, but I'm aware of that and I try very hard not to create the same track twice. I think I've done that all my life—avoided repeating myself. Guitar-wise, I normally start in a very honest way, with just a guitar and a small amp, like a Fender Champ, and let the sound suggest different shapes and melodies without overthinking the whole thing. Sometimes it doesn't happen, but more often than not it flows and if you follow the natural path of it, you tend to get something unique.
You're an important figure in the rockabilly revivalist world. Has that style remained interesting to you after many years exploring it?
Yeah, yeah, absolutely! I was talking to somebody the other night about just this, at a reunion at one of the rockabilly clubs I've been going to for 30 years now. It's always been funny to me when someone renounces the music and says, "Well, I don't like that anymore," because for me, it's been a big part of my formation as a musician since I was a kid. On the surface, it's very simple music, but some of the playing is absolutely incredible and it's also the roots of a lot of different sounds.
I also think it's quite remarkable that it's nearly impossible to recreate that truly authentic rockabilly sound accurately. I know loads of people try to make a record that sounds like it was made in 1956, and you just can't do it! I mean, it frustrates me because I'd love to do it!
You've made a career supporting vocalists with texture and drama, but as a fan of rockabilly and glam—which so often feature guitar as a focal point—do you ever have difficulty reconciling subtle support and guitar heroics?
One bleeds into the other, really. It's all in there somewhere, and some of it leans one way and some the other. Sometimes I think, when I'm playing a solo, "I don't know where this comes from?" and it's usually a Marc Bolan riff that I've made rockabilly or the other way around. But I don't really think about it actively. I just play.
Do you have any advice for guitarists playing a support role or interested in delving deeper into using the instrument to build textures? How do you craft such parts as a composer and songwriter?
I normally start off with some sort of rhythm guitar, maybe a lick idea, but normally it's a chord sequence. I like to use a compressed, light sound, which I then usually track out with an acoustic as well, to get that bright sort of jingle-jangle, or maybe even a Nashville-tuned acoustic—which I use quite a lot. [Ed–Nashville tuning requires a light, unwound set of strings with the G, D, A, and low E strings tuned an octave higher than usual.] I like to use a Nashville-tuned electric, but I don't use it as much as the Nashville-tuned acoustic, which gives it that extra jangle without making things too thick. The other side of using Nashville tuning is that it suggests all kinds of great stuff—harmonics and different melodies start to make themselves known. It's a lot of, "Oh, I didn't think of that," and you can hear different ideas—harmonies and runs—suggesting themselves in that tuning as opposed to standard tuning. I also often like to add a string pad on a synth beneath things to blow it up a bit, and then you have this whole platform to experiment over.
There's a load of great classical-style guitar on Age of Boom. I hadn't realized traditional nylon string was part of your repertoire. Is that something you're well-versed in?
I learned the classical guitar stuff when I was a teenager, because I wanted to learn how to play more than one string at a time and I wanted to learn how to read more than one note of music at a time. I also wanted to do some of that country picking and I thought if I took some classical lessons, I'd learn how to better coordinate my fingers. So, I've been playing nylon-strung classical guitar since I was maybe 15. It's all just a part of the bigger picture for me as a guitarist. I love to get the classical guitar out and play some of those old pieces—I keep the music out at my studio in Portugal and I have a really nice nylon guitar over there—but the truth is it's just another gun in the arsenal, so to speak.
Could you tell us about the gear you used to track the album?
My studio in Portugal has a lot of stuff. For amps, I used a vintage Fender Champ a lot, a reissue Fender Bassman combo, and I have a big box of effects in there—really too many to list or recall. For guitars, I have a Japan-made '50s Fender Telecaster reissue that got used a lot on the album and a 1960s Gretsch 6120 which made a lot of appearances. I have a Gibson Flying V that doesn't get used much, and an '80s Fender Stratocaster that also doesn't get used much. There's a recent Les Paul Special that I like a lot. I also used an Eastwood Sidejack, which a Mosrite kind of thing, and an old no-name Japanese copy of a Gibson Trini Lopez that has all its strings tuned to an E and usually gets played with a bow. For basses, I have a wonderful 1969 Fender Precision bass that I tend to use all the time, and I used a vintage Hayman bass from the '70s that has a bit more bottom end on it. I also used a double bass quite a lot on the album. For acoustics, I used a Takamine and a vintage Epiphone … oh, and a vintage Gibson Melody Maker that I keep in Nashville tuning.