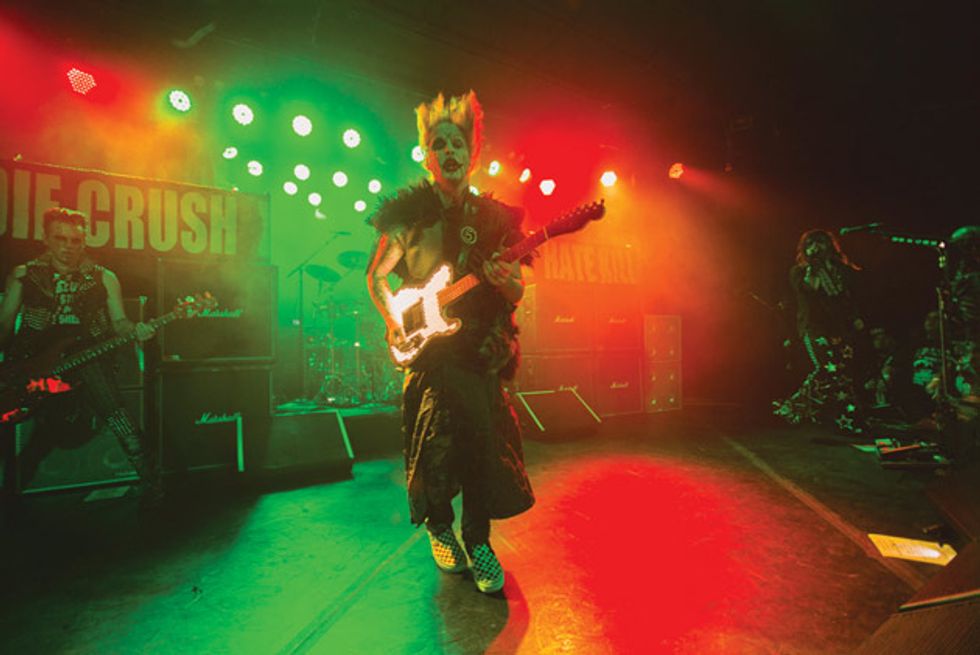 Though currently playing industrial metal with horror filmmaker Rob Zombie, John 5 has collaborated with such diverse artists as David Lee Roth, Lynyrd Skynyrd, and k.d. lang. Photo by Debi Del Grande
Evil Henchman
In addition to high-profile gigs with Marilyn Manson and Rob Zombie, John 5 has an impressive resume filled with loads of songwriting and session work. Here, he shares a few highlights.
David Lee Roth
When I was recording with Dave it was tough. This was David Lee Roth—Steve Vai, Eddie Van Halen … and Van Halen were my heroes. I was making a record with Rob Halford at the same time. And Dave didn't want me after that—he wanted me fresh. He said, "We're going to record starting at 6 a.m.," because I had to start recording with Halford at 1 p.m. or something like that. I said, "Okay." We booked the studio at 6 a.m. I still remember it today—driving there, it was dark out, getting all my stuff. Before we started, Dave said, "If you can't do it in two takes, you can't do it. Let's do this." I was like, "Whoa." And I'll never forget him saying that. That is probably how it was with Van Halen. They probably rehearsed so much, went into the studio, and just knocked it out. But we did it. It was really crazy.
Lynyrd Skynyrd
I was signed to Chrysalis Music Publishing and they said, "Lynyrd Skynyrd is making a record. Do you want to go down and write with Lynyrd Skynyrd?" I said, "Of course." I know every Lynyrd Skynyrd lick there is. I went down to Nashville and, at that time, it was cold out, so I had a big black fur jacket on. I had no eyebrows. I was wearing two different colored shoes. My jeans were all weird. That's just how I walk around. That's how I go to Target or to the grocery store, too. So here I come. I went to where they were and there's Lynyrd Skynyrd.
And they thought it was a joke—they thought someone was pulling a prank on them. I said, "I'm John. I'm here to write with you guys." And I started to get that vibe, like, they thought this wasn't real or something. You know when you get that vibe? So I started playing some Jerry Reed, some old Chet Atkins, and some of their songs. They were like, "Oh my God, this is great. We didn't know. Sorry and blah blah blah." I ended up writing six or seven songs on that record, God & Guns. I wrote songs on the next record, Last of a Dyin' Breed, too. We have a great relationship.
k.d. lang and Larry Campbell
When I played with k.d. lang, there was this great multi-instrumentalist in her band named Larry Campbell. Larry played lap steel, pedal steel, mandolin, banjo, fiddle … all these instruments. Incredible. He would always practice and always play and I was so inspired by this guy. When I walked in, I did string skipping and all these sliding arpeggios. He was like, "Wait a minute. What the hell are you doing?" I said, "What the hell are you doing? This is great." We got into what each other was doing because it was so different. Learning different things is so important. You think, "That's something I really want to indulge myself with and dive into."