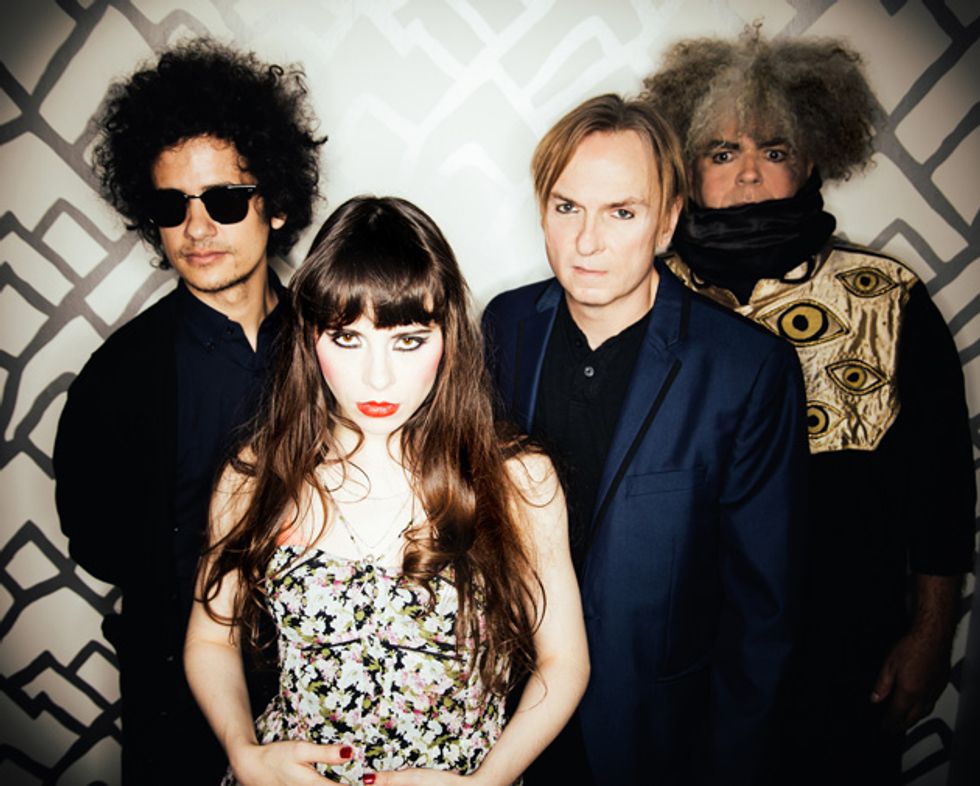 A heavy metal/rock supergroup, Crystal Fairy consists of (left to right) Omar Rodríguez-López on bass, Teri Gender Bender on guitar and vocals, Dale Crover behind the drums, and Buzz Osborne on guitar. Photo by David Goldman
If we're being honest, the world probably doesn't need another supergroup. The annals of music's past are positively littered with bands that failed to deliver on the promise of the names involved. But sometimes, a collaboration blossoms into something much bigger than the sum of its famous parts. A good example would be Crystal Fairy, a fresh rock 'n' cabal formed when guitarist/frontman Buzz Osborne and drummer/human metronome Dale Crover of sludge-metal forebearers the Melvins joined forces with art-punk heroine Teri Gender Bender of Mexican garage-rock upstarts, Le Butcherettes. Visionary string-strangler Omar Rodríguez-López—of At the Drive In and Mars Volta fame—later came onboard to round out the quartet.
Crystal Fairy came together organically when Le Butcherettes toured as an opening act for the Melvins. Osborne and Crover, both fans of Gender Bender's records and unhinged live performances, invited the her to sing with them on a cover of Bikini Kill's "Rebel Girl" at the end of their set each night. The onstage chemistry turned out to be electric, and the trio of musicians quickly wanted to see if they could capture it in the studio. After a chance backstage meeting, Gender Bender's Bosnian Rainbows cohort and Le Butcherettes producer, Rodríguez-López, found his way into the fold to handle bass duties.
The group's self-titled debut came about quickly and effortlessly, with the writing and recording of no less than three of the album's tracks on their first day in the studio. Built on a bedrock of filthy guitars, Crover's unmistakable percussion assault, and commanded by Gender Bender's athletic caterwauls and incantations, Crystal Fairy has elements of classic psychedelia, stoner-metal, and punk-rock energy, yet is more rock 'n' roll than anything the pair of Melvins have ever been involved with and heavier than any of Gender Bender's past efforts. A truly collaborative effort, almost none of the album's content was written outside of the studio.
While Osborne is a firm believer in the adage "it's the Indian and not the arrow," he uses a wide range of custom gear to generate his earth-shaking sounds, including wild signature-model guitars forged out of aluminum by the Electrical Guitar Company out of Pensacola, Florida. Though Gender Bender is less nuanced with gear, the pair of guitarists are laced together by a love of oddball tunings and a deliberate avoidance of the expected when it comes to their fretwork. PG spoke with Osborne and Gender Bender about their killer new album, music-making philosophies, guitars, and what they both believe is the skeleton key to creativity.
Buzz, everyone gets a guitar credit on the album, but I'm curious how much of the guitar writing you were responsible for?
Buzz Osborne: Maybe half the riffs were mine, and then some of them were Teri's riffs, and some were collaborative efforts between Teri and myself, and some we hammered out with everyone at once. That said, Teri and I were the only ones who brought in nearly completed ideas and riffs to use. The first thing we recorded was "Bent Teeth," and we wrote and recorded that on the same day that we wrote and tracked "Drugs on the Bus" and "Necklace of Divorce." That was just myself, Teri, and Dale in the studio on that day.
Sounds like there was a pretty remarkable chemistry between everyone to have a yield like that from one session.
Osborne: It worked so well, I just couldn't believe it! Everyone was full of ideas. Like on "Bent Teeth," we'd jam it a little bit with Teri, then Dale and myself would start working out an arrangement, and then half an hour later max, Teri would be ready to sing it. And those songs appear on the record as they were that day. It was crazy. "Necklace of Divorce" was Teri's idea that we messed around with for maybe an hour max before we tracked it.
Teri Gender Bender: The chemistry was incredible. The one thing I hate about biopic films is they always try to recreate the creative process, and make those moments happen on film, and it always seems so corny and never quite like what really goes down. For us, it was like a family dinner. Little moments—like Buzz sharing a smirk with Dale when they catch something cool, or Dale and Omar having a laugh when they stumble over a cool bass part—were pretty magical, and it's one of those things you can't recreate.
"It was like a family dinner. Little moments—like Buzz sharing a smirk with Dale when they catch something cool, or Dale and Omar having a laugh when they stumble over a cool bass part—were pretty magical, and it's one of those things you can't recreate."
—Teri Gender Bender

Were there any guitars that inspired you while writing guitar parts for the record?
Osborne: I could write songs on any guitar. I've been playing for nearly 34 years now and it's difficult not to collect a few things guitar-wise in that amount of time. However, I'm not really a vintage guy. I prefer new equipment.
I have a few different things at home that I play around with, whether it's an acoustic, or a Danelectro, or maybe one of my Electrical Guitar Company aluminum guitars, that I really enjoy a whole hell of a lot. I think they're the best guitars in the world. They're odd and strange and made by a guy named Kevin Burkett, and I just think they're great. Lately I've been playing these Travis Bean Designs pan-back guitars that Kevin's making. I don't know the exact story about them, but I think he's working with Travis Beans' widow and making real Beans now, which use a single piece of aluminum for the neck and body pan.
Bender: Before we started these sessions, Buzz gave me this gold sparkle Danelectro, which is beautiful. Some people are a little weird about them because they're really light and not the typical rock guitar, but it sounds really cool. So, for my guitar parts, I plugged straight into the amps, which were a Verellen head and my Orange Rockerverb 100. The Verellen stuff is great, I love them.
Those new Bean reissues are intriguing instruments. I like their thicker neck shape because although I've always liked the idea of an EGC, I didn't love the ultra-thin necks.
Osborne: Yeah, that's because you're not used to it. Guitar players are the most conservative people on the face of the planet. It's weird, but I was massively inspired by the thin necks on the Electricals. It made it so I could play things that I never have before, and there's no other neck like those in the world—you literally can't get it that thin with wood. It was like, "Oh my god! Finally a new thing for me to experiment with in guitar."
After a while, I had to ask, "What's next?" And Kevin was willing to build the aluminum guitars for me with a traditional Les Paul setup for the electronics. The first couple I had were equipped with pickups from Les Pauls and had a switch on the top bout and the knob arrangement you'd find on a Les Paul. That switch placement is a big part of my playing, so that was really important. I don't think he'd made them like that before, but he was willing to do that for me, which was great and made it so I could start playing them live. I just couldn't believe it—it was such a different playing experience.
Buzz, tell us about the specific guitars you're using from the Travis Bean Designs series.
Osborne: The Beans are set up like a Les Paul, with the pickup switch on the top bout and two tone knobs and two volume knobs, which is unique to my EGC guitars. They're set up with the pickup from a Les Paul Custom in the bridge position. I always struggled using a Les Paul because I like to change pickups so often when I play, and I found the neck position pickup on Les Pauls is always too hot—always! In the middle position, I want it to be loud, but with no feedback, and I'd always have a hell of a time trying to find the sweet spot every single night on the guitar. I had Kevin wind me a really low-output humbucker for the neck position, and it solved the problem. In the neck position, which is what I use for the quietest parts of my playing, it's really quite clear sounding without much distortion. In the middle position, it adds a bunch of beef, and then obviously in the bridge position it's full blast with a regular output humbucker. It worked perfect for me, fucking perfect. It's my dream come true and I don't know why it took so long to think of it. Kevin thought people were going to love it and it turns out nobody wants it, because guitar players are the most traditional, conservative idiots in the world! Everyone wants the traditional setup. God forbid you try something new.