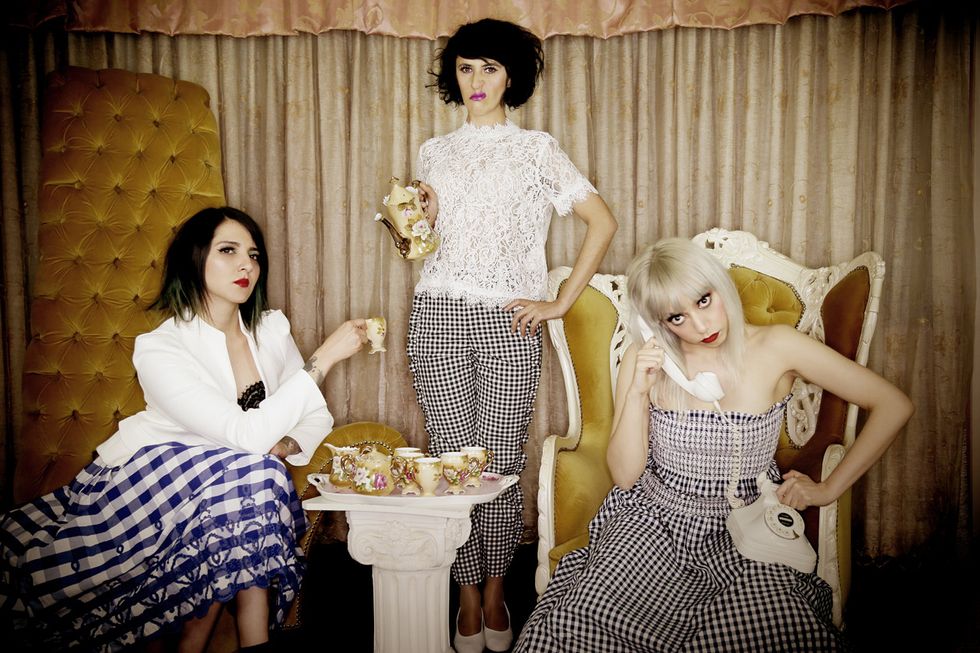 Photo by Mauro Babun
Descartes a Kant's Victims of Love Propaganda greets you with a pitch-shifted voice straight out of a nightmare, coughing and announcing, "Now, let's take a moment to discuss the current theories about the biological basis of looooove..."

Next thing you know, you're being pounded over the head by the opening riff of a song called "You Assfucked My Heart." Acting as the album's overture, the distortion-soaked track cycles through a series of tight breaks, tense riffs, and a searing saxophone solo, never settling long enough to catch a breath.

The songs that follow scream with the impulsive intensity of avant-garde bands like Mr. Bungle, Secret Chiefs 3, and Naked City. While shock and awe leads the way in the Guadalajara, Mexico-based band's music, it isn't all Descartes a Kant is about.
Their songs also exhibit a pop sensibility that rears its head in tight hooks that affirm the influence of indie rock legends and '60s R&B. All of this comes together to form a concept album the band describes as "emotional porn," taking a forensic look at romantic relationships.
When Descartes hits the stage, the mayhem really gets unleashed. Guitarist/vocalists Sandrushka Petrova and Dafne Macías lead the group with frenetic energy, performing unison moves amidst flashing emergency lights, surrounded by the rest of the band members in hazmat suits. Their high-powered live show and deep embrace of varied sounds has helped Descartes a Kant secure gigs around the world with a diverse set of heroes, such as Sonic Youth, the Yeah Yeah Yeahs, Slayer, and Dave Lombardo's Dead Cross.

While Victims of Love Propaganda is Descartes a Kant's third studio album, it's the band's debut release in America. This time around, they worked with legendary engineer and producer Steve Albini (Nirvana, Pixies, Jesus Lizard) at his Electrical Audio studios in Chicago. Albini's analog recording approach helped give Victims of Love Propaganda a direct, in-your-face sound that serves to make the record sonically explosive.
Premier Guitar sat down with Petrova and Macías to discuss their relationship-focused concept album, calculated songwriting approach, and elaborate live shows. While the band is obviously detail oriented, they keep their eyes on the big picture—unconcerned with obsessing over gear, instead considering how to get the most effective songs to deliver what they want to say.
"When we use Marshalls, it's like kissing someone and you don't know what's wrong but you know something's wrong."
—Sandra Petrova
How did the band form and how long have you been together?
Sandra Petrova: I started this band in a non-pretentious way, not knowing it was going to be like a serious relationship. It started in the bedroom in 2001 in Guadalajara. In 2005, Androv the keyboard player, Dafne, and our previous drummer joined and we released our first album in 2007. To me, that's when the band started in a serious form and we've been working ever since, like a functional/dysfunctional family. In 2010, Christy [Ana Cristina Mo], Mo [Memo Ibarra], and the drummer [Jorge Chavez] joined.
Let's talk about the band's name. It's two philosophers, Rene Descartes and Immanuel Kant.
Petrova: Basically, it's like an analogy to this confluence of postures and ideological philosophy shit that is much like what happens with our sound. If you see genres like ideas, they all come together in this unique, alien, punk music that includes lots and lots of musical forms. Although they're opposite, it doesn't matter.

What kind of scene did the band develop in? Were you playing with mostly heavier bands?
Petrova: It was a local scene [in Guadalajara, Mexico]. We're a band that plays with any kind of band. I think we've never felt like we belonged to a scene. That makes possibilities huge, to try to live with all this music that is happening in our country, so we can play one day with a ska band or…. what's the craziest?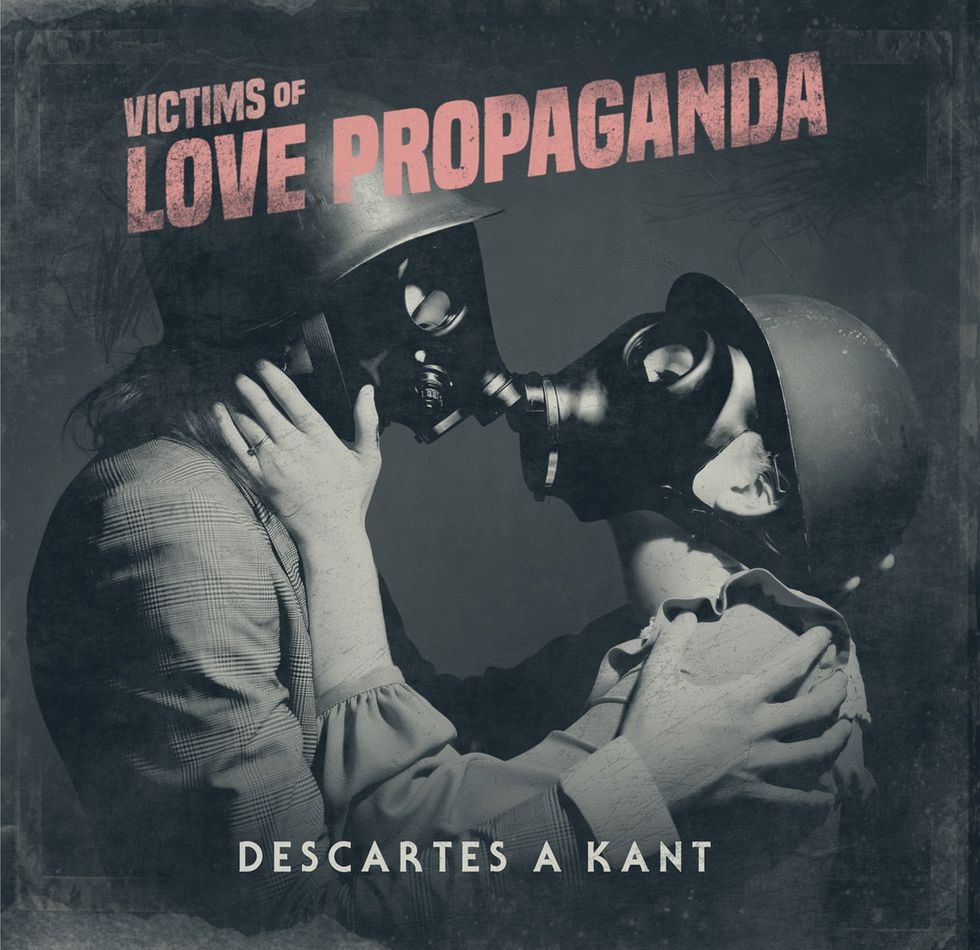 Tidbit: Descartes a Kant recorded its U.S. debut, Victims of Love Propaganda, using an analog approach with legendary producer/engineer Steve Albini at his Electrical Audio studio in Chicago. Before entering the studio, the band mapped out an ideal guitar sound and assembled a new pedalboard from scratch specifically for the album.
Dafne Macías: Like a salsa band, mariachi....

Petrova: Mariachi in Russia! That sounds very weird. But, I think that that's the cool part of this: like we don't belong to one thing, but to everyone and everything.
Your songs tread a lot of ground and seem to draw on a wide variety of material. A song like, "You Assfucked My Heart," the first track on Victims of Love Propaganda, is based on heavy riffs, extreme vocals, and has a screaming John Zorn-style sax solo—it's brutal! But then "Motion Picture Dreamboy" is almost like a '60s girl-band song. How do you pull together such wide influences?
Petrova: Yeah, as you said, the influences are very diverse. I see it almost as like a polyamorous relationship with music. And everything fits. It wasn't this conscious process like, "Oh, I want to sound so weird and crazy and just put all this together like a collage." But it was like, "What if we kind of fuck around with structure and we put all this stuff together and maybe it makes sense or maybe we can stop making sense." Obviously, Mr. Bungle is a direct influence and I think every member of this band has a love for [Mr. Bungle vocalist] Mike Patton projects.

A band like this is not a jamming kind of band. It's not just like a huge accident that happens; it does have layers. I write a lot of the songs, but also this record was very collaborative because some songs or parts of them were written by the bass player, some lyrics were written with my brother and a friend of mine who is a psychiatrist, and then some arrangements, vocal arrangements, were written by Dafne. So, I think we came to this point to learn how to work together with an idea that probably I incept.
---
---