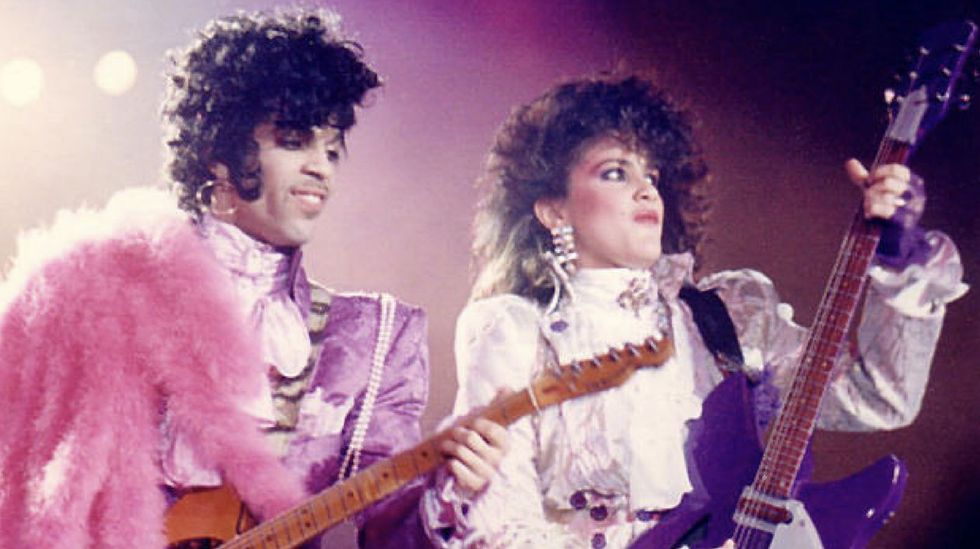 Prince plays his Hohner Tele and Wendy Melvoin rocks her signature purple Rickenbacker during the Purple Rain Tour in the mid '80s. Melvoin names her mother and Mick Ronson as her biggest guitar influences.
Photo from Wendy Melvoin
The fire and magic that happens when a charismatic frontperson and a gifted musical foil find symbiosis is truly beguiling. Elvis had Scotty Moore, Bowie had Mick Ronson, and for a few charmed, arguably career-defining years, Prince had Wendy Melvoin.
Melvoin has come a long way since her days sparring with the late icon. She started playing guitar with Prince's band in 1983, and was a permanent fixture and cowriter on the Revolution's three seminal albums: Purple Rain (1984), Around the World in a Day (1985), and Parade (1986). After Prince disbanded the Revolution in 1986, Melvoin went on to enjoy success fronting her own pop group, Wendy & Lisa, with keyboardist, Revolution alum, and lifelong musical partner, Lisa Coleman. The Los Angeles-born Melvoin has since morphed into a perpetually in-demand session player, songwriter, producer, and composer, with a resume that reaches far and wide into disparate spheres of the music and film worlds, and includes the likes of John Legend, Seal, Grace Jones, Glen Campbell, Sheryl Crow, and Joni Mitchell.
While Melvoin—the daughter of the legendary Wrecking Crew pianist Mike Melvoin—undoubtedly possessed impressive skills as a rhythm guitarist and hooksmith when she initially caught Prince's attention at the green age of 19, she makes no bones about the impact her time with the innovative Master from Minneapolis had upon her development as a musician and composer. In fact, she refers to that period of her career as her "Juilliard or Harvard years." And for anyone who's taken the time to gaze beyond the mystical purple glare and truly analyze Prince's Revolution-era output, Melvoin's contributions as a texture player and rhythm ace should be immediately apparent, particularly on the magnum opus that is Purple Rain, which put forth a cadre of unforgettable singles that all featured heavy doses of Melvoin's guitar and vocals.
"If you want to see the real magic in Prince's playing, it's not his left hand; his picking hand was everything."
While the band unfortunately never made good on the perennial reunion tour rumors that circled about through the years, Prince's tragic passing prompted the group to reunite and put together a tour as a means to both grieve the loss of their friend and leader, and to celebrate the tremendous music they forged in his keep.

Melvoin took the time to catch up with Premier Guitar between Revolution tour dates and reflected on her time working and learning with Prince, the craft of pop guitar work, and the healing process that's come with this tour.
Was it challenging to relearn these tunes after all the time that's passed, and was there a lot of adjustment required to play parts that weren't originally yours?
You know, it was really an interesting process just trying to just figure out the best way to be respectful of the material and do justice to those parts that weren't originally mine, but without being a showboat, which is something I just absolutely have no interest in being. Prince's soloing was super impassioned, and, of course, he did a lot of calisthenics, but when he would reach for those wild high notes, that was really like an extension of his voice or singing. So that's kind of where I wanted to be, honoring that side of his playing. I didn't want to be "the fast machine"—I'm not interested in the athletics, honestly.
When it comes to playing the parts I had been playing, I'm an infinitely better player than I was when I was 19. I've been playing for 40 years now, so I'm just a better player and that meant the task at hand itself wasn't hard, but the emotional aspect and approach to playing those songs was something I really wanted to be mindful of.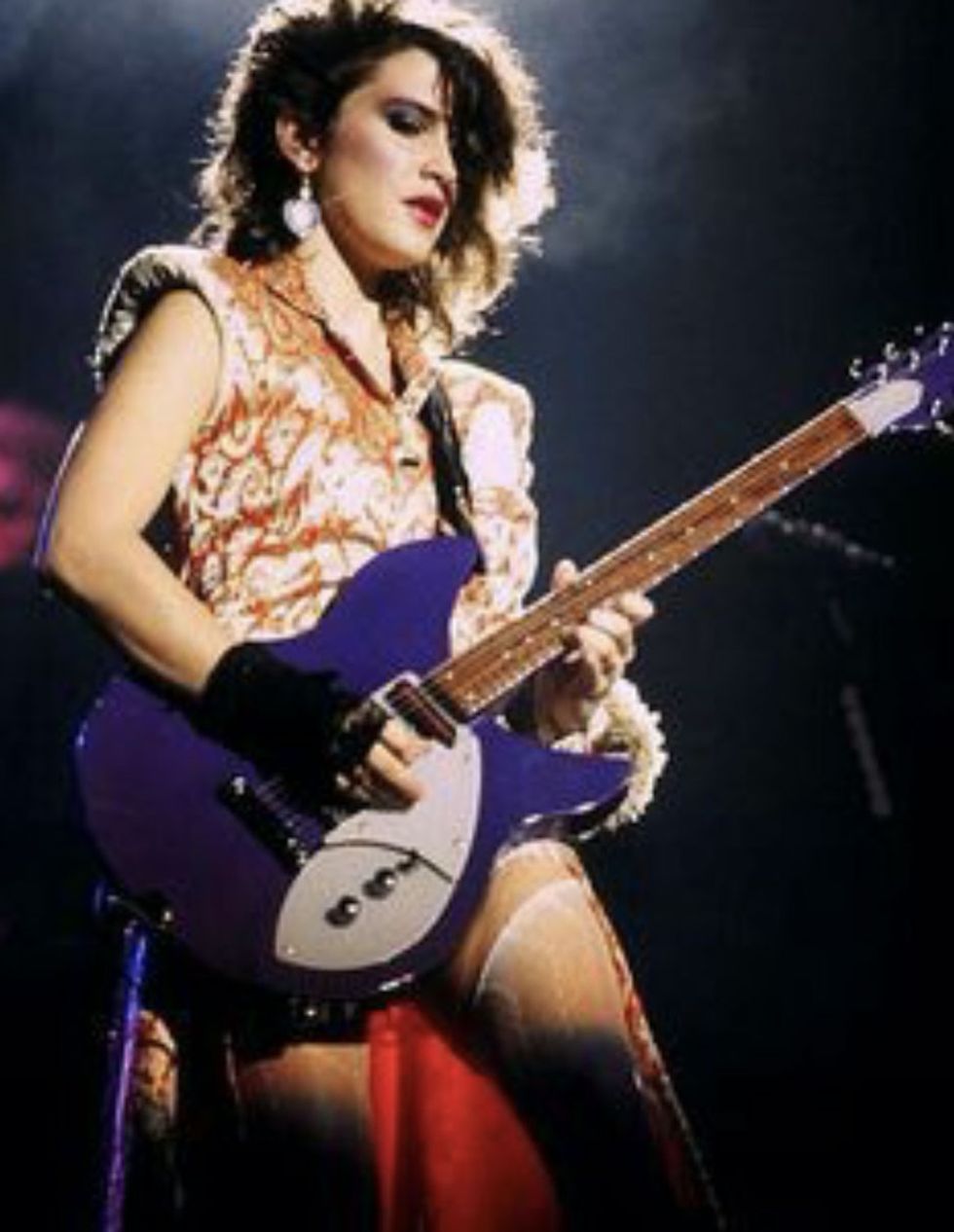 "I didn't want to sound like Roger McGuinn, so we modified them," says Revolution guitarist Wendy Melvoin of her famed purple Rickenbackers of the Purple Rain era. Her Rics were loaded with G&L pickups and the guitars' f-holes were sealed up, so there was no air moving in them. Unfortunately, Melvoin's Rics were stolen about 25 years ago. Photo from Wendy Melvoin
As far as calisthenics go, I always felt Prince was one of those rare athletic players who was extremely dexterous, but always made every note count for something. Even when he was playing something tricky, it wasn't banal.
Yes, it's true! Sometimes he had moments where I'd look over and he'd be going for it and I'd laugh to myself and say, "You don't even know what you're doing right now!" But by the time he passed, he was undoubtedly a true master at the neck of the guitar. He just knew the thing so damn well.

What's the most important thing you learned from working with Prince as a guitarist and a composer?
Space. Learning the definition, in Prince's world, of what "space" really meant between five people on a stage, and the discipline it takes to not stray from script in terms of what you're playing. Don't start having a musical dialogue with solos, or throwing new notes in where they aren't expected, when you're supposed to be doing justice to a song as it was intended.

Our accepted ... even honored job, was to give him the space to be the musician he wanted to be onstage. When it came time to do things in the studio, it was a different experience, and there was a lot of give and take with that because he relied on creative ideas coming from me. But as a side guy onstage, I was there to help him be the best he could be.

I always considered Prince to be the greatest black hat chef on the planet, but he has to have the best team in that room to support him, or that meal's going to turn out like shit. I really believe that and he just built a great team, particularly with the Revolution. I think we all walked away with an incredible amount of discipline; those were my Harvard or Juilliard years, so to speak. It definitely translated into my work ethic. I have an extremely high work ethic to this day and I work every day on my composition skills and getting better at my instrument, and that came directly from those years of strict discipline—of listening, learning, and understanding what the dialogue was between the musicians onstage and how to best function within Prince's world.
 
---
---