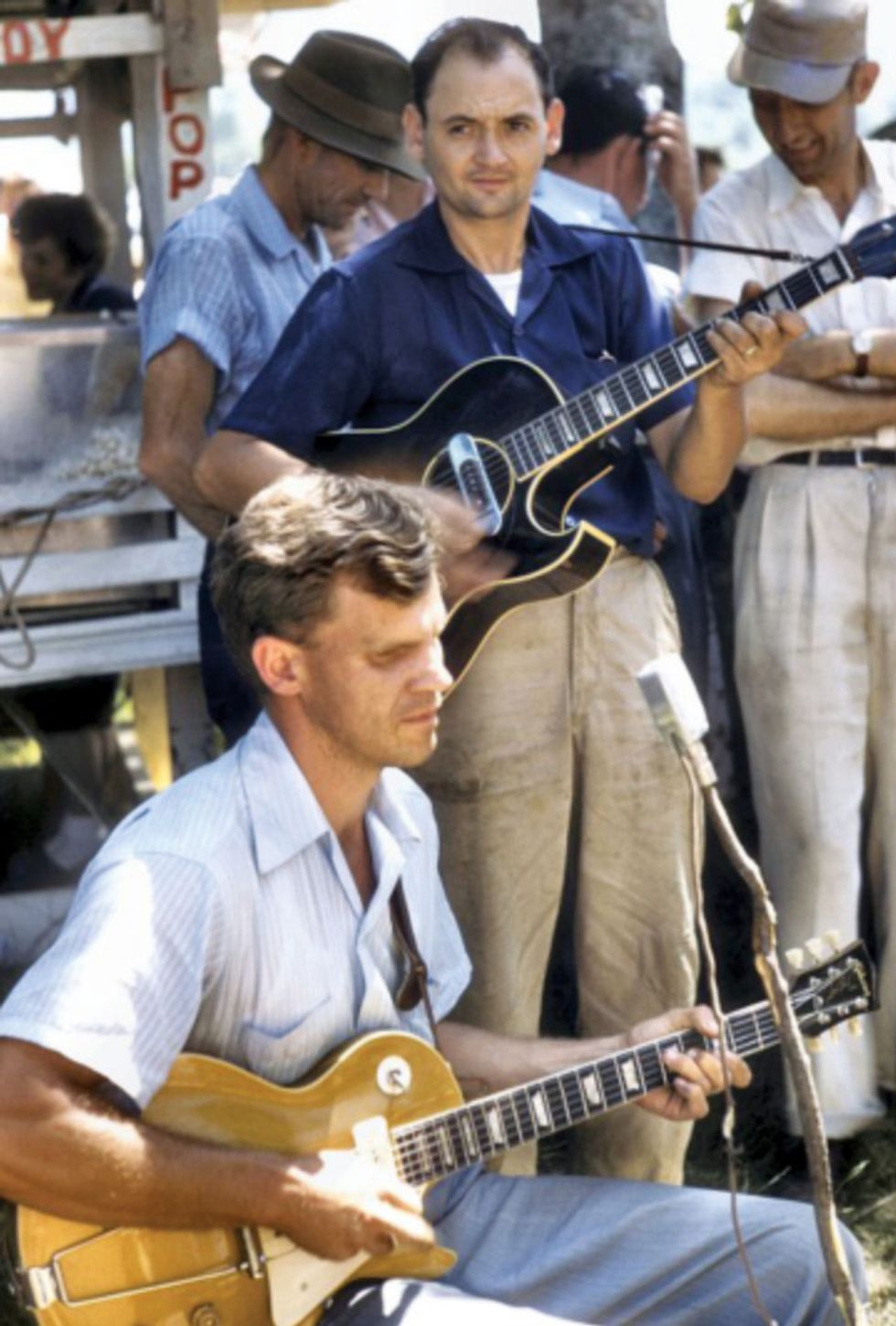 When Siegel first encountered the legendary Doc Watson, the Appalachian picker was playing a goldtop Les Paul—much to the consternation of folk music purists. Photo of Doc Watson in the Hugh Morton Photographs and Films Collection, copyright 1953, North Carolina Collection, University of North Carolina at Chapel Hill Library.
We were only down there a week, week-and-a-half, yet we recorded so much great stuff. We had this marathon recording session in the garden behind Edith Pinder's house. We went all over the island and recorded all these rhyming groups. I had two microphones: an AKG D24E and a Sony C-37. No mixer, but the preamp allowed me to put the D24 into the line input of the Nagra, and you could mix the line input and mic input in the recorder—a mono tape machine. We made a side trip to a place called Marsh Harbor in the Abaco Keys because we found a book in the Nassau Public Library that said in Marsh Harbor traditional British ballads are still performed as they were during the Revolutionary War. So we went there and actually recorded a woman called Mistress Lyndall Albury, who sang all those old ballads, apparently like they'd always been sung. We brought the tapes back to New York and went through the process of fashioning an album, which we brought to Moe Asch [of Folkways Records], who sat on them for months. So when I got hired by Elektra, a year had gone by and Moe hadn't done anything, so I went and asked Moe for the tape back. Jac Holzman of Elektra had a label, Nonesuch, which was focusing mostly on Baroque and pre-Baroque music. He came out with what he called the Nonesuch International Series, so I played it for Jac and he put out The Real Bahamas: In Music and Song.
You also met the Appalachian guitar virtuoso Doc Watson through the FOTM concerts.
After Doc Watson's FOTM concert, Doc and [fiddle and banjo player] Gaither Carlton stayed in New York City an extra week. So there was a club on Sullivan Street between Bleecker and 3rd called Blind Lemon's that was open for just like two weeks. [Folksinger and musicologist] Ralph Rinzler was friends with whoever had it, and they arranged for Doc and Gaither to play this gig for one night. Those are the tapes I'm now working with. Doc was singing beautifully.
The next thing that happened was Ralph got him a gig at Gerde's Folk City—a two-week gig, which I eventually put out as the album Doc Watson at Gerde's Folk City. Doc was staying at Ralph's apartment on Christopher, a sixth-floor walk-up, about a six- to eight-block walk to Folk City. I got the job of taking him over there. Doc was blind but never had a dog, never had a cane. You just put your arm out and he'd hold on to it and walk. We talked a lot. On the nights that Ralph's cousin Richard would take Doc over, I'd bring my tape recorder and record his performance. I started sending Doc tapes and he'd say which ones he liked and we eventually put that out on Sugar Hill. That was his first solo appearance anywhere. You have no idea how surprised Doc was that people went for this. He'd never been a professional entertainer. He was very good at playing the guitar and he played in a rockabilly band and dance bands.
"My parents had an apartment on East 31st Street, and I took the whole gang back and we went into my bedroom. And I recorded a lot of Joseph Spence in my bedroom."
Was he playing electric guitar?
Yeah! He didn't have an acoustic guitar, so he had to borrow one. He had grown up in a musical family in rural western North Carolina. Being blind in those days, especially in rural North Carolina, there were not a lot of job opportunities, so it was one of the reasons he played music—and he got really good at it. He was doing a lot of what we now call busking, but when he got married and had to try to make a living, he worked in a rockabilly band for Jack Williams and they played dances. The way I understand it is, they would sometimes do square dances and they didn't have a fiddle player, and Doc was like, "I think I can play that stuff on guitar," which is how he developed his playing. I believe it was on a goldtop Les Paul.
There's this whole story about how Ralph Rinzler came to record [legendary clawhammer banjo player and guitarist] Clarence Ashley. He'd met Clarence at the Union Grove Fiddle Convention in 1960, and he realized that this is the Clarence Ashley who recorded these great sides on Columbia [in 1929] and also with the Carolina Tar-Heels. Ralph found that Ashley could still sing and arranged to come back and record him. So Ralph returns a few months later with recording equipment, and Ashley has this electric guitar player accompanying him: Doc Watson. Now Ralph is like, "No, we want to get the real folk music. We don't want this electric music. This is on Folkways." And he asks Doc, "Could you maybe play that stuff on acoustic?" And Doc says, quite honestly, "I haven't played an acoustic in so long that if I try to play this stuff on acoustic, it wouldn't be very good." And Ralph says, "We can't use that. We'll go look for someone else."
So then, Ralph goes to find a banjo player named Jack Johnson. He comes back the next day and he's surprised to see that Doc Watson is still there, still playing the damn electric guitar. So, they're all going to Ashley's sister's house to record. They're driving in a pickup truck and Ralph is in the back, open-air part of the truck, playing a banjo. They stop at a light and Doc jumps out and hops in the back of the truck and says, "Let me see that, son," and he starts playing on the banjo and blows Ralph's mind. That's when Ralph realized what was going on. So by the time I met Doc, he had become acquainted with the idea that people would like to hear his traditional music, which he would never get paid for in North Carolina—he couldn't get people to sit still for it. And when he played at Gerde's, he said he couldn't believe that people would sit quietly and listen to these old ballads. It really blew his mind. Anyway, I always stayed in touch with Doc and I always loved his music—and he's much featured on that FOTM compilation. He was a special, special musician.
Doc Watson
Onstage at the Smithsonian, Doc Watson gives a lesson in how he plays the folk classic, "Deep River Blues," with a liberal dose of homespun wit. Then he plays a killer rendition on his ringing flattop.
---
Joseph Spence
In this definitive recording of "Out on the Rolling Sea," Joseph Spence's idiosyncratic playing and singing style are on full display. The theme reflects on his years spent sponge hunting, and his vocal improvisations are honed from the all-night singing competitions associated with that vocation. His playing is unrestrained, wildly improvisational, and stunning.
---
Roy Buchanan
Roy Buchanan performs a contemplative version of his signature instrumental take on the country classic "Sweet Dreams" onstage in 1976, on his longtime No. 1, a 1953 Telecaster. Note his exquisite use of volume effects, false harmonics, and his unique picking style.