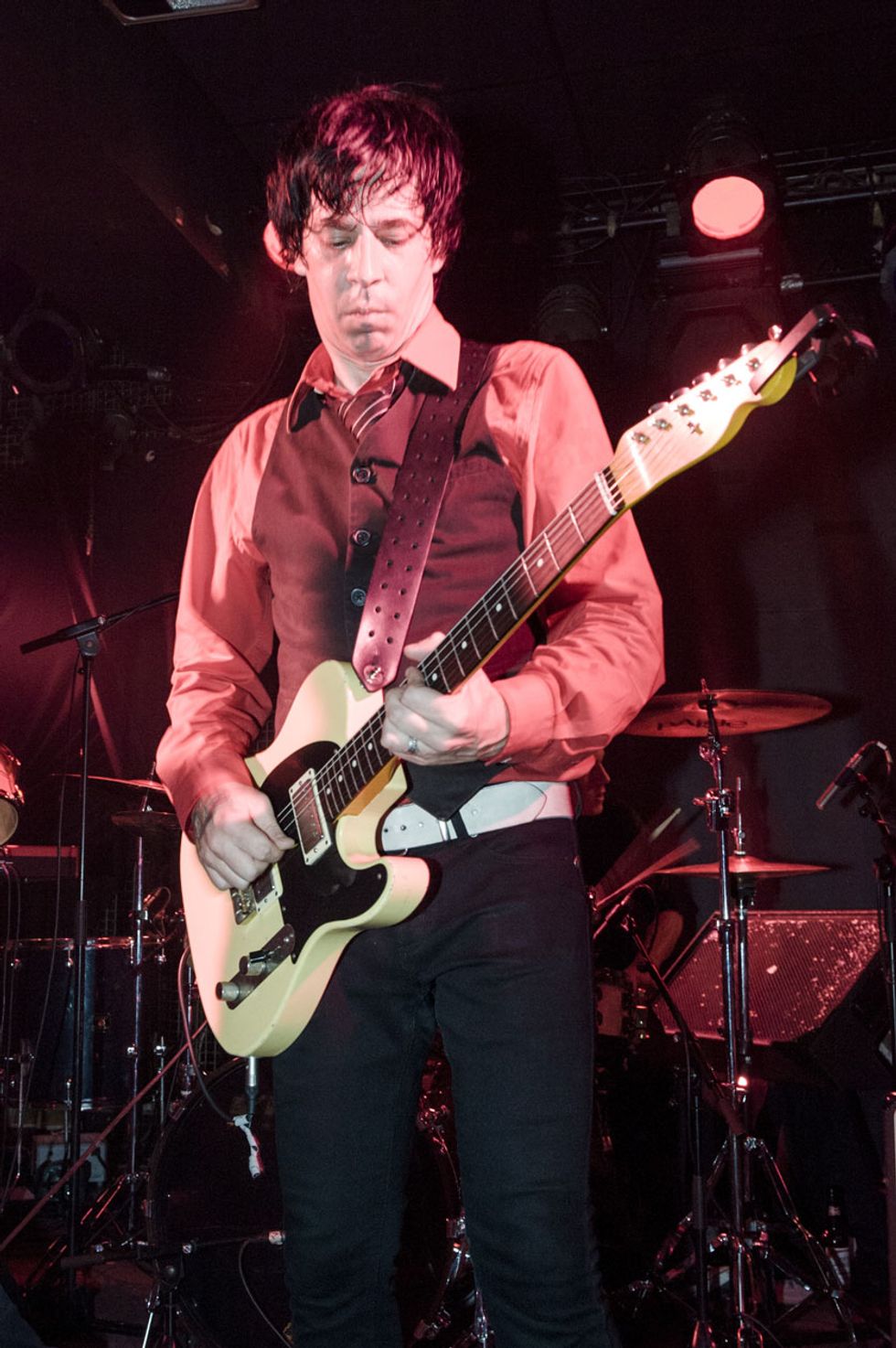 Todd Youth, shown here ripping on a customized Tele with Jesse Malin's St. Mark's Social in 2010, says the secret to playing great hardcore 6-string is to learn to play its intense rhythms on acoustic guitar, "where you can't hide behind
the power of an amp." Photo by Jordi Vidal
How did Bloodclot come to fruition?
Youth: The current iteration of the Cro-Mags had a gig, and A.J. Novello's [of Leeway] mom had just passed away and he couldn't make the gig. John called me up on a Wednesday and asked if I could do the gig on that Friday—no rehearsal, no soundcheck. I landed at 8:10 and I was onstage by 8:45. The gig went well and John and I got to talking and we got into the idea of doing new shit together, so I started writing songs and demoing things and sending them to him.
John put lyrics together in NYC and he came out to L.A. for a few days on the way to Hawaii, where he was going to compete in an Iron Man competition. He ended up tearing a ligament in his leg and couldn't do his race, but he was already in L.A, so we had the time, and we had the songs, and I called up a friend at NRG Studios and they did me a favor on short notice and we went in and cut three songs and those songs got us a deal with Metal Blade.
Nick, how did you come into the fold?
Oliveri: I was playing in a hardcore band called BL'AST, with Joey [Castillo], and Joey mentioned something about playing in a new band—just asked if I'd be into it maybe, but it wasn't something real yet. It was just an idea being thrown around, but eventually we talked with Todd at a BL'AST show at the Roxy [in Los Angeles] with Sick of It All, and Todd sent me some songs after that to check out and I was blown away! The demos are absolutely insane. I immediately thought to myself: "This is what I've been waiting to hear from John Joseph for years!" For me, I'm a huge, big-time Cro-Mags fan, and Age of Quarrel is the record for me. It's the one. The Bloodclot record is similar in that it's authentic, and I felt it and the conviction behind it when I first heard it. I was just lucky enough to get in on it!
"The best hardcore records have the bass lock in with the bass drum as a single entity and, to my ears, that's where that violence comes from. It just makes you want to fuck shit up!" —Todd Youth
Youth: When we went into this, I asked myself what I, as a Cro-Mags fan, would've liked to have heard from the second Cro-Mags record had things not changed with the lineup. That thinking is a big part of the heart of the Bloodclot record.
Todd, as a player that's built a career writing mean rhythm parts, is there a key to this particular style of rhythm guitar?
Youth: This is going to sound nuts, but the key to it is learning to play that style on an acoustic guitar, where you can't hide behind the power of an amp. Another thing is avoiding the thrash guitar thing, where dudes do a lot of alternate picking or do straight-down strokes, but don't necessarily give a part any movement. That thing has its place, but for hardcore—and the Bad Brains again pop up as a huge point of reference here—I've always been drawn to the thing they had where the rhythm parts had a bounce to 'em. Despite how simple a fast guitar part may sound, when Dr. Know plays it, it has accent points that give it that vicious bounce, and it's that subtle shit that really makes a difference.
Joey and I talk about this a lot, but the truth is, hardcore guitar playing is what it is, but what the bass and drums do are what gives it its power. The bass can never be quite loud enough for me. As a rhythm player, the fact that I spent my formative years playing bass in Agnostic Front really shaped the way I do things, and it taught me the importance of locking with a drummer in a hardcore band. The best hardcore records have the bass lock in with the bass drum as a single entity and, to my ears, that's where that violence comes from. It just makes you want to fuck shit up! Nick and Joey have so much experience together that they lock in unlike anyone else.

Guitars
1971 Gibson Les Paul Standard
2017 ESP LTD EC-1000
Amps
1970s 100-watt Marshall JMP
1980s JCM800 with L.A. Sound Design mods
50-watt EVH 5150 III
Effects
Ibanez Tube Screamer
Dunlop Cry Baby wah
Strings and Picks
Dean Markley strings (.010–.046)
Dunlop Herco Flex 75 picks

Nick, can you talk a bit about your philosophy as a bassist?
Oliveri: I always want to attack the parts and really command the rhythm of the song. I was a guitarist first, so I developed my picking style early, and I prefer the attack a pick gives you in general. Lemmy from Motörhead was like a God to me, and I really love his style of bass guitar. Obviously the Cro-Mags are there, too, so the sound from Age of Quarrel was hugely influential. There's a lot to be said for not overplaying and still having a fast, controlled right hand.
The bass guitar is such an integral part of the record's sound. What'd you guys use to track the bass on the album?
Youth: The secret to the bass tone is actually a very funny story. We started recording the bass and we brought in a vintage Marshall Super Bass, which sounded great. The first thing I did when I played in Motörhead was go up to Lemmy's amp onstage and check his settings: Everything was dimed, but the bass was at zero! So we bring in the Super Bass and use the Lemmy settings, and we bring in a vintage SVT and that, too, sounded fantastic. Fast forward to the mixing process and I say to myself, "Fuck man, I'm not feeling the bass. I don't like the bass tone." It didn't have that thing I wanted where it rides on top of everything and punches you.

So I start geeking out really hard to solve it and I hit up Darryl Jenifer from the Bad Brains and I ask him what he used on the ROIR cassette (their 1982 debut, Bad Brains, on Reachout International Records), and he goes, "Aw man, I don't know. We had so much stuff back then, I really don't know." So I start digging and I find a picture of the Brains rehearsing at 171 Avenue A, which is where they lived, and also where they recorded that cassette. And he was using an old Peavey Mark IV. Then I came across a photo of Brian Baker from Minor Threat using the same amp, and I love Minor Threat's bass sound—especially on [1983's] "Betray." Then, I saw a photo of Harley Flanagan playing at the first Cro-Mags gig, taken around the time they were recording the demo, which has a tone that I think destroys the bass sound on Age of Quarrel. So all of these guys were using Peavey Mark IVs, and I call Darryl back and ask him if he remembers the settings he used to use with the Mark IV, and he goes "Oh yeah, man! I remember. I had the Mark IV because I couldn't afford an Ampeg at the time, so that was my shit! Hell yeah, I remember my settings. That was my amp forever!" So now I have Darryl's settings and I mention it to Nick and send him a picture of the amp and he goes, "Oh shit, I have three of those!"
We ended up reamping all of the bass on the album through a Mark IV, and as we're reamping the bass—which everyone can hear because we did it so loud—Jay Baumgardner [producer of Up in Arms and owner of NRG Studios] walks in all proud and goes, "Is that my SVT?" And I go, "Nope, it's a $150 Peavey!" And he yells at the engineer, "Find me one of those now!" It was hysterical, but that's the key to the bass tone on this album, again, following the theme of doing things in line with how we used to, right down to the settings. No pedals or anything.