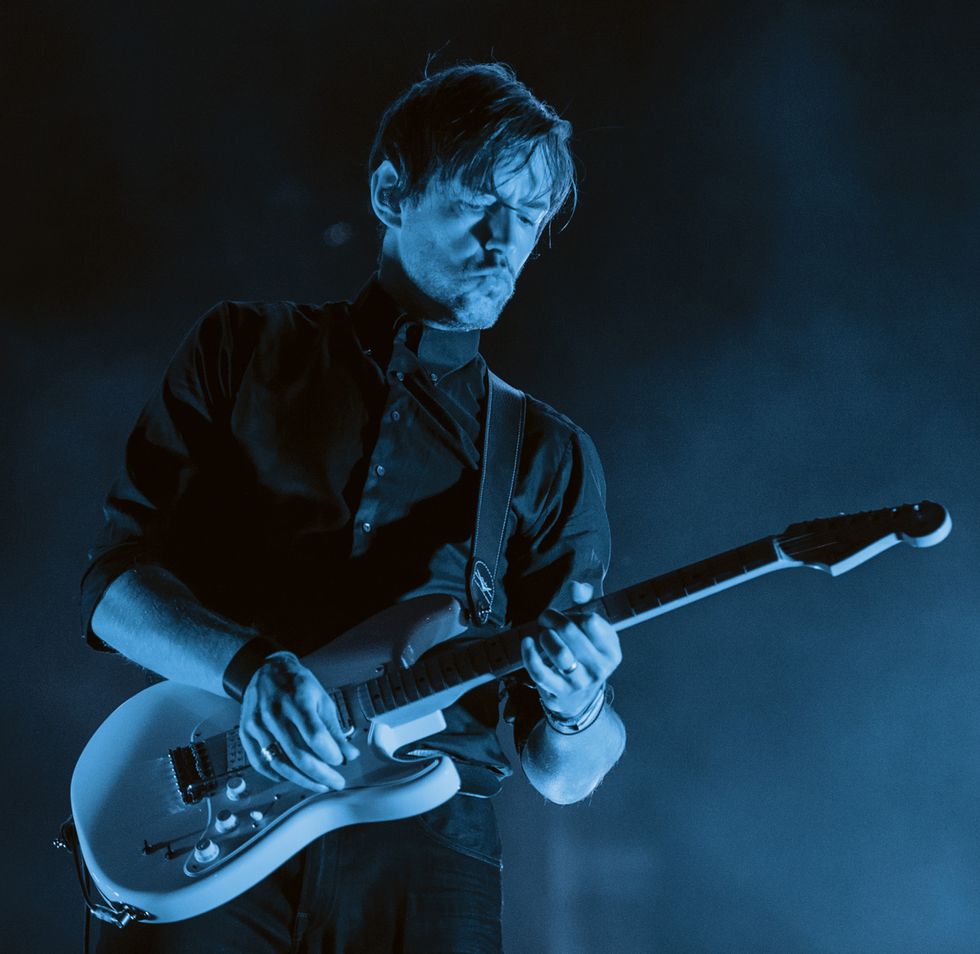 Ed O'Brien onstage with a prototype Fender EOB Sustainer Strat at Austin City Limits Festival on October 7, 2016.
Photo by Jim Bennett/FilmMagic
Radiohead is one of those bands that's so big it's impossible to not know of them, yet somewhat easy to not really have much of an opinion about their music—or at least not a well-informed one. Unless you've purposely sought out the U.K. quintet's tunes based on the mountains of accolades they've received over the last 25 years, there's a decent chance your familiarity is limited to "Creep," the alternatingly melancholic and manic single off their 1993 debut, Pablo Honey, that earned them lazy comparisons to Nirvana—and put them on the charts on both sides of the Atlantic.
But this strange dichotomy exists largely because the quintet—which has been together since 1985, when they were all students at Abingdon School, just outside of Oxford, England—has long been rather willfully obtuse and insular. Even before getting signed and jettisoning their original moniker, On a Friday, Thom Yorke (vocals, rhythm guitar, programming), Ed O'Brien (guitars, vocals), Jonny Greenwood (lead guitar, keys, programming), Colin Greenwood (bass), and Phil Selway (drums) were so staunchly Oxfordian that they refused to relocate and become part of the more high-profile scene in London—a mere 60 miles away. And, mind you, this stubbornness was way before they'd truly come into their own, too. This was when, as on Pablo Honey, their regard for bands like R.E.M., the Smiths, Pixies, Sonic Youth, and U2 was rather obviously worn on their collective sleeve. (Which is not to say that glimpses of future brilliance weren't visible then, particularly in tracks such as "Blow Out," which paired Yorke's distinctive falsetto with Jonny Greenwood's and O'Brien's dynamic shifts between off-kilter jazz chording and crescendoing noise-rock implosions.) But the band's obtuseness only grew from there.
When The Bends came out in 1995, it both proffered more singles—including "My Iron Lung," "High and Dry," and "Street Spirit (Fade Out)"—and demonstrated a more singular sound, with much more of the auricular adventurousness that would come to define the band. But it was the third outing that was the proverbial charm for the Oxfordshire five.
Released on June 16, 1997, Radiohead's OK Computer struck listeners like a bleak yet startlingly beautiful soundtrack to a supercut collision between George Orwell's 1984, Aldous Huxley's Brave New World, and David Lynch's Eraserhead. Chock-full of dystopian lyrics, it was augmented by both deliberately alien elements (such as the nightmarish sound collage and disembodied Macintosh-computer oration on "Fitter Happier") and an expanded array of traditional instruments (including strings, glockenspiel, piano, and vintage keyboards).
I don't play lots of other instruments, whereas Jonny does. I could have sought out other instruments, but I guess I'm fascinated
by the guitar.
Just as importantly, its striking guitar work established O'Brien and Jonny as bona fide guitar icons for the coming millennium. And between its swelling, seething riffs, stuttering ping-pong'd echoes, and pedal-glitching feedback freakouts ("Airbag"), tinkling acoustics floating over gauzy layers of undulating, mutating textures ("Paranoid Android," "Karma Police"), and chiming Rickenbackers ("Let Down," "No Surprises") were so many gorgeously addictive melodies that, for legions of fans, the record became the aural equivalent of the soma narcotic Huxley had written about. Over the years since, it's gone on to be heralded by music publications the world over as one of the most important rock albums of all time, and, in 2015, it was entered into the U.S. Library of Congress as "culturally, historically or aesthetically significant."
No Surprises … Except
Of course, anytime a band gets that sort of success and acclaim, there are vitriolic detractors. Naysayers then and now tend to dismiss Radiohead as overhyped, self-indulgent self-loathers. And, again, much of that opinion is probably a drawback of the band's go-it-alone attitude, as well as the fact that they don't really play the typical rock-star PR game. Offstage, the band members appear rather spotlight shy and protective of their privacy, doing very few interviews—and, sadly for us 6-string-playing fans, practically no guitar-oriented interviews. Yorke and Jonny are typically the most visible, with the former mostly talking to large general-interest publications about politics, and the latter pretty much only talking to very niche-y outlets about almost anything but guitar. Recently, however, this dynamic has begun to change a bit. At least partially.
In his hard-to-track-down interviews, Jonny—who has favored the same two or three Lace Sensor-equipped Fender Telecaster Pluses for most of the band's career—still tends to express his distaste for guitar magazines and "the totemic worship" of the instrument. As he told The Quietus in 2014, "I'm always happiest … struggling with instruments I can't really play." (Although, to be fair, he did add, "I'd be lost if I couldn't play [guitar] too.") Even so, when Jonny does grant interviews, he's typically more interested in discussing unusual instruments (such as the ondes martenot, an early-1900s keyboard) and—as a film scorer himself (including for Paul Thomas Anderson's award-winning There Will Be Blood)—composers such as György Ligeti, Olivier Messiaen, and Krzysztof Penderecki.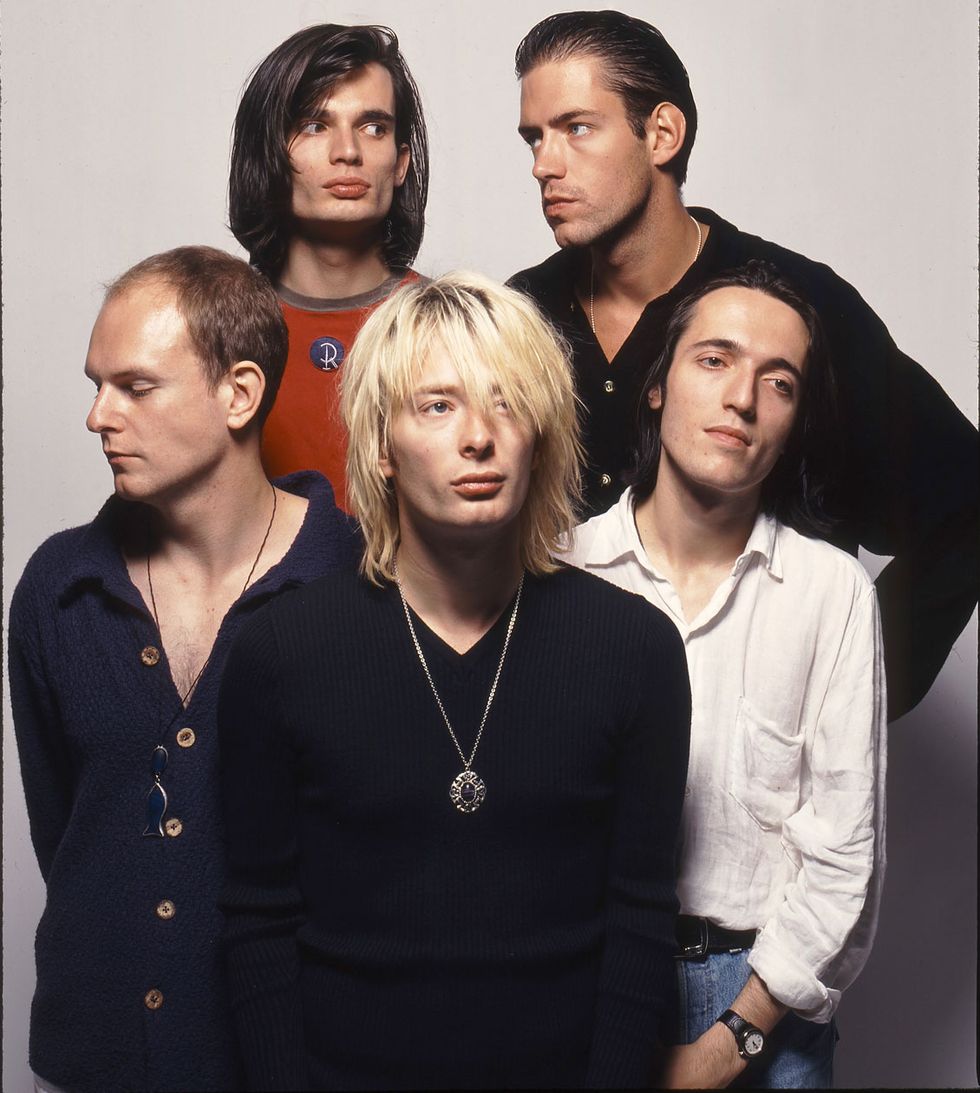 Radiohead circa 1993 (clockwise from upper right): Ed O'Brien, Colin Greenwood, Thom Yorke, Phil Selway, and Jonny Greenwood. Photo by Neil Zlozower/Atlas Icons
On the other hand, O'Brien—long the Radiohead member who's experimented with more guitars and seemed the least ill-at-ease in the spotlight—has stepped out from the shadows more and more over the last two or three years, and not just with mainstream publications. He's appeared in videos by Fender and The GigRig, and, best of all, at long last we're proud—ecstatic, really—to say he recently took the time to talk to Premier Guitar.
How to Disappear Completely
So what is it exactly that's occasioned Mr. O'Brien's recent magnanimity with guitar nerds? Only he could say for sure. But it seems that, in a way, it goes all the way back to the sessions that resulted in both 2000's Kid A and 2001's Amnesiac. Whether it was just part of the band's already-in-progress evolution or in obdurate reaction to the adoration of OK Computer, both LPs went so far down the rabbit hole of electronica, string arrangements, and general experimentation (including the Charlie Mingus-influenced "Pyramid Song," and the New Orleans-jazz dirge jam on "Life in a Glass House") as to pretty much obliterate any hopes of radio play. In the process, the records also alienated a significant portion of fans who'd previously thought themselves hardcore.
In fact, from that point onward, the remaining faithful knew that if there was one thing they could count on, it's that whenever a new Radiohead album hits, all bets are off for what direction it'll take. And, at least according to O'Brien, it seems the same can be said for members of the band, too. "It's constant evolution," he says of the quintet's writing process. "The essence of it is five people with a songwriter—Thom—who puts these songs within the context of the rest of us." He adds, "By the time it gets to the rest of us, there's only a certain amount of room left. At times you go, like, 'What the fuck am I going to do?'"
This was why, for O'Brien, the band's trek down unknown roads during the Kid A/Amnesiac period was particularly frustrating. Not because he didn't want to go along, but because he was unsure of how to fit into the new sonic landscape forming around Yorke's seeming urge to abandon all paths previously trodden. "I literally learned to play my instrument within the band, so I started off very limited—and I'm still very limited," O'Brien confides. "Ultimately, the band's not a welfare state. If you don't come up with something that serves the song, then you're not going to play on it."
Understandably, the decreasing emphasis on 6- and 12-strings was daunting for O'Brien, who considers himself a guitarist first and foremost. Asked about how he adjusted, he contrasts his approach with Greenwood. "Jonny is an amazing musician, and he plays a lot of instruments. So he might seek a sound by going through an ondes martenot or a keyboard or a Rhodes or a piano." In contrast, O'Brien says, "I seek out a guitar—or a different-sounding guitar."
---
---