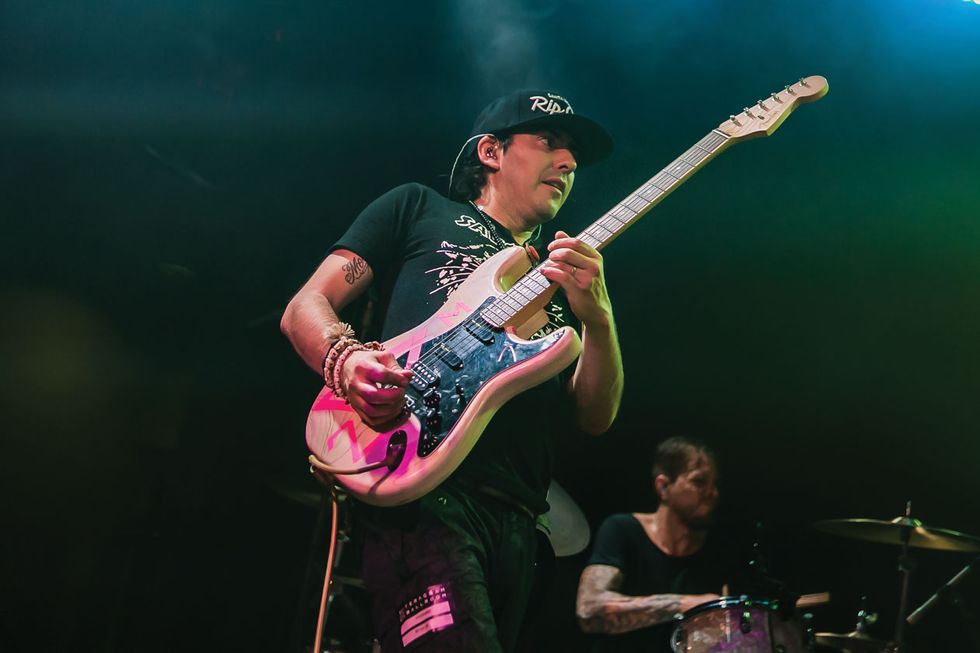 Rocking out onstage with Big Black Delta, Harrison plays one of his custom Strats. "I've owned a million Strats, and I can't really play the normal ones anymore," he says. "They just sound a bit clunky to me." Photo by Debi Del Grande
Recently, the music world lost Tom Petty. You and your father had a close personal relationship with him. What did his music mean to you?
Good times. Like, ever since I first came across Full Moon Fever. And Jeff and my dad were so close with him, even before Traveling Wilburys was made. I remember listening to the making of that stuff and getting advance copies sent to my dad from Tom. He'd be like, "You want to hear Tom's new stuff?" And it would be the first time anyone's heard "Free Fallin'"—you know what I mean? And then again, later when they did the Wilburys' second album, I was actually living in the studio where the Wilburys were recording. So I was like a Wilbury mascot.
You're credited on that album.
I sang and played on the album. I was Nelson Wilbury on the first record and I was Ayrton Wilbury on the second record. My dad had chosen Nelson Wilbury after Nelson Piquet, the racing driver. And I had chosen Ayrton Wilbury after Ayrton Senna, the Brazilian racing world champion. So that was kind of a nod to my dad as well.
But Tommy is just, like, the loveliest guy in the entire world. It's like what Marc Maron said: "The only two things that Americans can agree they like these days are burritos and Tom Petty." We all like burritos and we all like Tom Petty.
I mean, him and Jeff have been the nearest things I've had to a dad since I lost my dad. I've just spent a week with the Heartbreakers. I mean, even Steve Ferrone [Heartbreakers drummer] came down to support me on Jimmy Kimmel the other night. And Jeff came to my album release party, and sat and listened to my whole album with Annie Lennox. It's just the really supportive and wonderful people in my life.
"It's got to be bold. It's got to be rude. You know what I mean?"
From 2002's Concert for George to the Rock and Roll Hall of Fame induction performances, I've noticed that your father's music has a way of bringing musicians together. What is it about your father's legacy that has created this impact?
I think he just stood for good things. He really stood for being a conscious person and he loved his friends. And I think people feel good when they play his music. He just hit a frequency that seems to touch people in their hearts.
I have to say, you're right though. Whenever there's anything to do with my dad, we don't have to call anyone to say, "Will you come play?" When we did George Fest, we had a slot open up on the Conan O'Brien show. And within a minute, we got Paul Simon. He came and did "Here Comes the Sun" and it was like the whole theater was in tears.
I could see how the legacy of your father and the Beatles could be a burden for some. But it sounds like you're able to use this as an inspiration and a source of light.
Totally. It's empowering. Their music is really a call to wake up. Listen to things like "Baby, You're a Rich Man." Listen to the lyrics of that song: Now that you know who you are, what do you want to be? There's messages in those songs. Paul and John and my dad—those guys covered everything. And so I find it very empowering.
With In Parallel, do you feel like you've found your voice as a solo artist, or is this one step in the evolution of Dhani Harrison's music?
If this is the first Dhani Harrison movie, this would be my Lethal Weapon 1, you know what I mean? I was always more of a fan of Lethal Weapon 2. I look forward to making that soundtrack to that movie that's never been made. But I have to go and live the experiences. So I hope to do a bit of traveling and really take my perspective further out. And I really want to study perception and work out what it means to experience things and how to best document them in music. So I think this really is a starting point.
His dad's fourth solo album was called Extra Texture. Here, in this excerpt from a recent performance of "Summertime Police" at Brooklyn's Knitting Factory, Dhani Harrison puts that into practice with his custom Charvel guitar, built by Fender master builder Paul Waller.