The Firstman Liverpool Deluxe looks extreme, but would you believe it once appeared on The Ed Sullivan Show?
I've had this month's story on my shelf for quite some time, because I could really weave so many interesting threads and connections to this guitar. How does one honor a tremendous man with huge contributions to music when limited to a single page? But I'm feeling like it's time to tell at least part of the story behind one of the most interesting people I've ever met through my love of guitars.
Back around 2010, I began researching Japanese guitars in earnest, simply because I was discovering that there was too much speculation, misinformation, and plain-old ignorance floating around, and I found the fire to uncover the truth burning inside me. I started by reaching out to some Japanese internet connections via email, with the hope that we could communicate and that I'd make more contacts.
This Firstman Liverpool Deluxe may look like a battle axe, but it's chock full of warm, surfy clean tones.
Eventually, I found my way to a blog that was operated by a fellow named Kazy. He wrote in Japanese and English, and much of the content related to Mosrite guitars and his connections to Semie Mosely and Nokie Edwards. It turned out that Kazy was the nickname of Kazuo Morioka, and he became one of the most amazing sources I've ever encountered.
The guy was an excellent pianist, and was an early player of electrified pianos and organs. He shunned a cushy job with his family-owned pharmaceutical business to work for Kawai as a demo player, and went on to own a chain of music stores across Japan. He worked with all the early Japanese guitar companies and seemed to know all their employees and histories. After talking with Kazy, I developed a notebook full of numbers, emails, and connections all over Japan.
Mihara preferred a clean but strong sound, so that's what you'll find with one of these old Liverpool guitars.
Kazy spoke perfect English and had even lived in the U.S., near Seattle, for many years. He was friends with Semie Mosely, and together they produced a line of guitars in Japan that were called Mosrite Avengers. Kazy was also great friends with Nokie Edwards, who I missed meeting in person by one day while we were both visiting Kazy in Japan.
This month, I'll highlight one of Kazy's most extreme guitar designs. Kazy started electric guitar production in the late '60s using the brand name Firstman. He had the stellar idea to connect with popular Japanese bands and make custom guitars that would give them a signature look onstage. I suppose it was similar to groups wearing matching outfits in that era.
This Firstman Liverpool was the first, made in collaboration with Tsunaki Mihara of the Blue Comets. In the late '60s, the band had a huge hit called "Blue Chateau." They even played on The Ed Sullivan Show! Kazy and Mihara collaborated over every detail and put all kinds of considerations into the pickup frequency, attack and decay, coil winds, etc. Even the violin body shape was chosen because of its inherent resonance and projection, but, of course, with a more extreme Japanese design aesthetic. The deep, lightweight hollowbody is a rather large 15" across the lower bout, and came with some resplendent details, such as full-body binding and chrome accents. Plus, there was a totally posh scroll headstock.
Columnist Frank Meyers interviews Firstman founder and guitar designer Kazuo Morioka.
Mihara preferred a clean but strong sound, so that's what you'll find with one of these old Liverpool guitars. This guitar projects like a vintage Gibson hollowbody and has simple tone/volume knobs and a 3-way switch. I suppose these shapely black beauties present a menacing first impression, but they have a sweet sound that matches well with surf music and instrumentals.
Two Liverpool guitars were produced as prototypes, and a lot of handiwork went into them. According to Kazy, everything was carved and shaped by hand, from the arched tops and backs to the necks to the scroll headstocks. Kazy and Mihara received these guitars, and then, after the Blue Comets would play shows, there would be orders placed to make regular factory production runs.
A few variations on this guitar were produced, including a Liverpool Junior and a Liverpool Special, and they all came in black. Alas, Firstman guitar production didn't last long, ceasing in 1970. Once again, we're left with these interesting examples of ingenuity and effort, like time capsules waiting to be discovered again by future generations.
Blue Comets "Blue Chateau" (Ed Sullivan Show in 1968)
I experienced something in this track that made the song brand new to me. I heard Paul McCartney drop the F-bomb mid-song.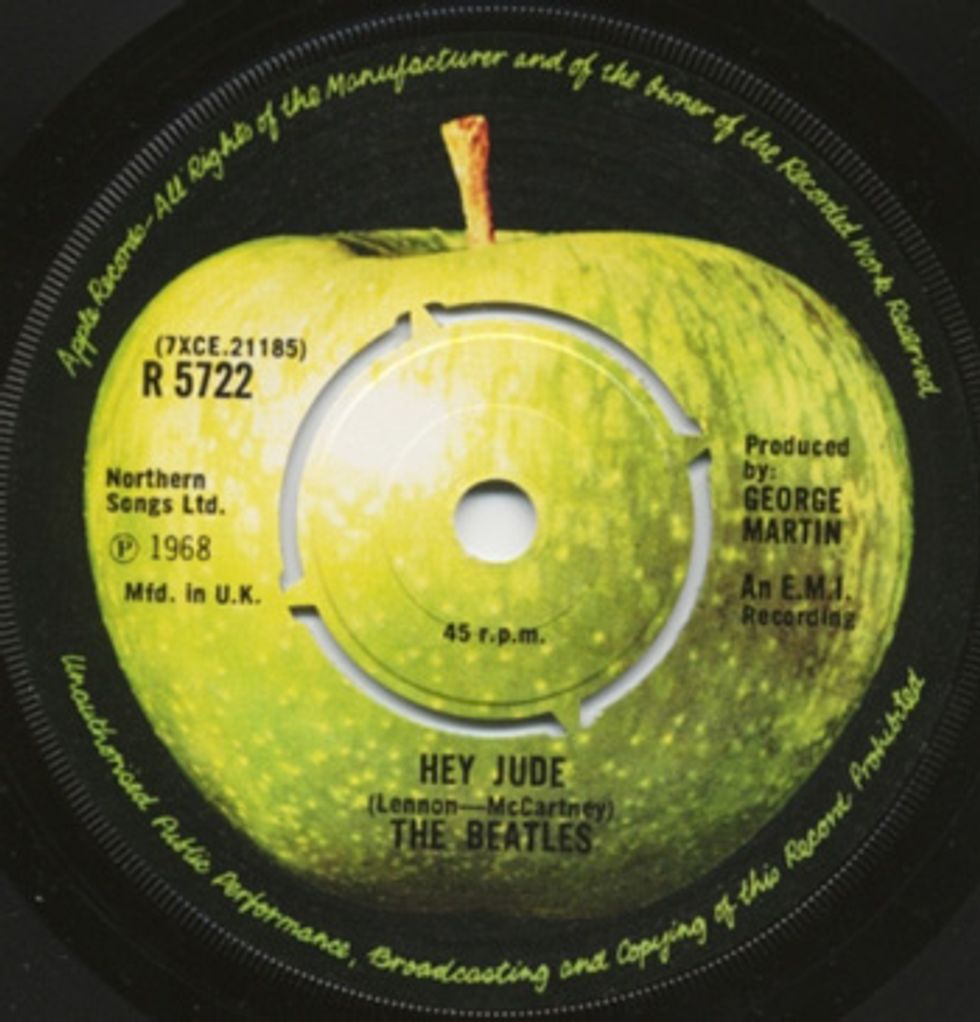 Ah, the glory days of the 7" single: The original 1968 release of "Hey Jude" featured a large Apple Records logo.
By a conservative estimate, I've heard the Beatles' "Hey Jude" 1,000 times.
The first 333 times were in the '70s. My groovy parents and sibs dropped the needle on the delicious vinyl version of the single. While a big green Apple Records logo spun on our "hi-fi," my G.I. Joes attacked each other with Kung Fu moves in a shag-carpet jungle.
The second 333 times were in the '80s. My warbly The Beatles Again cassette sang seductively out of a boom box during tortuously awkward make-out sessions in my teens and early 20s.
The next 333 times occurred when "Hey Jude" droned almost unnoticed from classic rock radio stations and the ceiling-mounted speakers of countless elevators, dentist offices, malls, and shops.
But last night in a London studio, on what may have been my 1,000th listen, I experienced something in this track that made the song brand new to me. I heard Paul McCartney drop the F-bomb mid-song.
Stop reading right now. Pull up a version of the track and fast-forward to 2:45. Right after Paul sings "the minute you let her under your skin" you hear him shout, "oh" followed by "fucking hell" at 2:58. A word of warning: Once you hear this, you can never not hear it—the expletive becomes as pronounced as Ringo's tom fills leading into the bridge.
These angry outbursts give us a little glimpse into the studio and illustrate the frustrating nature of recording.
In his book, Here, There and Everywhere: My Life Recording the Music of the Beatles, Geoff Emerick, who engineered most of The Beatles' later recordings, quoted Lennon's explanation of the curse: "Paul hit a clunker on the piano and said a naughty word."
Emerick notes that Lennon insisted that "naughty word" remain in the final mix, getting a devious thrill out of the idea that Paul's sensitive mega-hit includes profanity hiding in plain sight.
I'm no stranger to recording clunkers. I've played some sessions where my parts contained more clams than a Red Lobster Saturday night special. Bum notes during an electric pass? No big deal. Sometimes you fix them, sometimes they make for an interesting color tone. Clunkers on an acoustic instrument present much richer sonic variation, namely, my shouted curses.
Blame jet lag or general incompetence, but last night my fingers refused to go where they should and I let out a few audible self-condemnations while recording. Keyboardist Andrew Nelson drew the comparison to Sir Paul's secret "Hey Jude" vocal part, and I felt much better about my crap performance.
There are plenty of examples of F-bombing that slipped into the final mix of beloved songs. The Kingsmen's "Louie, Louie" had over-protective parents, nut-ball preachers, and government officials concerned that the mostly indiscernible lyrics were lascivious and would lead children into concupiscent abandon.
The governor of Indiana inadvertently helped promote the band when he banned the song from the state and enlisted the FBI in an effort to shut down The Kingsmen for indecency. Of course kids want forbidden fruit, so sales increased with the witchhunt. Lead singer Jack Ely wasn't profane, he just lacked diction—a fresh set of braces on his teeth did not help his pronunciation. My web research suggests clarity was further compromised by the three-mic recording process that forced Ely to sing/yell over the band into a mic suspended above his head. Ely refrained from obscenity, even after his gigantic blunder of coming in at the wrong spot after the solo.
But "Louie, Louie" does contain profanity, just not in the lyrics. The drummer hits something he shouldn't after the second chorus and offers a loud "ah fuck" at the 0:58 mark. Given the dodgy nature of this performance and a blatant profanity, it's kind of amazing The Kingsmen didn't go for another take. It's equally amazing the FBI and the perhaps moronic state officials of Indiana could not find the obvious obscenity during their hours of combing the lyrics for naughty words.
My all-time favorite F-bombing kicks off the title track on Johnny Winter's Still Alive and Well. The track starts with the band fiddling with their gear, then Johnny drawls, "I'm hungry, let's do this fucker." The engineer says, "hit it" and Randy Jo Hobbs obediently smacks his bass. Johnny retorts, "Don't hit it now—hit it on four." Johnny counts them in and they erupt into an awesome, white-trash Texas boogie.
I realize a column focusing on finding hidden obscenity in songs takes us to a juvenile place, but because the Premier Guitar audience consists primarily of guitarists, going lowbrow seems like a good, calculated risk. What I love about these unexpected expletives is that they give us the fly-on-the-wall perspective of the sessions, whether it's those kids in The Kingsmen jubilantly flogging their way through a future frat-boy anthem, Johnny Winter just wanting to get the session over with so he can get some barbeque, or perfectionist Paul reacting to his clunker.
These angry outbursts give us a little glimpse into the studio and illustrate the frustrating nature of recording. Your fingers don't do what they should or it just takes too long to get it done. This re-listening exercise made me feel a bit like I did when I first really heard these songs—when "Hey Jude" turned from the ambient background noise into this incredibly moving song that would continue to play in my head late at night in my silent room. It's amazing what you hear when you really listen.
John Bohlinger is a Nashville multi-instrumentalist
best know for his work in television, having lead the band for all six
seasons of NBC's hit program Nashville Star, the 2012, 2011, 2010 and 2009 CMT Music Awards, as well as many specials for GAC, PBS, CMT, USA and HDTV.
John's music compositions and playing can be heard in several major label albums, motion pictures, over one hundred television spots and Muzak... (yes, Muzak does play some cool stuff.) Visit him at youtube.com/user/johnbohlinger
Julien's Auctions has announced Music Icons 2013, an exceptional auction event featuring a rare VOX guitar played by two legendary Beatles, John Lennon and George Harrison.
Beverly Hills, CA (March 21, 2013) -- Julien's Auctions, the world's premier music and entertainment memorabilia auction house, has announced Music Icons 2013, an exceptional auction event featuring a rare VOX guitar played by two legendary Beatles, John Lennon and George Harrison. The one-day auction to take place at Hard Rock Cafe New York in Time Square will also feature an extraordinary collection of music memorabilia including items from the Beatles, Elvis Presley, the King of Pop Michael Jackson, Bette Midler, David Cassidy, David Bowie, The Grateful Dead, Madonna, Jimi Hendrix and much more.
The rare offering of a VOX guitar played by both John Lennon and George Harrison is what rock n' roll legends are made of. The striking custom guitar built by Mike Bennett and Dickey Denney was gifted to "Magic Alex" Mardas by John Lennon in 1967. Harrison played the guitar while practicing "I am the Walrus" during The Magical Mystery Tour and by Lennon while recording a video session for "Hello, Goodbye." The spectacular piece of Beatles history is estimated to bring $200,000-300,000 and offers collectors a once-in-a-lifetime opportunity to own one of the rarest pieces of Beatles memorabilia ever to be offered. The John Lennon/George Harrison played Beatles guitar will be on display at The Museum of Style Icons in Newbridge Silverware in County Kildare, Ireland from April 16th – May 8th.
JOHN LENNON & GEORGE HARRISON PLAYED VOX GUITAR
A custom made prototype guitar made in 1966 and played by both John Lennon and George Harrison. The guitar was built by Mike Bennett with electronics by Dick Denney of Vox guitars. Harrison can be seen rehearsing with the guitar on "I Am the Walrus" during the "Magical Mystery Tour" (September 18-24, 1967). Lennon can be seen playing it as part of the promotional video for "Hello, Goodbye" but it is not seen in the final version of the video that was released. Lennon gifted the guitar to "Magic Alex" Mardas. A plaque affixed to the back of the guitar reads "To Magic Alex/ Alexi thank you/ for been [sic] a friend/ 2-5-1967 John." According to Madras the date refers to his 25th birthday earlier that year and not the date the guitar was given to him./// The guitar body has a unique scroll design, marked "Vox Custom" on headstock. 24 fret rosewood fingerboard with rectangular inlays, mahogany hollow body, single f-hole. Electronics include: six push buttons for: Treble, bass, top boost, mid boost, fuzz and repeat; Mid boost selector control; rotary controls for Repeat speed, fuzz sustain, and volume battery; and selector switch. Neck plate with serial number 71597 believed to have been added later. This guitar was not originally designed as part of the Vox Kensington line but it has become known as such. /// The guitar has an intriguing place in Beatles history. There is the fractured relationship between the Beatles and Madras. The difference in Bennett and Denney's memories on whether there were one or two guitars built. Also the disappearance and reappearance of the guitar give it an aura of unusual mystery in Beatles lore./// The guitar is discussed by Andy Babiuk in his book "Beatles Gear: All the Fab Four's instruments, from Stage to Studio" and seen in "Beat Instrumental" November 1967 which shows an image of George Harrison playing the guitar on page 24 and is included with this lot. ///LITERATURE "Beatles Gear: All the Fab Four's Instruments, From Stage to Studio" by Andy Babiuk (San Francisco: Backbeat Books, 2002)
Other Beatles memorabilia to be offered will include rare signed items, collectibles and novelty memorabilia including a Beatles first and a second state "Butcher" album (Estimate: $4000-6000 and $10,000-20,000), slicks, printers proofs and designs for alternate Yesterday and Today album cover artwork and images from the photo session that produced the infamous "Butcher" album cover.
A signed copy of The Beatles Please Please Me album (Estimate: $30,000-50,000) and a copy of Lennon's In His Own Write (Estimate: $20,000-30,000) both signed by all four Beatles are also among the highlights.
"It's extraordinary when you have the opportunity to offer such an amazing piece of music history as the VOX guitar played by both George Harrison and John Lennon," said Martin Nolan, Executive Director of Julien's Auctions. "From Here Comes the Sun to Hello Goodbye, this guitar is truly one of the most historical pieces of music memorabilia Julien's Auctions has ever had the pleasure of offering."
Also to be offered are items from "The King" himself, Elvis Presley. During Presley's life, he was often noted as a generous friend and entertainer. It was often that Presley would give items to fans as well as friends, including jewelry. Offered for sale is a star ring with the "E" initial given to Charlie Hodge by Elvis, who teased Hodge that he should be the "star" of the show (Estimate: $4000-6000) and a Tissot wristwatch given to the former Sheriff and Mayor of Memphis, Roy Nixon (Estimate: $6000-8000). Bill Belew, under Presley's direction, created a patriotic Eagle emblazoned cape for Presley's Aloha from Hawaii televised concert. The floor-length cape was too heavy for stage use and dragged Elvis to the ground when he tried it on. This piece of music history is highlighted in the Music Icons auction and estimated at $120,000-140.000. Other Elvis Presley memorabilia includes a Bill Belew sample belt signed by Elvis as approval on the back (Estimate: $40,000-60,000), a Hammond organ which was housed in his Graceland bedroom (Estimate $14,000-16,000) and a Hagstrom guitar from his Bel Air home (Estimate: $40,000-60,000).
Additional highlights include six trademark jumpsuits from heartthrob David Cassidy, a collection of master rock n' roll artist Rick Griffin's artwork which has become synonymous with The Grateful Dead including a working sketch of Griffin's logo for the documentary Grateful Dead: So Far (Estimate: $200-400), an oversized painting of Griffin's design used to celebrate the Dead's 25th anniversary (Estimate $5,000-7,000) and the cover art concept drawing for the book Conversations With the Dead (Estimate: $2,000-3,000), stage worn costumes from the Divine Miss M, Bette Midler, including a shocking pink hand painted costume from her Miss Millennium Tour (Estimate: $800-1,200) and a 2011 Hulaween ensemble (Estimate: $1,000-2,000) and a platinum record award for Midler's incomparable "Wind Beneath My Wings" (Estimate: $500-700).
Items given to fans from The King of Pop, Michael Jackson including a signed pillow thrown from a Paris hotel window (Estimate: $2000-4000), a stage worn hat gifted to a fan backstage (Estimate: $4000-6000), and a signed "Beat It" style jacket given to a good Samaritan after a trip to Neverland (Estimate $8000-10,000) will also be offered. A Michael Jackson jacket worn for a meeting with Nelson Mandela in 1999 (Estimate: $4000-6000) and a Michael Jackson jacket and vest purchased while the mega-star was in Oman in 2006, as well as a selection of signed, gifted and worn items along with photographs and other memorabilia round out the sale of iconic music memorabilia in a collection of over 450 items.
Music Icons 2013 will also include memorabilia and personal effects from David Bowie, Madonna, The Rolling Stones, Jimi Hendrix, Bob Dylan and many other legendary musicians offering collectors and fans from around the world one of the most significant opportunities to own a piece of music history ever offered.
For more information:
Juliens Auctions