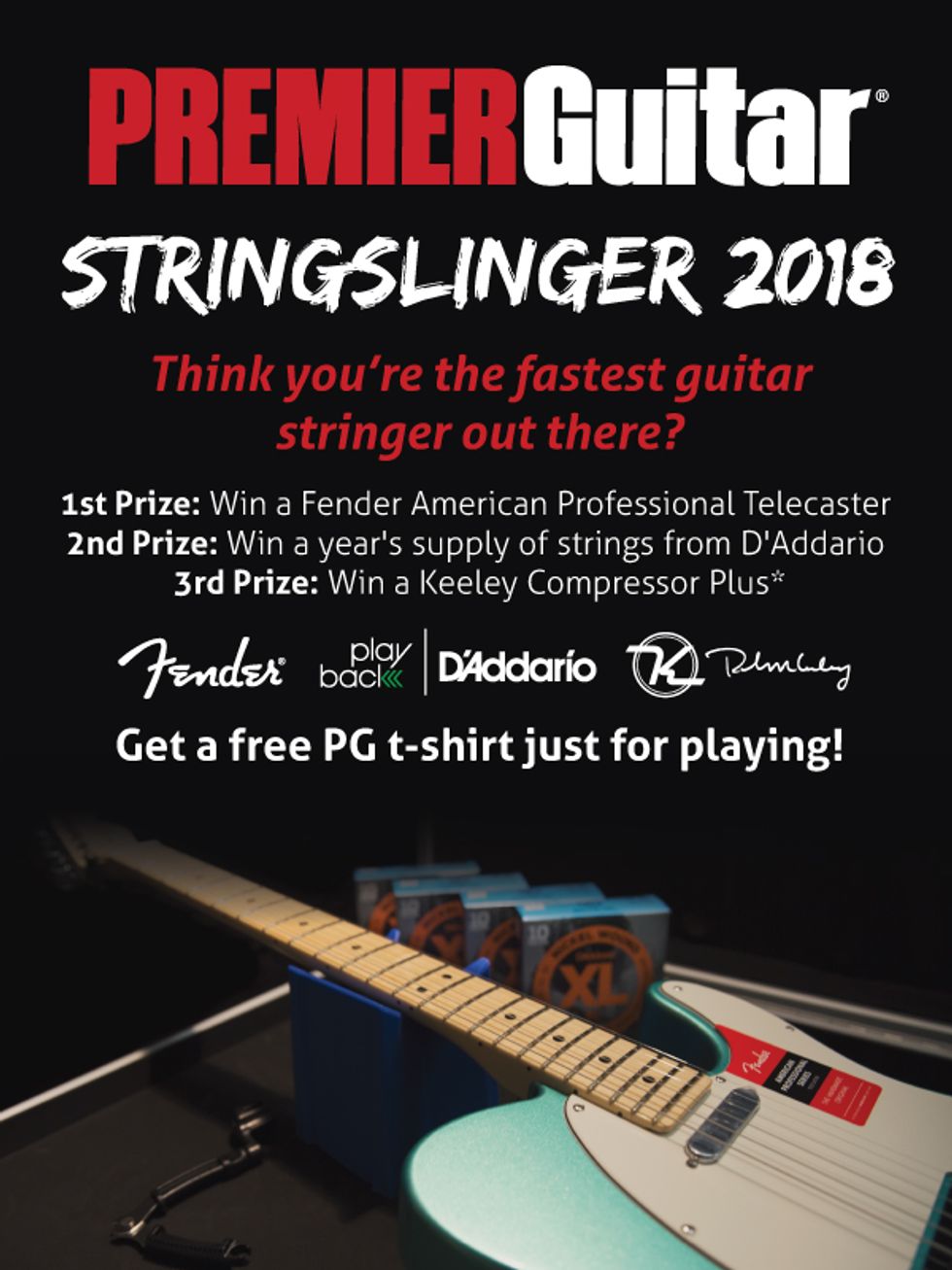 Are You the Fastest Stringer in the West?
Visit Premier Guitar at Winter NAMM 2018, Booth 6210 and find out!
Anaheim, CA –– How fast can YOU restring your guitar? Premier Guitar and sponsors Fender, D'Addario Playback and Robert Keeley Engineering are joining forces to find the fastest guitar stringer in the West with PG's String Slinger 2018 competition.
Think you're the fastest guitar stringer out there? Whether you're a roadie, guitar repair expert, touring musician or just love changing strings, you can try your hand for free at beating the fastest string-changing time on record. First place wins a mystic seafoam Fender American Professional Telecaster, second place wins a year's supply (50 sets) of strings from D'Addario and third place wins a Keeley Compressor Plus pedal. All participants will get a free PG t-shirt just for playing! All strings used for this competition will be recycled by D'Addario as part of their Playback program.
Stop by Booth 6210 during show hours Thursday through Saturday to try your hand at string-changing superiority!
Official rules here.
About Our Sponsors:
Fender Musical Instruments Corporation: With an illustrious history dating back to 1946, Fender and its players have touched and transformed music worldwide and in nearly every genre: rock 'n' roll, country and western, jazz, rhythm and blues and many others.
D'Addario & Co.: D'Addario is the world's largest musical instrument string manufacturer. The D'Addario Playback program is an industry-wide string recycling initiative, powered by TerraCycle, to reward players for recycling any brand of strings.
Robert Keeley Engineering: Robert Keeley designs and manufactures guitar effects pedals in the USA from Edmond, Oklahoma.