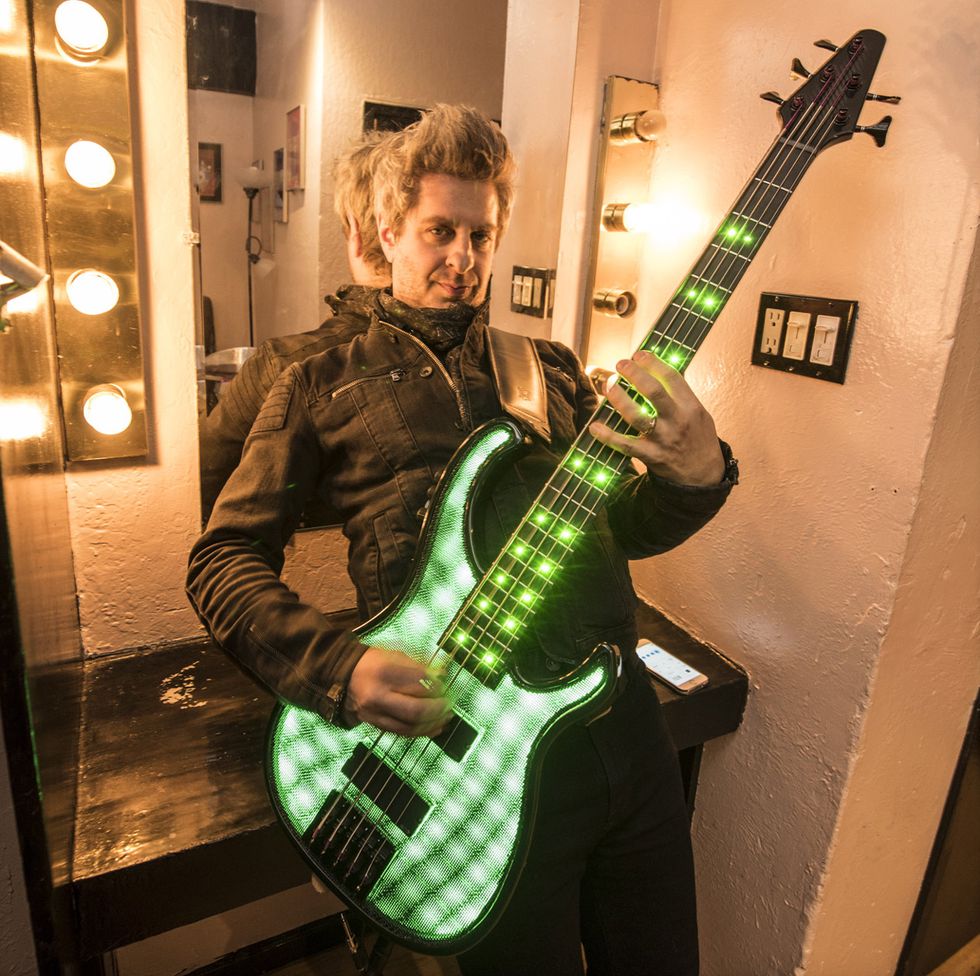 Mike Gordon designed his custom Moiré basses with Ben Lewry of Visionary Instruments. Two screens and LED lights in the see-through basses create a moiré pattern, and Gordon can change the colors by shifting fretboard positions. "It looks 3-D, like a pool of water," he says. Photo by Jay Blakesberg
Prior to recording his latest solo effort, OGOGO, Mike Gordon started letting his daughter, Tessa, do all the DJing in the car. For him, it was almost like a rite of passage, handing down a tradition that his folks let him indulge in as a child.
"I used to play all the '70s rock stuff on the way to school," he recalls. "And it was a long ride, because I went to a private Jewish school in Boston." At first, he played Tessa all those '70s tunes he now knows "inside-out" from those long rides. Then, he handed her the reins. "She goes on Spotify and plays pop stuff, and it's not random," he says with a glint of pride, alluding to the idea that his daughter may share his well-known methodical nature. "She was on a Maroon 5 kick for a while, but it was all female singer-songwriter stuff for four months."
But what started out as a simple father-daughter activity had unexpected consequences for Gordon, who admits that some of the songs (and artists) have since become guilty pleasures. "I'm really appreciating the genius of people like Max Martin, who can so cleverly take a hook and let you ride on it," he confesses. "Maybe it's not a coincidence that the pop stuff came into my life. I'm enjoying it. It takes [songwriting] away from being too clever or too crafty with the arrangements."
The real unexpected consequence of Tessa's DJing, however, is that Gordon's sentiment goes beyond pure enjoyment. The influence of the singer-songwriter pop aesthetic has seeped into OGOGO, where Gordon manages to infuse each tune with a melodic pop sensibility that often belies his day job in Phish, one of the world's preeminent, and crafty, jam bands.
"Practice always had to consist of three things: technique, new concepts, and then actual playing. And then also listening—so three-and-a-half parts."
Pop-friendly and danceable, tunes like "Equilibrium" and "Steps" also evoke an element of '80s new wave, demonstrating Gordon's ability to translate all of his influences, old and new, into something uniquely his own. "Stealing Jamaica," for example, recalls the magical reggae-pop mashups of the Police without ever sounding overly derivative. "We wanted to make OGOGO a little bit less rootsy and a little catchier at the same time," he explains.
The "we" in that statement is his reference to guitarist Scott Murawski, his solo album songwriting partner for the last nine years. "We enjoy hooks that relentlessly float and hover, so, to push both ends of the spectrum between simpler and catchier and being more experimental—those were the goals."
Growing up in Sudbury, Massachusetts, in the '60s and '70s, Gordon learned to play guitar, bass, and banjo as a child and has dabbled in fiction writing and documentary filmmaking throughout his life. He was an electrical engineering major at the University of Vermont when he met Trey Anastasio (guitar), Jon Fishman (drums) and Jeff Holdsworth (guitar— he left after graduation in 1986 and was replaced by Page McConnell on keyboards) and subsequently formed Phish. In addition to wrangling the low end for the world's foremost jam band, he's collaborated with a diverse array of artists, including Leo Kottke, Benevento/Russo Duo, Grappa Boom, SerialPod, and Ramble Dove to name but a few.
His documentary, Rising Low (2002) is based on the life and death of Gov't Mule bassist Allen Woody and the making of a double-disc tribute album featuring a host of legendary bass players. It's a must-watch for any bass aficionado. He released his first solo album, Inside In in 2003. OGOGO is his fifth solo album, and arguably his most masterfully constructed. As per usual for Gordon, his bass tone throughout the entirety of OGOGO is a carefully considered creation and master work that continues to earn him accolades by peers, fans, and critics alike.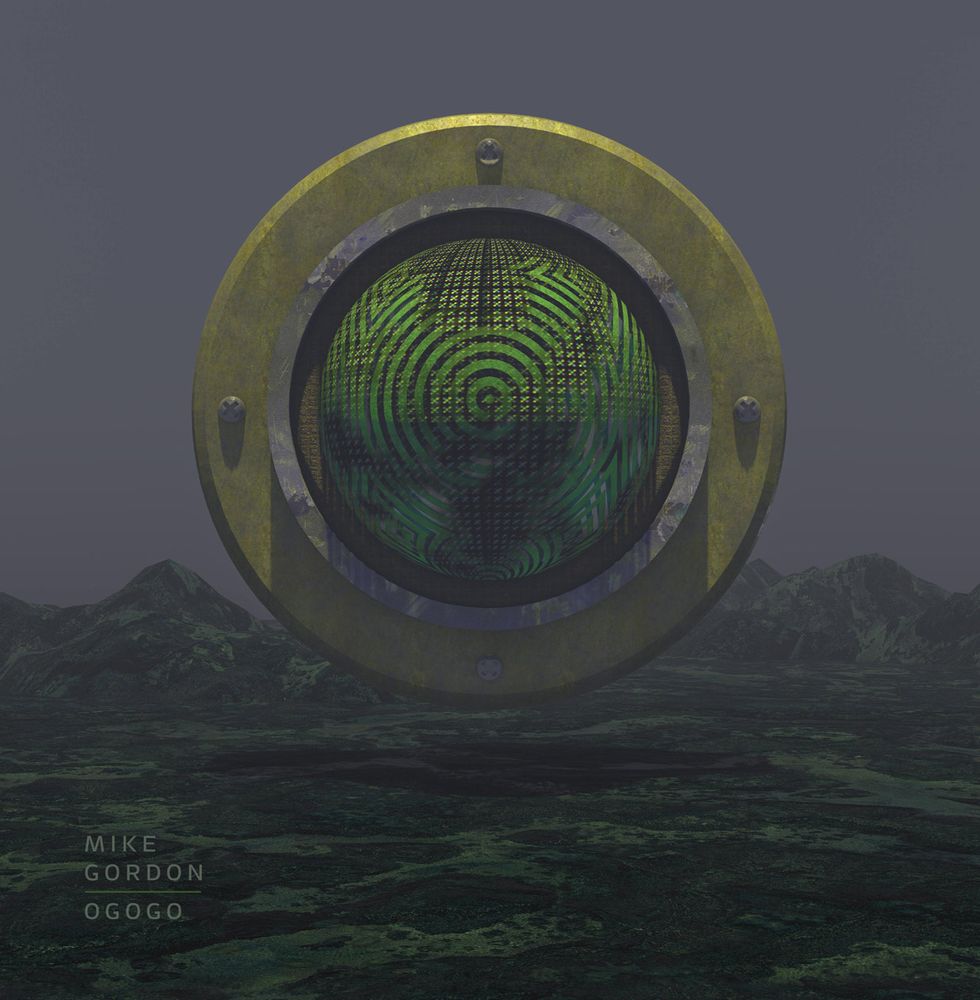 OGOGO is Mike Gordon's fifth solo album. Gordon worked with his songwriting partner, guitarist Scott Murawski, and the album was produced by Shawn Everett, who recently engineered the War on Drugs' A Deeper Understanding, which won the 2017 Grammy for Best Rock Album.
Gordon and Murawski started writing for OGOGO a few years ago and enlisted Shawn Everett (Alabama Shakes, Weezer) to produce. The project developed more quickly than usual. "Our process became more streamlined and we were able to follow our gut feelings rather than questioning everything and trying a million different versions of things," Gordon attests. "We were able to make decisions because the universe told us it's got to be like this. So, here we are."
PG caught up with Gordon while he was on tour in Kansas City, Missouri, with his solo band in support of OGOGO, which, in addition to Murawski, includes Robert Walter on B-3 organ and synth, drummer John Morgan Kimock, and percussionist Craig Myers.
How do you balance being a good shepherd for the creative process and imposing your will on a song or idea?
In the past, I've gotten in the way of that by questioning too much, so that's been big for me lately—not questioning so much, just sort of saying, "If this gut feeling is good, then it must be right," sooner in the process. There were songs on [2014's] Overstep, like "Tiny Little World," that had a thousand pages of ideas for lyric directions and experiments. Although, if you read about Leonard Cohen, that's nothing. Every song took 10 years and he thought that was what you should do. So, it's not that it's wrong, it's just that now we're enjoying cutting to the chase.
Did you demo anything for OGOGO before tracking it?
Some songs we'd already recorded as demos and we used some of those tracks, but we always replaced the drums. Other ones we built up one instrument at a time, which I wanted to do some of, which I don't usually do. And a bunch we recorded live, so it was all different varieties.
What's the actual writing process like? Do you jam ideas live or share files back and forth?
Every song is different. Some songs came from live jams or jams in the studio, or maybe more specific experiments working with certain grooves. Often, we got together just the two of us to work with some melodies. The song "Steps," for example, came from Scott's stockpile of grooves and things he created himself. The chorus came from my daughter, who's 8 years old, and the rest came from me. I feel like if something is resonating, I'm just going to grab it and run with it. Every different direction has been tried and used for this album.
Speaking of "Steps," tell me about the bass solo. How'd that come about?
It was spontaneously created at the time of the demo. I never really needed there to be bass solos, especially in songs like that. Trey used to say, in a poppy, catchy song, a bass solo can just sink it. And I sort of agree, but with that we were making an early demo and I think I just suddenly played the whole thing exactly as it is today. It seemed justified because it's so melodic and high up like that, and we harmonized it.