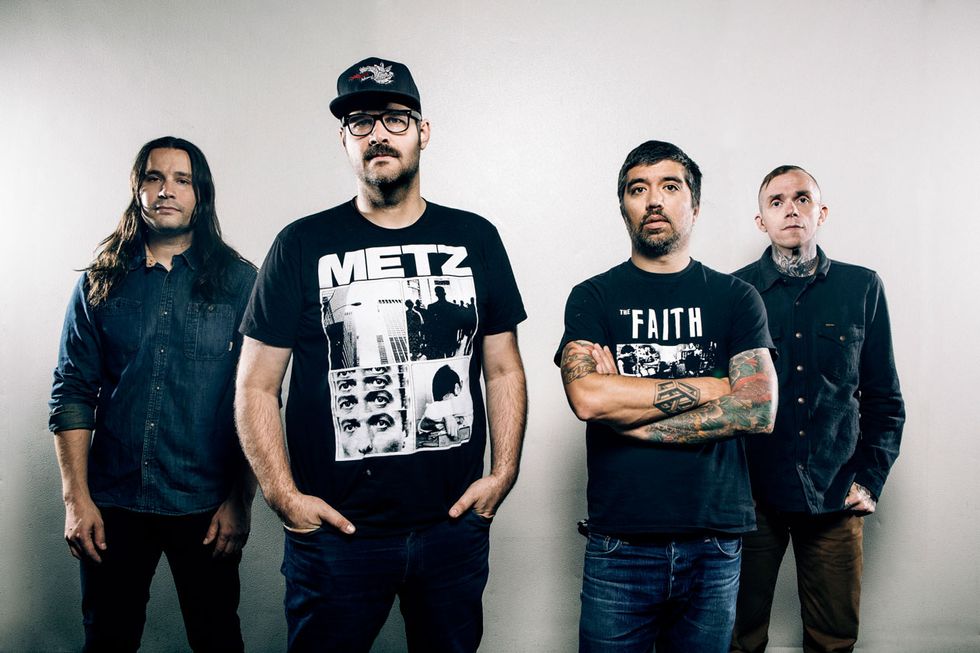 Formed in Andover, Massachusetts, in 1991, Converge has been pioneering hardcore for more than 25 years. Members include, from left to right: drummer Ben Koller, guitarist Kurt Ballou, bassist Nate Newton, and vocalist Jacob Bannon.
Photo by David Robinson
"It took a long time for me to even identify as a guitar player," says Kurt Ballou. "For me, it's so much more about doing what it takes to get the song across." An unexpected statement from the mouth of a player as influential—not to mention athletic—as Converge's axeman and producer. However, it's certainly one that underlines the all-for-one, hardcore-punk ethos that's fueled the band's 25-year career. There's some humble irony in his statement, too, considering Ballou's personal business cards literally double as a PCB (printed circuit board) for a build-your-own distortion pedal which he helped design. Ballou and Converge bassist, Nate Newton, also recently unveiled a YouTube channel specifically for gear reviews called"demovids."
From seminal albums like Jane Doe and You Fail Me to evolved late-career masterworks like All We Love We Leave Behind, Converge's approach has always been fearless. The band's music showed that the metal-tinged hardcore concept has space for abstraction, textural intrigue, and emotional depth. "None of us are really afraid of taking risks musically at this point," says Newton. "We're just doing what we want to do and writing the records we want to hear." This approach keeps Converge from falling prey to the stagnancy that plagues so many of its peers. While the Boston-bred, metallic-hardcore band's sound is undeniably a sum of its parts—reliant as much on Newton's substantially punishing bass work, drummer Ben Koller's imaginative and dexterous drumming, and frontman Jacob Bannon's poetic sensibilities and inimitable mixture of pained barks and post-punk-informed monologues—there's no minimizing the importance Ballou's guitar plays within that recipe.
"I feel like I understand completely what I want from a guitar perspective these days."
Armed with a singular approach to the instrument that flexes with shades of Greg Ginn's simplicity and aggression, Slayer-informed dissonance and calisthenics, a lethal rhythmic sense, and textured, effects-heavy ambience, Ballou's unique style boils down his disparate influences to reach far beyond the typical palette of tones and ideas heavy metal and hardcore players often rely upon. Throughout Converge's discography, Ballou has displayed what's possible for heavy players who seek something beyond bludgeoning riffs—though there's no shortage of those within his oeuvre, either. Ballou's avant-garde sense of phrasing, use of oddball tunings, and penchant for unexpected equipment (like Rickenbackers fitted with EMGs and vintage Marshall 8x10 cabs) have made the man a revolutionary player amid a sea of guitarists chugging away in dropped tunings through Peavey 5150s. And all of this is to say nothing of the staggering number of credits Ballou has earned as a taste-making producer and engineer at his GodCity Studio, shaping the records of countless cutting-edge artists that run the gamut of genres from High on Fire to Chelsea Wolfe.
With their ninth studio release, The Dusk in Us, Converge has issued yet another statement of its potency as an increasingly artistically minded, viscerally intense, and dynamic band. Tracked and produced by Ballou at GodCity, much of the guitar on The Dusk in Us was performed on custom guitars the restless Renaissance man has been building under the GodCity Instruments moniker, with tones further tweaked by prototype pedals he's been tinkering with for the past year. PG sought an audience with Ballou during the first leg of the band's current tour to get inside his head and discuss the mountains of gear used on the new album, talk about his new venture as a guitar and pedal manufacturer, and to glean some pearls of wisdom from a player and producer who has quietly helped reshape the heavy music landscape of the past two decades.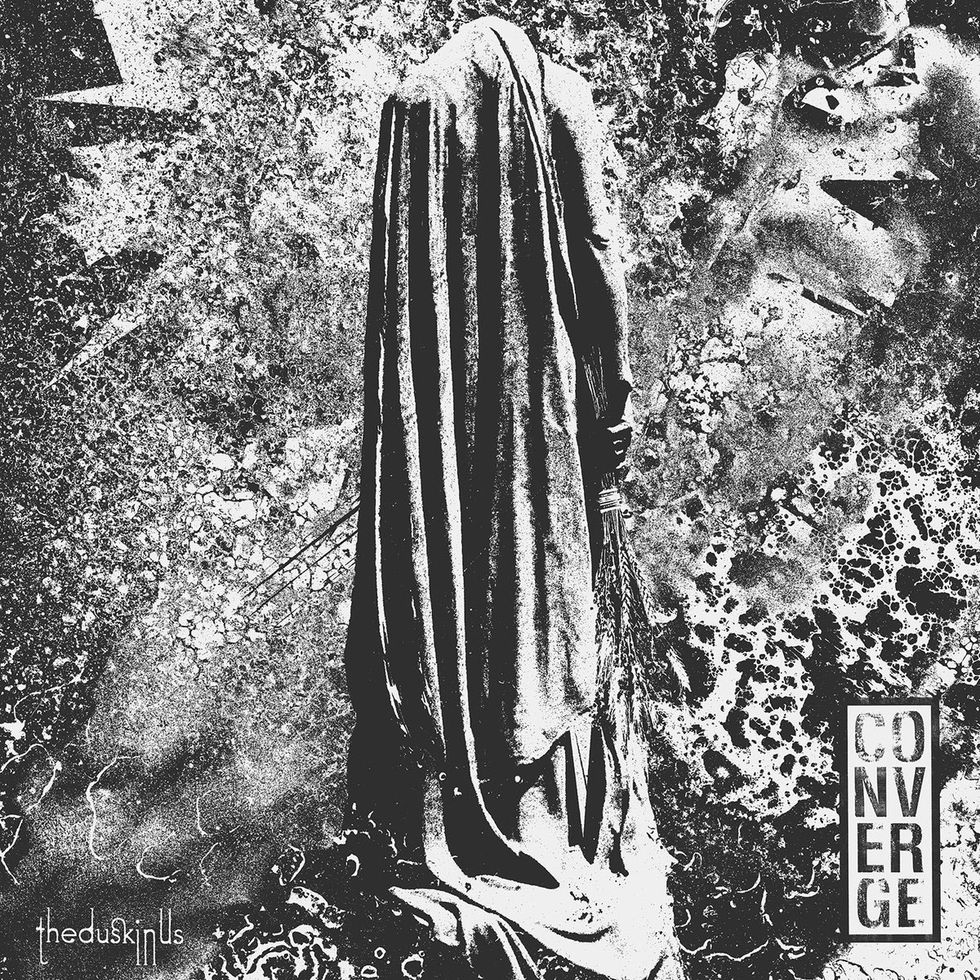 On their 9th studio album, The Dusk in Us, Converge didn't work independently at all. Everything was worked out collaboratively as a team in GodCity Studio.
What's the story with your guitar and pedal company, GodCity Instruments? I see a lot of new gear on your social media. Have you decided to expand into full production any time soon?
GCI is a labor of love and it's something that I'm passionate about, but it's also something that I presently consider my hobby. I've come to find out that trying to manufacture something in the United States requires a lot of time and effort and money, and I would essentially need to stop my recording business if I wanted to really dive into making GCI what I want it to be. I'm continuing to prototype things and learn and develop partnerships with people, but there is not presently a rollout plan for any kind of full-scale manufacturing.
That said, I'm learning a ton, and I feel like I understand completely what I want from a guitar perspective these days. For my taste, it's still a 25.5" scale. I find that for people that tune a bit lower than standard, like myself, the longer scale length adds a lot of tuning stability to the guitar. I'm not trying to make a guitar for everybody. I'm trying to make a guitar for me that other people might also like.
I've been prototyping the pedals like crazy and I'm learning a ton from that process. I've got some really amazing-sounding pedal designs now—several of which I used on our new record. However, once you have a design, you need to make it manufacturable, so, I'm refining designs while simultaneously working on making them efficient to manufacture. Unfortunately, it's something I can't devote a ton of time to presently and I can't promise that something's going to be available when I really don't know when. But I do love doing it!
You played a black guitar with a bound body at the show in Brooklyn a few weeks back. Could you tell me about that one?
That's my latest design. I'm calling it the Craftsman, and it's basically a much more stripped-down version of the very first GCI design I had. I have a manufacturing partner for that one and we're still working things out, but we'll hopefully be able to produce those in small batches. The work has been incredible and I love the way it sounds. I've pretty much settled on Planet Waves tuners and a particular Graph Tech bridge, and the pickups are probably going to be a new design from Lollar called the dB. I have several prototypes of that guitar made with different woods, so I haven't yet settled on what wood it will be made of or what the cosmetic accoutrement will be, but that thing really does rule. My philosophy with that guitar is the Malcolm Young Gretsch-style, stripped-and-simple thing, and it's working out really well for me. I used it a ton on the new album.
---
---