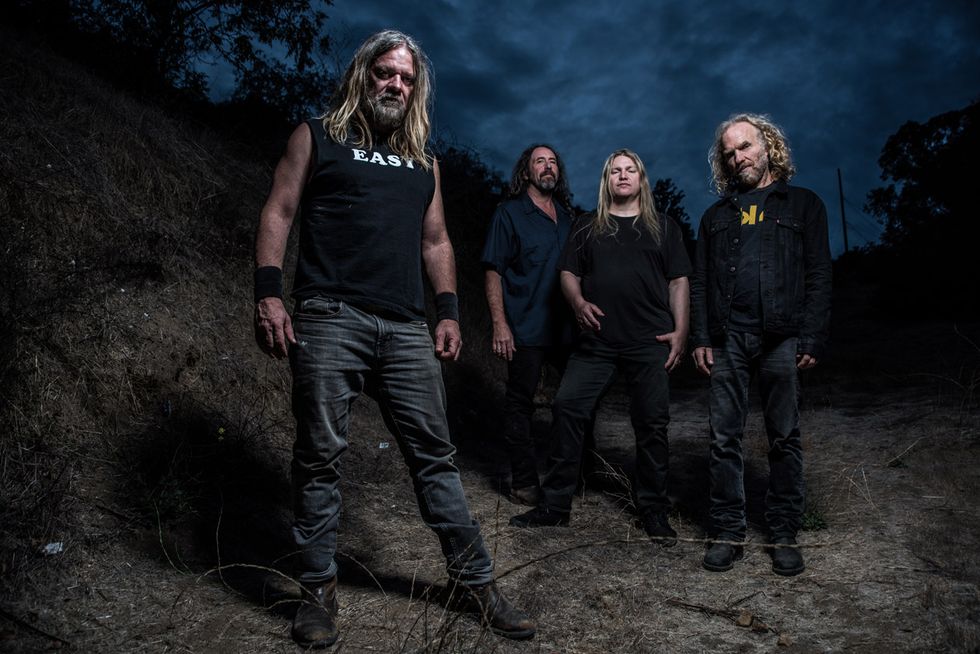 Formed more than 30 years ago, Corrosion of Conformity is still pushing boundaries with its mix of metal and Southern rock. Left to right: guitarists Pepper Keenan and Woody Weatherman, drummer Reed Mullin, and bassist Mike Dean.
Photo by Dean Karr
The 1980s saw underground heavy metal claw its way into the American mainstream. And while household names like Metallica and Megadeth were exploding from the West Coast, Corrosion of Conformity (C.O.C.) were distilling their own brand of hardcore punk and metal, shaking the ground in their home state of North Carolina.
Though several singers came and went through the band's early ranks, it was the core of Woody Weatherman on guitar, Reed Mullin on drums, and Mike Dean on bass that laid the groundwork for what would become one of the most influential hard rock bands of the 1990s. It was groundwork that would catch the ear of their soon-to-be bandmate, Pepper Keenan. "It's the school Woody created," admits Keenan in his signature Southern drawl. "I mean, back in the day, when they were doing [1985's] Animosity, I was way into that."
The band added the New Orleans native on guitar in 1991, and subsequently released their third album, Blind, which signaled a dramatic shift to a more Southern-tinged metal sound. This was most evident on the fan favorite "Vote With a Bullet," which also served as Keenan's debut on lead vocals. Knowing that their new sonic assault had hit on something big, C.O.C. quickly jettisoned their then-current singer and soldiered on with Keenan front and center.
What followed was C.O.C.'s breakthrough album, 1994's Deliverance. Produced by John Custer—the band's honorary fifth member—Deliverance introduced the world to a hard-edged sound that was equal parts Lynyrd Skynyrd, Black Flag, and Black Sabbath. Songs like "Albatross," "Clean My Wounds," and "Broken Man" defined the band and are still featured heavily in its live sets today.
"I've got one guitar, man. If it ever breaks, my career is over!"
—Woody Weatherman
Throughout the next 11 years, C.O.C.'s four-man lineup continued to expand its sound with each new album while never letting go of what put them on the map. Their Allman Brothers-style harmonized guitar lines, down-tuned aggression, and Keenan's recognizable yowl were always on full display. But it took until 2005's In the Arms of God for the band to release an album that rivaled the power and intrigue of Deliverance. With its gargantuan riffs, swampy grooves (featuring Galactic's Stanton Moore on drums, filling in for a temporarily departed Mullin), and Keenan's ferocious vocal delivery, In the Arms of God became the recording by which the band's future would be judged.
There was a truncated tour in support of the album, but then Keenan went on hiatus—never officially leaving the band, but making only rare appearances with his 'mates on stage. Weatherman and Dean soldiered on, and Mullin resumed touring with C.O.C in 2009. As a trio, they made two more albums.
Fast-forward to the present, and the simple sound of a heartbeat opens one of the most anticipated new releases in heavy metal, No Cross No Crown. Straight out of the gate, rockers like "The Luddite" and "Cast the First Stone" assuage any fears that the foursome wouldn't live up to the powerful note they went out on. You want C.O.C.'s Sabbath-influenced grind? Hit play on "E.L.M." The band's calling-card melodic interludes are represented in "No Cross," "Matre's Diem," and "Sacred Isolation." And to round it out, the album closes with a cover of Queen's "Son and Daughter," a song that seems custom-written for the pulverizing, churning sound of this recording.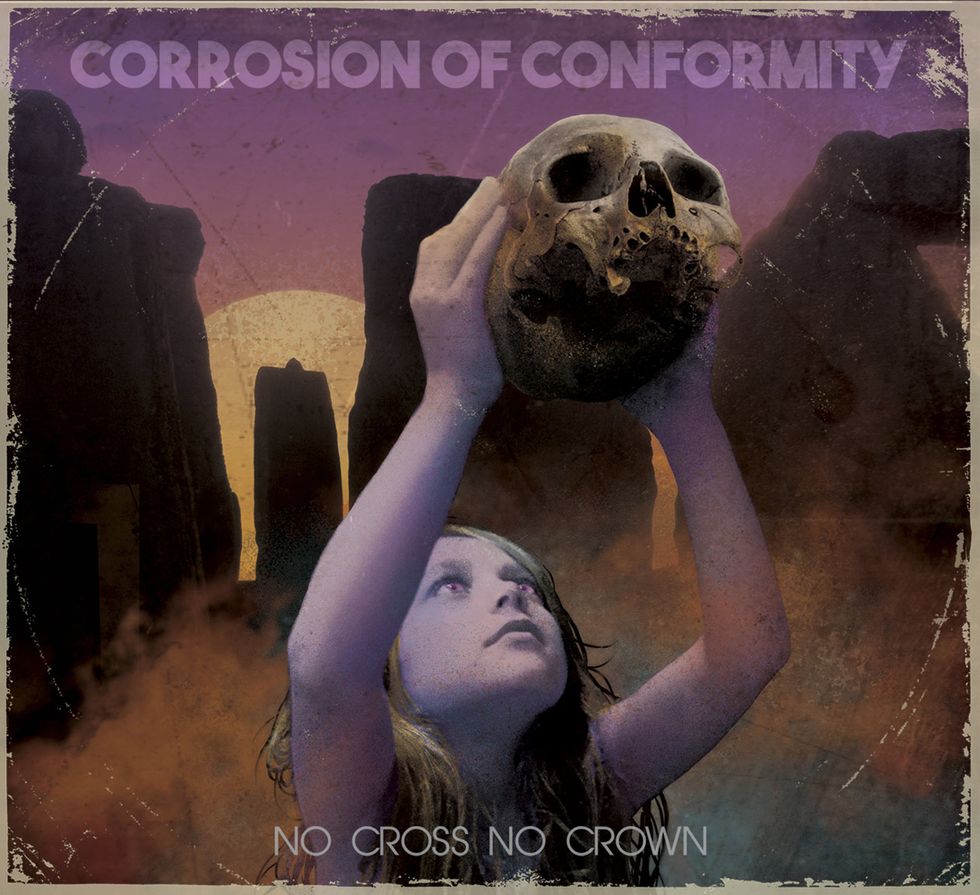 For their 10th studio album, C.O.C. kept it real, tracking each song with dual guitars. "On this record, we did it like we were doing demos," says frontman Pepper Keenan. "We were literally writing things off the cuff."
When Premier Guitar spoke to Keenan and Weatherman about No Cross No Crown, the band's tenth studio opus, it quickly became apparent this wasn't simply a reunion cash grab, and the reinvigorated group of Southern boys were glad to be back together.
After completing In the Arms of God, the band fragmented. What caused that and what brought you all back 13 years later?
Woody Weatherman: We never really discussed it. We just went home and chilled for a while. Of course, Keenan was busy with Down [a band that includes Phil Anselmo of Pantera]. Early on, we had talks that Keenan kind of spearheaded about doing a couple things, but we couldn't quite make it happen. So the three of us, Mike, Reed, and myself, did a couple records and traveled around for a couple years. But it was always with the intention of getting back with Pepper. And I guess it was late '14 or early '15 when we said, "Man, let's go out and see how it feels." And we just kept touring for two solid years without a record or anything. Eventually we realized, "Okay—it's time to do a fucking record." And that's when we started working on No Cross No Crown.
Pepper, what was it that brought you back to the band?
Pepper Keenan: Well, when we did In the Arms of God, three days before we were supposed to leave to do a massive two-and-a-half-month tour with Motörhead, Hurricane Katrina hit. So I had to fly to New Orleans. Everything got fucked up and that really took a toll on us. After that, Sanctuary—the record label that the album was on—fell apart. Unfortunately, things happen, and that's just kind of how it went. So I did Down stuff. When the moment came where I had some time, I spoke with the C.O.C. guys to see if they wanted to play together again.
The four of you hadn't recorded together since America's Volume Dealer, which was released in 2000. What was it like getting all of you back in a studio to make music?
Keenan: It was cool. We just made a big list of what songs we wanted to learn. We met in North Carolina and just started hacking at it. Everybody was in good shape and we started knocking them out. We had fun and kept it at that.