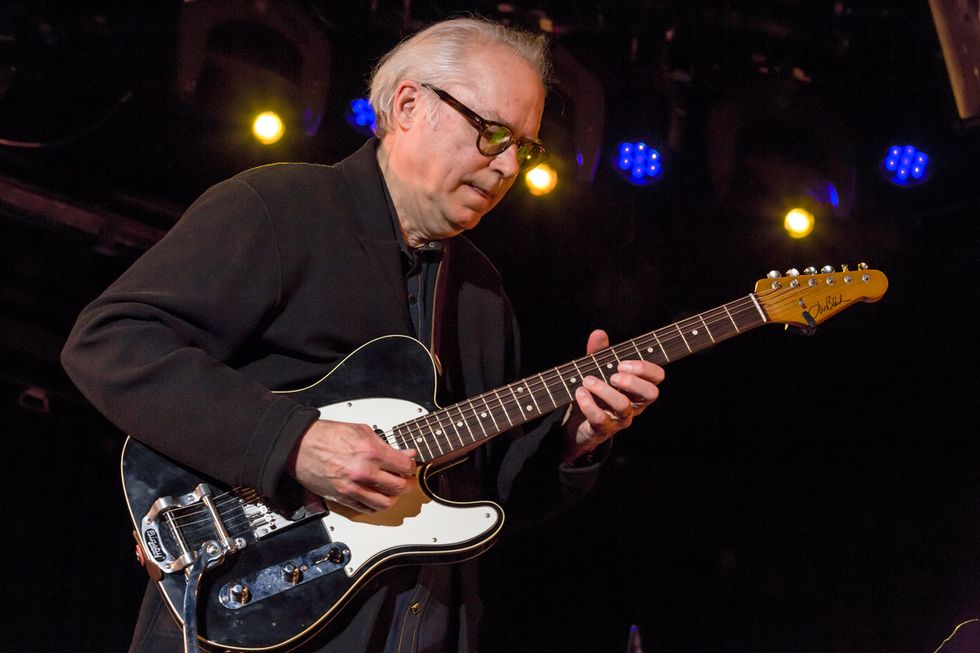 When Bill Frisell travels, he typically rolls with a single T-style instrument. Here he's playing one of his J.W. Black guitars at New York City's Le Poisson Rouge on March 10, 2017. Photo by Scott Friedlander
So, it was the same approach to playing a live set of music?
Yeah, because now, when I play a solo gig, I don't think about it at all, really. Sometimes I have no idea even seconds before I start playing, I'll just play a note and hopefully that'll lead me to a song or something and it just starts going from there. This was definitely more controlled than that, but it's basically the same attitude.
Also, the way we set up the room was so cool. I had a number of guitars and I had a few amps. We set it up so I could move quickly from one to another, or I could even grab an acoustic guitar while there was something happening with the electric guitar. That was really cool: to get that all straight at the beginning so that, whatever came into my mind, I could just go there without moving things around. Once we got it set up, it was like being in this amazing playground.
On Music IS, the songs "Pretty Stars" and "Made to Shine" are versions of "Pretty Flowers Were Made for Blooming" and "Pretty Stars Were Made to Shine" from Blues Dream,and they open and close this album. Each of those songs goes in a different direction, adding new material and new ideas to the original versions. When I first heard this, I thought maybe you used Blues Dream as an intentional theme, but now that I hear about your process, I'm curious how those songs became such an integral part of Music IS?
When we had all the pieces done, we just shuffled them all around and found an order, tried to make a story out of it or something. It seemed like a good way to start it, and then somehow because it started that way it seemed like a good way to end it, too.
"There really is something about when you play a guitar that someone else has put a lot of time into. Recently, I got to play one of Tal Farlow's guitars. It was his main guitar. It was
just incredible to feel."
There's something I should say about that song. I don't know if I would say it's disturbing, but the thing about writing music is, the older I get, it gets weirder and weirder with my memory and where a melody is coming from. I sit there and I write all this stuff and I'm not sure where it's coming from. It's like; "It has to be something that I heard before? Am I remembering it? Or am I making it up?"
During that week at the Stone, I played that "Pretty Stars" thing. This guy, one night, said, "Oh yeah, I really like your version of 'Jesse James.'" And I'm thinking, "What're you talking about? Because I thought I had written the song. He said, "I have a version of Ry Cooder doing that song, 'Jesse James'." And I listened to it and I thought, "Oh my god, it's the same melody that I thought I wrote." Then I looked at it further and I realized it's this old folk song. The Kingston Trio did it. I must have heard it when I was 5 years old or something, but when I wrote it down, what I wrote down was slightly different.
I already called the thing "Pretty Stars Were Made to Shine" long ago, and then I started thinking about stars. You know, we're all looking up at these stars and everybody sees them. They're up there for everybody. They come in and out, and one day you see some and another day you see others. It's kind of like the way those melodies are. I guess I stole that or it was somewhere in my memory: this old traditional song that I wrote down, or some variation on it. You stick with it for a little while, and then it starts to sprout other branches. That's what's really far out! Because if you keep writing or you keep playing, these variations start happening and it keeps growing.

Guitars
J.W. Black T-style
Late-1950s Gretsch Anniversary
1940s Gibson J-45
1950s Gibson ES-125
1966 Fender Jazzmaster
Amps
Gibson Explorer
Carr Mercury
Effects
Ibanez Tube Screamer
Catalinbread Katzenkönig
Line 6 DL4 Delay Modeler
ZVEX Ringtone
Strymon Flint
Lehle Little Dual
Strings and Picks
D'Addario Chromes strings (.011–.048)
D'Addario EXL115 strings (.011–.049)
Dunlop 412P .88 mm Tortex Sharp picks

There's a video for an alternate take of your tune "Rambler," where you're playing a Gretsch. Did you use some different guitars on this album than you've used in the past?
Yeah, that was kind of a luxury this time, because many times, when I'm traveling, I'm just going around with one instrument. I have a bunch of guitars at home and I don't get to play 'em so much when I'm on the road.
When I started to plan the record, I didn't even realize I was gonna end up moving from Seattle to New York. When I moved away from Seattle, I had a rental car and I put a bunch of guitars in my car and I drove down to Portland and I left them at the studio there. So, when I went back in August to record, I had a bunch of stuff, which was so cool.
What guitars did you have with you?
I had this old ES-125 that I used a lot on this record. Just one P-90 pickup in it, from the '50s. I also had a '66 Jazzmaster that I recently got and used on a bunch of stuff. When I'm traveling, I'm basically carrying some kind of Telecaster with me, so I also had this J.W. Black T-type guitar. And I had this incredible Gibson J-45 from the 1940s. It's one of those banner-year guitars. That was actually a gift. Just within the last couple years, I guess, I got that guitar and I was thrilled to record with that.
I know there's an old Gibson you own that used to belong to your teacher, Dale Bruning. That's not that guitar, right?
Oh, no, I didn't have that on this recording. I still can't even believe that happened—this guitar that I got from my teacher in Denver in the '60s that was my main guitar. It's an ES-175, but it was a custom that he ordered, I guess it was in 1967 or '68, and then it was 1970 when I bought it from him. I probably spent more time with that one guitar than any guitar in my life. I ended up selling it and regretting it and then I could never find it. I sold it in Boston in 1978 and then it showed up in Seattle in 2015. I wish I knew the story of where it had been. How did it make it there? It was unbelievable.