Bill Frisell: To the Great Beyond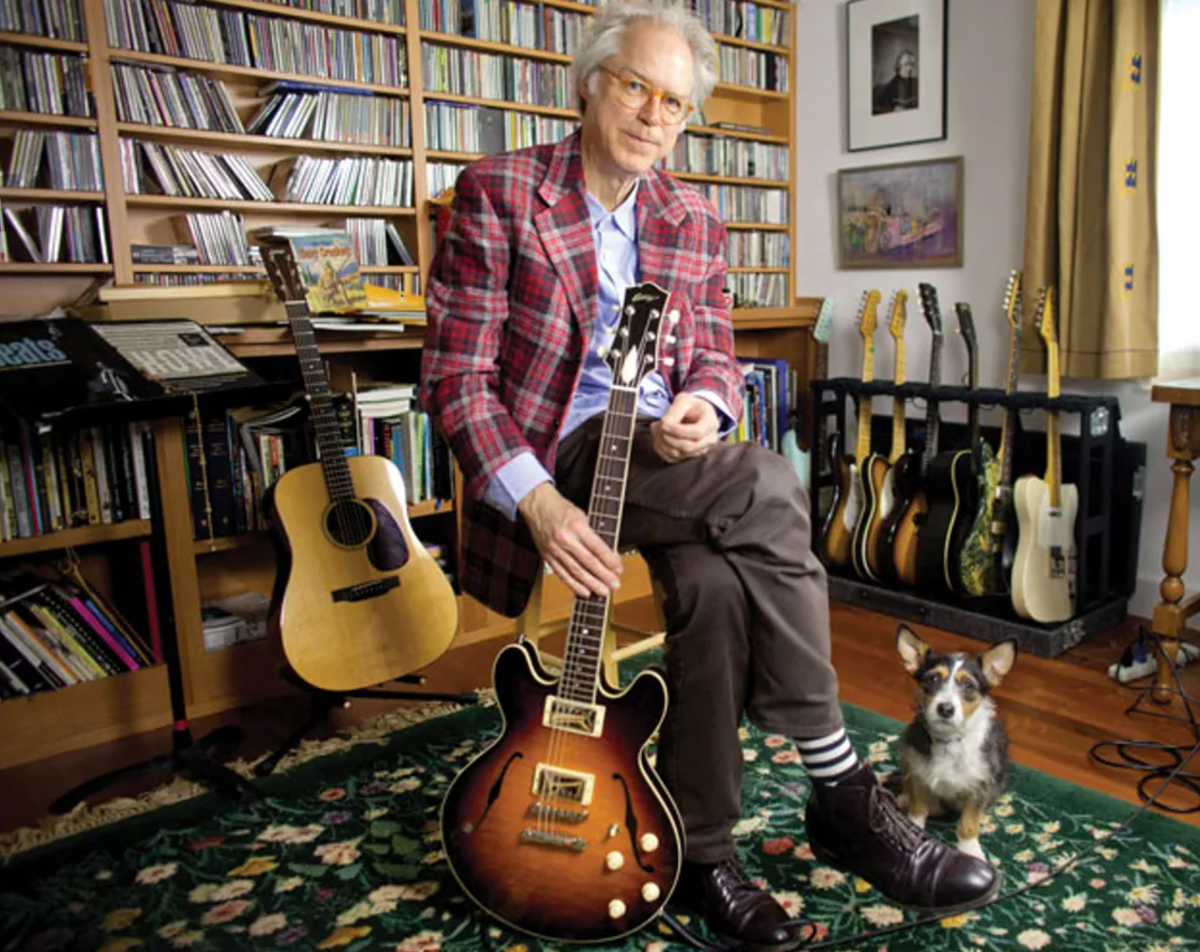 Photo by Monica Frisell
With his inventive touch, the prolific guitarist takes his latest musical exploration, Guitar in the Space Age, back to the future.
It's easy to forget how astonishing Bill Frisell's guitar style seemed when he arrived on the scene nearly four decades ago. Others had combined blues, country, or rock with jazz, but no one had yet synthesized them all—along with free improvisation, noise, and looping—into such a uniquely personal sound. Frisell was arguably the first electric guitarist to completely redefine the instrument since Jimi Hendrix.
After having recorded more than 50 albums, either as a leader or with others, it's understandable that an artist might want to look back, and Guitar in the Space Age is something of a musical memoir. Along with bassist Tony Scherr, drummer Kenny Wollesen, and Greg Leisz on guitar and pedal steel, the Denver-raised guitarist reworks some of the tunes that formed his musical DNA, and pays tribute to others that comprise the genetic makeup of any picker.
Eschewing obscurities for classics, Frisell and company place their stamp on such instrumental chestnuts as Duane Eddy's "Rebel Rouser," Link Wray's "Rumble," The Chantays' "Pipeline," and "Telstar" by the Tornados. They also assay "Bryant's Boogie" by Tele-master Jimmy Bryant and pedal steel virtuoso Speedy West. In fact, Frisell and Leisz could be considered a post-modern version of that dynamic duo. With the help of his unmistakable musical voice and a few pedals, Frisell brings the sound of Guitar in the Space Age into the digital era.
"I didn't want to just copy the originals … I just wanted to play the tunes with the language this band has developed from making music together so long."

What prompted you to record these classic guitar instrumentals?
It wasn't nostalgia. I was looking at tunes I thought I knew, back when I was getting super fired up about playing guitar. Viewed through 50 years of trying to figure out how to play, they look so different. I was playing a gig doing the John Lennon stuff [from 2011's All We Are Saying] with this band, when we fell into one of the tunes that wound up on Guitar in the Space Age. It made me think I should do a whole record of these tunes.
Another inspiration for this record was when Chuck Helm, the director of the Wexner Center in Columbus, Ohio, suggested we do the music of Speedy West and Jimmy Bryant. I said, "I can't play that fast." So he came up with the name "Not So Fast" and we played a show of that music—but slowed down.
Had you played any of the tunes when you were young?
I heard some of them before I ever had a guitar. My friend across the street had an Astronauts record and a little Stella, and I would go over there and pick at it. The first record I ever bought was a Beach Boys single with "Little Deuce Coupe" on one side and "Surfer Girl" on the other, and my brother had a Surfing with the Ventures album. By the time I got an electric guitar, it was past the surf music era. I sort of played "Pipeline." I never played "Telstar" because it was way too hard, but I heard it a lot.
Did you approach the tracking more like a jazz session or a pop record?
It was just playing the songs. Greg played a lot of guitar on this record, so there are a couple of places we overdubbed the steel, but we were mostly playing together in the room. I didn't really reharmonize anything or do much rearranging, but I didn't want to simply copy the originals either. I just wanted to play the tunes with the language this band has developed from making music together so long.

Bill Frisell has been using one guitar for the majority of his projects lately: a J.W. Black T-style with a Mastery Bridge and Callahan pickups. "Luckily he doesn't live in Seattle or I would be living over at his place," says Frisell of Black.
You kept the solos shorter than they might be on a typical jazz record.
I was trying to stay true to the song. For me, it's more and more about the many different ways you can play the melody—you can find so much in where you place things rhythmically, the way you hear it on a particular day, or how you phrase it.
Lately you've been playing on some pop records, including ones by Shawn Colvin and Lucinda Williams, as well as Stefano Bollani's jazz release on ECM. How do you adjust your approach when moving between genres?
When people are really listening and playing together, it feels the same—it doesn't involve switching gears. What's going on inside my brain and body is the same. I just try to get as deep into the music as I can.
Bill Frisell's Gear
Guitars/Amps
J.W. Black T-Style
Gibson Explorer GA-18
Effects
Electro-Harmonix Freeze
Ibanez Tube Screamer
Electro-Harmonix Nano Pocket Metal Muff
Line 6 DL4
TC Electronic Hall of Fame Reverb
Strymon Flint
Dunlop Cry Baby Wah
Strings and Picks
D'Addario .011 or .010 set
Dunlop medium
George L's cables
With Lucinda, I don't have to hold back anything. I am supporting her, I guess, but it feels like we are in the same world. She really responds to whatever note I play—I feel her emotional reaction. It's not like she's out front singing and I'm supposed to back her up. It's the same as when I'm playing with Stefano Bollani. Stefano's music was challenging, there are more chords, and we had never played together before, but hopefully you can get past that and just play.
Sometimes you play with people who just do what they do, and you don't feel what you're doing alters what they are doing. That's not as enjoyable, but it's not just with singers, it could be with any kind of music. Some avant-garde or bebop guy might always do the same thing, no matter what else is going on.
You seem to have a special connection with Greg Leisz.
It is super personal—it almost feels like the album is both of ours. The connection with Greg is so strong because we're the same age and grew up with those tunes. On "Rebel Rouser" I was really happy with the conversational thing we had, where the melody floats around and you can't tell who is who.
On "Cannonball Rag," were you fingerpicking or flatpicking?
I use the pick, but I have a weird way of grabbing at other stuff with my fingers. When I see a video of myself, I still don't know what I'm doing.
Is that an Electro-Harmonix Freeze at the beginning of "Pipeline?"
Yes—I was so excited when that thing came out! I'd been waiting for a box like that for a long time. On that tune I was using it like an organ player doing a drone.

Here's Frisell's pedalboard from a recent gig. Photo by Jackie Roman
What is the advantage of that over doing a loop with your Line 6 DL4?
It's having that instantaneous sustain. The Freeze instantly holds a sustained chord and I can play on top of it. I'd been wishing I could physically play one triad, and then another triad against it—with the Freeze I can do that.
Where do you put it in the effects chain?
I use an Ibanez Tube Screamer and then an Electro-Harmonix Nano Pocket Metal Muff, which is a really extreme fuzz. The Freeze comes after that, then a Line 6 DL4, and that goes into either a TC Electronic Hall of Fame Reverb or the Strymon Flint reverb/tremolo.
There's some wah in there as well.
I did use wah quite a bit on this record. It was an old Cry Baby. I think I got it in the early '80s. I'm pretty sure it was right after the distortion stuff, before the delay and reverb.
YouTube It
Watch Bill Frisell and his fellow space explorers as they tackle several songs from Guitar in the Space Age.
What amp did you use?
I used a little 1961 or '62 Gibson Explorer GA-18 with one 10" speaker for the whole record. I think I was using the tremolo on that.
Which guitars are featured?
I also used one guitar on the whole record. It's a Telecaster built by J.W. Black, with the Tele-style Mastery Bridge and Callahan pickups—I love the way those pickups sound. Jay opened up the back of the bridge so he could add a Bigsby. I've been playing that guitar for pretty much 90 percent of what I've been doing.
I first met Jay in the mid '80s when he worked for Roger Sadowsky. He went on to work at Fender, then he moved to Eugene, Oregon. Luckily he doesn't live in Seattle or I would be living over at his place.
How would you say this record differs from Have a Little Faith, where you also played music that influenced you?
In a way, that's a precursor to Guitar in the Space Age. On both, my connection to each tune is different. Some connections are deeply personal, like "Surfer Girl" or "Pipeline"—songs that have been around my whole life. Other songs are more of a tribute to someone, like Merle Travis. I wasn't trying to play "Cannonball Rag" as a kid—it's something I discovered much later and realized how important it was to the history of guitar. On Have a Little Faith, "Just Like a Woman" was something I'd been hearing since I was in high school, but I also recorded a Madonna song I had just heard recently because I thought it sounded good.
It is partially selfish: I want to play these songs. But I also want to show where I am coming from musically—this is me. We weren't trying to beat the originals, I just wanted it to feel true or real. We tried to do "The Wind Cries Mary" but it was somehow too heavy to attempt. Then I realized Hendrix was on the whole record: We wouldn't have played the songs the way we played them if he hadn't come along.
Since Guitar in the Space Age came out, we've done a whole bunch of gigs and the music is starting to take off. These records somehow feel like a starting point. The music doesn't stay the same.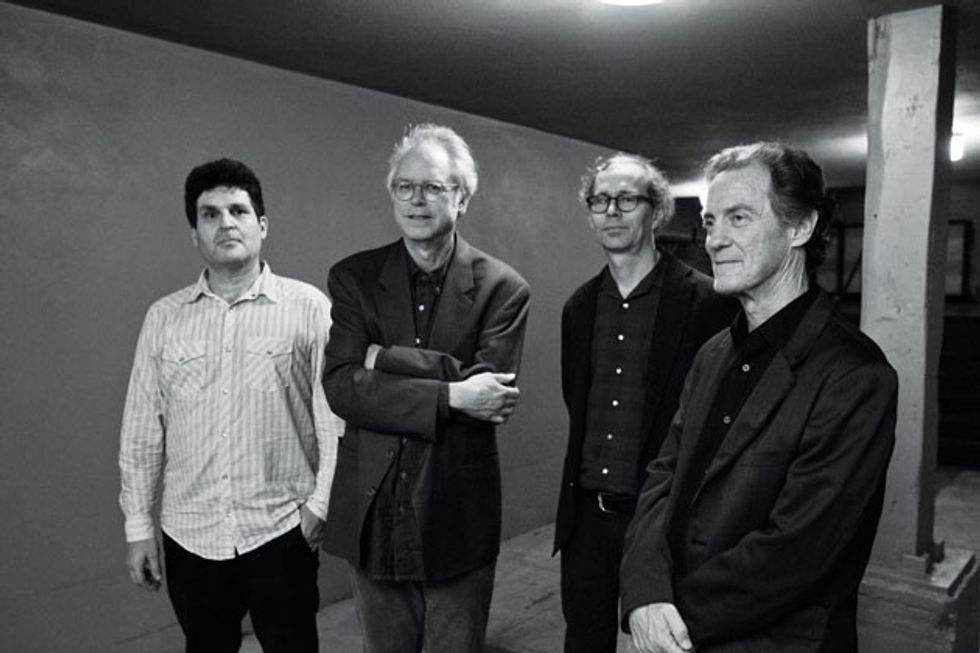 Bill Frisell's band for Guitar in the Space Age consists of Greg Leisz on guitar and pedal steel, drummer Kenny Wollesen, and bassist Tony Scherr.
Room for Two
Greg Leisz has been recording and touring with Bill Frisell, on and off, for almost two decades. Other artists Leisz has played with include Joni Mitchell, Sheryl Crow, Dave Alvin, k.d. lang, and Wilco—and that merely scratches the surface. The Los Angeles session ace discussed his unique relationship with Frisell before flying off to alternating tours with both the modern guitar legend and Jackson Browne.
Describe your musical connection with Bill Frisell.
The thing that appeals to me is the child-like spirit of adventure he brings to a song every time he plays it—that speaks to the similar child in me. Not knowing what's going to happen when you start playing, and not talking about it beforehand, excites me. It's a non-judgmental approach to playing music where anything goes.
Bill approaches music like a singer and I've spent years backing up singers, so we're complementary. Plus, he has his own way of playing with singers, where he can be weaving in and out of what they're doing, but still leave space for me.
What gear did you use on the Guitar in the Space Age sessions?
The guitar I played on almost everything was a refinished 1964 Jazzmaster I've had for almost 20 years. It has the Mastery Bridge, and, since the record, I've put the Mastery Offset Vibrato on it. The Jazzmaster is the premier guitar for certain aspects of surf music. For "Turn, Turn, Turn," I overdubbed my 1966 Rickenbacker 360. My pedal steel is a Williams—a single-neck 12-string with an extended E9 tuning.
I used the amps that were in the studio where we recorded. The steel ran through a silverface Fender Deluxe Reverb. The guitar went into a Fender Super Reverb and a Gibson amp, like Bill's GA-18. I used Strymon pedals: the El Capistan for delay, the Lex Rotary pedal, and the Flint reverb/tremolo. For the steel, I used an active, light-beam Telonics volume pedal. I also borrowed a Mu-Tron Bi-Phase.
I played mostly guitar on the basics and we overdubbed the steel to give it some of that "space age" feel.