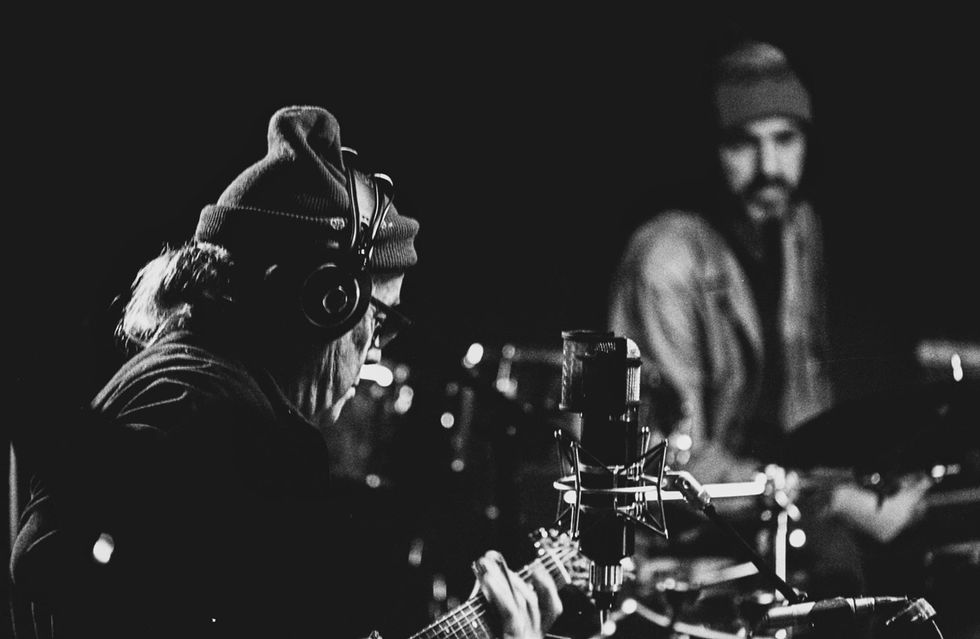 Ry Cooder is shown here in the studio with his son Joachim on drums during the making of Ry's new album, The Prodigal Son. Photo by Jeff Coffman
Ry Cooder has never been the type to just sit on his hands and shut up. It comes through in his earliest solo work, from his 1970 rendition of Blind Alfred Reed's "How Can a Poor Man Stand Such Times and Live?" to his own three-album "California trilogy" of Chávez Ravine (2005), My Name Is Buddy (2007) and I, Flathead (2008): a restless and relentlessly incisive voice, always speaking truth to power, always aligned with the underdog. Not that Cooder is a political firebrand—far from it, in fact—but in the vein of one of his heroes, Woody Guthrie, he feels compelled to call out injustice when he sees it. And he sees a lot of it.
Of course, his approach to the guitar meshes with his personality: unhurried, unadorned, and unusually reverent of tradition, without being tethered to it. His technical prowess and expressiveness with the instrument is legendary, whether he's channeling the solitude and vast open spaces of Wim Wenders' film Paris, Texas or conversing with Malian guitar hero Ali Farka Toure on the 1994 classic Talking Timbuktu. Deeper still, his ability to capture and commit to a sound, especially in the bygone Afro-Cuban rhythms and melodies of Buena Vista Social Club, or in the modernized blues of John Lee Hooker's late-career resurgence-spurring Mr. Lucky, has positioned Cooder as a producer with a remarkably sharp ear for what works in service to a song.
That said, The Prodigal Son, Cooder's first solo outing since 2012's outspoken and agitated Election Special, is the work of an artist who's taking a hard look at the world around him, as well as a look back to the music of his eclectic Southern California upbringing. "When I was in high school," Cooder reminisces, "this country music radio station here in L.A. was sort of aimed at the defense plant workers that had come out to work in the aircraft factories. So at that time, you had Ray Price leading the pack with his honky-tonk band, which I was absolutely nuts about. The thing I lived for every day was to get home from school and turn the radio on, and then I'd sit there and wait for something to happen."
"After all this time, I have Joachim with me now, so there's a degree of certainty there because he's a good colleague. That makes a lot of difference."
Along with Price, he discovered Wynn Stewart, one of the early proponents of what became the "Bakersfield sound" in country music. "If I'd have been really smart, I would've gotten on a bus to Bakersfield," Cooder says, "and gone to the Hub Café, where all these guys were playing. You could've seen them onstage. It would've been probably life-changing, as people say. I mean, I might not have come back!"
Lucky for us, he picked up a Martin guitar, eventually got his hands on a Fender Stratocaster (which he grabbed new off the rack at the Fender factory in 1967, just as he was heading into the studio with Captain Beefheart and His Magic Band for their seminal debut album Safe As Milk), and kept moving. Over the years, Cooder has developed a slide sound that has become instantly recognizable, in no small measure thanks to his famous "Coodercaster," a modified '60s Strat that he outfitted with a wider C-shaped neck and a Hawaiian lap-steel pickup near the bridge to reduce the level of "screech" that comes from using the glass slide on roundwound strings. (Cooder uses flatwound strings on his '67 Strat; he first made the switch to get a better bottleneck sound, but as the Coodercaster took over that role, he found that keeping flats on the Strat gave him a warmer, softer sound reminiscent of Curtis Mayfield.) He never uses a pick unless it's on his thumb, and his fingerpicking style, borrowed and built upon from years of listening to blues masters like Blind Willie Johnson (a prominent influence on The Prodigal Son), is so earthy you can almost feel the dust being kicked up when he plugs into a small vintage amp—a '50s Gretsch Artist among them.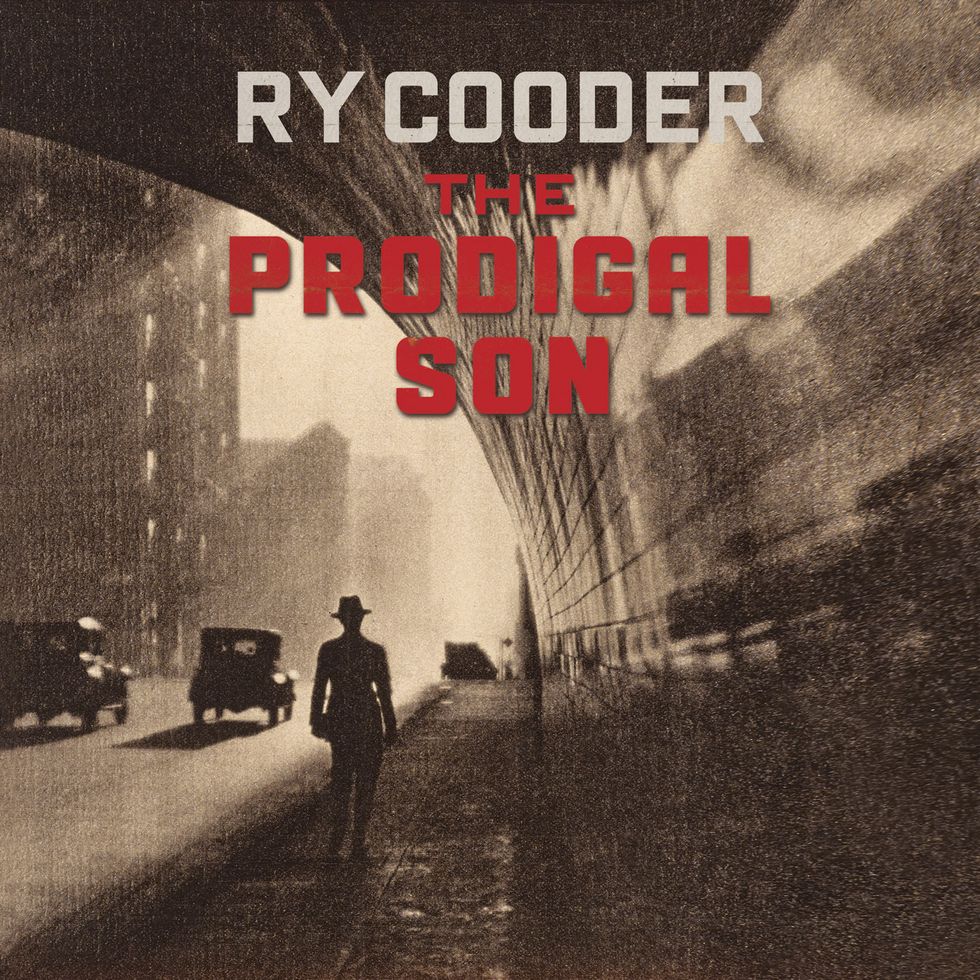 TIDBIT: Ry Cooder's 16th studio album, The Prodigal Son, was recorded at engineer Martin Pradler's Wireland Studios and at Sage & Sound Recording in Hollywood. Cooder arranged a collection of strategic old-school gospel covers, mixed with a few originals, and he also played bass on most of the tracks.
Overall, The Prodigal Son is a triumph of intimate recording. Tracked with Cooder's son Joachim—now 39 and a trusted collaborator—on drums at engineer Martin Pradler's Wireland Studios and at Sage & Sound Recording in Hollywood, the album features ingeniuous covers of classics like the Pilgrim Travelers' gospel ode "Straight Street," Blind Alfred Reed's haunting "You Must Unload," and the Stanley Brothers' soulful bluegrass anthem "Harbor of Love," as well as Cooder's arrangements of Johnson's "Nobody's Fault But Mine" and the title cut.
Comprised largely of first and second takes, with Cooder even playing bass on most of the songs, the album is pristinely mixed, and yet it projects an edgy but controlled rawness—a bluesy and distinctly American wail—that has come to signify Cooder's timeless guitar sound. On his own song "Shrinking Man," for example—a dry, Dylan-esque send-up on growing old and searching for hope in a heartless society—Cooder wrenches a perfectly jangly tone from a vintage Kent Electric Mandola that helps define the character of the song.
"Recording is a funny thing," Cooder notes, "because nobody will teach you this. It's just not taught. It's not like somebody sat me down and explained everything about microphones and wires and gain structure and what happens in the studio. I had to learn by doing, and I was lucky to be able to learn it. I mean, it's taken me a lifetime, but I'm always messing with stuff, and I have to say, at age 71, thankfully, I feel like I'm there, you know?"
The Prodigal Son seems to point specifically to a coming back home to something deep and essential. Is that how making this album felt for you?
Oh, it's hard to say how you feel when you make an album. I mean, each tune is a little problem to solve, so it's an experiment every time, I guess, although I have to say after having done this for 50-odd years, I'm a little more certain that I know what's going to happen. It's not like being in the dark all the time, like I used to think. I was always puzzled.
But after all this time, I have Joachim with me now, so there's a degree of certainty there because he's a good colleague. That makes a lot of difference. We get a little idea, we try it, and if it's good then we go on to the next one. When it's done and you look it over, then you say, "Oh I see, this is about the Prodigal Son, so it's some kind of quest. For what? [Laughs.] What do these tunes suggest?" To me, empathy and sympathy among people. Why? Because it's hard to find. It's like Buddy the red cat [from My Name Is Buddy] searching for solidarity. It's the same thing really—Buddy was the prodigal son, after all. What was he looking for? He was looking for fellow feeling. So in this case, we say simply let's be empathetic and let's be sympathetic to one another. Treat a stranger right, as Blind Willie Johnson says.
Along those lines, you draw on a wealth of influences with the songs you chose to interpret—some of them familiar, like Blind Willie Johnson ("Nobody's Fault But Mine"), and then others maybe less so, like Blind Roosevelt Graves ("I'll Be Rested When the Roll Is Called") and William L. Dawson ("In His Care"). How did you go about choosing them?
Well, I knew those tunes. Roosevelt Graves, I've known that song for a long time. I don't really know who he was. He seems to be one of these peripheral characters, and he recorded with his brother, who was not even named, so it's always "Blind Roosevelt Graves and brother," which is funny. It's kind of mysterious, but I love that song. That's my best shot at sounding like Roosevelt Graves—who's really good. He didn't do just gospel, either. He did secular tunes and comic songs, and he sounds almost like a minstrel player—kind of like Emmett Miller. But who knows who some of these people are?
I had a Folkways 10" of "In His Care" [performed by Sonny Terry & Brownie McGhee] when I was pretty young. It was probably the first gospel song I ever heard, and I loved it. It was really stomping, and I thought, "Man, that is good. That's the kind of thing I like." Nobody said to me, that's gospel music. I didn't know what the song was about. I knew it had something to do with the Bible, but I didn't grow up in a church-going area. In Santa Monica, you don't really encounter that. The records were it. They were like this portal, you see, to another world. That's why I liked them.