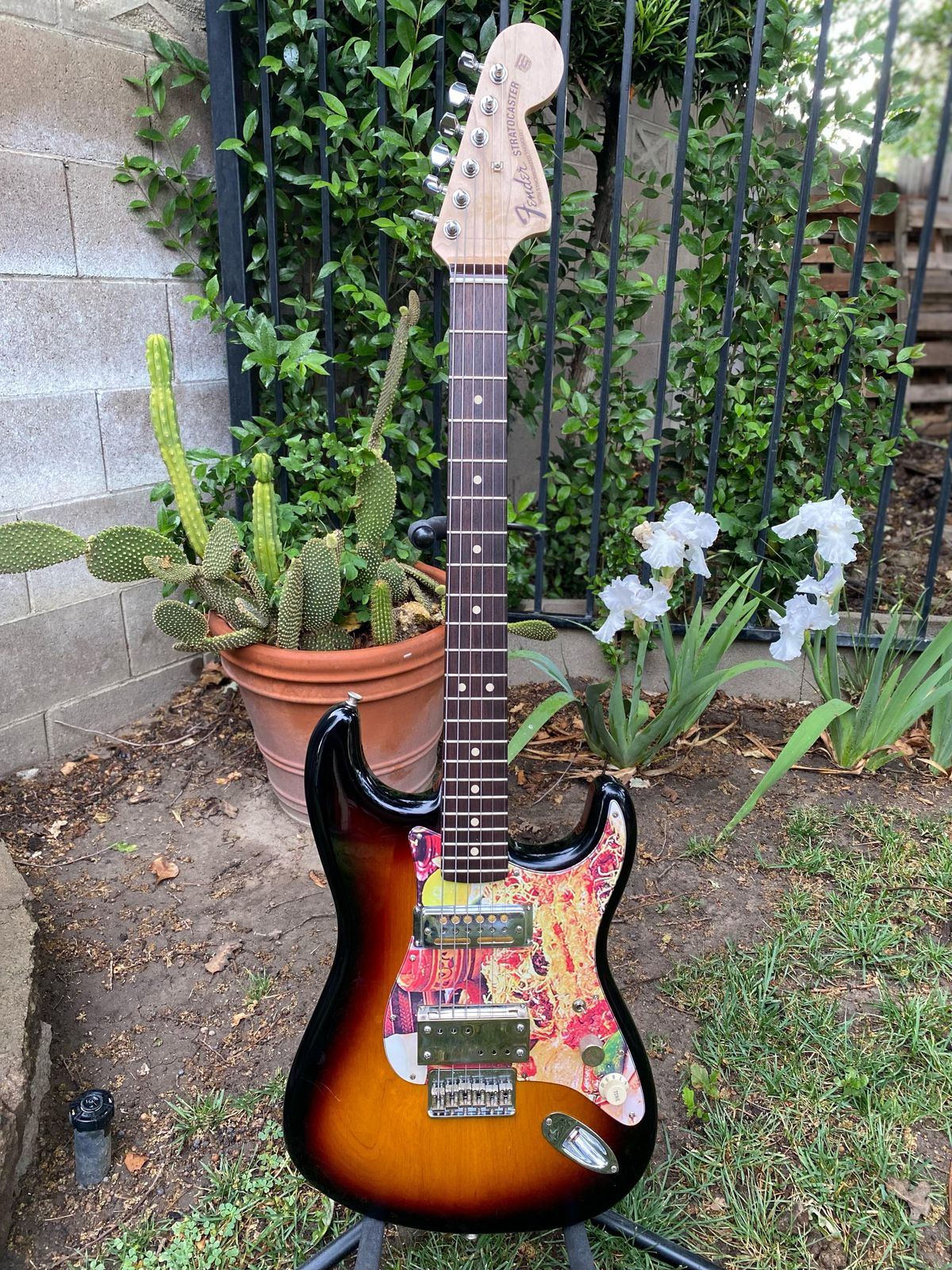 David Rasner's love for Ry Cooder, Tex-Mex cuisine, and a fallen friend come together in one sentimental 6-string.
---
Here is my Tres Hombres Coodercaster. Look, as much as I claim to be a "serious musician," a songwriter, and a player who is trying to develop his own original voice, I freely admit I'm a hopeless, pathetic wannabe and a fanboy of Ry Cooder. I was first introduced to Ry via his Borderline album: a masterpiece that blew my ever-loving mind in the way it combined many of my favorite genres in one cohesive, unique sound. Ry became my distant mentor, teaching me about "less is more," the relationship between fingers and strings, the magic of open-string voicings, and the importance of listening and creating space.
Recently, I decided to refurbish my "D" Strat and go full Cooder. My Strat was already a solid working tool dedicated to slide guitar. It sounded and looked close to Ry's main guitar but just needed a few iconic pieces. I started with a sunburst Fender Robert Cray model for the body: a great hardtail with a vintage-style bridge. I heard that Ry had a very wide neck on his Strat to help with fingerpicking, so I went with a custom 1-3/4" nut width, '59 roundback neck by Warmoth that's about as wide as an acoustic guitar neck. Like Ry, I put a P-90 in the bridge position and was really happy with what I heard when I played.
But, you know, once you start moddin', you just can't stop. I knew I would need to make the "Supro move." When I had the means, I began to build a guitar that would truly serve as a platform to emulate the sounds that I'd fallen in love with. I finally got a Lollar Supro in the bridge and a vintage Teisco Gold Foil towards the neck. The Teisco was not the Teisco as you can see from the screws. But it sounds fantastic, so, I'm okay with it. I kept it simple with one master tone and a Tele volume knob for faux pedal-steel tricks.
With the pickguard, I decided to pay tribute to another mentor: Bay Area guitarist Dave Bernstein, who passed away in 2008 after a heroic struggle with cancer. Dave was one of the strongest personalities I've ever met. To many, he was a caustic, bitter, rude bastard. For those who knew him, he was the sweetest, funniest, most patient, most generous friend you could have. Dave had two rare gifts: an extraordinary love and appreciation for music and being totally blunt. He was a respected blues guitarist, backing harmonica artist Mark Hummel for years. Dave had an enormous impact on my life, and I miss him a lot.
Once, Dave and I were having a passionate discussion about Mexican food and where we would go that night to have some. He said, "Let me show you something." He pulled out his LP copy of ZZ Top's Tres Hombres and opened it up to reveal a giant image of a gorgeous Tex-Mex spread. That's the thing about LPs that still matters—the folded image! As I was savoring that spread, Dave, as usual, remarked, "Now that is the shit." He was right of course … about so many things. In a strange way, that image has always represented my memory of Dave. So, I had Carmedon Guitar in Jacksonville, Florida, print it onto my pickguard. I love the way it plays, and it sure looks terrific. Thanks, Ry. Thanks, Dave.
Looking for more great gear for the guitar player in your life (yourself included!)? Check out this year's Holiday Gear Finds!
This full-amp-stack-in-a-box pedal brings a new flavor to the Guitar Legend Tone Series of pedals, Missing Link Audio's flagship product line.
Adding to the company's line of premium-quality effects pedals, Missing Link Audio has unleashed the new AC/Overdrive pedal. This full-amp-stack-in-a-box pedal – the only Angus & Malcom all-in-one stompbox on the market – brings a new flavor to the Guitar Legend Tone Series of pedals, Missing Link Audio's flagship product line.
The AC/OD layout has three knobs to control Volume, Gain and Tone. That user-friendly format is perfect for quickly getting your ideal tone, and it also offers a ton of versatility. MLA's new AC/OD absolutely nails the Angus tone from the days of "High Voltage" to "Back in Black". You can also easily dial inMalcom with the turn of a knob. The pedal covers a broad range of sonic terrain, from boost to hot overdrive to complete tube-like saturation. The pedal is designed to leave on all the time and is very touch responsive. You can get everything from fat rhythm tones to a perfect lead tone just by using your guitar's volume knob and your right-hand attack.
Features 
Three knobs to control Volume, Gain and Tone
Die-cast aluminum cases for gig-worthy durability
Limited lifetime warranty
True bypass on/off switch
9-volt DC input
Made in the USA
MLA Pedals AC/OD - Music & Demo by A. Barrero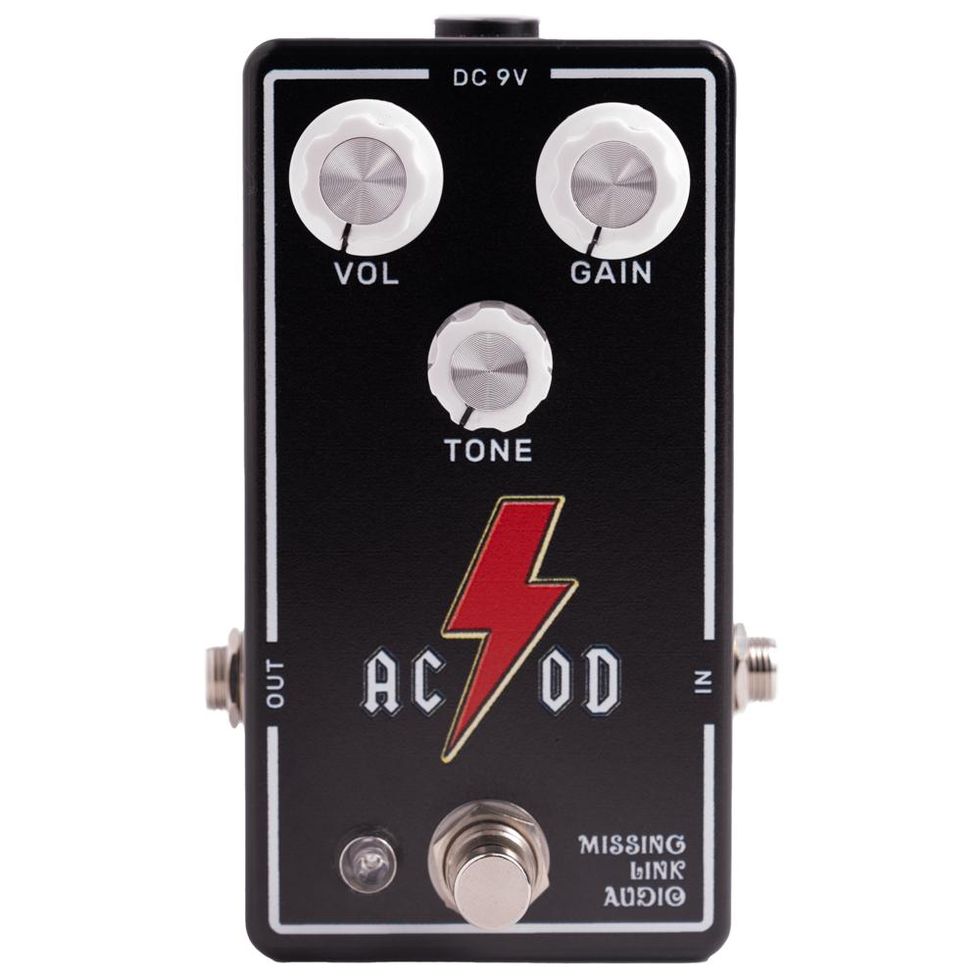 www.mlapedals.com.
Sporting custom artwork etched onto the covers, the Railhammer Billy Corgan Z-One Humcutters are designed to offer a fat midrange and a smooth top end.
Billy Corgan was looking for something for heavier Smashing Pumpkins songs, so Joe Naylor designed the Railhammer Billy Corgan Z-One pickup. Sporting custom artwork etched onto the covers, the Railhammer Billy Corgan Z-One Humcutters have a fat midrange and a smooth top end. This pickup combines the drive and sustain of a humbucker with the percussive attack and string clarity of a P90. Get beefy P90 tone plus amp-pummeling output with the Railhammer Billy Corgan Z-One.
Patented Railhammer Pickups take passive guitar pickups to a new level with rails under the wound strings lead to tighter lows, and poles under the plain strings offer fatter heights. With increased clarity, the passive pickup's tone is never sterile.
Railhammer Billy Corgan Signature Z-One Pickup Demo
Designed for utmost comfort and performance, the Vertigo Ultra Bass is Mono's answer to those who seek the ultimate gigging experience.
Complete with a range of game-changing design features, such as the patent-pending attachable FREERIDE Wheel System, premium water-resistant and reflective materials, shockproof shell structure and improved ergonomic features, the Vertigo Ultra Bass takes gear protection to the next level.
The Vertigo Ultra Bass features:
Patent-pending FREERIDE Wheel System that allows for wheels to be attached on the case in no time, giving you the option to travel with it seamlessly
Upgraded materials, including a water-resistant 1680D Ballistic Nylon outer shell, plush inner lining and new reflective trim for maximum backstage and night visibility
Enhanced protection with a shockproof shell structure and heavy-duty water-resistant YKK zippers for protection from the elements
Improved ergonomics and functionality including added back support and load-lifting detachable shoulder straps with side release buckles
Flexible storage options with added space for touring essentials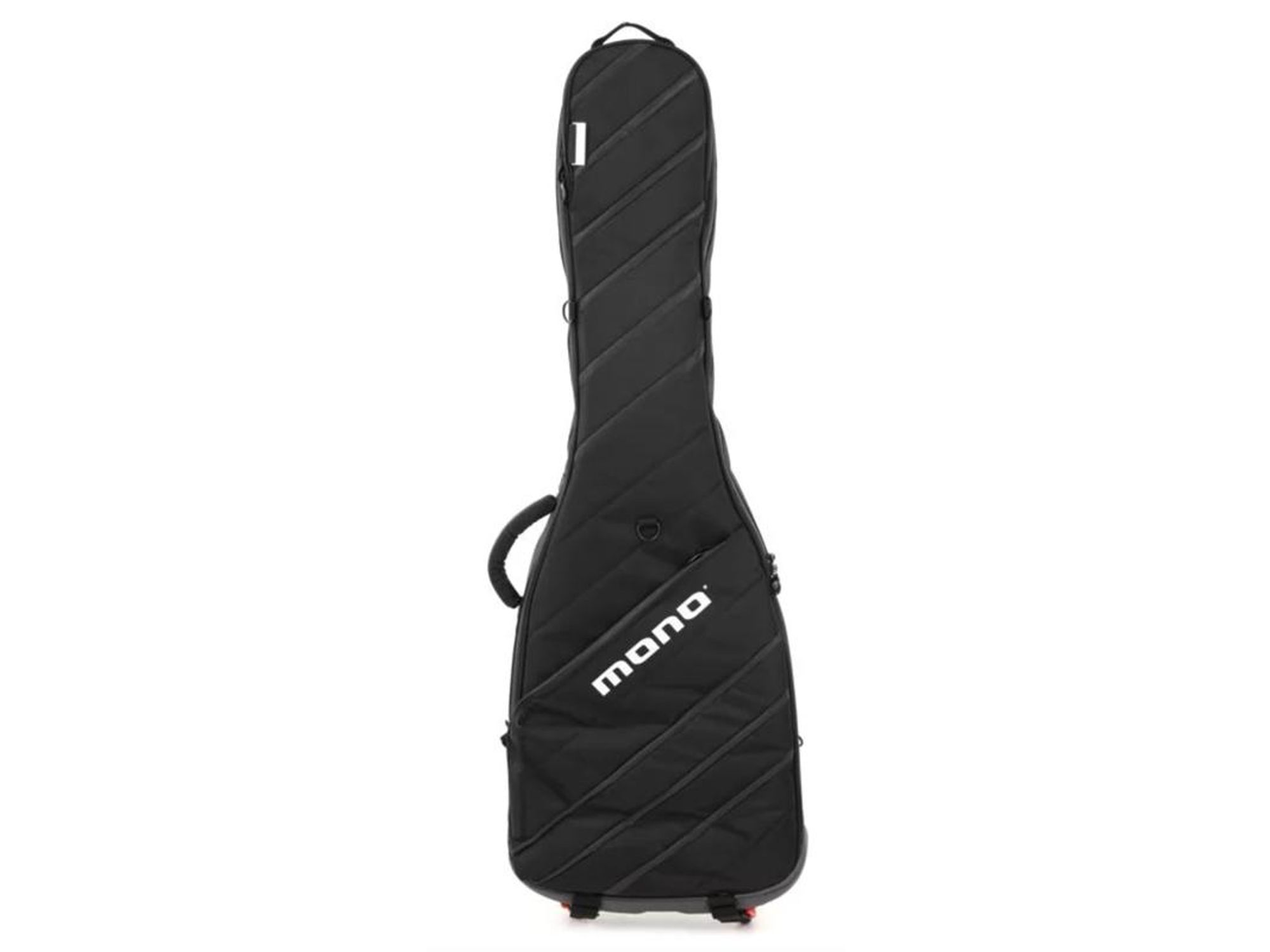 For more information, please visit monocreators.com.
Mono