Meet the Lords … and Gollums

1963 Vox Echo Reverberation Unit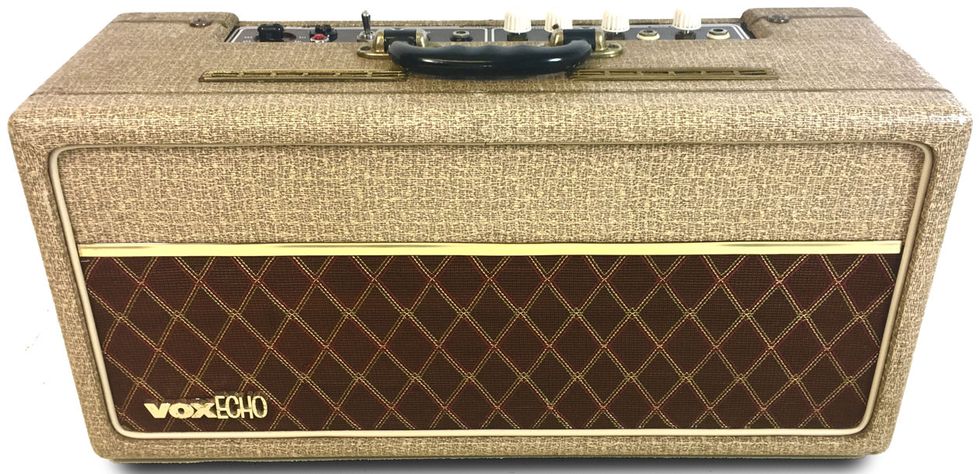 Made in the U.K. by Jennings Musical Instruments, Tom Jennings' answer to Leo Fender's Reverb uses an EZ80 rectifier valve, as well as two 12AX7s and one 12AU7. It has two input channels to Fender's one. These early units are very uncommon. Later in 1963, following an endorsement deal with the Shadows singer, they became known as the Vox Reverb Unit (Cliff Richard Model).
The Vox's unusual design incorporates two sets of springs and four delicate ACOS crystal phono cartridges instead of the Hammond tank's pickups and transducers. According to Vox designer Dick Denney, this was to circumvent the Hammond patent and avoid having to pay license fees. As you increase the level of the spring, the overall output level drops, so careful balancing of amp and effect can be required to achieve the desired sound. The crystal pickups in these units do not withstand the passage of time and this particular unit has had modern replacement phono cartridges installed to keep it as authentic as possible, though I personally feel it would probably sound much better with a Hammond tank! It's a subtle yet warm and sweet effect that suits guitar well but is less likely to appeal to those seeking a wetter surf-type sound.
---
Grampian Reverberation Unit Type 636

I could write a whole article about this unremarkable-looking, gray Vynide-covered box from the U.K. It's a true wolf in sheep's clothing that links the Who's windmilling guitar genius, Pete Townshend, with the godfather of dub and remixing, Lee "Scratch" Perry. Townshend discovered that plugging a guitar into the Grampian's mic input—whose germanium circuit is very close to an early Fuzz Face—delivers a rich, distorted fuzz effect, which is why he employed one in the studio and onstage for many years. Meanwhile, Perry installed one in his Black Ark studio. In fact, Grampian reverbs graced many recording studios in the '50s and '60s.
Type 636s do not accept quarter-inch jacks, and instead use BBC/GPO type-b quarter-inch sockets. The mic input has balanced and unbalanced options, and there are two auxiliary channel inputs. The 10 mV, 50k ohm input is great for guitar—and also for maximum distortion levels. The second input is 500 mV and 1M ohm, and its output is rated at 1V 600 ohms. Controls include an on/off toggle, reverberate (reverb level) knob, and input gain controls for the mic and aux channels, which link to the overload-lamp circuit. The lamp is an integral part of the driver circuit: If it's not working or of the wrong value, performance can be adversely affected.
The 636 is capable of smooth, rich reverb with low noise. However, given the age of the original germanium transistors, many unrestored examples are now quite unstable and noisy. We have a couple in the studio—one with the original Gibbs tank, and one with a replacement Accutronics tank—and we use them extensively for coloration. Both are featured in our sound samples for comparison. Initially, I expected these units to be some of the noisier reverbs in the test, but they performed better than most. A well-restored Grampian is a great contender if you want a high-quality studio or guitar spring. But it's when you overdrive them that the real magic happens: The degrees of luscious filth on offer are widespread, controllable, and utterly sensational.
It's hardly surprising that, as awareness has grown, 636s have become very sought after, with prices now well into four figures—even for units that need servicing. However, because they look so humdrum, they're still sometimes thrown away as garbage. (The last one we got was saved at the last minute!) We've seen a fair few come and go at Soundgas and have successfully restored many. We've also seen a good number butchered by those attempting repair without fully understanding the circuit. Many were powered by a large, lantern-style 9V battery that can leak acid over time. I've seen 636s with the tank and much of the metal chassis completely eaten away. In addition, sustained high input levels can burn out the all-important pilot lamp bulb. Be very cautious if you're considering purchasing one that hasn't been refurbished, as few are likely to function as they should.
As mentioned previously, both my Grampians were in action for the shootout, but one developed a fault with the Gibbs tank. Our tech, "Doctor" Huw Williams, fitted it with an Accutronics tank to keep it in the game. The one still outfitted with a Gibbs tank is battle scarred, a little cranky, and somewhat noisier (all Grampians have a degree of hiss—the price you pay for that germanium magic), but it sounds more to my taste than the Accutronics-fitted one. But then, I like dark, warm, and mellow. The revived unit still has that fabulous break-up, but the Accutronics tank sounds brighter, much louder, and more reverberant—which gives me a compelling reason to keep both!
Soundgas is currently working on a new version of the 636. If we can get the sound right, we plan to build a few to order—although the scarcity of good new-old-stock (NOS) components means it'll likely be a very limited run.
---