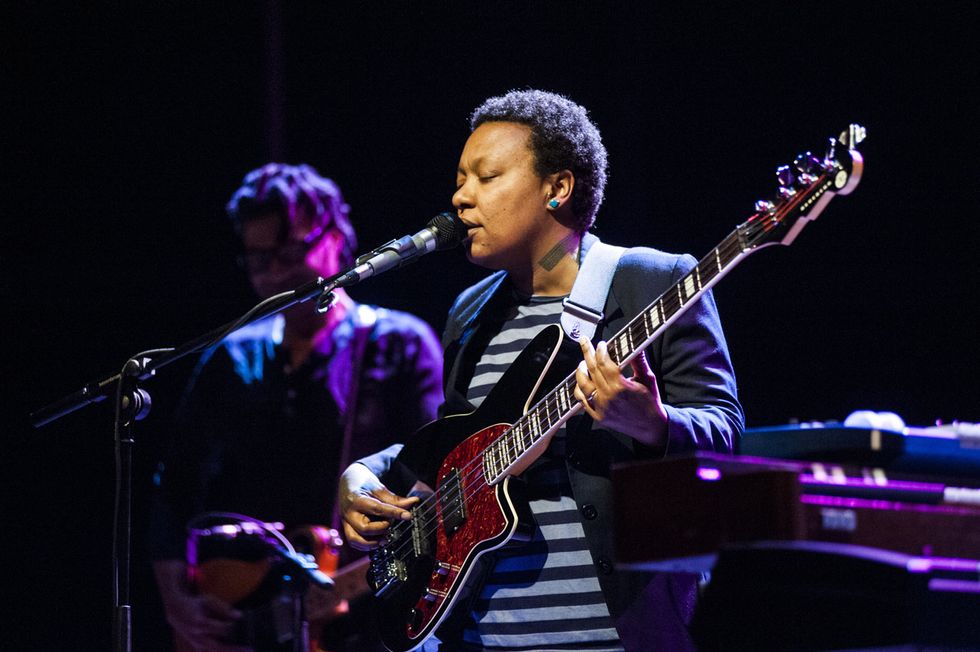 Reverend Guitars and Meshell Ndegeocello collaborated on her signature Fellowship bass model. She also favors Fender Jazz basses and has a 1963 and a 1974 model in her rotation. Photo by Jordi Vidal
There are lots of really great guitar moments on the record.
I've got two other guitar masters. Adam Levy plays the electric on "Sensitivity," and he's incredible on there. And I also have Jeff Parker on "Don't Disturb This Groove" and "Smooth Operator"—he's phenomenal. They're both amazing. Then the guy doing the narration on "Smooth Operator" is Eric Schermerhorn, who played with Iggy Pop. It's like, I'm surrounded by amazing guitar gods in my world. My brother played guitar. I just have a serious affinity for it.
There's some really great guitar work on "Atomic Dog."
I forgot the other guitar god on there: that's Doyle Bramhall! Chris plays all the acoustic and the layering of colors and then the solo stuff, and that's Doyle. He's like my hero. I can't sing his praises enough—he's a tone giant. He's playing the blues and beyond; he's interstellar with his playing.
You mentioned your brother is a guitar player. Did you pick up a bass just to play or to write songs?
I'm glad you asked that—it was songwriting. I picked up the bass because my brother's friend left it and it allowed me to play with my brother. Then my father, he was one of those pawn-store goers, he would just find stuff. He found a 4-track tape recorder and he bought a Rhodes and at that time I realized I was more into the songwriting than I was into being a virtuoso.
So, did you start playing that keyboard first?
No, I had the bass. I played them simultaneously. I played the clarinet first and I was like, "Whoa, this is hard." There wasn't a lot I could do. I hadn't heard Don Byron yet. If I'd heard Don Byron, I might be a clarinet player. I didn't have access to any of that yet.
How old were you when you picked up the bass?
Fourteen or 15.
"To me music is audible collage and I'm just trying to make all the colors and shapes work."
Something interesting about your career is that you're known in a couple different roles. You've got your own music but you're also featured as a bass player on some heavy sessions, playing with artists like Herbie Hancock, the Rolling Stones, and Madonna. What role does that fulfill for you creatively? What has your experience been like as a session player?
It's completely separate. I love playing the bass. I've been hired to play the bass, but also, I have such a distinctive style, it doesn't work for everybody, like, I can't play bluegrass—I play too far laid back in the beat and it drives the drummer crazy. I would love to play country stuff; I would love that. I like playing bass because it shapes the music. I can really lock down on bass, make it groove, and not play too much.
On some sessions, I go and just play the bass part. They have the chords and they have where it bounces and I just do what they say and those people are more interested in my name or my tone. They're not looking for my creativity. Then there are some people that give you something and say "do whatever you want." And that's cool, too. But I stopped doing that, in a way, because then you do what you want and they don't like it. That's weird. Then there's collaborative things where you go and you're actually there with the person and they want you to bring your A game with your creativity in the sense of creating something together and I really enjoy that.
I did a session with Allen Toussaint one time, and he and I were the band. We played and, to me, it was incredible. He laid down one of the most amazing tracks I ever heard and the person was like, "Can you do one more take?" We did one more take and then the person came in and was like, "Could you do this?" And Allen was like, "No, no I can't." That really blew my mind. He said, "No, what's wrong with it? If you can tell me what's wrong with it, I'll do it again." I think Pro Tools has opened up this thing of just, like, endless tracks. It becomes an endless exercise of someone else's imagination.

Basses
Reverend Meshell Ndegeocello Fellowship Bass
1963 Fender Jazz Bass
1974 Fender Jazz Bass
Amps
Aguilar Tone Hammer 500
Aguilar DB 212 cabinet
Effects
3Leaf Audio Octabvre
3Leaf Audio Wonderlove Envelope Filter
Malekko B:assmaster
TC Electronic Flashback Delay

And there's always something else to be perfected or something. There's option anxiety.
I listen to records now and they're so perfected. I feel like I'm missing something. I can't wait to get back to where, for example, the drummer and I sing a lot together, and we're just gonna sing until we get it right.
When you recorded Ventriloquism, how did you approach it the studio?
We record like we're going to tape and then we listen to it, find the best take, and fix if there are issues with it, or we don't fix and we build on top and omit. Omit is a production thing that people might need to get attached to.
Do you think there is still a place for mistakes on records in 2018?
Oh god, I miss those! I miss those so much!
There are some noticeable mistakes on classic records. For example, on Bob Dylan's Blonde on Blonde, the bass player on "Visions of Johanna" makes a mistake with the form. It's a big mistake on a big record and it's there to be heard.
One of my favorites is Stevie Wonder, "I Believe (When I Fall in Love)." I swear you can hear him fall off the drum set. He loses like a whole beat and a half in it, like something was going wrong.
There's a so-called mistake in "Funny How Time Flies." I go to the chorus late and Abe [Rounds, drummer] totally crashes on it. After a while, I liked it. We have a lot of those. I made records when you got a lot of money and I've made records where there was little money. That's something else Chris Bruce has taught me. Sure, we all want to achieve perfection, but sometimes there's these human things that happen in there that seem like failures or faux pas, but it's like women. I don't mean to sound weird, but a really beautiful woman is a little wonky. There's something there that's not so-called perfect. It's like how the bananas with the little brown blemishes are ripe and more flavorful.
I could think of three other Bob Dylan tunes if I tried hard that have weird things. Or Parliament-Funkadelic records—oh my god, not perfect! A lot of funk records … Ohio Players. Not perfect. And I think that's beautiful.
You mentioned Neil Young's Harvest. Neil is still putting mistakes all over his records.
Yes! I wanna go back to the melody, the lyric, and the beat. The drummer, Kenny Buttrey, as long as him and Neil are together, it's all good. It's like the flow of those two musicians make everything else so it just sits and settles in a way that's amazing. There's definitely imperfection in that. I've seen him play live and he's just banging on the guitar, and rumbling, and the overtones are coming out. I just saw Marc Ribot play with David Hidalgo from Los Lobos. It's amazing. If they had so-called mistakes, it just led those two men into different waters. I think people were hoping that they'd make so-called mistakes because it would just lead them to this other place.

Unplanned territory.
Unplanned territory is where, with a virtuosic musician especially, you get the most amazing things. I'm sure no one was telling Coltrane and Elvin Jones, "I don't know if that's right."
I must admit, I had a really bad show recently. The piano player forgot a song, I sung some clunkers, but after the show, everyone loved it. When you're playing for people and not musicians, they want something else from you. I hate to sound corny, but the word I would grasp for is sincerity. If I pay $50 to go see you, I at least want you to be honest. Especially with certain musicians: I already know you're a genius, I already know you can play.
YouTube It
In this performance, Ndegeocello and her band put their stamp on Nick Drake's classic ballad "Pink Moon." They preserve Drake's lush and subdued sound while shaping the song by orchestrating his melodic lines among their instrumentation. Ndegeocello's signature bass tone and style are instantly recognizable even when playing this song's simple figures.