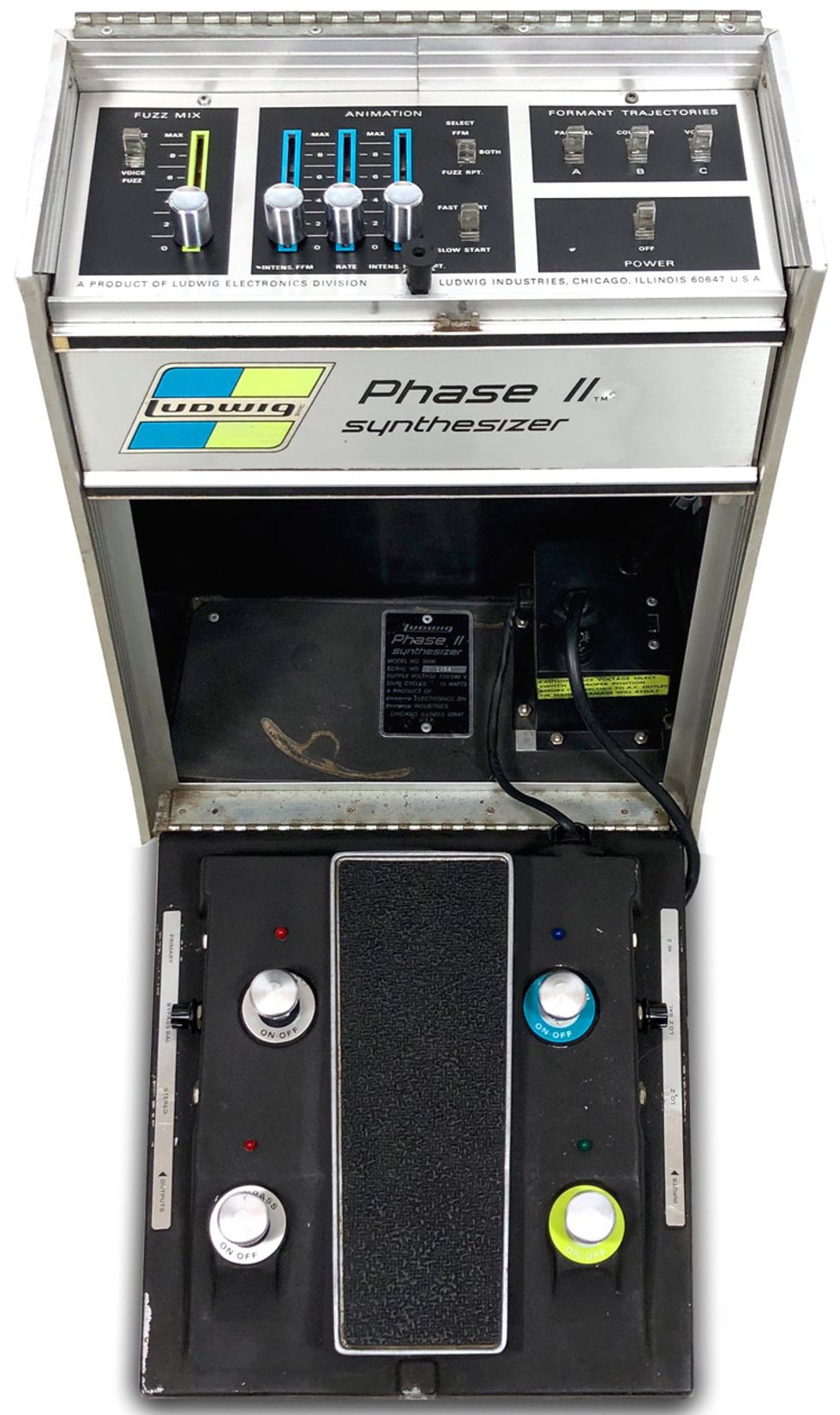 The Ludwig Phase II Synthesizer isn't really a synthesizer, but it is every bit as colorful as it is cumbersome, with its bright, candy-colored controls.
Ludwig Phase II Synthesizer
When I first read Tom Hughes' superb book,
Analog Man's Guide to Vintage Effects
, I was surprised to find the company that made John Bonham's kit also briefly made a guitar synth pedal. It was manufactured in very small quantities, in around 1970 to '71, and, like most of the units in this article, isn't really a synthesizer. It's a mix of fuzz, tremolo, and formant filtering—all achieved in the pre-chip era using discrete circuits.
While the paltry menu of effects offered in the Ludwig Phase II Synthesizer may not immediately seem appetizing, wait until you see one in the flesh. The design is a showstopper, comprising multi-colored backlit panel controls and a flip-up panel lid with a flip-down pedal section. And check out the controls: fuzz mix, animation, and formant trajectories (the latter refined into parallel, counter, and vowel variants).
The name USS-1 conjures images of a sleek spaceship or a majestic aircraft carrier. In the flesh, Maestro's Universal Synthesizer System USS-1 is hardly less imposing.
The Ludwig's signature "yoy-yoy" sound is very reminiscent of a favorite wah pedal of mine—the early-'60s cast-metal version of the Schaller Bow-Wow Yoy-Yoy—and it's not impossible to recreate much of what the Phase II can achieve using one of these with a fuzz and a tremolo pedal. While the Phase II scores highly on the rarity and desirability front, and is one of the greatest-looking pieces of gear you'll ever find, it's not as versatile as I'd hoped and falls a long distance short of the Hi-Fli.
It should perhaps be viewed as more wah than synth—albeit a wah with great tone-shaping options, with its fuzz and tremolo adding lots of color and vibe. And it can yield wild and expressive results. But if you're looking for a box that will transform your guitar into something from another planet, I'm not sure the Phase II fits the bill. Users of the Ludwig Phase II include Sonic Youth, Beck, Pearl Jam, and Primus. They sell for between $2,500 and $3,200 today.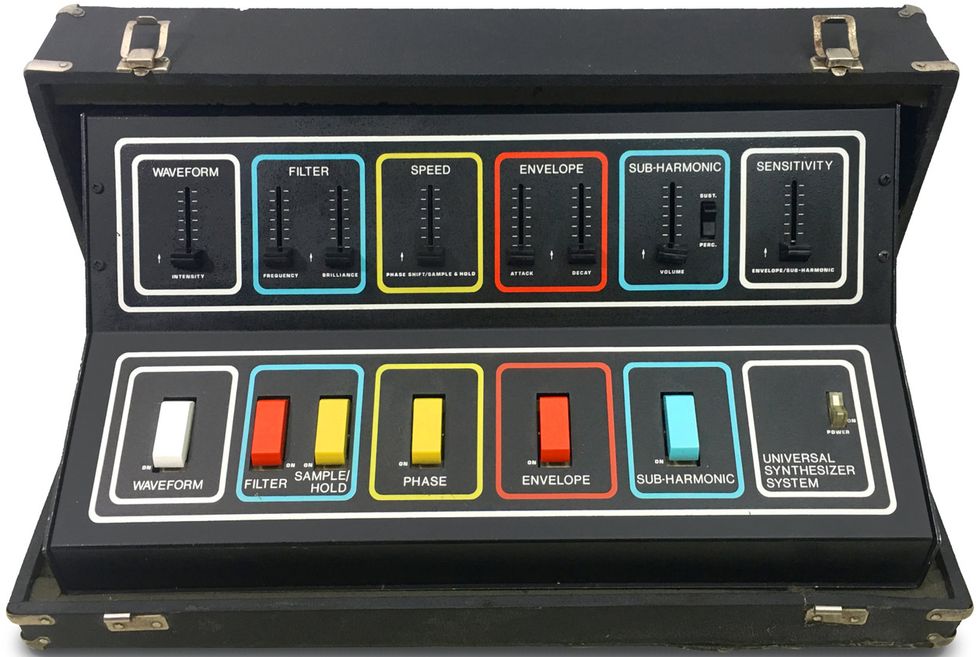 Tom Oberheim, of Oberheim analog synthesizer fame, also developed the Universal Synthesizer System USS-1 for Maestro. The USS-1 is really an analog multi-effects unit and excels in a studio setting—especially with old drum machines.
Maestro Universal Synthesizer System USS-1
The name USS-1 conjures images of a sleek spaceship or a majestic aircraft carrier. In the flesh, Maestro's Universal Synthesizer System USS-1 is hardly less imposing. This is a guitar pedal that could only have come out of '70s America—a land where everything was bigger, brighter, and bolder.
Designed by the great Tom Oberheim for Gibson's Maestro brand, the USS-1 is really an analog multi-effects unit comprising fuzz (labeled waveform), filter with a sample and hold button, phaser, envelope shaping, and a subharmonic generator. While it appears to be a selection of classic Maestro pedals in a very big case, I've found it to be greater than the sum of its parts. The USS-1 makes great sounds with a guitar, but they're not hugely synth-like. To me, this unit shines as a studio effect—especially when used on old beat-box-style drum machines. The sub-octave generator takes a beat and adds bass notes. It's highly addictive!
Like many of the devices in this article, the USS-1 proved too big and expensive, and few were produced before Maestro dropped it from the catalog. One thing to bear in mind if you're considering buying one of these behemoths: The sliders are similar to those in old Arp synths. They have a long plastic shaft and a tendency to become sticky over time (especially if they've been sprayed with switch cleaner … or worse), and they snap off easily. Most of the USS-1s we've seen have needed painstaking slider restoration to function well. And that's after an investment of roughly $1,500 or more on the resale market.