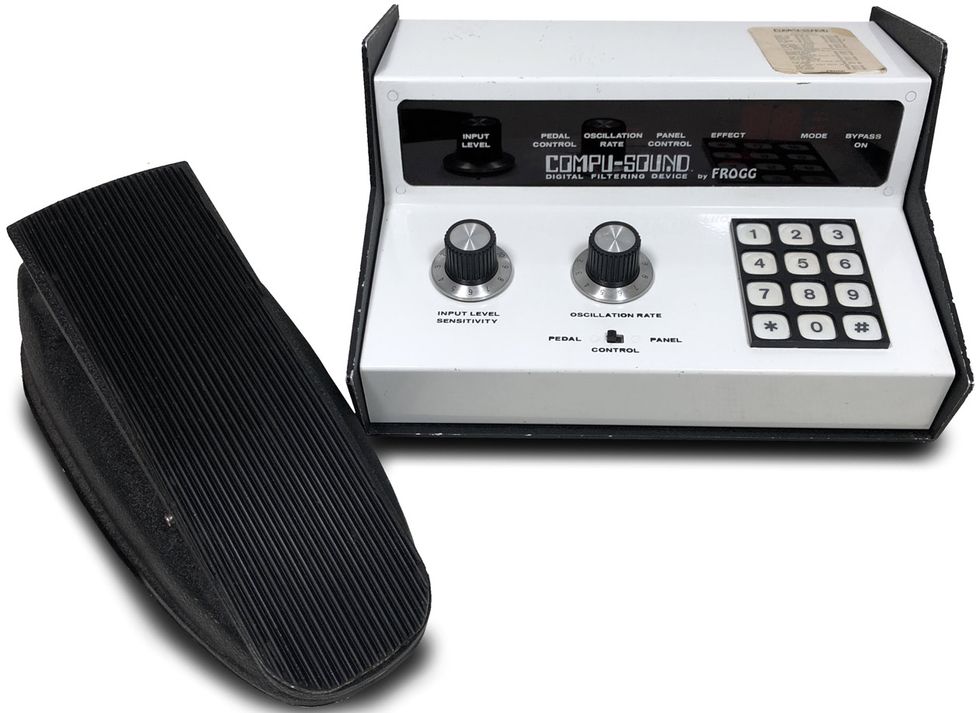 If you're lucky enough to peer inside one of these electronic unicorns, you'll discover that all the IC chips' identity markings have been obliterated in an effort to protect the Compu-Sound's circuit design.
Frogg Compu-Sound
The Frogg is really quite the Prince.Touted by its manufacturer as the first digital effect when it was released, the Frogg Compu-Sound was, in fact, an all-analog filter with envelope control that used IC chips to govern the various patterns and sequences. Sporting a keypad and red LED display, the Compu-Sound was a futuristic device back in 1975, but the high price tag of $500 (equivalent to around $2,300 today—which, by the way, is also roughly the current going rate) meant it was the provenance of well-heeled users, including Frank Zappa, Stevie Wonder, and Brian May. Only about 100 were made. Perhaps it falls short of being a true synthesizer, but the quality of the effects is superb and it's a delight to play.
The Compu-Sound's main claim to fame? It was used during the recording of Saturday Night Fever. Those distinctive, funky envelope filter and wah sounds feature heavily in the Frogg's 99 programs. Designed by Doug Talley (who also worked for Foxx), the Compu-Sound delivers an array of effects, including various automatic and manual wah, envelope filter, and notch flanger patterns. It came with a treadle.
The Compu-Sound's main claim to fame? It was used during the recording of Saturday Night Fever.
Tracking down a Frogg Compu-Sound is not easy, and if you find one, pray it's still usable. We've been working on fixing three machines for over a year now. There are no available schematics and, to protect their design, Frogg erased the identity markings from the IC chips.
We have now been able to recreate the obsolete EPROMs used to store the patterns using one good machine and hope eventually to reverse-engineer the circuit. If anyone reading this has access to schematics, please get in touch, as it pains me to think of such rare and superb-sounding devices being consigned to the scrap heap.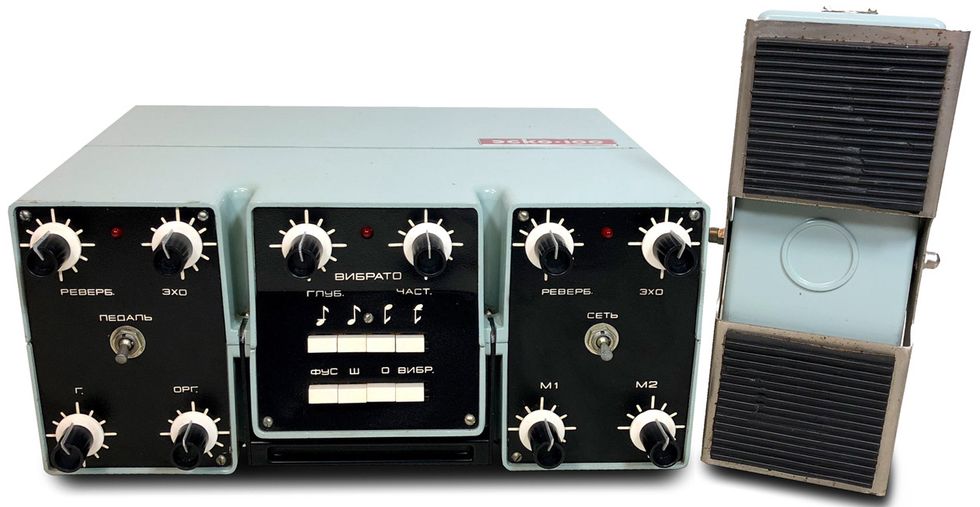 With an austere face and Cyrillic lettering, the ESKO-100 looks every bit the Soviet-era made-in-Russia device. And while they are hard to find, their current prices are more in line with a proletarian budget than other vintage big-beast guitar-synth boxes.
Formanta ESKO-100
Coming from the other side of the Iron Curtain, the ESKO-100 is an über-rare multi-effects-style guitar synth. It's included here because it looks amazing and sounds completely bonkers. But it's also very large, heavy, and almost impossible to find. That said, when one does turn up it's typically cheaper than the other devices we've covered so far. The Soviet Guitar Effects Online Store & Museum sold one recently that listed for $399 plus shipping.
The ESKO-100 was manufactured to a very high standard, with military-grade components, in the late '70s or early '80s. Comprising a 4-head tape delay with a shimmer setting, fuzz, vibrato, and a phaser with identity issues (it thinks it's a flanger), plus a heavy-duty treadle for manual control, this unit emits sounds like you're playing guitar inside the rusting ice-covered hulk of an abandoned nuclear sub—in a vortex. Later models abandoned the tape delay for an oh-so-modern BBD delay system.Famous users were probably banished to Siberian salt mines.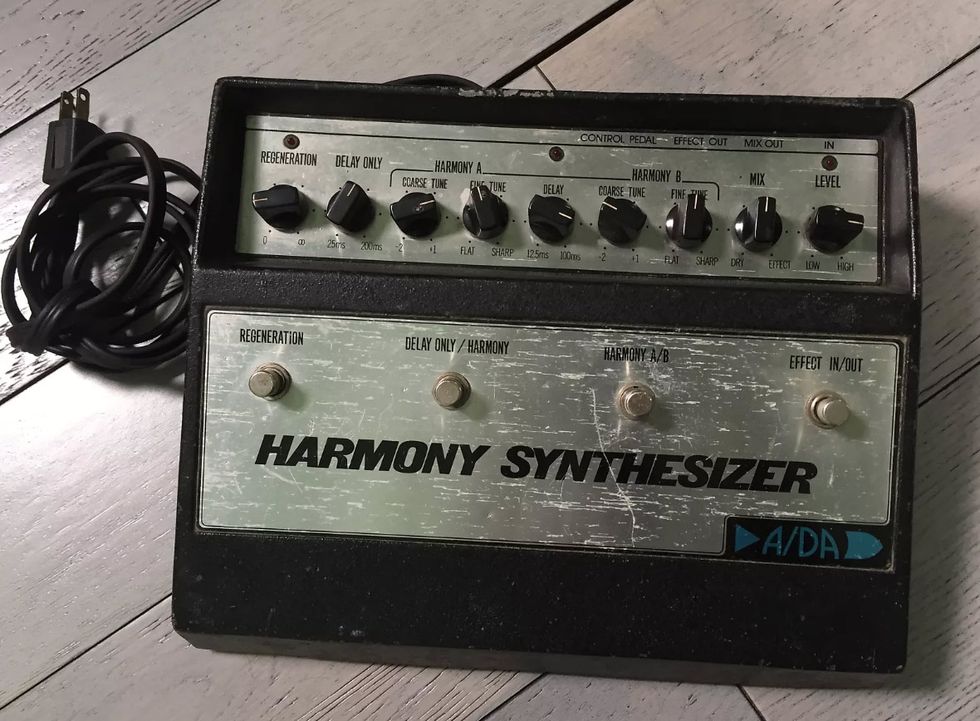 Although the author has yet to get his hands on one of these, they are out there—somewhere. The regeneration and delay controls are familiar to vintage analog delay users, but the A and B harmony settings add a new dimension. Photo courtesy of Rafmax.
Imperfect Harmony
I have yet to experience the A/DA Harmony Synthesizer firsthand. Designed by A/DA founder David Tarnowski and debuted in 1979, it's an incredibly complex piece of circuitry, using over 40 IC chips that could be summed up as an analog delay with pitch transposer. That it could cope with polyphonic input in 1979 is quite astonishing, and, as a big fan of the other A/DA pedals, I'd dearly love to be able to try it one day. One was posted on Reverb for $5,000.
But Wait, There's More
As I mentioned at the start, there
is
more to the guitar-synth-pedal world than these rare big beasts. There are, of course, the rack or pedalboard friendly classics that have enjoyed far greater appeal and use. These range from the David Cockerell-designed Electro-Harmonix Microsynth to the Korg X-911 to the Roland SPV-355 to the Akai Deep Impact SB-1 bass pedal. To join in the hunt for these now, grab your pith helmet and take to the internet!