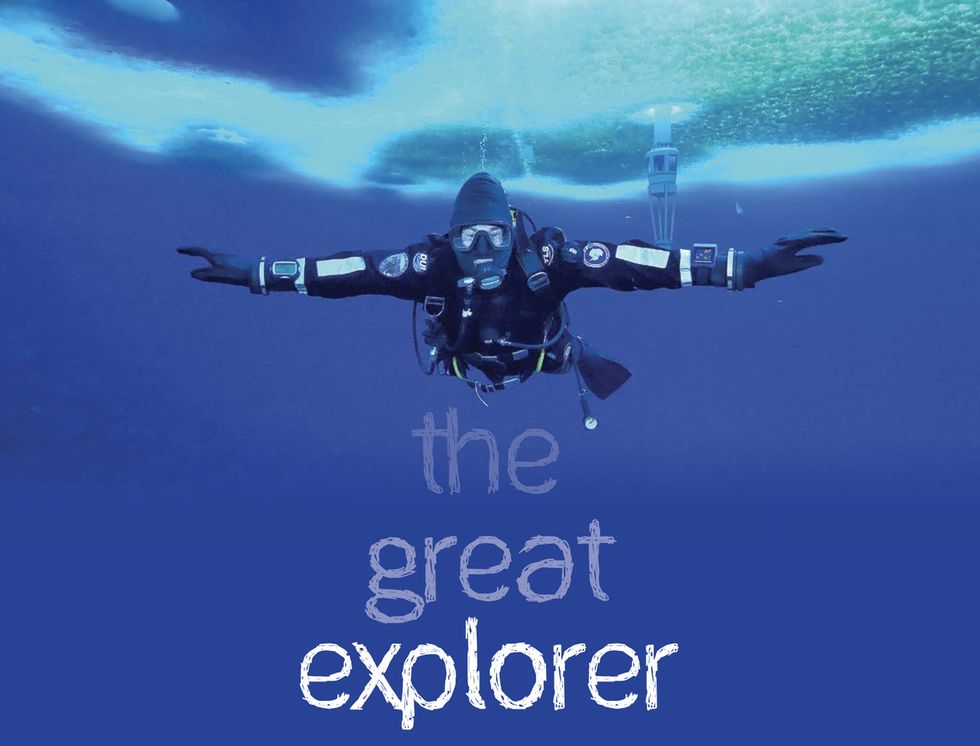 Kaiser on the job in Antarctica: He's been deployed 13 times as a research diver in the world's coldest waters and discovered a universe of musical inspiration while communing with seals and the environment's other denizens.
Henry Kaiser bought his first guitar and slide the day he heard Sonny Sharrock, and immediately set off on his 45-year career as an improviser—playing on more than 300 albums, performing and recording around the world, and establishing musical and deep friendships with such fellow lions of creative music as Derek Bailey, Richard Thompson, Fred Frith, Evan Parker, David Lindley, D'Gary, Wadada Leo Smith, Sang Won-Park, and John French.
But the actor Lloyd Bridges cast an equally important spell over Kaiser. Decades before he played drug–addled air traffic controller Steve McCroskey in Airplane!, Bridges was the scuba-diving hero of the TV adventure Sea Hunt. Since it was impossible to film dialog during the weekly show's underwater sequences, Bridges' character, Mike Nelson, provided voiceover narration that often explained aspects of diving in detail. Kaiser, who was 6 years old when the show debuted in 1958, was hooked and donned his first scuba suit when he was 11—nine years before scoring his initial guitar.
So, parallel to his adventurous music making, Kaiser has pursued a career as a scientific diver. He spent 17 years teaching research diving at the University of California, Berkeley, and since 2001 he has been deployed repeatedly as a research diver in Antarctica. Which explains why Kaiser can count both Sharrock, the father of free jazz guitar, and the Weddell seal among his musical collaborators. And yes, he has played guitar beneath the ice, where the waters average 28 degrees Fahrenheit.
But Kaiser seemingly never takes time to chill. (Ouch!) This year alone, he has already released a trio of albums: the retrospective collection Friends & Heroes: Guitar Duets, featuring pairings with Davey Williams, Nels Cline, Debashish Bhattacharya, Bill Frisell, and 11 others dating from 1977 to 2017; The Deep Unreal, solo guitar improvisations that reflect the beauty, romance, and allure of the Antarctic undersea world in lush, surprising sounds; and En Las Montañas de Excesos, with a new band that includes pedal steeler Bob Hoffnar.
"I don't care about what I have to say with the instrument. I care about what I can discover through the guitar."
And he's got at least seven more on the way, including a quartet album with Bill Laswell inspired by mudang shamanism, two collaborations with trumpet legend Wadada Smith, a duets album with fellow 6-string iconoclast Eugene Chadbourne, and a new band that includes Frith, a fellow human cornerstone of guitar improvisation.
Obviously, Kaiser's catalog could provide years of listening, but some key works include 1987's Live, Love, Larf & Loaf, by the band French, Frith, Kaiser, Thompson, which united Frith and Kaiser with Richard Thompson and Captain Beefheart drummer John French; the four-album Yo! Miles series, with Kaiser and Wadada Leo Smith joined by other improv luminaries in paying tribute to Miles Davis; a sequence of rock-informed albums Kaiser made for Black Flag guitarist Greg Ginn's famed SST label; Heart's Desire by the Henry Kaiser Band, which covered tunes by Jimi Hendrix, Neil Young, the Grateful Dead (Jerry Garcia is another major influence on Kaiser), and the Band; and A World Out of Time: Henry Kaiser & David Lindley in Madagascar. The latter is the most popular of his many world music explorations, which have included partnerships with Korean, African, Chinese, Indian, Hindustani, and Japanese musicians.
"Almost since I started playing guitar, I've had a habit of asking my musical heroes to make records with me," he says. "And often, our first meetings were when we got together to make those records."
Besides his unquenchable appetite for different types of music and different kinds of musical compatriots, Kaiser has an equally insatiable curiosity about new gear. He pioneered recording with digital looping and the EBow, has been a longtime champion of live sampling and repurposing, and plays guitars customized for the flexibility, fidelity, and comfort he demands. And, by the way, he also plays blues like a badass. If nothing else, it should be clear that wherever Kaiser goes, he goes deep.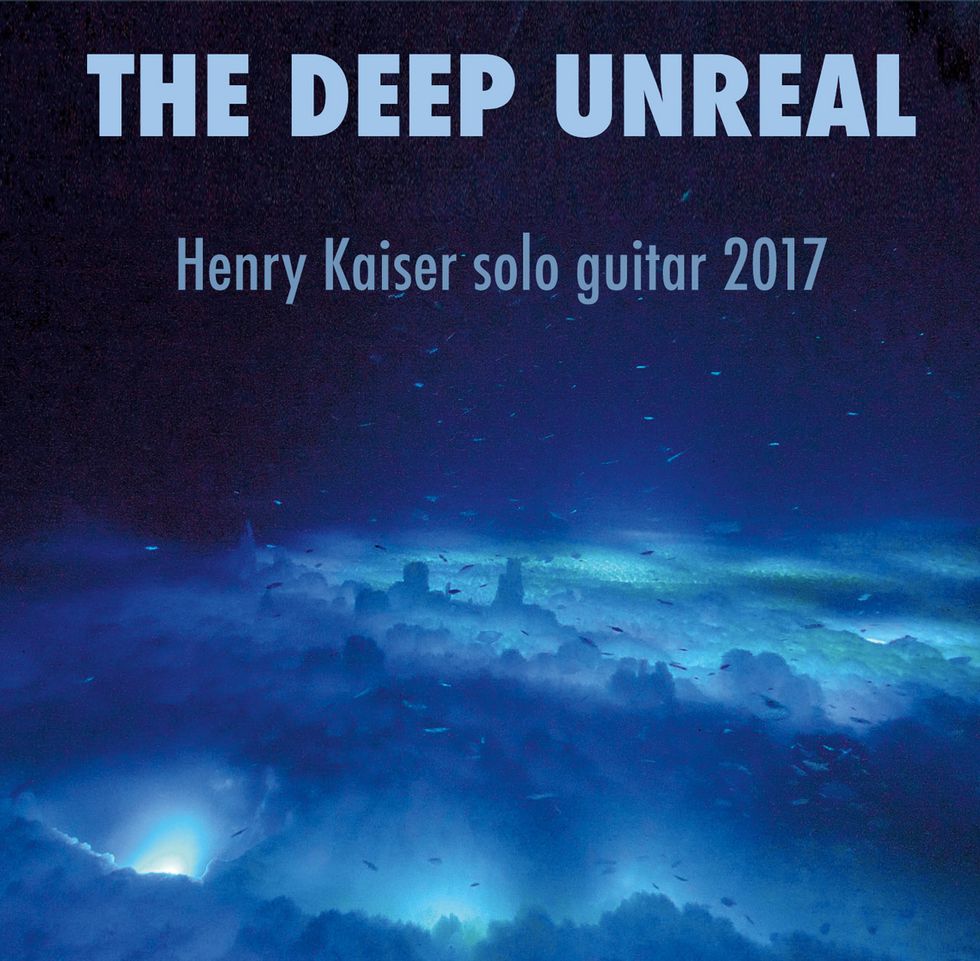 TIDBIT: For his new solo album, The Deep Unreal, which features four dreamscape improvisations inspired by the under-ice world of the Antarctic, Kaiser used long delays and no looping.
Are your guitar playing and your scientific work in Antarctica connected?
A musical calling since 2001 has been to record and perform music about my experiences underwater down South. It is perhaps the most satisfying experience of my musical career. For me, research diving, filmmaking, playing guitar, and making albums—they are all different sides of the same personal experience.
Wherever people live on Earth they create music about place. The Antarctic continent is the place where the least people have lived for the least time on Earth. Having been fortunate to have had 13 deployments to the ice as a scientific diver, I have spent several years of my life living in a tent on the frozen ocean and diving daily beneath that sea ice. I am typically deployed for two or three months. The colors, shapes, rhythms, narratives, sounds, and feelings of working there are a rare thing in human experience. For example, there have been 563 astronauts who have gone into space, but there are less than 340 divers who have worked beneath the ice in the U.S. Antarctic Program database.
What drew you to the guitar and, in particular, unconventional music?
In the mid to late '60s, through concerts, non-commercial radio, friends, and record stores, I began to discover the musics that I still love today and that influence my guitar playing. While electric guitar is my favorite instrument, because of its ability to make the widest variety of expressive sounds of any instrument, I was influenced to bring the ideas from many non-Western and non-guitar musics that I listened to into my guitar.
A list of what makes me the guitarist/improviser I am, back then and today, would necessarily and very specifically include Derek Bailey, Evan Parker, Terry Riley, Cecil Taylor, John Stevens, Elliot Ingber, Drumbo [John French], Bill Harkleroad [Zoot Horn Rollo], Terje Rypdal, Jerry Garcia, all the West Coast Summer of Love bands, Albert Ayler, Hindustani classical music, Chinese Guqin music, Persian music, Vietnamese music, Abdul Halim Jaffer Khan, Ali Akbar Khan, Korean shaman music, Association for the Advancement of Creative Musicians music, Bob Wills and the Texas Playboys, John Fahey, Robbie Basho, Sandy Bull, Hubert Sumlin, Albert Collins, Sonny Sharrock, Ray Russell, Robert Pete Williams, Conlon Nancarrow, Tōru Takemitsu, Karlheinz Stockhausen, György Ligeti, Iannis Xenakis, Pete Cosey, Harvey Mandel, and the many musics of Madagascar.
---
---