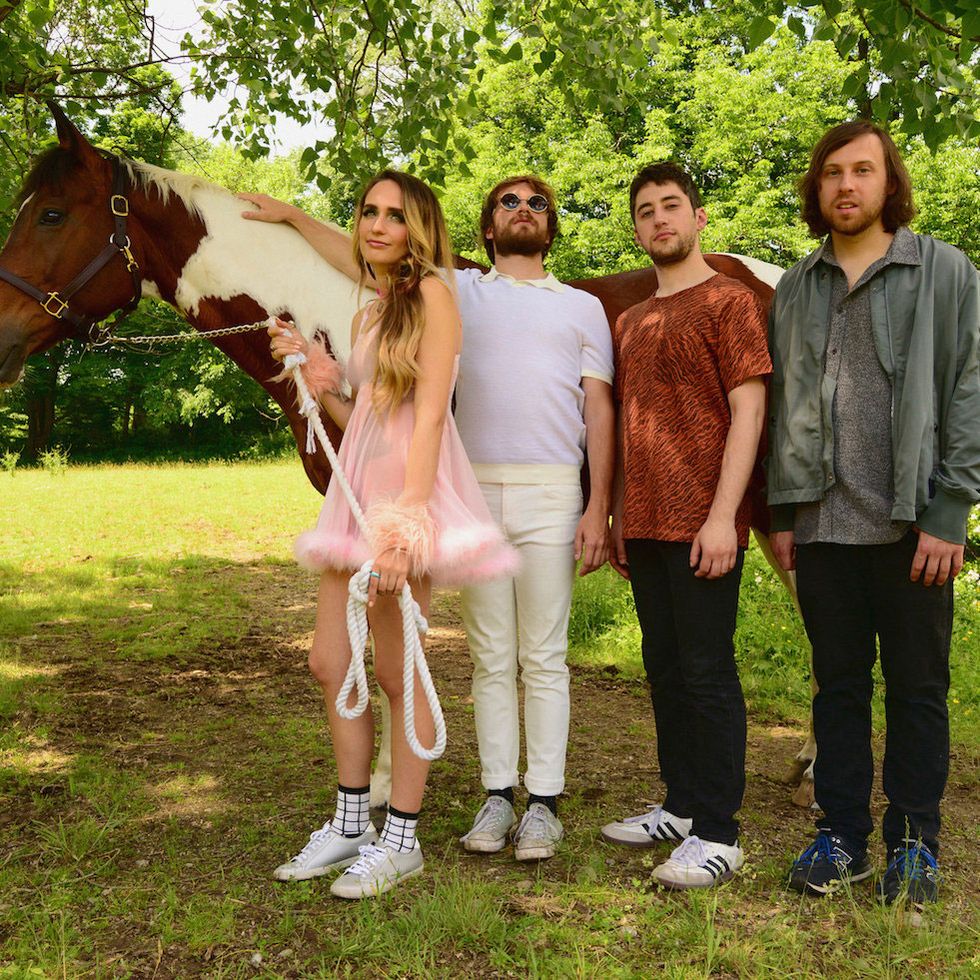 Pony up: Leading Speedy Ortiz's sonic strategy, Sadie Dupuis and Andy Molholt create a quick-cut aural landscape full of purposeful buzzes and rattles. It's a smart modernist approach that gives Dupuis' deceptive pop melodies a jagged edge. Photo by Shervin Lainez
You use an overdrive for your clean tone?
Dupuis: Well, it's the Monarch, which is a pedal they use to simulate the sound of Orange amps. I don't have it turned up. It's clean, but a little gritty. It's like if I had the drive engaged on my amp. It makes it so the clean tone isn't too clean.
Andy, are you also running Divided By 13 amps?
Molholt: I guess I'm a Fender guy. I had a 1967 Champ and a '66 Bassman. I used both of those on the record, and I've been taking the Bassman with me live. If I blend the EQ the correct way, it just has this punch to it that I really, really like. And it breaks up nicely.
Sadie, you're often seen with a custom pink guitar. Tell us about that guitar and any others you're playing these days.
Dupuis: The first couple of years I was playing a Jazzmaster that was a '93 made in Japan. And then an olympic white American Strat from 1980, I think. But I haven't been playing those lately. I've used a PRS Mira [Semi-Hollow] for a couple years that I really like. I also have that custom guitar from Moniker.
"It's a joke that I don't own any fuzz pedals, but I have 30 overdrive pedals." —Sadie Dupuis
It's a semi-hollow guitar and the body is called Anastasia. A lot of the custom stuff is aesthetic, like the shell pink and all these different details. The headstock has my other project's [Sad13] logo on it and a crescent moon cutout. And then, pickups-wise, I did a weird thing where it's humbuckers and then a single coil in the middle. It's got Lollars and Seymour Duncans. I switch between those two guitars live at this point.
Is that the same gear you used in the studio?
Dupuis: No. In the studio, I would solely use the PRS, different pedals, and a few different amps. I didn't have the Divided By 13 yet. I wish I did, because I love it. I used some different amps that they had in the studio. But I definitely use my [Fender] DeVille on a lot of the record. And two pedals that I used a lot on the album are not on my board right now. But they're both also from EarthQuaker. It's the Bit Commander and their Rainbow Machine. You can hear that a lot—especially on the synth.
Molholt: I played a Fender Jaguar and I think I also might've played a Stratocaster. I don't think I played anything else on the record.
Are they stock?
Molholt: The Strat was Sadie's. The Jaguar is mine, and I left it pretty much stock. I also play a 1957 Silvertone that I really like. But it definitely is more of a beater.

Guitars
PRS Mira Semi-Hollow
Custom Moniker Anastasia with Seymour Duncan and Lollar HSH pickups
Amps
Fender Hot Rod DeVille (studio)
Divided By 13 CJ 11 (live)
Effects
EarthQuaker Dunes overdrive
EarthQuaker Monarch overdrive
EarthQuaker Bit Commander analog octave synth
EarthQuaker Rainbow Machine pitch shifter
EarthQuaker Pitch Bay harmonizer
EarthQuaker Sea Machine chorus
Old Blood Noise Endeavors Black Fountain delay
Catalinbread Callisto chorus/vibrato
Strings and Picks
Ernie Ball Coated Slinky (.009–.042)

Dupuis: Oh, and this is pretty cool. I hosted an event at Sonos right before we left on tour. There was basically a panel and workshop with different women who work in audio engineering. So we had Emily Lazar come do the mastering workshop and someone from the Bowery Ballroom came and did a live sound workshop. And someone from Death By Audio showed their Fuzz War pedal, which was actually my first fuzz pedal 10 years ago. She's skinned it to look like the cover of Twerp Verse. So I have a custom Death By Audio Fuzz War that looks like our own cover.
You have an affinity for using gear from companies with women engineers, designers, or builders—such as Death By Audio and EarthQuaker Devices. Let's talk about that.
Dupuis: Women are so under-represented in professional audio. I think the statistic that I always read is that we comprise two percent of it. And that's basically in all corners. So where it's possible, yeah, I like to. I would say that there are fewer women guitarists than men, but we're better represented than people who are working in the more technical side of audio. I like Frantone as well, and Devi Ever, of course. I use Frantone's Brooklyn Overdrive. I have that with me. But I don't have her Cream Puff. It's a joke that I don't own any fuzz pedals, but I have 30 overdrive pedals.
You're both well known for keeping plenty of irons in the fire. So what's next for you guys and Speedy Ortiz?
Molholt: We've got some more touring planned for the rest of the fall into the winter. Sadie and I have briefly spoken about making something else together and the only word we kept using to describe what we want to do is "heavy." I'm very into that, because I really want to do a deep dive into the world of fuzz pedals.
Dupuis: I don't really know, because I can't write on the road at all. But I do think we are ready to make a really heavy album next, because this one is a little poppy. So that's my blanket statement for now.
"Buck Me Off," from Twerp Verse, gets the full live treatment from Speedy Ortiz on the University of North Carolina's radio station. You can hear a fleet of effects pitch-shifting and sputtering under Sadie Dupuis' candy-coated vocal melody. She plays her Moniker Anastasia while Andy Molholt doubles on Fender Jaguar and synthesizer.