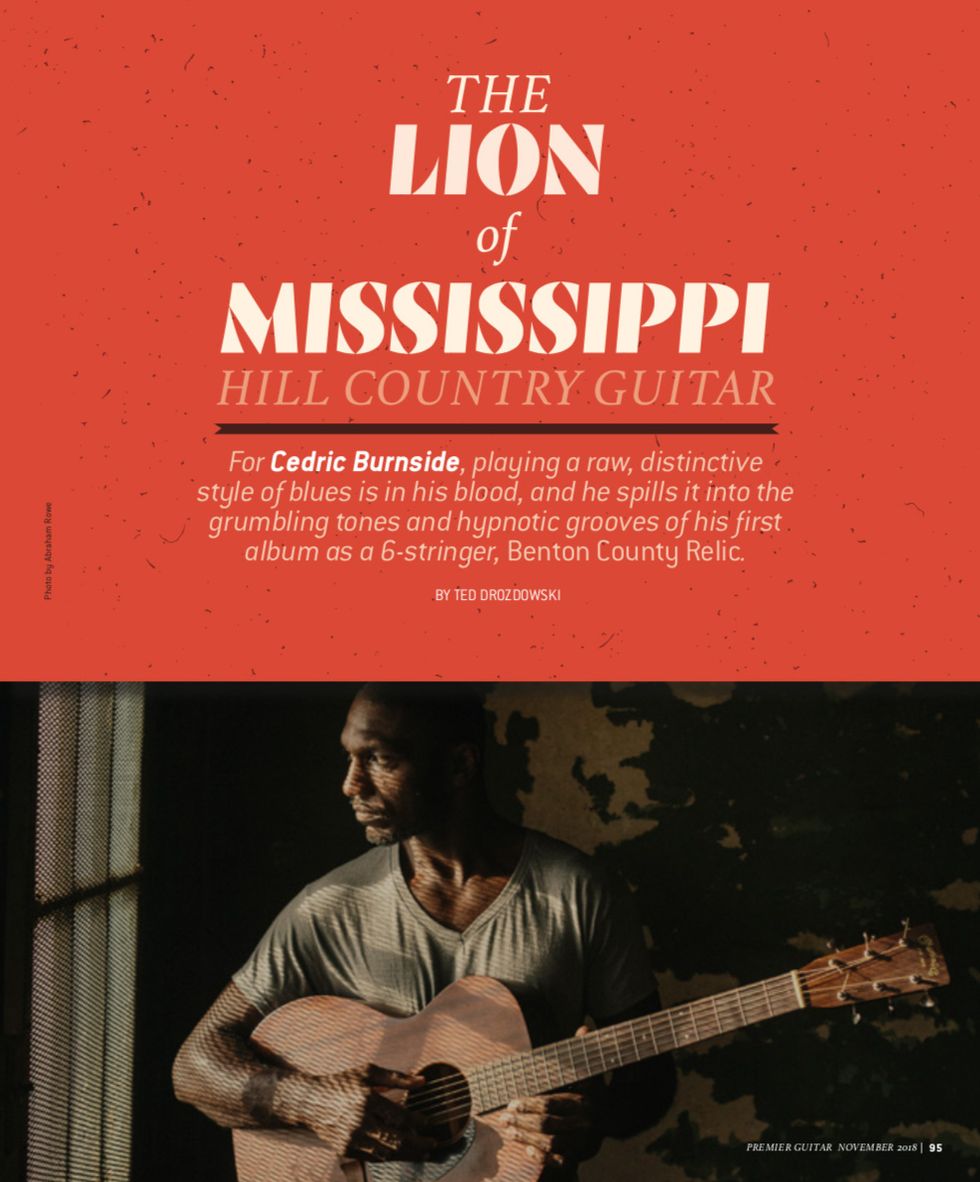 Photo by Abraham Rowe
Cedric Burnside began touring when he was 13, but he had a hell of a guardian: his grandfather and bandleader, the north Mississippi hill country blues giant R.L. Burnside. For 11 years, Cedric played drums behind his "Big Daddy" throughout the U.S., Europe, and parts of Asia, helping spread the sound of Marshall and Benton counties.
He'd started when he was barely big enough to climb up on a drum throne, playing house parties and juke joints with R.L. and his neighbor, the region's other musical patriarch, Junior Kimbrough. (Cedric inherited the drum chair in Kimbrough's Soul Blues Boys from his father, Calvin Jackson.) And Cedric played with both men until Kimbrough's heart gave out in 1998 and R.L. was sidelined by a major heart attack in 2002, nearly idling him until his death in 2005.
Cedric's heart, however, is that of a musical lion. By the time he was in his late teens, he was considered one of the finest blues drummers on the planet—and he has four Blues Music Awards to certify that. Luther Dickinson of the North Mississippi Allstars praises Burnside for "keeping authentic hill country drumming alive while casually modernizing the tradition," and adds that "as a singer-songwriter he's writing new blues classics of his own, and he's become one of the great hill country guitarists."
Frankly, while Cedric's contributed drums live or on albums to Widespread Panic, T-Model Ford, the Jon Spencer Blues Explosion, Paul Wine Jones, various bands with Burnside and Kimbrough family members, and many others—even Jimmy Buffet, his deepest mark has been made as a leader and co-leader in a series of thunderous, hypnotic, groove-intensive duos.
"There's a lot of people out there writing songs about things that they don't do. And they write songs about things they don't have. But that's not me."
The guitar-and-drums format is in his bones. It's a longtime staple of downhome and raw blues, going back to Hound Dog Taylor and beyond, and continuing up through his Big Daddy's band, T-Model Ford, and Lil Poochie Watson & Hezekiah Early, to Jon Spencer, the White Stripes, and the Black Keys. Since 2007, Cedric has made five albums with duos: two with funky Tele-slinger Lightnin' Malcolm and three with his guitar-playing cousin, Trenton Ayers. The latter were under the name the Cedric Burnside Project and include Descendants of Hill Country, which was nominated for a Grammy in 2016.
Ayers is a burning guitarist, but fans who've attended Cedric Burnside Project shows in recent years have been treated to Cedric's emergence from behind the kit, as he's moved up front for a portion of the sets to play a handful of originals and chestnuts on acoustic or electric guitar, nailing the transporting drones and mesmerizing riffs that give unadulterated north Mississippi hill country blues the mojo to leap genres and appeal to rock, blues, psych, and jam fans.
Turns out, Cedric Burnside has been seriously assembling his guitar skills for more than a decade, outside of the spotlight. And on his new album, Benton County Relic, Burnside stays in front of the kit, leaving the drumming to his engineer and partner on the album, Brian J, and delivering a modern hill country guitar manifesto. Cedric's guitar tones are dirtier than a dog in a muddy Mississippi cotton patch. The stories, like all great blues, are irony-free and honest—and his singing drives them home the way Josh Gibson used to hit balls. The autobiographical "We Made It" is the tale of his rise from poverty in 3:35, set to stuttering, marrow-revealing guitar lines. "Hard to Stay Cool" takes a cue from Kimbrough's sinuous 6-string melodies and chanted vocal style, but it's amped by Cedric's big-thumbed tone and his pure river water voice. It's timely as hell, in this era of hot heads. And for a double-shot of that good old R.L. Burnside north Mississippi hill country grind, listen to "Death Bell Blues," which Cedric and Brian J spackle with extra coats of rust.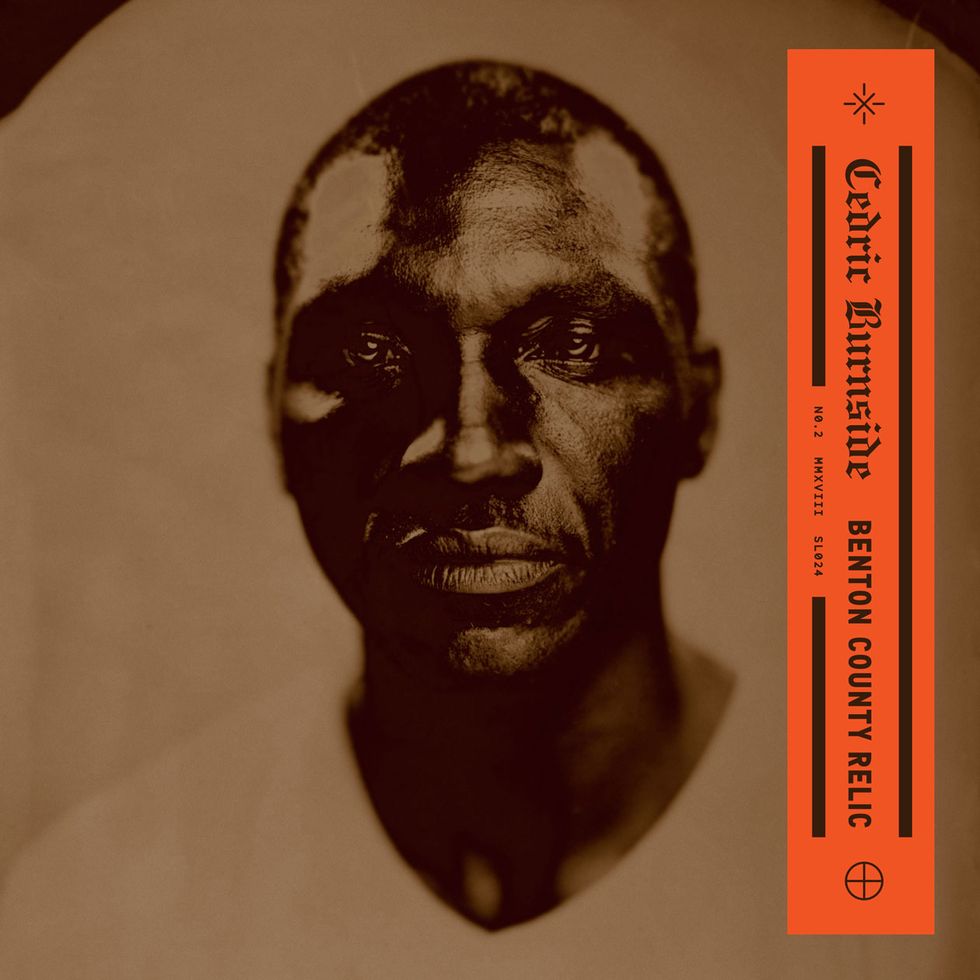 TIDBIT: The Stratocaster on Burnside's debut album as a guitarist was recorded, through two amps and a DI line, by drummer, guitarist, and engineer Brian J at his Brooklyn studio.
If you're tired of typical I-IV-V fare, Cedric just might be your man, and Benton County Relic might be the tonic you've been wanting. And if you're still a little mystified by what this "north Mississippi hill country guitar" stuff is, let Cedric explain.
What's unique about Mississippi hill country blues guitar?
Hill country blues is very unorthodox. It's got a very unorthodox style of rhythm. Many people are used to Chicago blues, Texas blues, and even Delta blues, you know, having the eight-bar or I-IV-V on it. With this music, there are no bars, you know? [Laughs.] They like to hold the notes and bars as long as they want to. I see hill country blues as being more like they gonna do what they wanna do. [Laughs.] It's definitely got its own thing—its own rhythm and everything.
It's so straight from Africa that I feel it in my bones, in my soul, you know? I was listening to Ali Farka Touré about three or four years ago, and I was like, "Oh, that's some old Junior Kimbrough song." I really thought it was Junior until he started singing, and when he started singing, I was like, "wow." Hill country is very African sounding.
Let's talk about your musical background and how you started playing with R.L. Burnside, your Big Daddy.
My Big Daddy used to do house parties every other weekend. And as a young kid, I'm one of several grandkids that used to set there, at 5 or 6 years old, just listening at the music and watching.
Watching my Big Daddy and my dad and uncle play, I just knew in my heart and soul that that's what I wanted to do for the rest of my life. Nobody had to tell me. My eyes bugged wide open because I loved that music so much. So one evening I just went up to jump on the drums, when my Big Daddy and dad took a break to go drink the moonshine and get refreshed. And people started saying, "Look at that little guy! Man, he's gonna be good some day." That turned into me playing the juke joints at age 10, with Big Daddy and Junior. I did my first tour with Big Daddy at age 13, and I'm still going today. I just thank God for everything that R.L. Burnside and Junior taught me. Now, I'm about to be 40 on August 26.
---