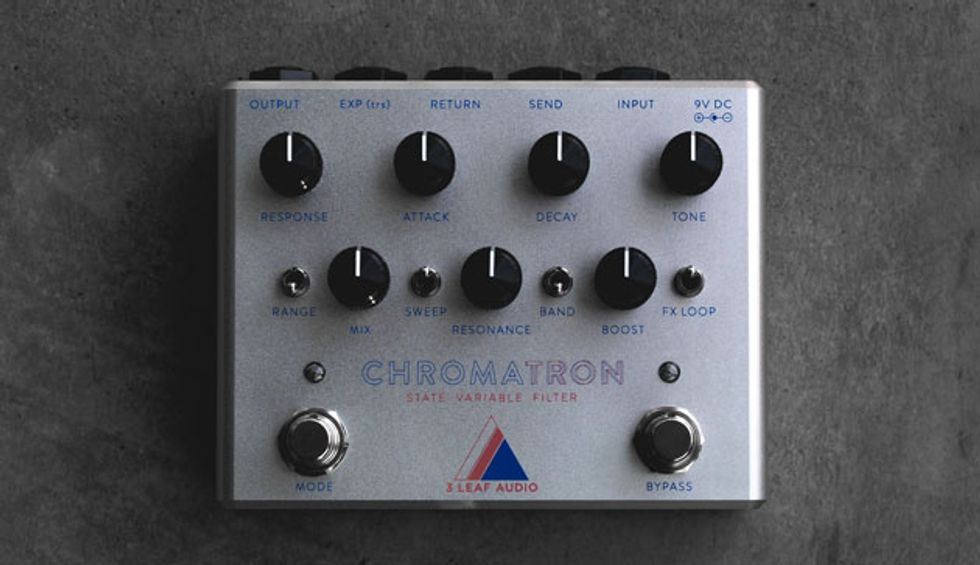 Seattle, WA October 31, 2018) -- 3 Leaf Audio is proud to introduce the Chromatron, a state variable filter like no other. The result of 10 years tweaking, refining, and reimagining the state variable filter circuit. It is an optically-controlled analog filter that can switch between envelope control and manual control via expression pedal with the push of a button. The envelope detector is an original design, producing a musical filter response that spans a broad range of tones from vintage quack to future-synth psychedelica.
The Chromatron's control set offers precise control over the tone and response of the filter. The mode footswitch toggles between envelope control and the expression pedal input, so that the Chromatron can act as both an envelope filter and a wah. An integrated effects loop allows the user to use dynamics-killing fuzzes and overdrives while retaining a smooth and consistent response from the envelope detector. The response knob has a wide input range that accommodates everything from the loudest active bass to a vintage strat.
The Chromatron has a broad frequency response that works with any instrument, and a low-noise signal path using audiophile-grade components. It is housed in a machined aluminum enclosure that is modern yet timeless. Every detail has been engineered to last a lifetime of stage and studio use.
Built with precision at the 3 Leaf Audio workshop in the Pacific Northwest, the Chromatron is offered at $349 USD.
The Chromatron is now available.
Watch the company's video demo:

For more information:
3 Leaf Audio