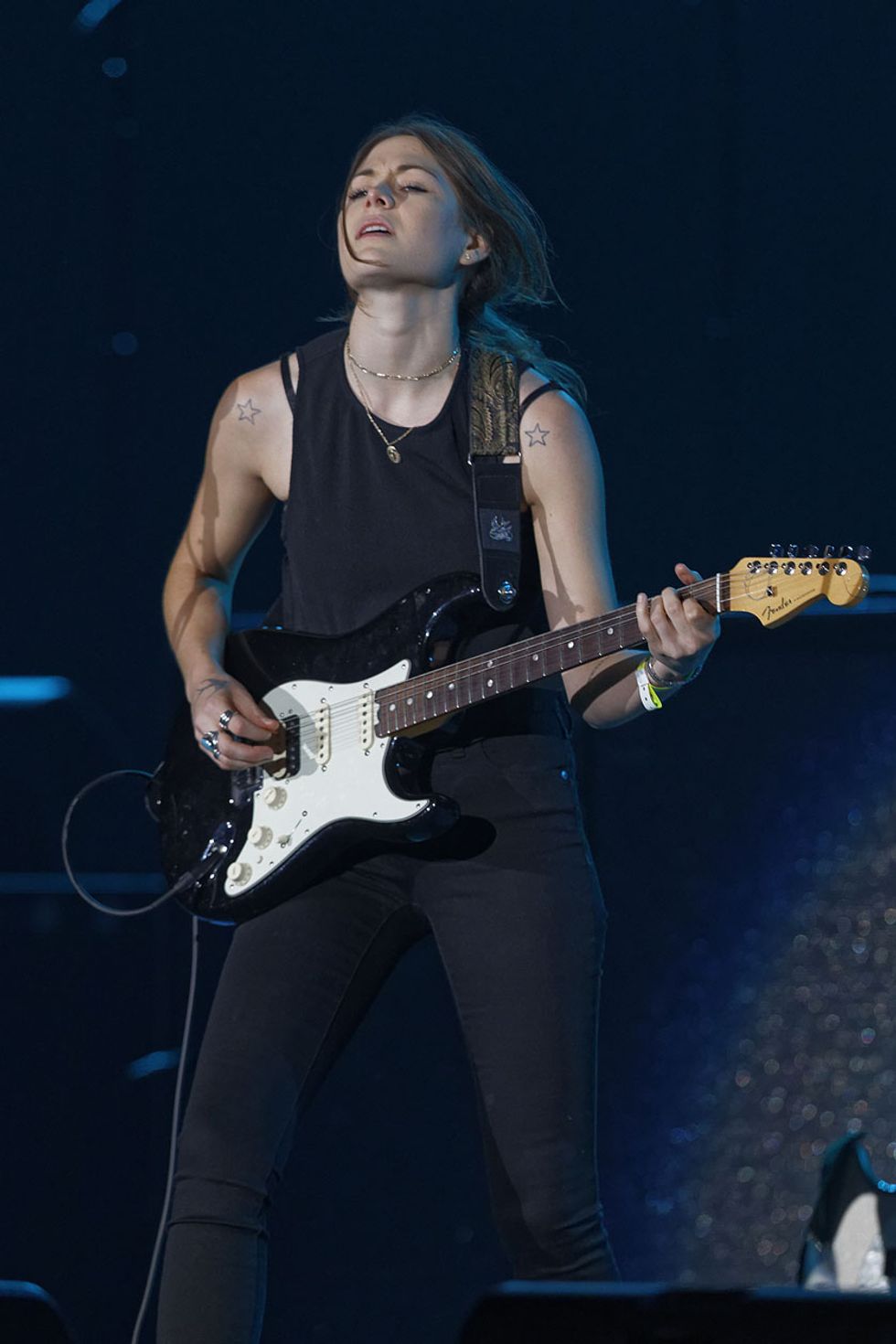 After discovering bluegrass with her sisters, Jessica and Megan, Rebecca Lovell started playing banjo and then migrated to mandolin in her mid-teens. "A few years into the formation of Larkin Poe, as we delved deeper and deeper into the blues, it slowly dawned on me that the sonic palette I was searching for was the guitar," she says. Here she strums her Fender Stratocaster HSS Shawbucker onstage in Toledo. Photo by Ken Settle
How does being sisters affect your band or your sound?
Rebecca: Being sisters does truly affect everything. Just the fact that we have a complete shared history from the word "go," our experience lines up completely and that makes us very similar in the way that we approach making music together. It's been something that provides a lot of fire in our relationship. We've definitely had to work over the years to create a relationship that is respectful and treated with care between the two of us. As a lot of sibling bands could attest, it's very difficult to not blow it up. I look at Heart; they're not touring together right now. I look at the Black Crowes; they're not touring together. There are so many of these tragedy stories of sibling bands just tearing themselves to shreds, and that's not what we want to be. I think that kind of dedication to our relationship as sisters really bleeds over into our dedication to the relationship we share with our band and with our fans. It means that we approach everything with a lot of intention, and I think that's been really good for us.
We're sisters first and always, and that relationship trumps everything in terms of whatever happens with this band. And I think that we're able to pull much stronger as a team when we're getting along. Of course, we have hard moments. You know, everybody can remember what it's like to be on the road or to be in an uncomfortable situation with your family and you're able to let little tiny annoyances create this nuclear situation. But we've definitely learned to just move through those and to fight constructively and to channel that energy and angst into really making the best music that we can make.
"It took us eight years to start making records that we finally feel represent the music we hear in our heads or the music we envision playing." —Rebecca Lovell
Megan: I think it has such an impact on our sound and the way we make music. Siblings and music go way back. It's always been kind of a hand-in-hand sort of thing—sibling harmony—and with that we can really speak to each other in a language we understand, and ultimately when we're making music together, it's really effortless. The two of us in a room, we can get so much done.
I can't tell you how many times in the car or on tour we'll randomly burst out singing the same song, in the same key, in harmony. It's really eerie! And then we just look at each other like, what?
Rebecca: Like, why is this happening?
You have a YouTube and Instagram video series called Tip o' the Hat, where you cover songs from different genres. What's the story behind it?
Rebecca: We started the Tip o' the Hat series as a way to kill time when we were home off the road, and also to continue to learn. It's easy to get complacent and not keep pushing your boundaries or injecting new fuel to burn the fire of love of music in your soul. We thought it was a fun way to actually learn songs that were meaningful to us as kids—songs that helped shape the sound of Larkin Poe.
And it seems to have really resonated with people.
Rebecca: That was very exciting for us to see people's imaginations get captured by the covers we were performing. In a lot of ways, starting off that series was a huge mile-marker for us, in terms of realizing the strength of our musical bond as sisters and being willing to have the courage to go into the studio to make a record—just the two of us.

Guitars
Fender American Professional Stratocaster HSS Shawbucker
Fender Mustang 90
Custom Jazzmaster replica
Kay archtop
Amps
Fender '65 Twin Reverb
Fender Vibro-King
Effects
Electro-Harmonix Deluxe Memory Man
Electro-Harmonix Stereo Pulsar
Rodenberg TB Drive Shakedown Special
Strings and Picks
Ernie Ball assorted gauges
Dunlop Tortex .60 mm

Leading up to the Tip o' the Hat music series, all of the albums we'd made were definitely really tricked-out and overproduced. When we started making videos with just the two of us, people were leaving comment after comment of, "Oh wow, please make records just like this, we love this stripped-back thing." That was a big wakeup call for us to consider going in and actually doing just that. That's when we made Peach, in late 2017. Over a long weekend at a studio in Nashville, we cranked out 11 songs that feature just the two of us. We self-produced, we played all the instruments. For us, it was such a cool transitional period that informed what we're going to keep doing from here on out.
So you work fast as a band. When was Venom & Faith recorded?
Rebecca: Venom & Faith was recorded over a period of weeks this past spring. We knew we were going to be out on the road so much with Keith Urban and with our own touring that it was the only time we could actually make a record, if we wanted to release one this year. Because we'd made Peach so recently, it really took a lot of soul-searching and digging deep to find the creative source from which to bring Venom & Faith into fruition. It was a really good exercise, because it was a quick turnaround. It's our favorite record we've made to this day, and we made it very similarly to Peach, as well, in terms of self-producing and playing everything.
What's different about these two records?
Rebecca: Peach was half originals and half covers—very traditional blues covers. We kept the production very, very sparse, and we kept with very organic sounds. We tried to rein it in and let it be a tribute to the journey of blues, as it were.
With Venom & Faith, there were more original songs, and we tried to push more boundaries in terms of introducing a more modern and contemporary sound palette. Because we grew up in Atlanta listening to a lot of hip-hop music, we wanted to mix some of those larger-than-life sounds with the traditional blues elements. Given that we write songs that harken back to the '30s and '40s blues structure, we thought it would be cool to try to interlace the old with the new. I think we tipped that way a little bit on Peach, and Venom & Faith took it further down the path.
---