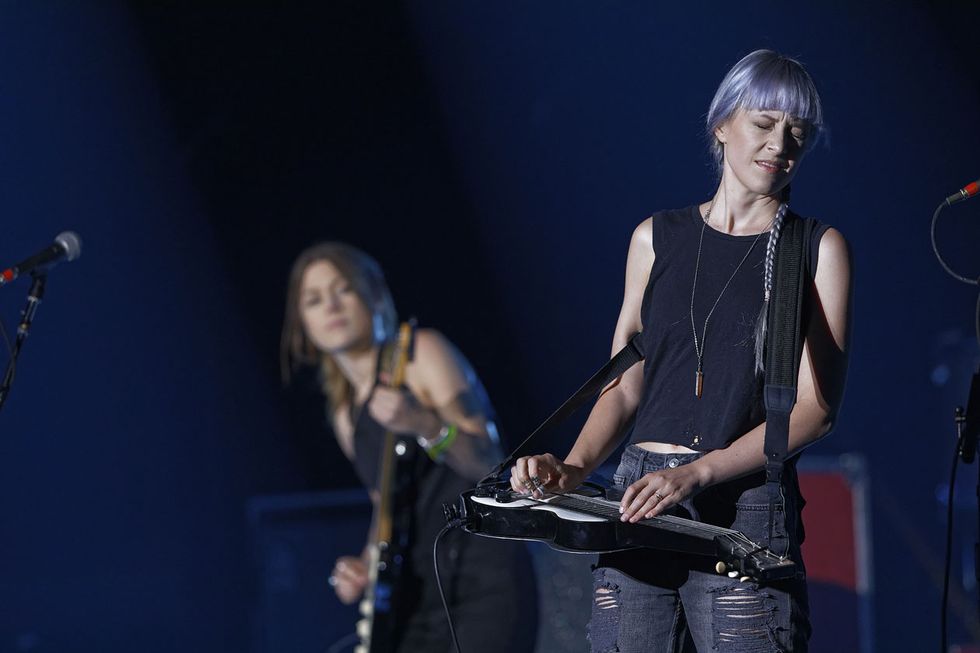 Megan Lovell coaxes sonic sparks from her main vintage Rickenbacker. Unlike many Western swing and country steel players, she favors a raw, raucous tone. "I love David Lindley, the Allman Brothers, and Derek Trucks," she says. "I've only ever played Rickenbacker lap steels. I have four—they're my babies." Photo by Ken Settle
Those production elements make this a unique record, like the way you incorporate hip-hop beats and sonics on songs like "Fly Like an Eagle." Did you have any experience making beats before?
Rebecca: Beat-making is a hobby of mine. About two years ago, I started messing around with GarageBand, making beats as a tool for songwriting. It was something we found to be really fun as a jump-off point. I kind of get wonky with it. And I think it's something that really helped shape the new sound.
The marching band sounds on "Sometimes" and "Honey Honey" immediately grabbed my attention.
Rebecca: We worked up a version of "Sometimes" sitting at my kitchen table. It was just Megan and me in a room, clapping and stomping. I just took a wild hair and wanted to play around with writing a horn part. I think we might catch some flak from people for having that production element, but honestly, if it comes from a place of enjoyment from our perspective, we kind of don't care! It was really fun to imagine and shape.
Once we had that moment on the album, we wanted to reflect it somewhere else, so we programmed the drum line section for "Honey Honey," as well. Just to sort of help bookend the concept, so it wasn't just lying out there solo on "Sometimes."
"I can't tell you how many times in the car or on tour we'll randomly burst out singing the same song, in the same key, in harmony. It's really eerie!" —Megan Lovell
Megan: This is something I really admire about Rebecca. She'll just get a wild hair and be like, "I'm gonna write a horn part! I'm gonna write a marching band part!" She brings it in and I'm like, "Hell yeah, that's awesome!"
What comes first—the songs or the beats? Is it a conversation between the two elements?
Rebecca: I would definitely say it's a conversation between the two. Some of the songs were free-standing without any production, and then we fleshed out the tracks around them. But others were inspired by the beats. For example, "Fly Like an Eagle" was very much inspired by wanting to write something on top of that 808 [Roland TR-808 Rhythm Composer] pattern in the chorus. Other songs, like "Bleach Blonde Bottle Blues," for instance, was just sitting with the guitar and coming up with the song.
To stay true to what we're trying to do with our music, I think you gotta have a bit of both, because we do want to expand boundaries. We don't want to be just a time capsule dedicated to the past of what the blues has been. That would be a bit inauthentic on our part, and also a little disrespectful to the artists that have come before us and who have really experienced a struggle to realize the music they made.

Guitars
1940s Rickenbacker Model B lap steel (four)
Amps
Fender Tweed Deluxe
Fender Vibrolux
Effects
Ibanez Tube Screamer
Mooer Ana Echo
Ernie Ball Volume Pedal
TC Electronic Hall of Fame
Strings and Picks
ProPik fingerpicks
Dunlop Zookies thumbpicks

Being true to that process requires us to experience the same kind of innovation for ourselves. So it definitely is a conversation between being driven forward by production, but also disregarding the production and just trying to make a cool song.
How will these songs change when you play them with your band, which features a bassist and drummer?
Rebecca: The live performances will be reminiscent of the recorded versions, but they will be reinterpreted and freshened up. It's actually quite a struggle, because when you listen to the record, the sound palette we've used is very non-traditional. It's definitely not your traditional drum kit sound or just regular electric P-bass or whatever. It is very specifically tailored to the songs and the creative vision that we had in mind in the studio. It's been a really fun challenge to rework these songs for the live show.
You're most identified as a blues band, but clearly there are so many other things going on. Can you talk a bit about your biggest influences, outside of the blues?
Megan: Both of us are very influenced by the source music of the South—like bluegrass, blues, roots music, folk music—but we do differ a little in our individual inspiration. I love a lot of slide guitar players. I love David Lindley, the Allman Brothers, and Derek Trucks. I'm inspired by a lot of classic rock people, like Pink Floyd or the Eagles or Black Sabbath.
Though they don't play, we feel very lucky that our parents are big music lovers and have really good taste in music. While our mom was playing us classical music, our dad was playing us classic rock records.
Rebecca: Since I wind up doing a lot of the production side of things, for me, my big inspiration forever and for always is Chris Whitley, who would make really versatile records that were all over the map. He's like my big number one idol I pray to. But I also really get into PJ Harvey records and the space and the programming she exhibits on her records. I really get into Radiohead for a lot of the boundaries they have pushed in terms of having pop songs, but with really whacked-out arrangements and whacked-out sounds. And Childish Gambino. Oh my god ... all day long, Childish Gambino.
This half-hour live-in-studio performance by the Lovell sisters and band features heapin' helpings of Megan's searing lap steel, along with crunchy Strat and gutsy lead vocals from Rebecca.
---
The Lovells lay it down during SXSW 2018, trading riffs and vocal harmonies in one of their originals from 2017's Peach.
---