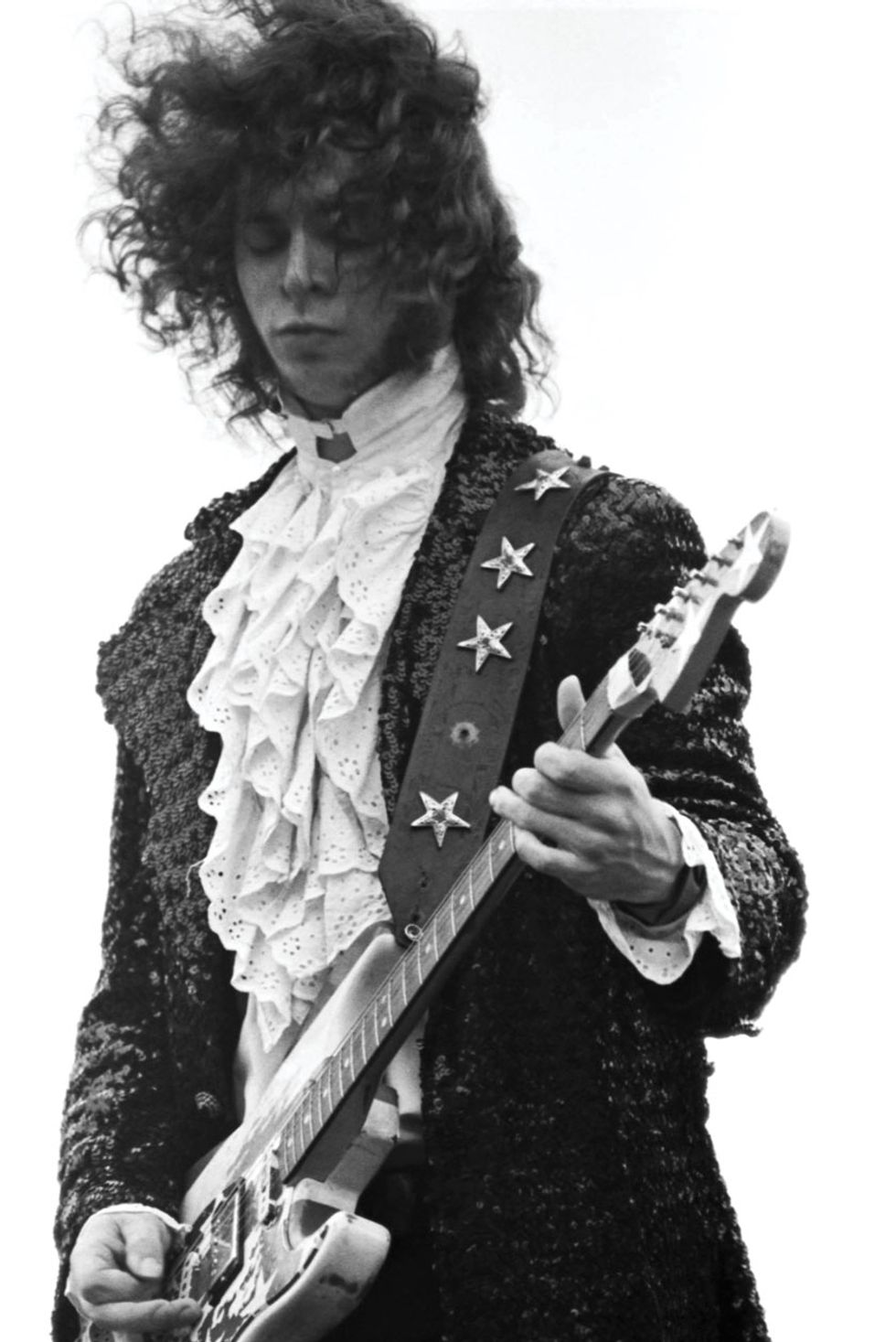 Although Kramer, shown here in 1969, is a fluent soloist, his playing focuses strongly on rhythm. "We were more interested in the chords and how the rhythm pushed the song forward," he says of his MC5 partnership with Fred "Sonic" Smith. Photo by Mike Barich
In the early days of the MC5, Kramer went through a Fender Esquire, a Gretsch Duo Jet, a Gibson ES-335, and a '57 Les Paul (which he might have stayed with for good if it hadn't been stolen), but eventually he landed on the Strat, which he "hot-rodded" with a middle humbucker for extra oomph on his solos. Along with an Epiphone Wilshire and an oddball Dan Armstrong Lucite model, the Strat became one of his main stage guitars in the late '60s.
"At one point, I just said 'gimme a Fender' because they're sturdy," Kramer recalls. "I was tired of being worried about breaking the guitar all the time. And besides being good for playing in a band, they're a pretty solid weapon in a gang fight, too, you know?"
Volatility was at the heart of the MC5's ethos, and ultimately it proved their undoing with their last album, 1971's freewheeling and funky High Time. The aftermath wasn't kind to Kramer. He developed a dope habit and fell into petty crime to support it. In 1975, he was busted trying to sell cocaine to a federal agent, which landed him in Lexington Federal Prison in Kentucky. By a stroke of good luck, he met the trumpeter Red Rodney inside, who schooled him in jazz improvisation. After his release, he bounced between Detroit and New York, hooking up with Johnny Thunders and then Was (Not Was). He lived in New York for most of the '80s, then moved to Key West, then Nashville, and then L.A., where seemingly against all odds he landed his first solo deal with Epitaph Records and released an album, The Hard Stuff, in 1995. It was a well-received comeback, featuring guest appearances from members of the Melvins, Bad Religion, and Suicidal Tendencies, and led to three more recordings with Epitaph.
Kramer relives all this and plenty more with remarkable candor and self-reflection in The Hard Stuff, the book. As rock 'n' roll memoirs go, it's a turbulent rollercoaster ride with dizzying highs and harrowing lows, but it concludes with a storybook ending of recovery, redemption, true love, and the gift of fatherhood.
And it couldn't have happened to a more worldly guy. In recent years, Kramer has begun reaping some rewards from his long slog in the trenches. The MC5 has been nominated four times for entry into the Rock & Roll Hall of Fame, including this year. Understandably, Kramer says he's not holding his breath, but this time the moment feels right. In 2011, Fender finally celebrated his achievements, having worked directly with him for more than a decade to replicate the sound, feel, and distinctive look of the American flag Strat he modified with the help of graphic designer Robin Summers back in the late '60s.
"I've known Kim a few years, and I know how I've felt losing band members and people around me. And I thought this might be just the thing to get him back out in the world."
"For a guitar player, it doesn't get any better than that," Kramer says with pride. "I mean, that's the crowning achievement for a career. I was honored beyond belief, and humbled by their vision and their generosity. And I still am. I love Fender. They make good instruments, smart men and women work there, they support me, and they help us a lot with Jail Guitar Doors, too." (Named for a song by the Clash that was actually written about Kramer, the Jail Guitar Doors organization was founded in 2007 by Billy Bragg to bring musical equipment to prison inmates in the U.K. Kramer started a U.S. chapter in 2009.)
Kramer repainted and sold the original Strat long ago, but the replica figures prominently in the MC50 tour he organized with Soundgarden's Kim Thayil (who's still playing his own signature white Guild S-100 Polara). Joined by Fugazi's Brendan Canty on drums, Faith No More's Billy Gould on bass, and Zen Guerrilla frontman Marcus Durant, the group somehow captures the primal energy of a bygone era, and yet the political urgency feels current—from the sensual double-entendres of "Come Together" to the lust for freedom depicted in "An American Ruse." At first, Kramer wasn't sure how Thayil would react to the invitation, coming barely a year after Chris Cornell's death. But now there's talk of more touring next year, and maybe even a new album—a prospect that wouldn't be remotely possible, Kramer acknowledges, if they weren't enjoying themselves.
"I've known Kim a few years," he says, "and I know how I've felt losing band members and people around me. And I thought this might be just the thing to get him back out in the world. Losing your loved ones, you know, you never really get over it. You go on with your life, but I don't think there is any such thing as closure. It's a pain that you live with for the rest of your days. Maybe it had been enough time, and maybe it wasn't. I didn't know, but I called him up and said, 'Look, this is what I want to do. Do you think it would be fun?' And he thought about it for a few minutes and he said, 'Yeah! I think it might be fun. Let's talk some more.' And we were off to the races."
Let's hope they keep on running….

Guitars
2011 Wayne Kramer Fender Signature Stratocaster (based on a '67 or '68 Strat with a rosewood fingerboard, a Seymour Duncan humbucker in the middle position, and two vintage-style single-coil Strat pickups)
2012 Epiphone 1966 Worn Wilshire reissue
Amps
Fender Hot Rod DeVille 212 combo
Fender Super-Sonic 60 212 extension cab
Effects
DigiTech RP500
Strings and Picks
Fender 3250R Super Bullet strings (.010–.046)

You and Fred ["Sonic" Smith, who passed away in 1994] shared a real sense of interplay on guitar that was a bit ahead of its time. In the book, you mention how you guys got to a point where each of you knew instinctively where the other was going.
Well, we played together so long, and from such a fundamental starting point. We were both 12, 13 years old. I had been playing for a few years, so I knew a few more songs and a few more chords. But I spent one summer working with Fred, showing him everything I knew, and after a while we were equals. We loved certain kinds of guitar playing—especially stuff from a rhythmic perspective, as opposed to single-note solo playing. We were more interested in the chords and how the rhythm pushed the song forward.
Chuck Berry was our main man. We learned how to play that Chuck Berry rhythm guitar figure for five or 10 minutes without stopping, using all downstrokes, grinding it out with the cramps that you get in your forearm.
I know them well. It's not easy.
[Laughs.] I know only guitar players know what we're talking about! But we were young and it was worth it, because when you played for people, you knew that you could drive it. You were propelling this music forward. So for a long time, I was the soloist and Fred was the rhythm guitar player. And then around '68 or '69, Fred just exploded as a soloist. He'd really developed original techniques and his own voice. He didn't play like the British blues players—like Eric Clapton or Jeff Beck or Jimmy Page. He had his own whole thing. I mean, both of our styles were based in Chuck Berry, but he found a way to branch out of that.
So we spent a lot of time improvising, just playing for hours and hours. And if you play with another guitar player long enough, you exhaust everything you know, and then you start playing what you don't know, and you get into something good. We just found that we could play syncopated rhythm parts simultaneously, and they would lock in perfectly, or we could solo simultaneously and they'd still lock in. These were just little techniques that we developed over 10,000 hours of playing together.
Ultimately it became, in my humble opinion, the strength of the MC5. The guitar playing was original, and no one else was doing anything like that at the energy level and with the velocity that we could do it. And then once we started listening to free jazz, and started leaving the beat and the key behind, then we really stretched out and got into a whole new thing.
---